Let's rewind 2 months to our last night in the Americas. Dinner on Key Largo was a treat for us, a farewell to Florida, a state we love on so many levels and the last night of our Canada to the Keys road trip before we boarded our cruise back to Europe. That one meal outlived all of our expectations, it was a gorgeous evening, the sun was setting, there was music, wine, Key Lime Pie and freakily enormous fish to feed. It is stuck in my memory forever as one of the highlights of our 12 months of non-stop travel. Want to see more?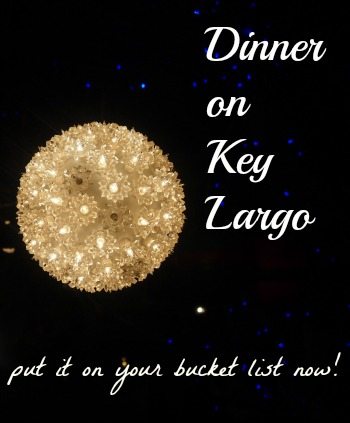 Any post on this site may contain affiliate links. We earn commission on these should you make a purchase. All recommendations are genuine and we are not paid to include products, hotels, and so on.
Sunset Dinner on Key Largo
The Florida Keys and Key Largo
The Florida keys start about 15 miles south of Miami and stretch out to form a barrier between the Gulf of Mexico and the Atlantic Ocean. Driving from the mainland to Key West at the southernmost tip is easy, the keys are linked by road bridges, including the famous Seven Mile Bridge. The views are incredible on the 113 mile trip. Key Largo is the first of the Keys, an easy trip from Miami and was made famous by the 1948 Bogart and Bacall movie of the same name. We loved it!
Giant Tarpon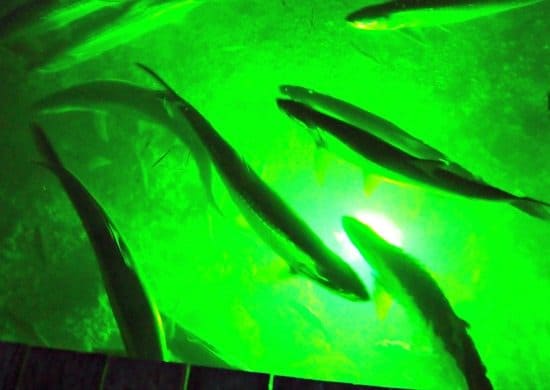 Tarpon grow to around 8 feet in length and are considered an outstanding game fish. If you're not content with feeding them from the Florida Keys there are numerous fishing charters more than happy to take you out to catch a few. We like just looking at them.
This final dinner on Key Largo marked the end of our Florida and USA road trip. It was time to return to Europe by cruise ship and regroup in London before entering year 2 of full-time travel. The USA was a blast, every day a new discovery and these giant tarpon were just one of many memories we made for our little worldschoolers.
Alyson is the creator of World Travel Family travel blog and is a full-time traveller, blogger and travel writer. A lifetime of wanderlust and now over 7 years on the road, 50+ countries allowed the creation of this website, for you. She has a BSc and worked in pathology before entering the travel arena and creating this website. World Travel Family Travel Blog has been helping you travel more, better and further since 2012, when Alyson and James first had this life changing idea. On this site you can find endless travel information, tips and guides plus how to travel, how to fund travel and how to start your own travel blog.