Much as we all love theme parks, most families need to find a few other things to do in Orlando for kids during their Florida holiday. One of our family favourites, for some non-theme-park fun, is Green Meadows Petting Farm. It's a welcome antidote to the hectic days of chasing around the parks and a lovely way for city kids to get up close and personal with a whole farmyard full of animals.
This is The Nicest Petting Farm We've Ever Been To.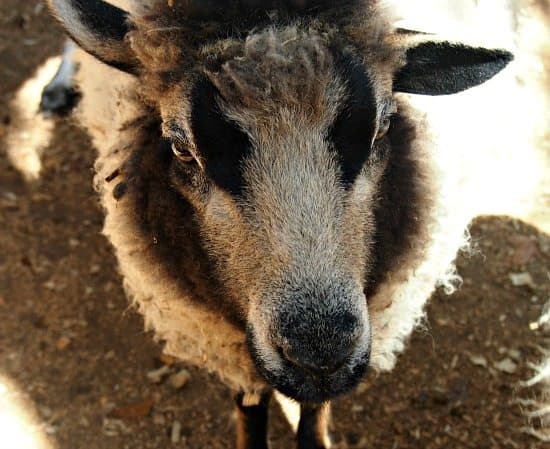 Any post on this site may contain affiliate links. We earn commission on these should you make a purchase. All recommendations are genuine and we are not paid to include products, hotels, and so on.
Back home in Australia a few travelling petting zoos really upset me, so much so that I wouldn't let my kids visit. Tiny baby animals mauled by over-enthusiastic toddlers with hardly any supervision by parents or under-trained teenage attendants. The animals were regularly mauled to death.
This place is totally different, we got the impression that these animals are loved, treasured and well cared for from the moment we stepped through the gate. Rough handling and chasing of animals is an absolute no-no.
But Still The Kids Can Touch, Enjoy and Learn About The Animals.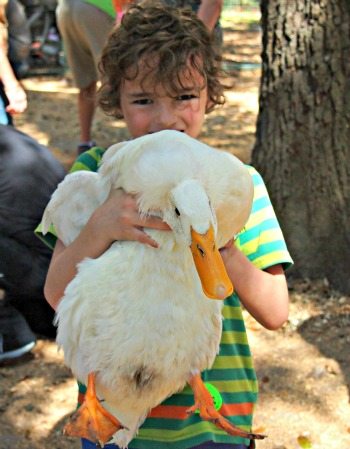 All visitors to Green Meadows Farm have a tour around the premises with a guide who knows the animals well. The two women who showed us around were as great with the kids as they were with the animals and gave us plenty of useful information.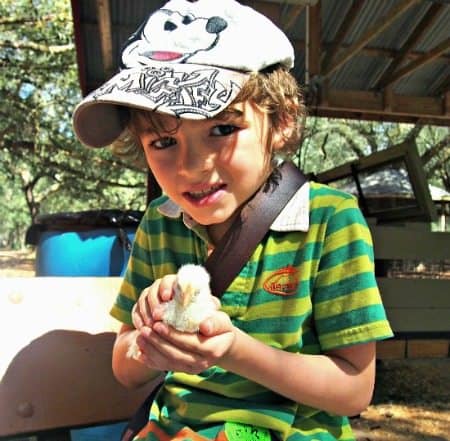 There are loads of new babies around the farm, we saw a new-born foal, chicks, ducks, lambs,goats and pigs. Plus the grown-up, slightly more unusual animals. Did you ever see a zorse, a water buffalo, a dwarf cow or an American Bison?
There are plenty of surprises around the farm and you can round off your afternoon with a hay ride or a tour on the mini train.
What Was Our Highlight at Green Meadows?
Milking the cow of course! Not many kids get to try that these days, I know I never have. This cow's calf, Red Bull, was in the paddock not far away, so no animal nastiness involved here either.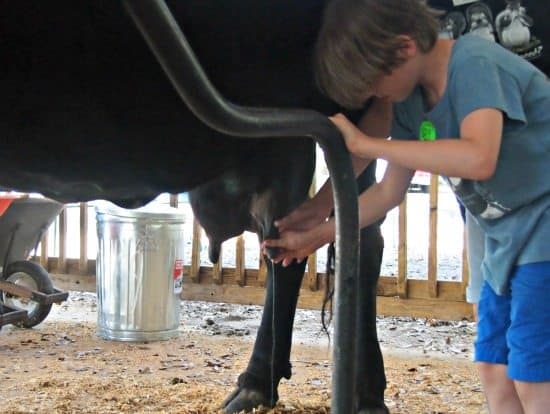 More Things To Do In Orlando For Kids.
Try these posts:
Visiting 4 Disney Parks in One Day
Kennedy Space Centre
Watching a Rocket Launch
or Becoming a Road Trip Ninja.
Our family loves Orlando, it was a big highlight of our USA road trip, even on this, our third visit. We have plenty more ideas on things to do in Orlando for kids to come!
Alyson is the creator of World Travel Family travel blog and is a full-time traveller, blogger and travel writer. A lifetime of wanderlust and now over 7 years on the road, 50+ countries allowed the creation of this website, for you. She has a BSc and worked in pathology before entering the travel arena and creating this website. World Travel Family Travel Blog has been helping you travel more, better and further since 2012, when Alyson and James first had this life changing idea. On this site you can find endless travel information, tips and guides plus how to travel, how to fund travel and how to start your own travel blog.