This post may contain affiliate links.
This is my last week in Port Douglas, Queensland. Regular readers will know we are British expats and have been living in paradise here for almost six years. They will also know that it hasn't always been paradise for me. I suffered badly with culture shock and found it hard to adjust. But goodbye Port Douglas, hello new adventure. We're off to travel for a year or three.
Here are my top ten things that have brought me joy during our time in Port Douglas.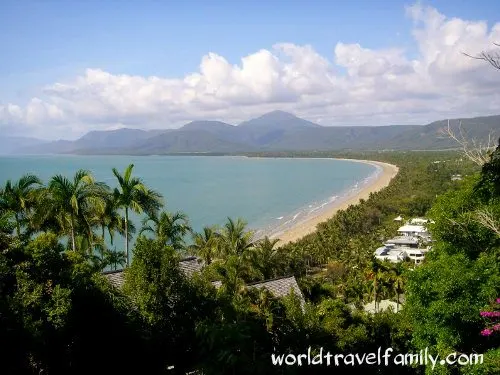 Life in Port Douglas, Ten Things I'll Miss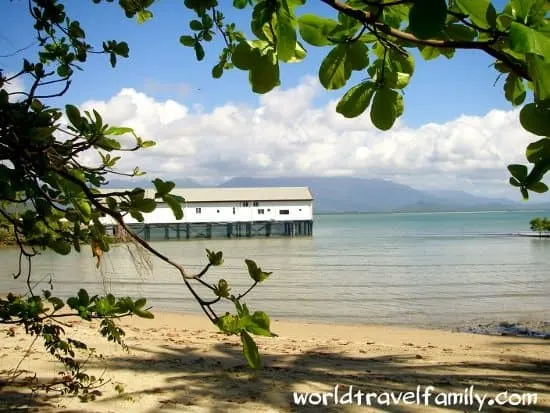 Port Douglas is a pretty tropical paradise in the far north of Queensland Australia. It's lovely, but tropical weather isn't the bed of roses you'd imagine.
It's also quite isolated. We decided to leave to travel, not because we particularly disliked it. It was more that the pull of wanderlust was stronger than any glue holding us back.
But what will I, did I, miss about Port Douglas life? These 10 things came to mind.
Driving to Cooktown From Port Douglas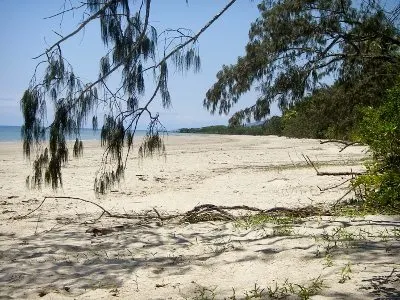 We used to drive up to Cook Town, through the Daintree Rainforest, along the coast on the dirt track. It is absolutely breathtaking.
You drive through the ancient Daintree, catching glimpses of deserted coral-fringed beaches. You see incredible birdlife, sometimes even cassowaries.
We managed to get to the Laura Aboriginal Dance Festival in the truck, you just couldn't get there in a normal car. I've always felt safe driving my truck, safe from crazy drivers, dangerous roads and occasional floods.
The Coral Sea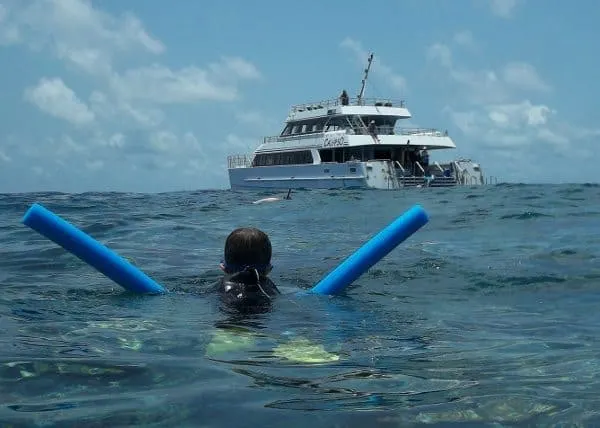 I love mucking about in boats, taking a trip out to the Great Barrier Reef or Low Isles to snorkel or scuba dive is possibly the best way to spend a day here.
Unfortunately we haven't done it more than half a dozen times, it's too expensive for a family. We get a local discount and occasional freebies, but it's not something any Port Douglas resident does often.
Unless, of course, they stump up the cash to buy their own boat.
We considered buying one and decided that taking regular trips was less expensive and less of a nuisance than boat ownership.
Dawn Walks on Four Mile Beach.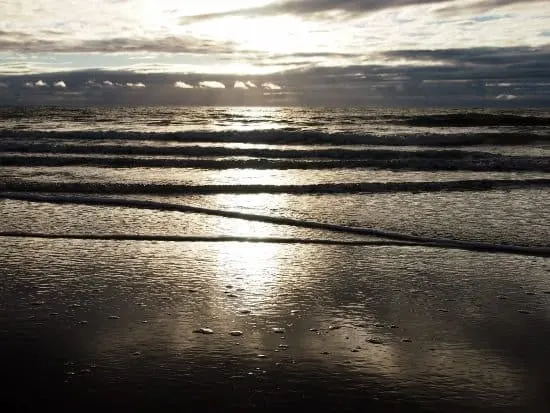 Again, not something I do regularly, I put the kids first and don't feel I can sneak off and leave them to their dad too often. But when I do escape for a dawn walk, it's perfect.
We're lucky to have a beach that faces the rising sun. I'm looking forward to a few sunsets for a change as we travel.
My Car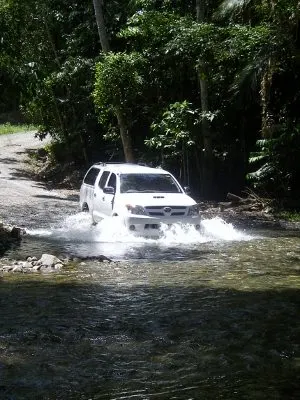 I'm not the sort of girl who gets all misty over little red sports cars. They do nothing for me whatsoever.
Our dirty great four-wheel drive has been a joy to own. Not because it's a lovely, comfortable, safe drive with enough room in the back for a baby elephant and the camping gear.
More because it's opened up the country for us and allowed us to see some incredible places that your average tourist would miss.
Prawns and Wine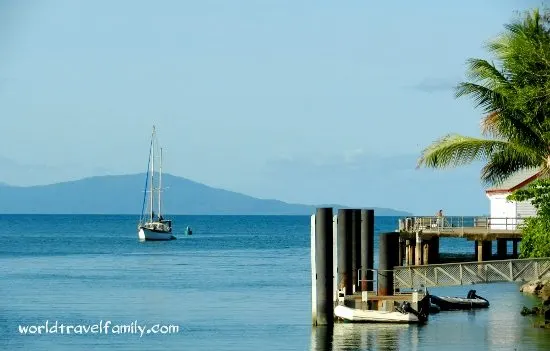 I used to be allergic to prawns in the UK but I can eat Australian prawns, it's true! It's to do with pesticides and other nasties that find their way into the Asian crustaceans we eat back home.
I've really enjoyed munching prawns at the Marina while the kids throw their shells to the waiting fish. We have a trawler here in Port Douglas that sells its catch from the jetty, they're the best. Prawns without wine are just wrong.
I'm going to be very careful about prawns on our travels, I don't need my head swelling up again.
The Scenery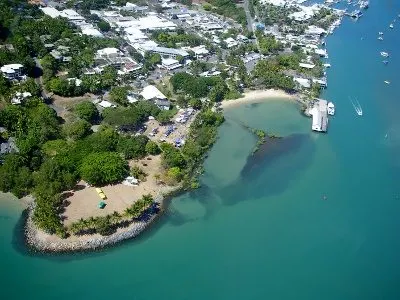 It's so pretty, the mountains, the rainforest and the Coral Sea, Port Douglas has it all.
The Wildlife
Frogs, snakes, starfish, turtles, crocodiles, lorikeets, sharks, giant gropers and cockatoos, I'll miss them all. But not spiders, they're evil, and not stingers, they're too much of a danger to my children.
It has been an absolute joy being surrounded by so many incredible creatures, but I still hanker after squirrels, foxes and hedgehogs in the back garden sometimes.
Luxury Resort Hotels and Million Dollar Boats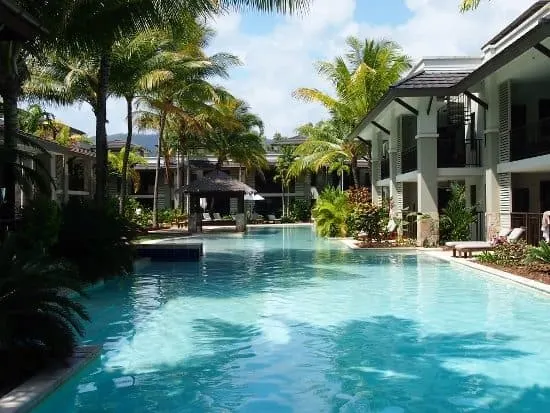 We've had our share of luxury here, all free, perks of my husband's Exec Chef job or benefits of knowing the right people.
We've experienced a lifestyle that we can't afford and don't aspire to. I'm actually happier in a guest house with a backpack than in a fancy five-star, but it's been a lovely glimpse into another world.
I really hope the boys don't think all hotels are like "Dad's work" or they'll be in for a rude awakening.
Cairns Homeschool Group
Lovely, genuine people. Great, vibrant kids, we've had some fun and educational times in amazing tropical surroundings. I'll miss our swims at Crystal Cascades or Cairns Lagoon.
Rusty's Market, Cairns
I realised recently that the boys and I have had some of our best times wandering around Rusty's, sampling the fruit, eating the "street food" on offer. It made me even more certain that travelling Asia would be a winner.
This is how we like to be, it is what we enjoy. When I asked Boo, 6, what he was most looking forward to as we travelled, he said "Squid balls". It's what he always has at Rusty's.
My House and Garden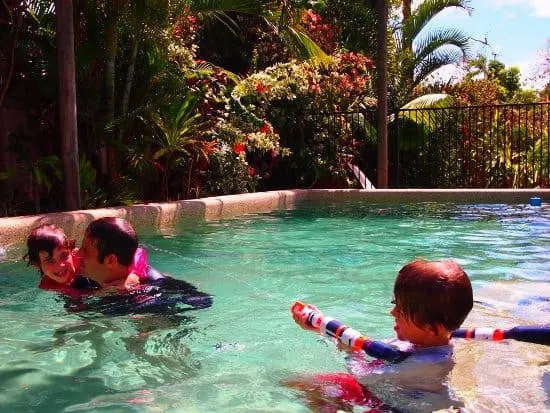 At the moment it feels like a prison, a big, white prison that I spend my life cleaning. I'm sure a point will come when I miss it.
I remember how excited I was when we first bought it, my first ever double garage with one of those automatic door opener thingums, our own pool, two bathrooms.
I love my tropical garden, I always have and we've put a lot of work into making solid clay fertile.
Will I really be happier with just a backpack to my name? I hope so, but if not, it's still here waiting for us. It's good to have options, I'm a lucky girl.
UPDATE: It's now over 9 years since we left Port Douglas and Australia. We didn't once go back in 6 or 7 years. Of all the places we've visited around the globe, one country really stood out to us, Romania. We spent a lot of our time halfway up a mountain surrounded by farmers, shepherds and happy expats and truly loved living in the village. We've also spent a lot of time living in Vietnam and, of course, London. We love both. But for now, Romania wins. We came back to Port Douglas around the time the world went into lockdown, quite by chance. We stayed a while and got to enjoy Port Douglas more than ever before.
Do you want more Port Douglas information? Maybe you're planning a holiday to Port Douglas or this part of Far North Queensland. If so, head to our Port Douglas holiday information page, or our more general Port Douglas and Cairns section.
If you'd like to hire a car during your stay, use this car rental comparison tool to find the best deal!

We also suggest you take a look at this company to get a quote for all kinds of the more tricky adventure or extended travel insurance.

Try Stayz / VRBO for an alternative way to find rentals on homes/apartments/condos in any country!