Last Updated 26/06/2021.
Is cruising safe for kids? The tragic February death of a child in a cruise ship's pool has probably added more anxiety to the shoulders of the potential cruise parent. I can only share my experiences and what I saw on our one, rather lovely, cruise read more about it here , but maybe I can help worried parents in forming their own opinions on their child's safety.
Is Cruising Safe for Children?
Before We Took Our First Cruise, I Was Worried About Child Safety
I was convinced the kids would find a way to fall over the side. It is for you, fellow worrier, that I am writing this post. I know I'm not the only one to get stressed out about these things.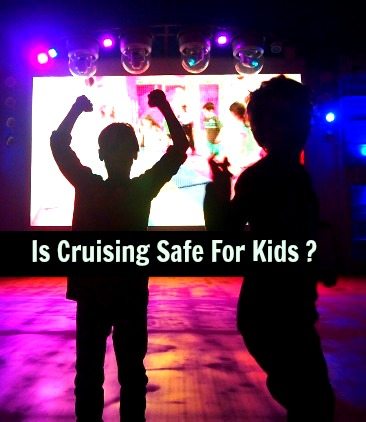 Stupid, I know, but I suffer from anxiety and I have the sort of boys who will always find a way to do what you least expect. These things include climbing on railings, slipping, tripping and falling at every opportunity.
I needn't have worried. On our cruise ship we were mostly encased by glass walls. On the pool deck they were floor to ceiling, on some of the promenade decks they were so high that even I couldn't worry. These were level with my 9 year old's chin and totally uninviting to climbing toddlers or kids.
Are Swimming Pools Safe For Children on Cruise Ships?
I don't worry about swimming pools. My boys, at 9 and 7, are reasonable swimmers and we have a pool in the back garden, but still I would never allow them near water without close supervision from me or my husband. If one of us is there I'm perfectly happy that they are safe.
On our cruise there were no lifeguards, no pool fences and the water was deep and moving fairly violently with the swaying of the ship. We had loads of fun in the pools, the moving water added an extra dimension of enjoyment, but it could be an issue for weak swimmers and certainly for wandering toddlers.
The lack of lifeguards on cruises seems to be something of an industry standard and has been brought up in the media. I have read that Disney Cruises have now introduced lifeguards.
I think that all this is totally fair enough. Lifeguards would be nice, but we parents are always the first layer of child protection. If kids are on the pool deck at all, they need family supervision. We would consider the whole pool deck to be the pool area, equivalent to our fenced pool areas back home. As such, it is an area that unsupervised children don't enter.
Are Cabins and Bunks Safe For Kids?
We were very happy with safety on our cruise ship bunks and cabins as far as bunks went. The top bunks had railings and a fall would have been hard to achieve. On some ships the bunks have been above the adult bed, so the fall would have been short and hopefully soft.
On other cruise ships we took outside cabins. There is no way I would let a child on a cruise ship balcony without me right next to them. I would never leave a child unattended in a cabin with balcony at all. This is one of the calls you have to make when choosing an inside or outside cabin on a cruise ship.
If the boat is moving a lot in rough seas there's a chance of a tumble and bumping heads on furnishings, but we've never seen super rough seas even half way accross the atlantic.
The feared deck plummets seemed to be an impossibility in most areas and I really couldn't find anything else to worry about. Well, other than my husband when he did this.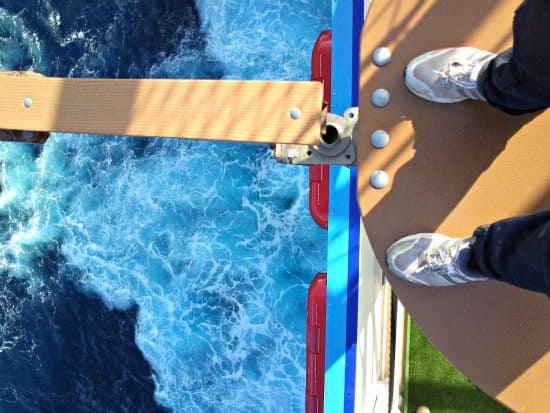 There is no road traffic, they can't really get lost, there are plenty of well-trained staff around and we all had a wonderful time. So much so, that we just booked another Atlantic crossing. Obviously, I can only give you my impressions of the limited number of cruise ships we've travelled on with kids.
Save me to Pinterest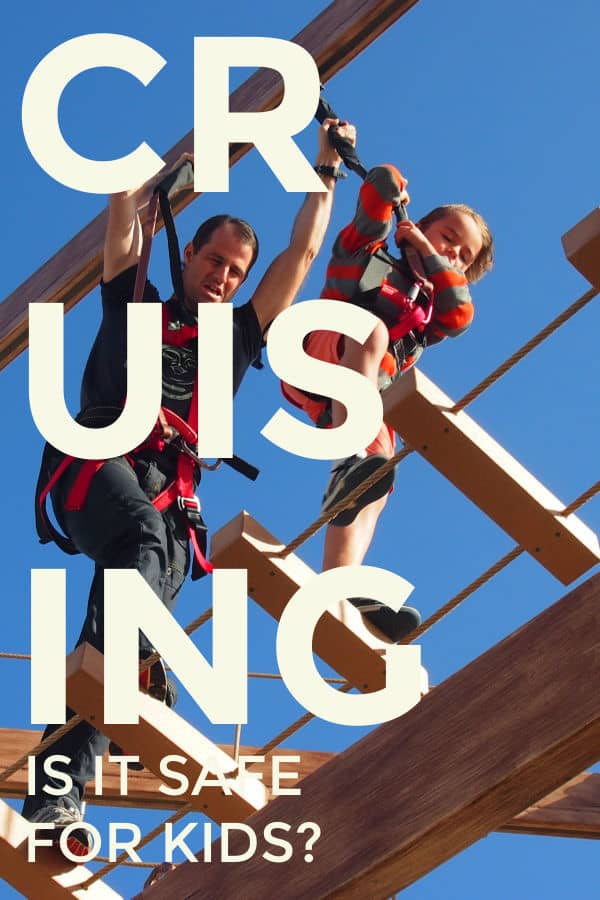 Did that help? I hope so. Anybody who asks for my view on " Is cruising safe for kids?" will be given a yes, for that is my impression and opinion. It's best never to go on other people's opinion of anything. Is it actually completely safe for toddlers? Well, toddlers are unpredictable. I'd like to hope it is but they will need close supervision. Even with my two balls of energy, I wasn't too worried about their safety. I can't say yes, absolutely it is safe because accidents still happen. As they do anywhere. I just wanted to let you know that I felt much better about it after doing a mommy risk assessment on our first cruise holiday. Now if you're convinced, go check out my tips on Finding a Cheap Cruise, our latest is costing us under $30/day, really! Once on your cruise we also have tips on maximising your budget. Enjoy your ship!