This post may contain affiliate links.
We think we found a great way of Getting to Guatemala from USA at the end of our 1 month USA road trip. It worked our cheaper for us to fly from the USA to El Salvador and enter Guatemala overland, than it would have been to fly direct to Guatemala City. We had no fixed plans for Central America, we just needed to get out of the USA for a while before returning to the States to catch our bargain cruise back to Europe, so this route suited us fine.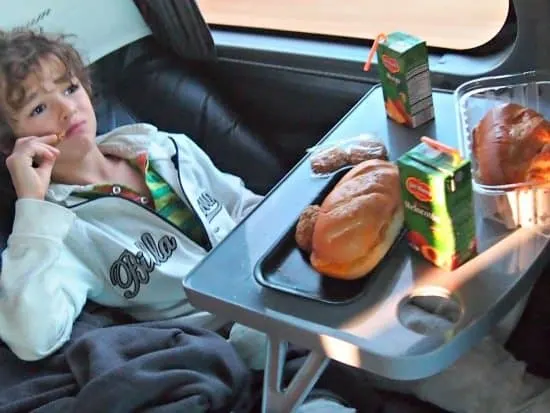 Pouring over the flights out of Fort Lauderdale to any destination, an easy trick on Skyscanner, one bargain flight for getting to Guatemala from USA kept jumping out at us, the $76 11.45pm flight to San Salvador on Spirit airlines. It was way cheaper than all the other flights to Central or South America so we threw caution to the wind and booked it. We knew nothing about El Salvador but we thought it would put us in a good place for getting to Guatemala to catch the famous Easter celebrations.
Arriving at San Salvador Airport at Night
We were due to arrive in San Salvador in the very small hours of the morning, 1 or 2 am. I'll be honest, I was a little concerned. El Salvador doesn't have the best safety reputation and I had no idea what the airport would be like.
We took the easy option of pre-booking a guest house in San Salvador online. They arranged a taxi pick up for us.
For the first time in our lives we were one of the names on the boards at the arrivals gate. We felt special.
The pick up cost us $30, the airport is a way out of an Salvador, but it's a fair price.
Now we know El Salvador a little better I wouldn't worry about arranging an airport pick up, we found that taxi drivers in El Salvador were honest, helpful, charged fairly and were easy to find. Look out for the "A" at the start of the registration plate, that signifies a genuine licensed taxi.
San Salvador airport was great, no problems, plenty of security staff around and well lit. I've read that security will let you sleep there under armed guard if you arrive in the middle of the night with nowhere to go. You quickly get used to armed guards in this part of the world, you're not in Asia any more.
What is El Salvador Like?
It's a new country to discover and that's always good! We only spent a week in San Salvador and posted about it here, there is a lot more to see, we'll be back there in a few weeks to see more. You can see the hotel/hostel we used in the above post.
Getting to Guatemala From San Salvador.
There are plenty of buses from San Salvador to Guatemala City. On the cheaper services you need to disembark and walk across the border. We've heard bad things about that border crossing so we picked a luxury coach to drive us straight through. And what a coach!
This was the nicest coach or bus we have been on, ever, anywhere in the world. The price wasn't bad either, $36 for adults, $18 for the kids. This was with Premium King Quality coaches. We paid the same sort of prices in Laos and bus travel there was a whole different ball game ( click here to see the VIP Laos bus).
The bus from San Salvador to Guatemala city had soft reclining seats, leg rests, cushions and blankets, movies, music, tray tables, curtains, waitress service and the nicest food I've ever had on a bus. It was like being driven through the countryside on an elevated bed. It was so good I can totally forgive the bullet indentations on the outside, there were, one or two.
There is No Departure Tax From El Salvador on a Bus.
There is a $32 departure tax if you fly out of El Salvador, if you leave by bus you don't pay it.
So, all in all, we were quite pleased with our plan of flying into El Salvador, rather than direct to Guatemala. We got to see an extra country, enjoyed a lovely bus ride and saved ourselves a few bucks in the process. Unfortunately this route doesn't work so well for returning to the USA, that airport departure tax eats most of your savings, but overall for us, it is still a fraction cheaper. We're looking forward to that bus again!
Back to the Guatemala Travel Blog round up page
If you'd like to hire a car during your stay, use this car rental comparison tool to find the best deal!

We also suggest you take a look at this company to get a quote for all kinds of the more tricky adventure or extended travel insurance.

Try Stayz / VRBO for an alternative way to find rentals on homes/apartments/condos in any country!