This post may contain affiliate links.
Yes Intercourse USA really exists and supposedly, it has the most stolen sign in the whole of the country. Intercourse PA, in Lancaster County Pennsylvania is a bit of a tourist hot spot as it sits squarely in beautiful Amish Country. We had to visit Intercourse town as part of our USA road trip and this part of the world didn't disappoint in any way. A post about the town of Intercourse PA.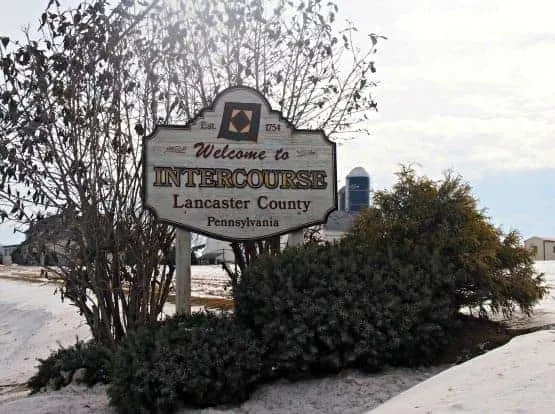 Intercourse USA
If you want to see the beautiful and traditional Amish horse-drawn buggies, along with the rolling farmlands of this part of the world, Intercourse town is a very good place to spot them.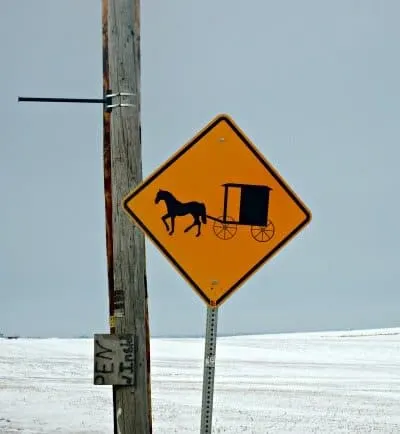 Intercourse Pa itself is full of gift shops, quilt shops and country antique stores. They're great if you're in a shopping position, unfortunately, as we now live out of backpacks full time, we weren't.
It's incredibly liberating to only own what you can carry. This is one of the reasons travel is cheaper than staying at home and part of how we managed to continue travelling the world with the kids for 6+ years.
The joy of Intercourse for us, was in just driving around, enjoying the countryside in this part of the world.
It is so pretty, incredibly so. We think we picked a good time of year, that blanket of snow on rooftops and rolling fields made things even prettier.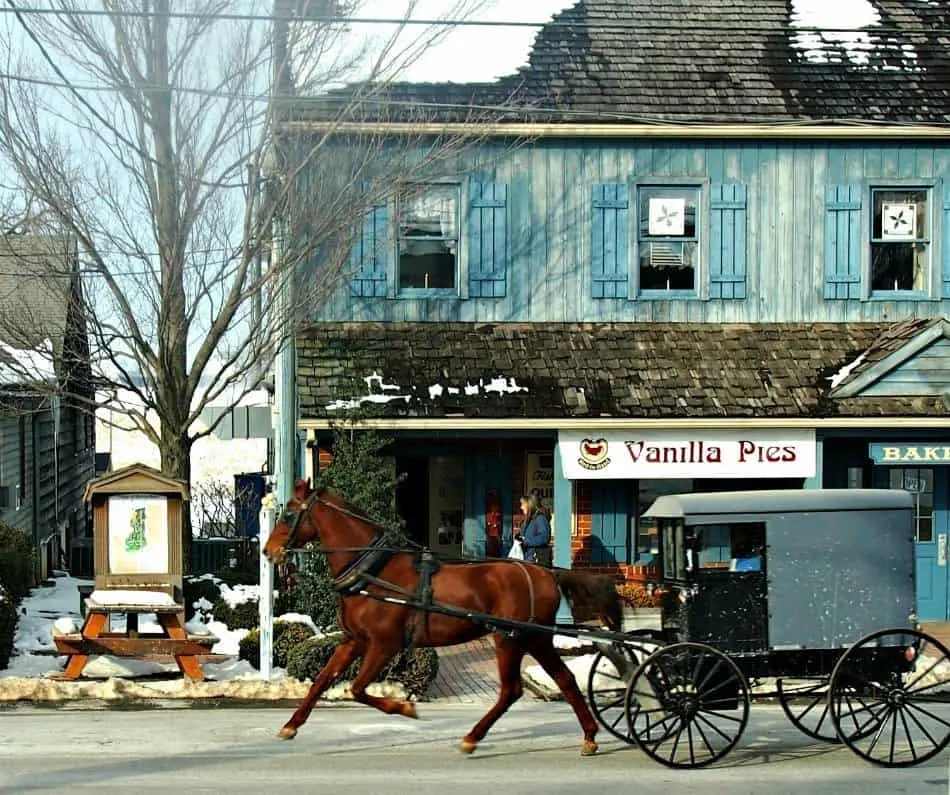 This road, the Pennsylvania Route 340, took us through Bird in Hand where we had a great time visiting the farmers' market, trying new foods and looking at hand-made Amish crafts.
As we're not from the US, apple cider was totally new to us and chocolate-coated bacon was pretty interesting.
American bacon is nothing like UK bacon, that's another revelation of this trip.
More posts on Lancaster County and Amish country to come, we highly recommend this part of the world, there is a lot more to it than just the Amish community, but that in itself, was amazing.
We also found interesting places involving pretzels and chocolate, this was a very food focussed trip.
For You For Pinterest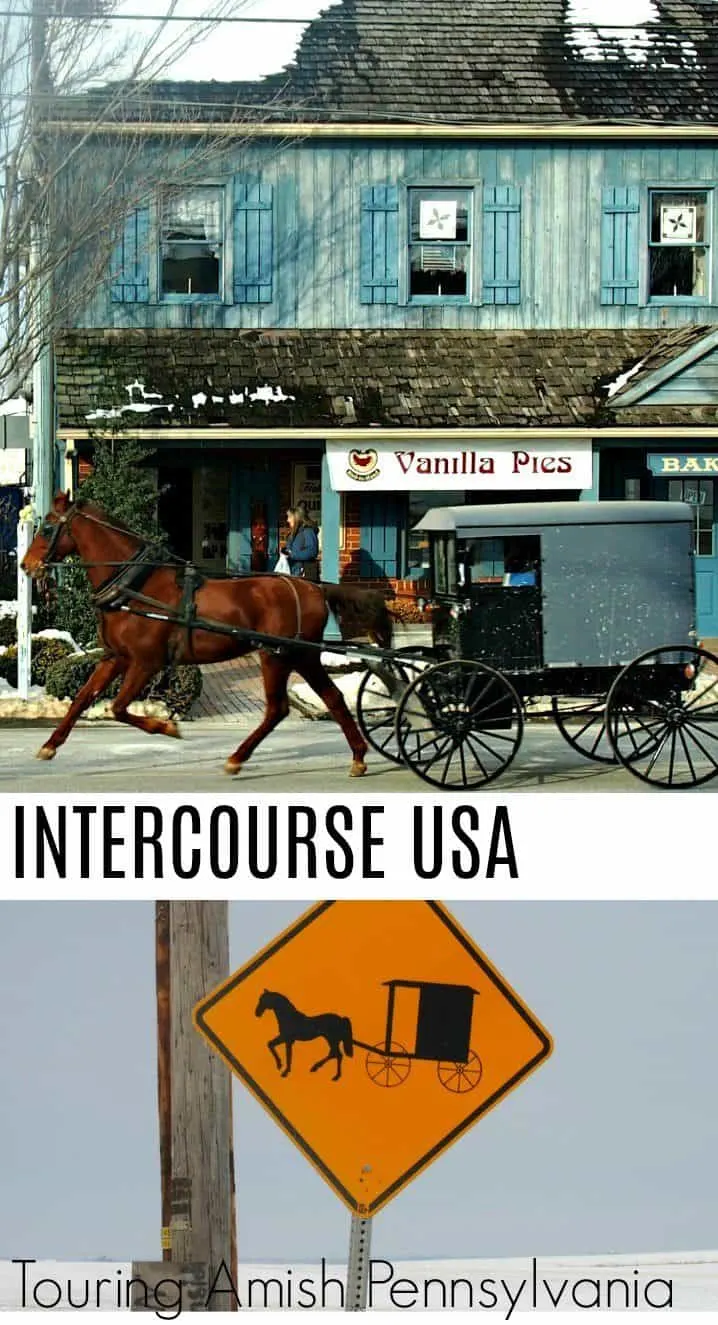 Things To Do in Intercourse Pennsylvania
The town of Intercourse is pretty small, but there are some cool things to do in and near Intercourse.
Visit the Intercourse Farmers Market, the Bird in Hand Farmers Market is also good and not far away.
Browse the gift and antique shops, look out for quilting and fabric specialists.
Take a traditional Amish buggy ride farm tour. Book a tour, departing Lancaster, here.
Visit the Dutch Wonderland theme park, this amusement park is about 20 mins (10 Miles) from Intercourse PA, on the outskirts of Lancaster.
In Lancaster, take a food tour. We highly recommend the food markets here! Reserve your place here.
Take a look at Barry's Car Barn in Intercourse if you love vintage cars.
The American Military Edged Weaponry Museum is in Intercourse.
The Waltz Vinyards Wine Shop is in Intercourse.
Eat at Stoltzfus Meats, Amos's Place, or The Olde Mill Restaurant.
There are many places of Interest around Intercourse, be certain to check out the Julius Sturgis Pretzel Bakery in historic Lititz, Pennsylvania and the Wilbur Chocolate Factory and Candy Store also in Lititz. Lititz is approximately 16 miles from Intercourse, the drive should take you just under half an hour. Our kids loved these two attractions!
Where to Stay in Intercourse Pennsylvania
Where Is Intercourse Pa?
Intercourse is in the US state of Pennsylvania. Is Intercourse a town or a city? It is neither, it is a unincorporated community and a census-designated place (CDP). It is located in Leacock Township, Lancaster County, Pennsylvania and is 10 miles (16 km) east of Lancaster on Pennsylvania Route 340.
It is in the northern hemisphere and is in the North East of the US mainland.
How Far is Intercourse Pa From New York City?
The drive time from New York City to Intercourse would be 2 hours 40 mins, traffic allowing, the distance is 147 miles (237 km), making Intercource a great place to visit for a short break or weekend getaway.
More Destinations and Road Trip USA Posts
We spent 2 months road tripping the USA and Lancaster County, Amish Pennsylvania and Intercourse town were a highlight of our tour. We have more posts on our tour of the USA in the USA travel blog archives but a few other stand-out experiences were finding fossilised shark's teeth at Myrtle Beach, discovering the Darien Sea Monster, and taking an airboat ride in the Everglades. Our most popular posts in this section are Planning a USA Road Trip and New York on a Budget. Want to see our other US content? It's on our USA travel blog page.
If you'd like to hire a car during your stay, use this car rental comparison tool to find the best deal!

We also suggest you take a look at this company to get a quote for all kinds of the more tricky adventure or extended travel insurance.

Try Stayz / VRBO for an alternative way to find rentals on homes/apartments/condos in any country!