This post may contain affiliate links.
We pulled into Myrtle Beach, South Carolina last night and headed straight for the beach for the boys to have a run around. They do amazingly well in the car, we'd had a relatively short drive by our standards, around 5 hours of sitting still. Those little limbs needed to move. Myrtle Beach is beautiful! A long stretch of fine sand studded with shells, a jetty punctuating the view and making for great photos. As usual, we'd done zero research, we stopped here because we'd noticed there were loads of cheap hotel deals to be had. I quite enjoy this sort of unplanned travel, each stop is a new discovery, no plans or expectations. What we found here, handfuls of black, fossilised sharks' teeth, was an added bonus and a thrill for the kids.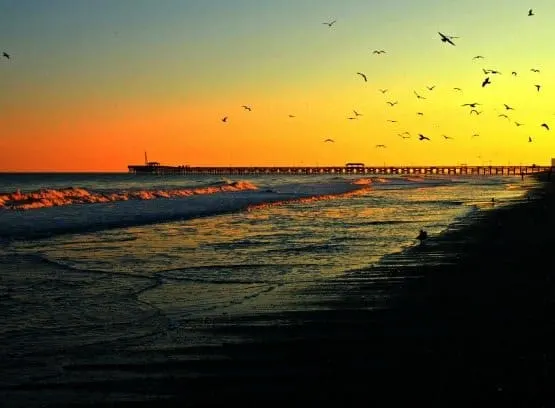 The kids ran and played in the warm afternoon sunshine. Local people walked, but why were so many of them standing in the shallows looking at the water?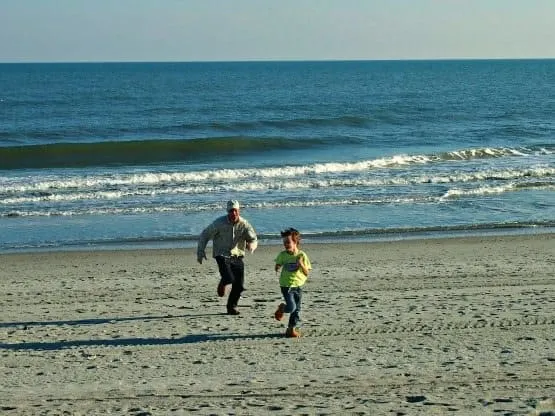 We ignored them at first. Local crazies? Searching for shellfish to eat? No idea. Eventually my curiosity got the better of me, so I asked.
This is what they were finding.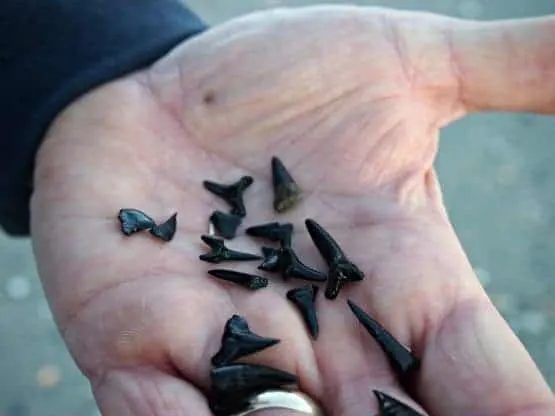 Myrtle Beach Shark Teeth.
Loads of them!
In all my years of living on Four Mile Beach, Australia, I have never, ever found one. This is really unusual!
But why on earth are the Myrtle Beach shark teeth black? Surely they should be white. It turns out that these are fossilised sharks' teeth and Myrtle Beach is a well know fossil and sharks' teeth hunting area. I Googled, I found this post on how to best find teeth at Myrtle Beach.
They came in all shapes and sizes, there were a lot of hooked, pointy teeth like the ones above, but we did manage to find one very large, triangular serrated tooth. Our best fossilised shark tooth ever. But I lost it. Duh!
Being a zoologist I get all excited about working out which shark they came from. See how the homeschooling (AKA worldschooling) is happening here?
So what did we do with our sharks teeth? The boys put them under their pillows, they hope the tooth fairy will stop by.
We'll be straight back down the beach after breakfast to find more.
How To Find Sharks' Teeth at Myrtle Beach?
You need to stand in the shallows at Myrtle Beach and primarily look for the teeth in the shallow water as each small wave laps the shore. You will be standing in the water, there are a lot of shell fragments and, shark teeth, so if possible wear water-resistant shoes to protect your feet. We did this barefoot and had no problems. You will simply spot the teeth and grab them, agitating the sand somewhat may help too. A long-handled sieve or net may help you grab the shark teeth when you spot them. You will need to protect yourself from the sun with sunscreen and a hat. Larger shark teeth are most likely to be in places where larger marine debris accumulates, look for piles of large shell fragments. Of course, the teeth could be anywhere on the beach or in the sand, but we found all of ours in the shallows. Happy shark tooth hunting!
Where to Stay in Myrtle Beach?
Myrtle Beach has plenty of hotels, motels, and apartments to choose from. The beachfront Dunes Village could be a great option with kids or for an affordable family vacation, as it offers family rooms and suites plus extensive water play facilities for small children. Take a look at the facilities here.
Myrtle Beach was just one stop on our extended USA road trip, if you'd like to read more about our journey and the fascinating places we visited, you'd need this post on Planning a USA road trip. We hope you found this glimpse of Myrtle beach and finding fossilised shark teeth interesting, another glimpse into this big, fascinating world.
If you'd like to hire a car during your stay, use this car rental comparison tool to find the best deal!

We also suggest you take a look at this company to get a quote for all kinds of the more tricky adventure or extended travel insurance.

Try Stayz / VRBO for an alternative way to find rentals on homes/apartments/condos in any country!