This post may contain affiliate links.
This morning the boys and I went to Ripley's Believe It Or Not New York, just off Times Square in New York City. I'd never been to a museum like it before and I really didn't know too much about it. We loved it!
I thought it would be about Guinness World Record breakers mostly. It sort of was, but much more besides, I had my eyes opened just a fraction more, yet again. You can book your Ripley's New York tickets and find out more about their dozens of global sites on their website.
This post is about what we thought of visiting Ripley's Odditoriums for the first time, and is it worth visiting a Ripley's Believe it or Not near you.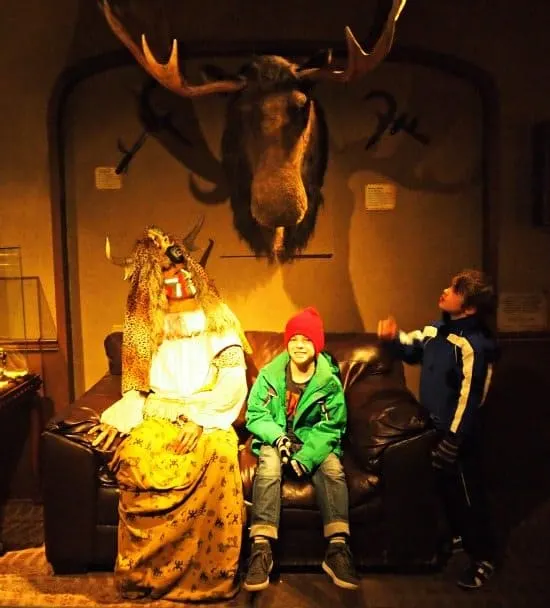 While the kids were marvelling at 2 headed lambs and 6 legged cattle I was reading up on this guy Ripley.
Our hotel in New York City had a great location in Manhattan, putting us close to the city's many attractions. I'd say Manhattan is probably the best place to stay in NYC.
Ripley of Ripley's Believe it or Not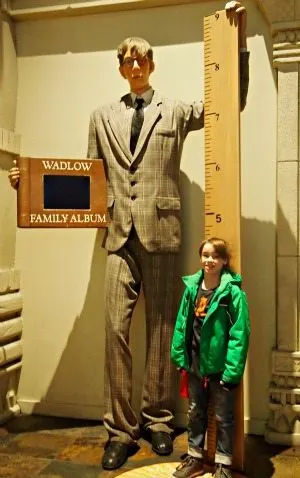 Robert Ripley was an American cartoonist. anthropologist and entrepreneur.
He published his travel journals and collected odd and unusual artifacts from around the world. Does he sound a bit like a travel blogger to you?
I'm no cartoonist but I certainly like to share visuals through photos and the odder the experience the better the post, generally.
I always say that we travel to find the different, I think Ripley was of a similar breed.
Ripley made his first trip around the world in 1922 and visited over 200 countries, no mean feat in those days.
After his trip to Asia in 1932 he opened his first Odditorium in Chicago.
I'm sure he would have been a travel blogger if he was around today.
Are We Doing What Ripley Did by Travelling and Collecting Memories?
Touring the New York Ripley's Believe It Or Not this morning I recognised exotic items similar to those in my own home.
A Ganesh statue from India, a dorje from Tibet and representations of long-neck Padaung women From Thailand.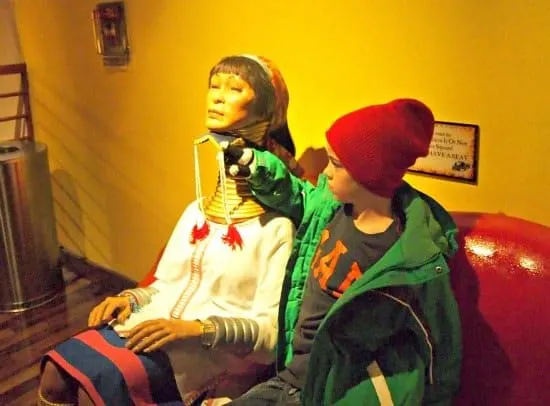 There were also items that I'd love to get my hands on, Chinese lotus blossom shoes to fit foot-bound ladies, Tibetan skull cap trinkets, and musical instruments.
Ripley and his organisation clearly share a lot of my interests, piercing, tattooing and body modification, sharks and shark attacks, dinosaurs, and shrunken heads. OK, not shrunken heads so much. I wouldn't want one of those, but they were pretty amazing. Incidentally, years later, we actually stayed with the head hunters of Borneo, deep in the jungle in their longhouse. I was glad we'd already seen shrunken heads,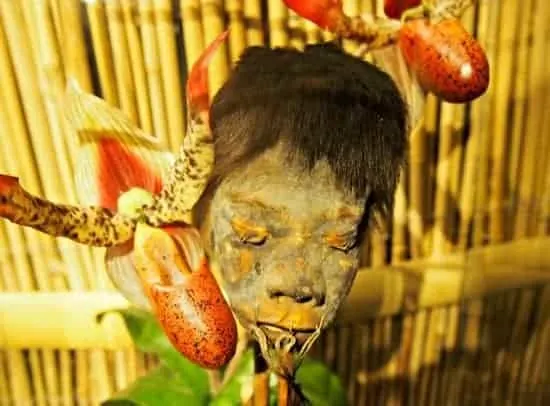 Some of the more macabre displays totally turned me off. I ushered the kids through the torture implement section, that stuff turns my stomach, but on the whole, it was quite an interesting little museum. I suppose it is a museum, of sorts.
I'm not going to particularly recommend it to you, some people would find it interesting, others wouldn't. The kids loved it, particularly the rotating black hole attraction and the laser maze where they skipped through laser beams ninja style.
But on a snowy, freezing New York day it got us out of the cold and was something completely different. There I go again, travelling to find the different, it keeps on cropping up.
Other Ripley's Believe It or Not Museums and Aquaria Around the World
Ripley's Believe it or Not are a worldwide business with museums and aquaria in many countries, there are, (or have been, check for closures) in the following cities and countries.
North America. Including, Califoria, Texas, New York, Texas, Missouri,Tennessee, Wisconsin, New Jersey, Virginia, South Carolina, Maryland, Oregon.
Australia (Surfers Paradise)
UK (Blackpool)
Mexico – several
Netherlands , Amsterdam
Malaysia – Genting Highlands
UAE- Dubai
Thailand – Pathaya
A year or so after visiting Ripleys Believe it or Not museum New York, we visited Ripley's in London, on Picadilly Circus. The two are quite different and don't think that if you've seen one, the others aren't worth bothering with. My children would love to spend all day every day in those laser and mirror mazes. The older my kids become the more educational Ripley's museums seem.
If you'd like to hire a car during your stay, use this car rental comparison tool to find the best deal!

We also suggest you take a look at this company to get a quote for all kinds of the more tricky adventure or extended travel insurance.

Try Stayz / VRBO for an alternative way to find rentals on homes/apartments/condos in any country!