This post may contain affiliate links.
To make your trip to Japan easier, here are some essential things to know before visiting Japan.
I should probably rename this, "Things I wish I'd known before visiting Japan", I found Japan a very challenging country to visit. And I've visited almost 60 countries now, it was one of the hardest. Here are some tips to help you negotiate Japan with as little stress, and as few surprises, as possible.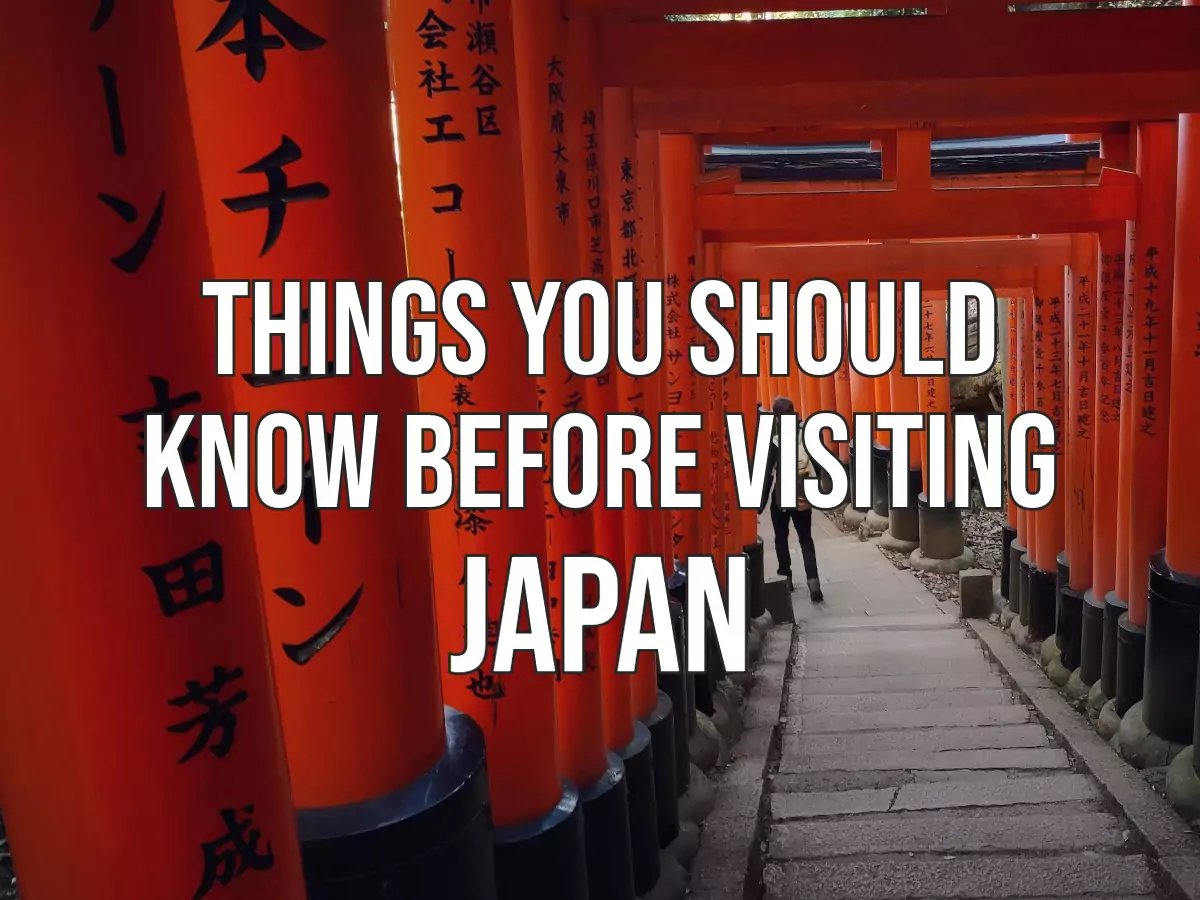 This is our first post about travel in Japan, we'll be adding a lot more content in coming days and weeks. If you scroll to the bottom of the page to the "Related Posts" all of our content from Japan, so far, will be there.
Power and Sockets in Japan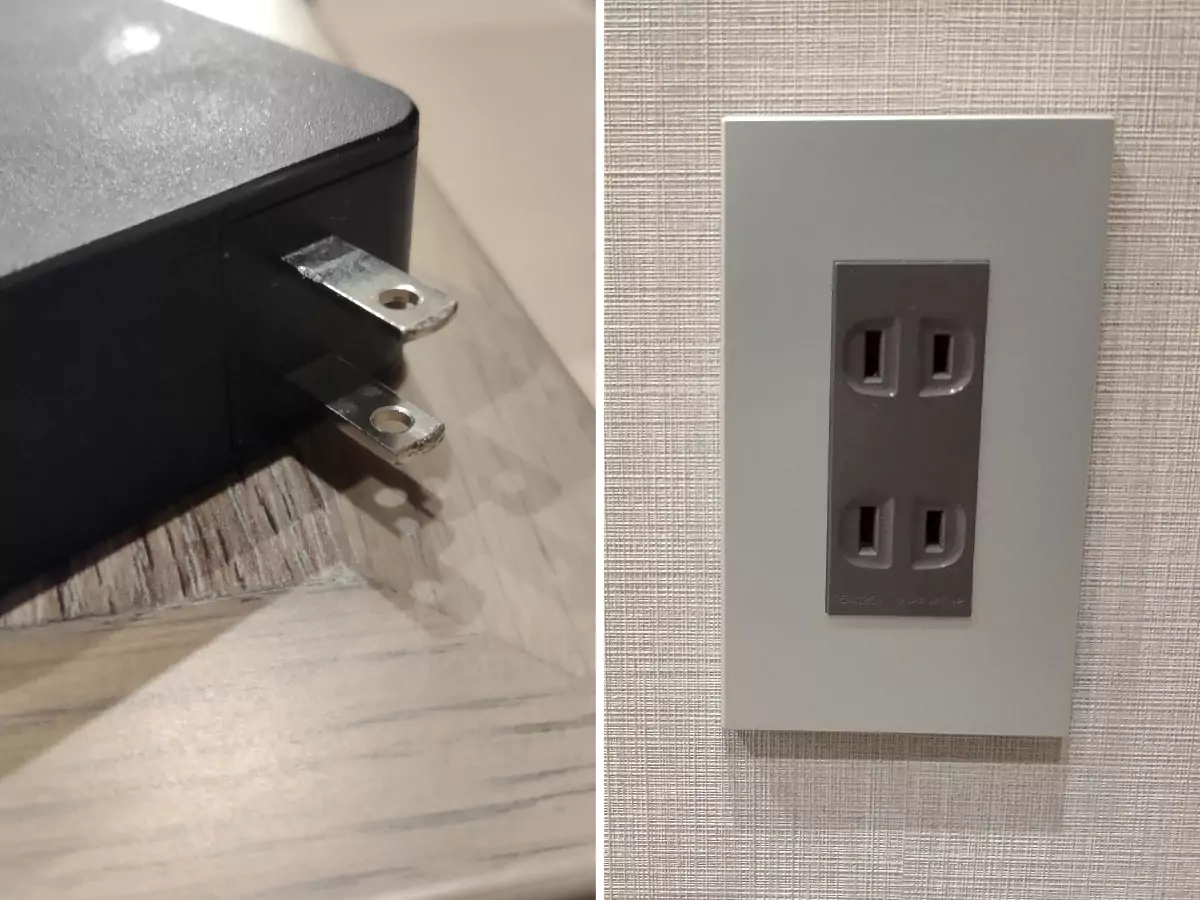 Let's start with the basics, Japanese power sockets and plugs are flat, 2 prong type. These are American-style. Visitors from Europe of Australia will need a power adapter.
Some rooms, not all, have USB chargers for your phone or other electronic devices.
If you have a 2 prong rapid charger bring that, it's faster than using the USB outlets, in our experience.
The power supply is a little different, Japan operates 100V supply voltage at 50/60Hz. The United States uses 110-120V (60 Hz). The UK and Australia have a supply voltage of 230V (approximately), so electrical appliances may run a little differently.
I know my laptop computer struggled to run and charge simultaneously when the battery got very low.
But I'm not very good at understanding electrical things, so do your own research!
Every hotel room we used in Japan provided a hairdryer and kettle (no coffee), plus an air purifier. Overall we had no major issues with anything electrical and the standard of electrical devices in every hotel room we used was very good.
Japanese Bathrooms
I'm sure you've all heard about the state-of-the-art Japanese WCs. What surprised me, was that they are everywhere, even in public washrooms.
They're pretty easy to use and the controls are fairly self-explanatory.
Usually, there is no English translation of the controls, but the one below, in our final hotel, may help you out if you're struggling.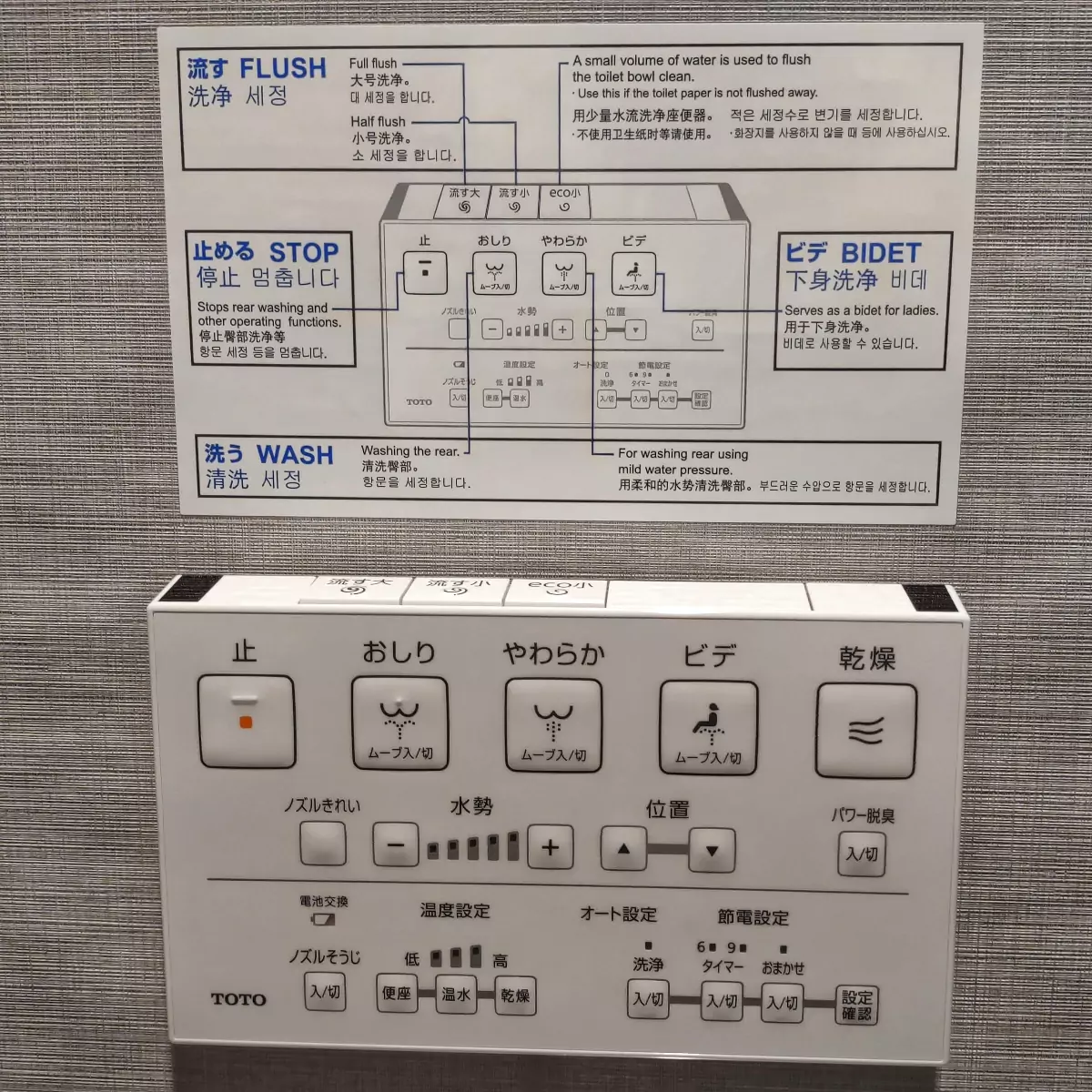 The Japanese must think we are barbarians for not having such beautiful facilities. I plan to buy one such installation for our bathroom renovation back on the farm, they are good. In particular, for the heated seats that are so soothing when legs are aching from walking all day.
Every hotel room we booked in Japan also had a bathtub, it was heavenly to take a deep hot bath! The supplied toiletries in every room were way above the standard you'd expect outside Japan.
A trip to Japan is like a spa holiday, even without using the onsens.
(I have zero interest in visiting an onsen, but if you didn't know, they tend not to allow people with tattoos to bathe.)
Every Room Has an Air Purifier in Japan
This was another surprise. Every room we booked had some sort of air purification or dehumidifier unit.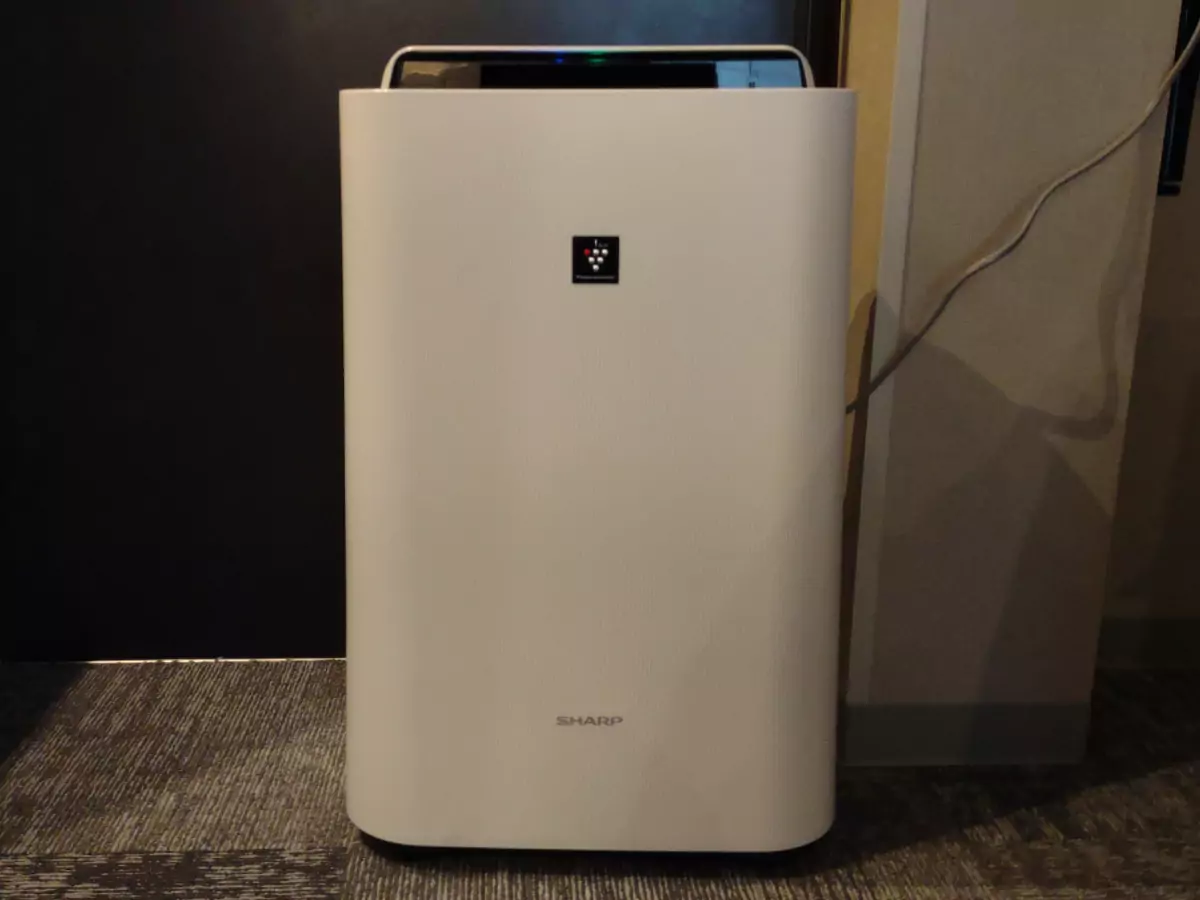 I found that I slept like a baby and woke up feeling way better than I do at home. I never had a headache or sore throat when I woke up in Japan.
Could it be these magic units? I'm about to find out, I've already ordered one to use back home! This one. If it works I'm getting one for every room, I'm thinking that with the tropical wet season almost upon us, and the inevitable mold spores, that HEPA filter will be gold. Try one here.
This is just one of the cool Japanese innovations we're bringing home with us.
Trash Bins in Japan
It is really hard to find a trash bin in Japan! Some food stalls will have their own bins, but don't you even try to put rubbish from another stall in their bin!
You are supposed to take your trash home with you, which is difficult if you don't have a big bag with you to carry it.
We watched with some amusement as the early morning trash collectors retrieved trash from every and any nook or cranny that could be used for hiding trash, including in the recesses of statues. Not having a public bin makes people creative.
Japan is very clean, spotlessly clean, from what we saw. Not only is trash collected, streets and gutters are washed down and all streams and waterways looked pristine. Japan is a strikingly clean place. So the system must work!
If you need to find a trash bin you may be lucky in a public washroom.
Etiquette in Japan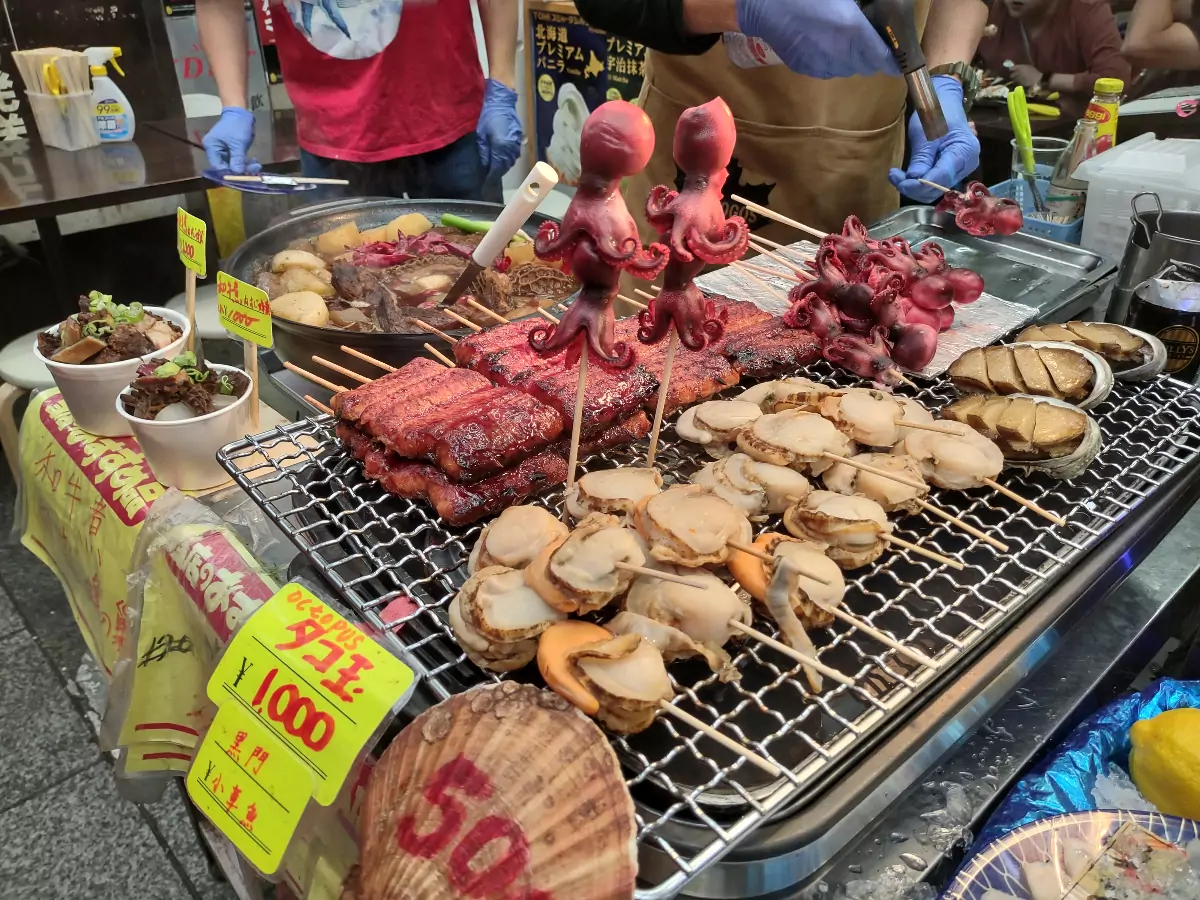 You will hear announcements, in English, along the lines of "In order to increase politeness and good manners, please do not walk and eat."
In the famous food markets, Nishiki (Kyoto) and Kuromon (Osaka), you are required to eat any food you buy inside, or in front of, the food stall from which you bought it.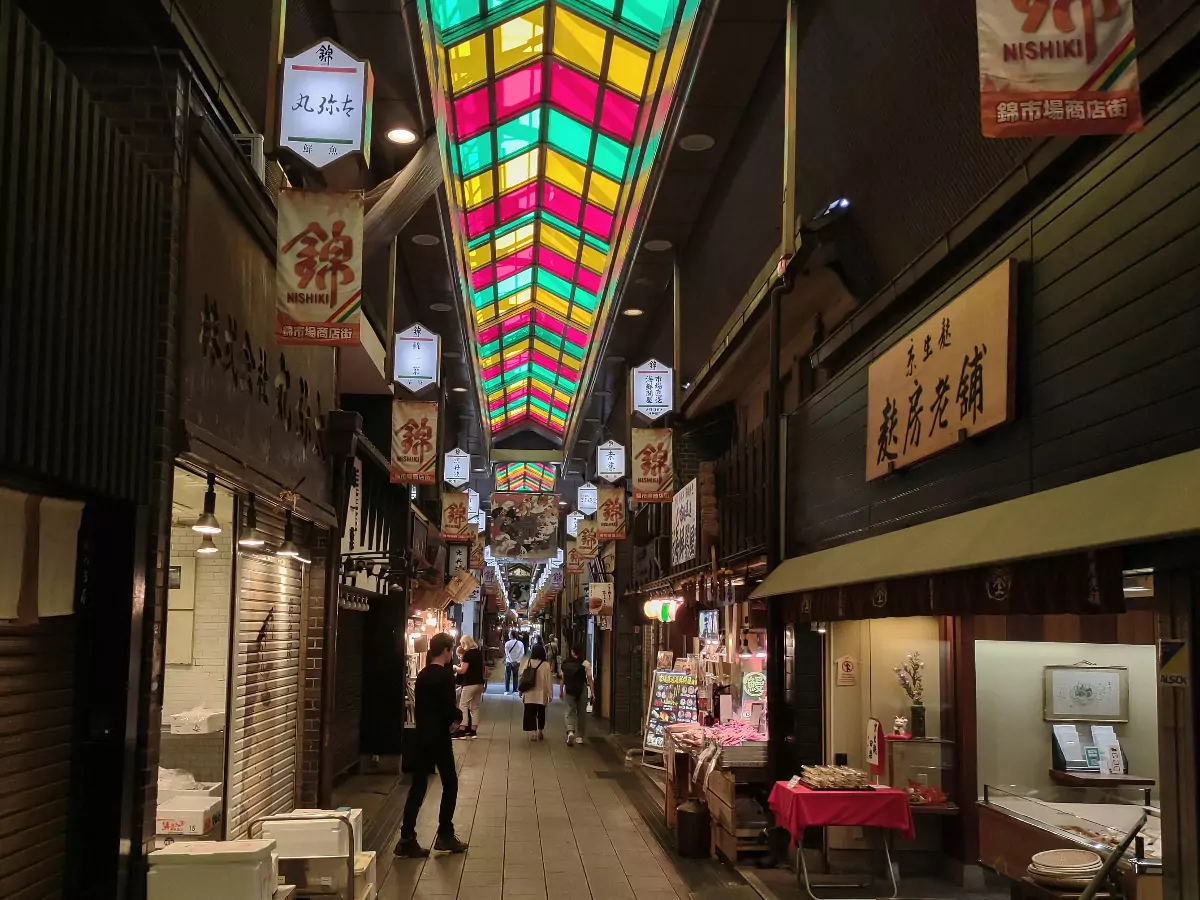 There are often no seats, so if you buy snacks from the market, or even a bowl of ramen, you may be required to consume it standing at a counter.
Many restaurants only have a handful of seats, or places to stand. You will have to queue.
We walked miles and miles in Japan, often 20 to 30, 000 steps per day. We really needed to sit down so the standing-to-eat thing wasn't our favourite.
You Often Have To Pay or Order At Machines in Japan
While the system is paying or ordering at machines is very efficient and removes human error, it's pretty alien to most Western tourists and can be a little hard to navigate.
In the 7-11 convenience stores and Family Marts, your crisp 1000 Yen notes go into a machine where change is calculated and dispensed. You can also pay with your normal card (or phone) in stores like this.
Many, many places, particularly food stalls in the markets are cash only, so you will need to carry plenty of cash.
We didn't buy a Suica card and didn't need one. I really couldn't understand why these cards were necessary or how they worked before we landed on the ground. I was very happy to find they were unnecessary.
They may make life easier sometimes, but we did fine without them.
You'll find ATMs in most 7-11 stores, there is a fee for withdrawing cash. I believe it was 220 yen per 10,000 yen withdrawal, but it seemed to vary.
Automated Check-Ins and Robots in Japan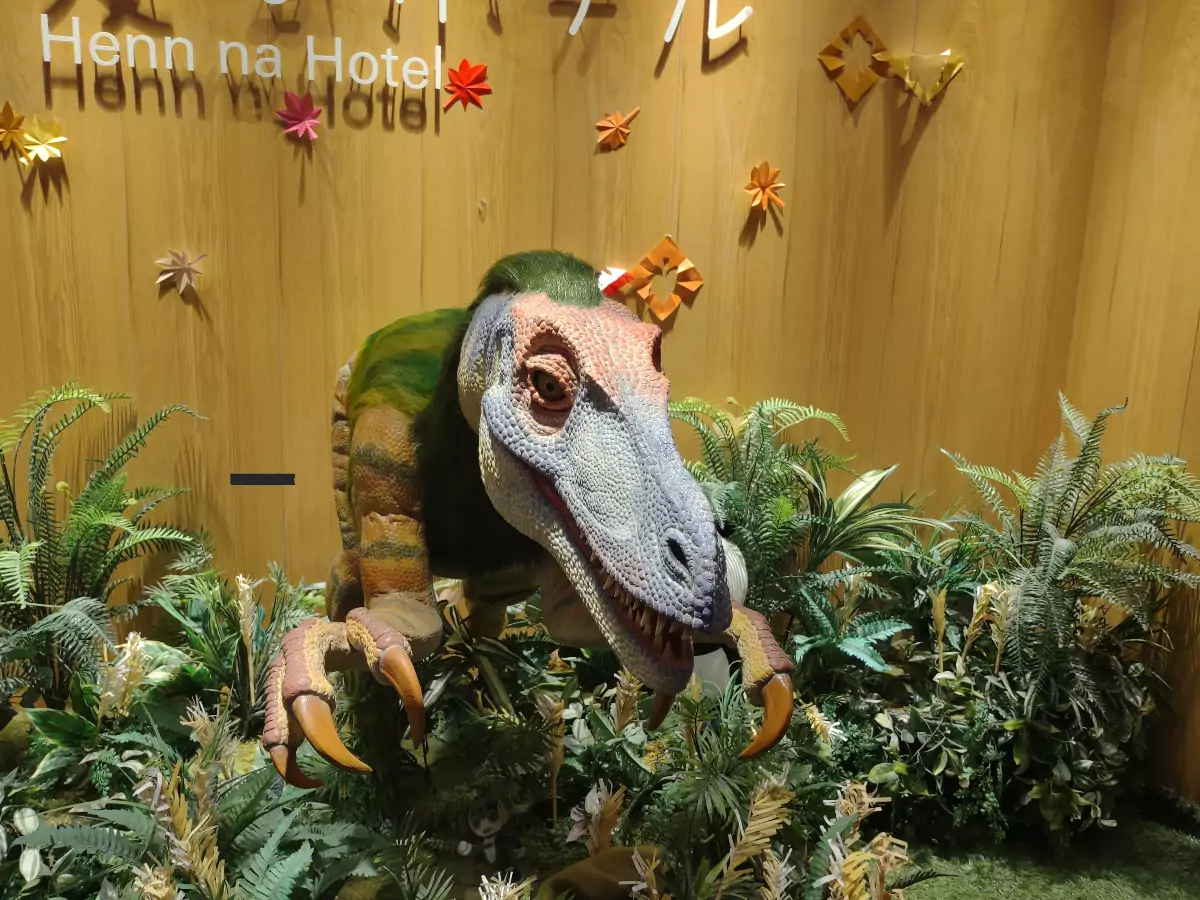 To book this dinosaur hotel, look here on Booking. Alternatively, check it out on Expedia.
There is a Language Barrier in Japan
We expected everyone to speak some English, we were wrong! It's rare to come across much of a language barrier as part of travel these days, but in Japan, yes, you may struggle.
We really struggled with the train system at first, mostly because of the language barrier, but once we figured it out we were fine. You should be too. Buses were easier. I'll explain all of this soon!
Extra Charges For Accommodation in Japan
We regularly had to pay an extra accommodation tax in hotels in Japan.
In Osaka (Namba), this was 100 Yen (JPY) per person per night (including children), At Universal City we paid an extra 150 yen per person per night.
In Kyoto we paid 200 yen per person per night. Don't forget to factor this into your costs.
On booking platforms like Booking dot com or Agoda you will see "extra charges may apply." This is what they are referring to.
Some hotels have these taxes built into the price, others don't.
We Found it Hard To Find Food in Japan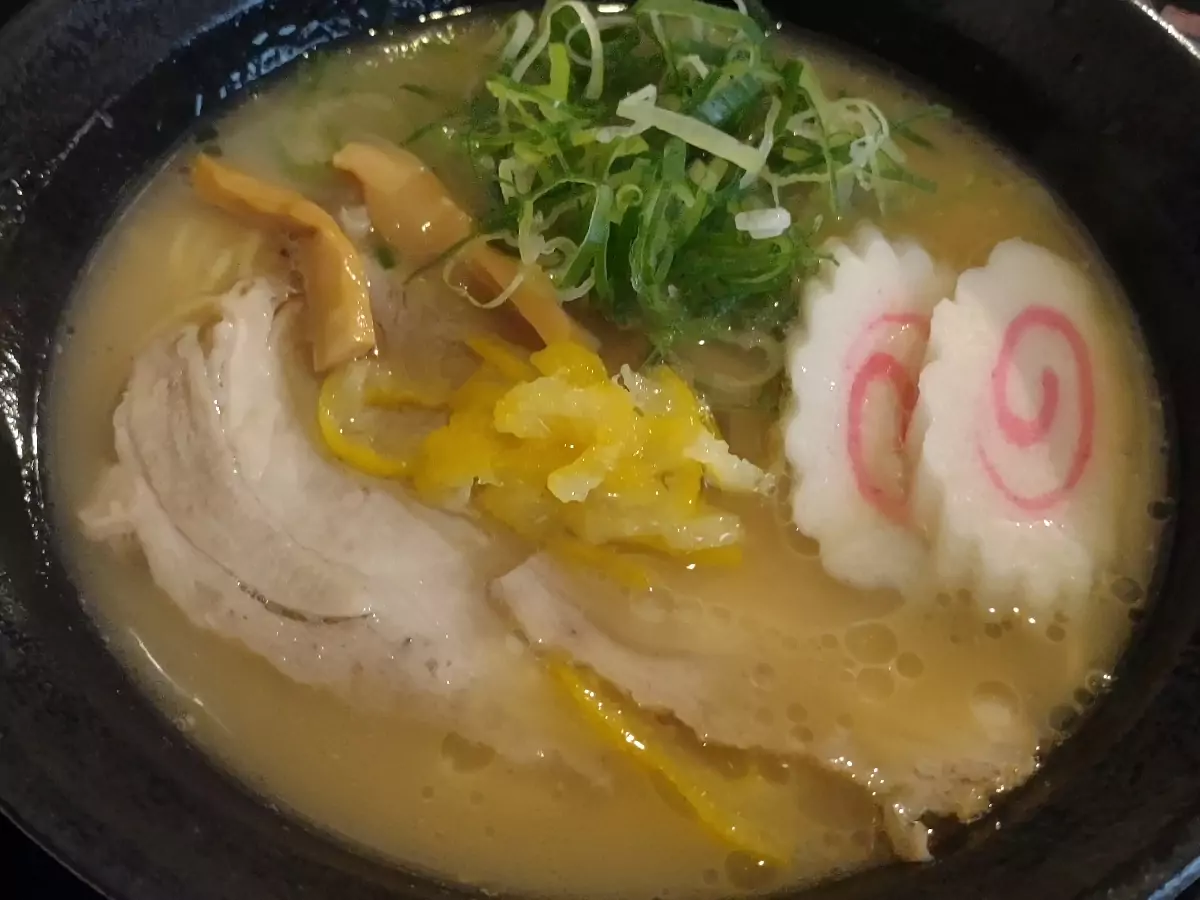 Maybe it was just us, but we found it really hard to find a meal that we enjoyed, and considered healthy-ish, in Japan.
The whole food culture and system was just so different to our norm, and we're not experts on Japanese food.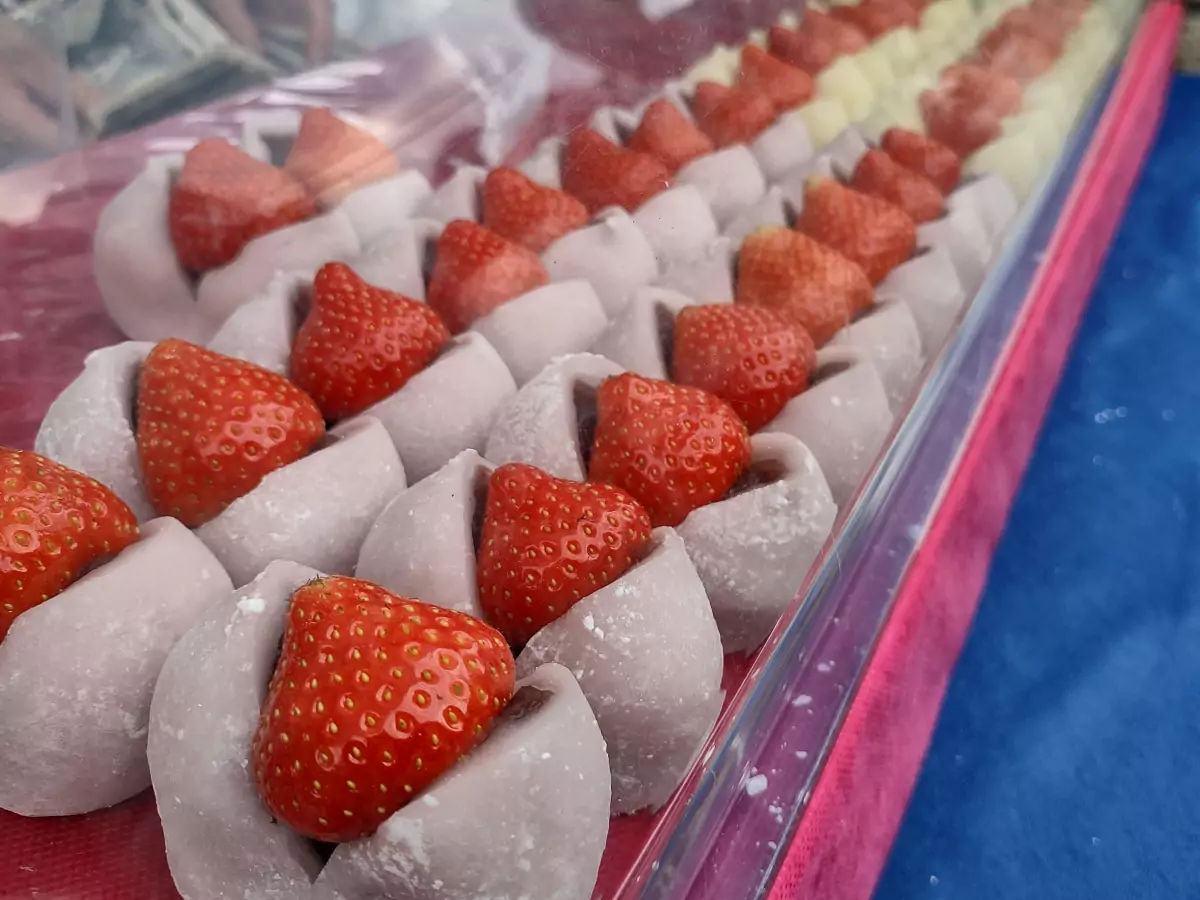 To this point in my life, I had never visited a Japanese restaurant, but I've eaten my fair share of sushi. I haven't been to a Japanese restaurant because it never appealed to me.
In Japan I learned for sure that I'm really not a fan of Japanese food. Thai, Vietnamese and Indian remain my firm favourites.
We struggled to find places that were open, when we needed them in Japan. Most restaurants didn't open before 11am, and in the evening they didn't open until 5pm. Any times in the morning (breakfast) or before 5pm it was very hard to find anything other than junk food.
Sure, it was easy to grab some gyoza in the market, and fairly easy to find a bowl of ramen or udon noodles, but beyond that, we struggled.
It was really hard to find vegetables. I think I ate one salad and a single broccoli floret in a week.
I'm pretty health conscious, so a lot of the deep-fried junky things just weren't for us, although my son muched his way through most of the sweet treats on offer and blistered his mouth on lava-hot takoyaki (octopus balls, an Osaka-special street food).
In Osaka there were a few 24-hour, or early-morning ramen shops, always with long queues, in Kyoto we couldn't find anywhere for breakfast so we usually waited until 11 am. That's fine by me, I'm an intermittent faster, but my teen wasn't impressed.
We tried, we found restaurants on Google maps, walked miles, found them shut or with a queue down the street. It just wasn't easy!
The good news is, food was pretty cheap, we could usually find something to eat for 1000 – 2000 yen. I think the most we paid for a meal for two, with drinks, was about 6,000 yen, roughly $60 Au, so much cheaper than anything in Australia.
Obviously you didn't need to spend that much, we were not on any sort of budget in Japan.
We did try to get into the famous Kichi Kichi omurice in Kyoto, but Mr Kichi had been called to Taiwan for an omurice festival. But we did find the shop.
We also found a really good Nepalese restaurant in Kyoto, that was our best dinner of the trip.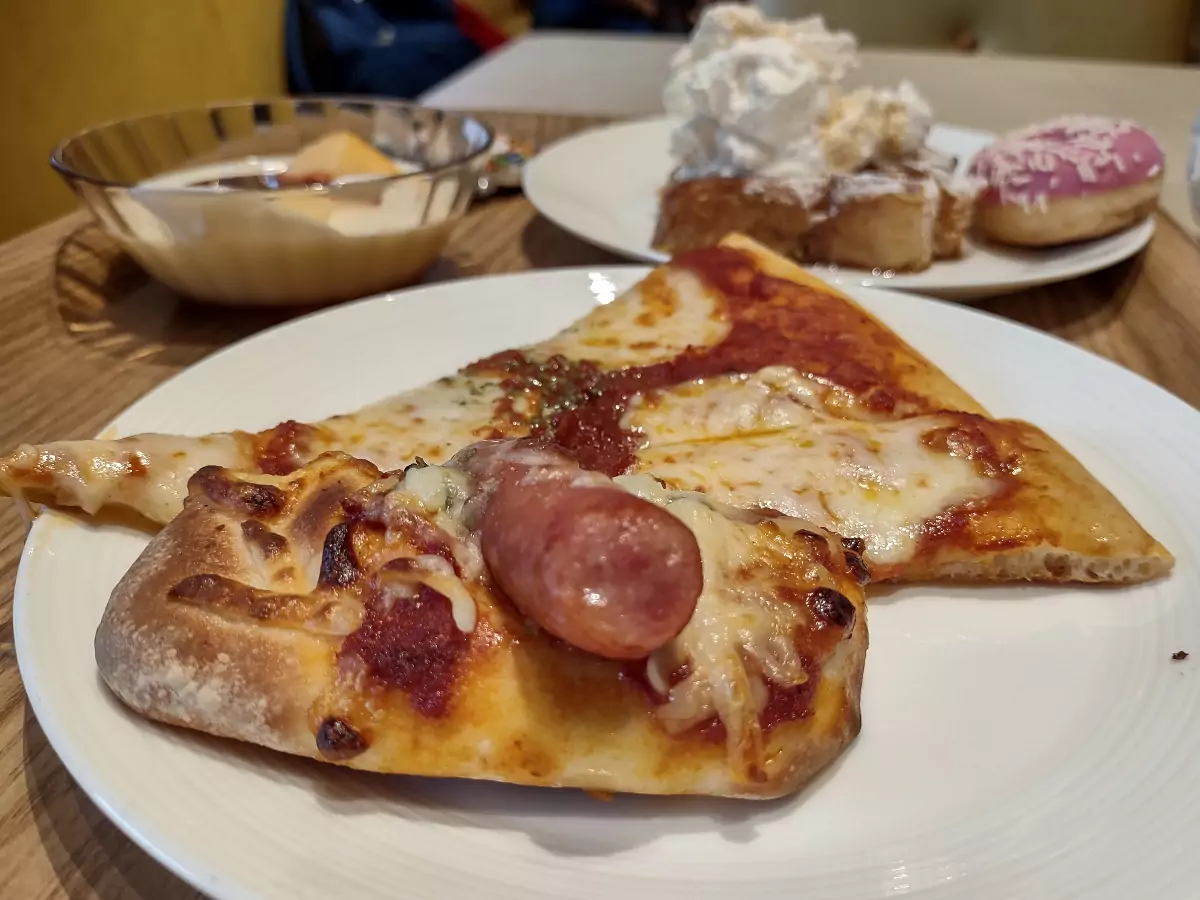 I just want to share our Japanese hotel buffet breakfast experience, we did pay for this at our Universal hotel. It was terrible. The worst breakfast I've seen anywhere, so if you're unsure about booking breakfast – you probably shouldn't.
I'll write more about this soon. I'm sure I'll attract comments for not being impressed by Japan's cuisine.
If you're good at finding a square meal in Japan please feel free to let us know how!
Japan Was Not Expensive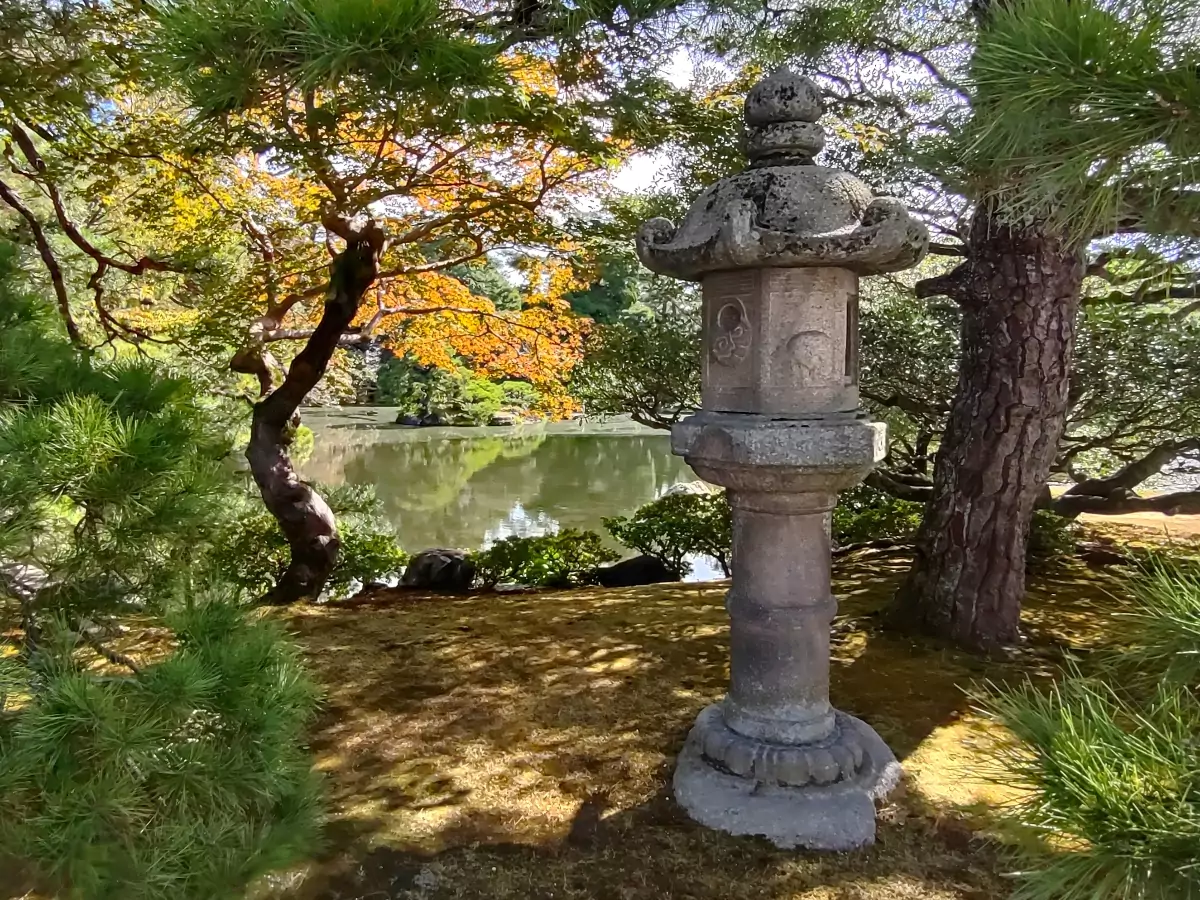 I've heard all my life that Japan is an expensive destination. We didn't find it expensive at all.
Maybe that's down to current exchange rates, but compare prices to Australia or Singapore (my normal these days) and Japan is cheap!
Obviously, it's a more expensive destination than the cheap parts of Southeast Asia, but still, it wasn't too bad.
As we visited slightly out of season, just before the autumn leaves put on their full show, we even found bargain flights. Check out our Skyscanner tips on how to find cheap flights.
What was really helpful in keeping costs down was an almost complete absence of admission fees. Those costs add up, and in Japan most of the "must-see" places were free to enter because they were public, or religious places.
Most local public transport was also very cheap in Japan, the bullet trains, on the other hand, are really expensive. If you plan to take more than one bullet train a JR pass (Japan Rail) may be your friend.
Japan is Busy!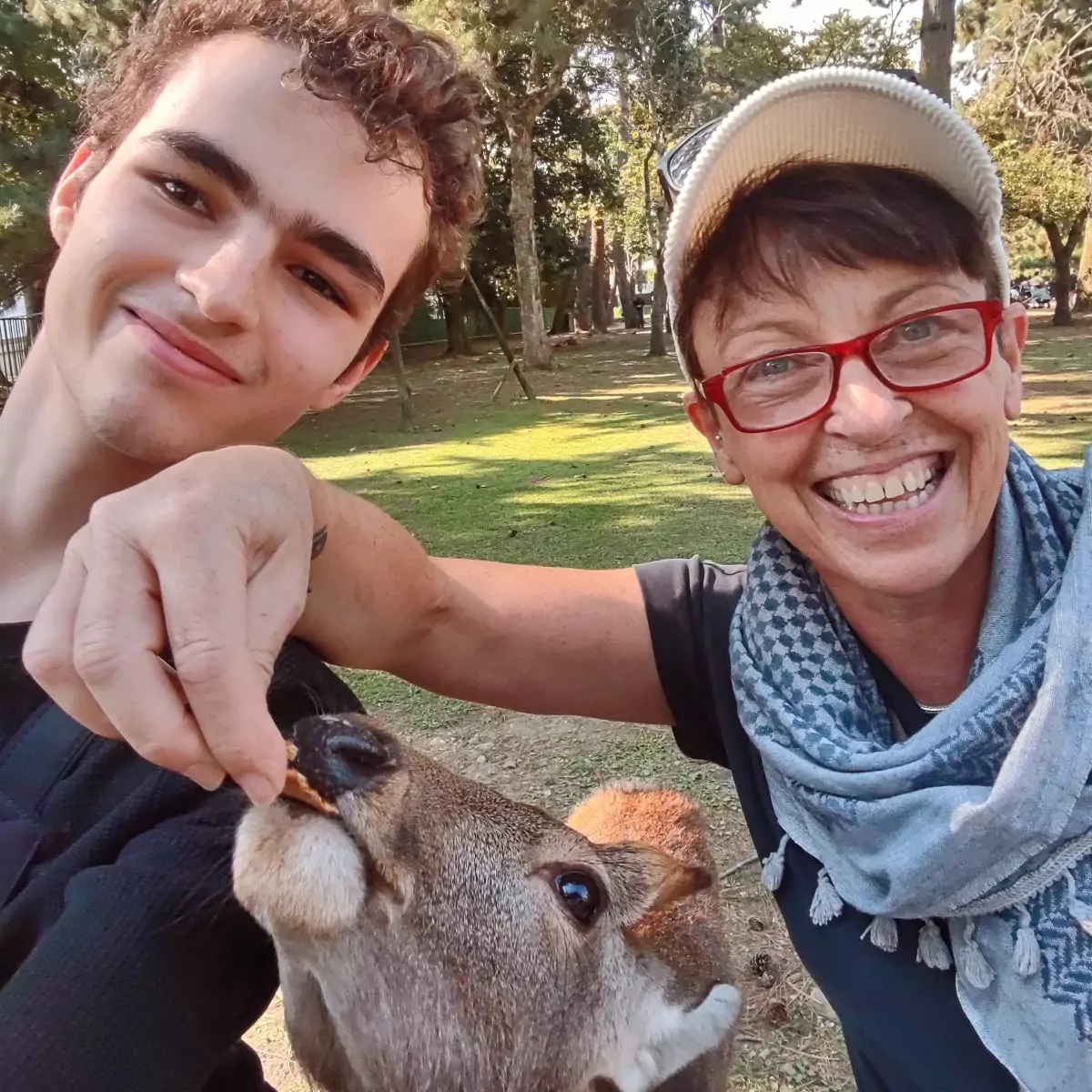 Japan is a popular international tourist destination and also gets busy with domestic explorers. Everywhere we went was packed.
Japan isn't up there as one of the most densely populated countries in the world, but the density is still pretty high, see here.
If you're used to seeing beautiful photos of influencers alone in scenic spots you could get completely the wrong idea. Everywhere was heaving with visitors.
You need to get up early, and even then, at 8 am, places are busy. Just be ready for that.
Also be ready to queue, you've never seen queues until you'll seen the lines in Japan.
But, despite the crowds, everywhere we went in Japan was 100% worth visiting and we often discovered much more besides the top-billed attraction.
Japan Was Much Better Than Expected!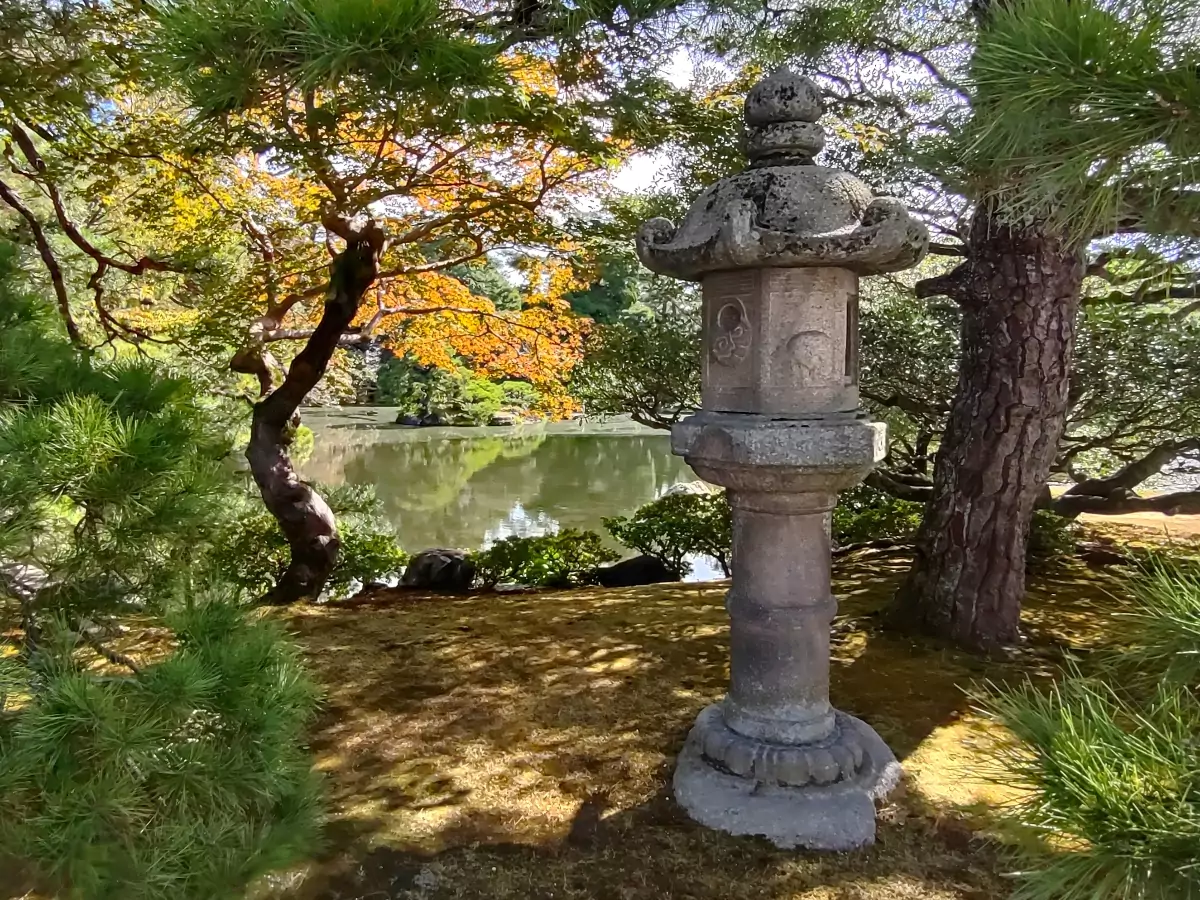 The temples, palaces, gardens, and general beauty of Japan were many factors more fabulous than I had imagined. Japan was a surprise, a good one.
Japan is my 53rd country (I think) because I never had much of a desire to go there. It was my son who twisted my arm to take him to Japan and indeed, Japan is a great destination for travel with teens.
Usually, if I never had a burning urge to visit a country, I find my hunch to be for a reason, I don't enjoy it much, but Japan really is worth visiting. I think we'll be going again.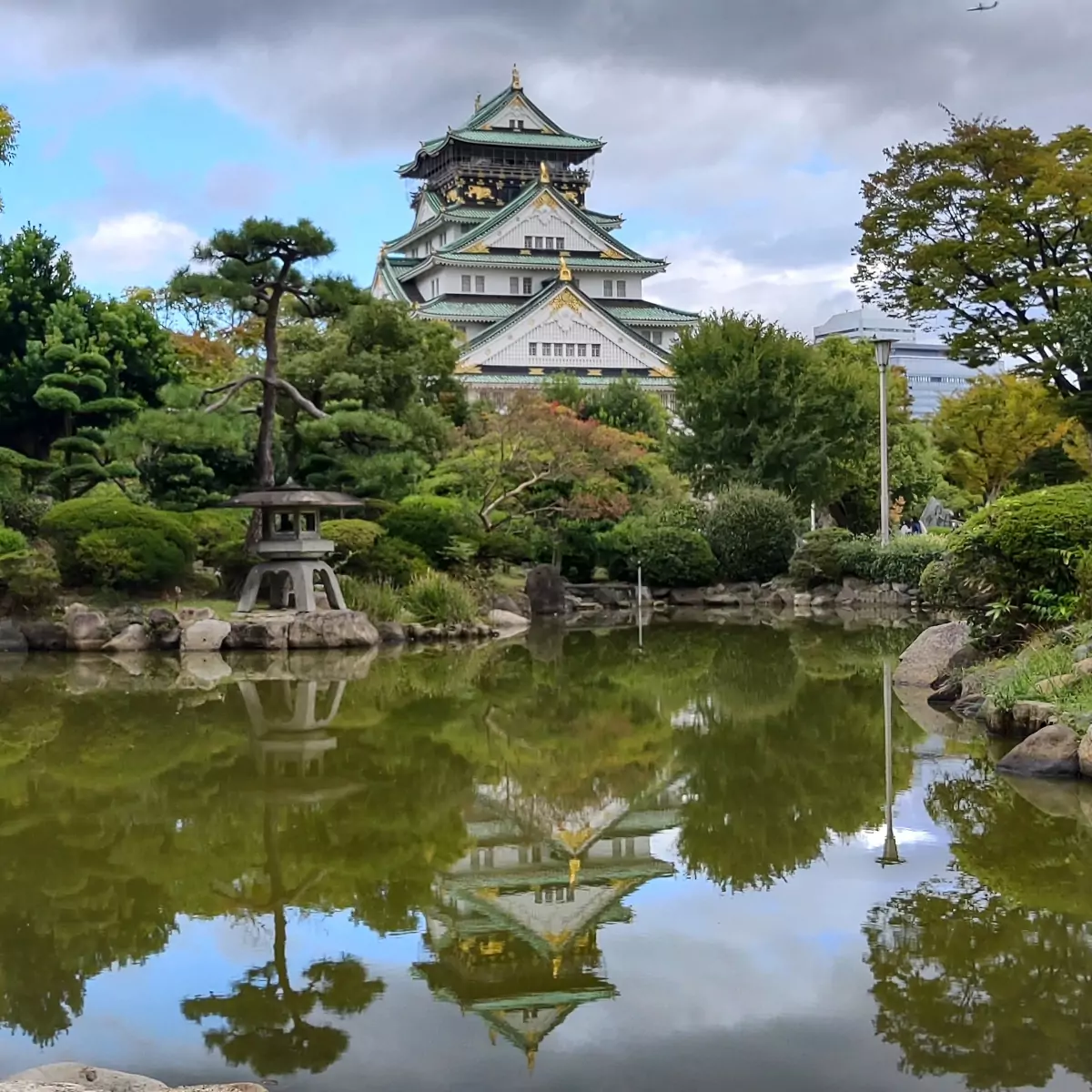 Japan is different, different in a good way. I always say we travel to find the different and we certainly found it in Japan.
After getting a few glimpses into the Japanese countryside I would love to take a road trip in Japan, just hire a car (get a quote here) and really explore.
Where Did We Stay in Japan?
We stayed at Henn Na Hotel Osaka (for the dinosaurs), on Booking.com here. This moderately-priced hotel has the perfect location near the Kyoto river for the famous running man, and the food sector. It's also on Expedia here.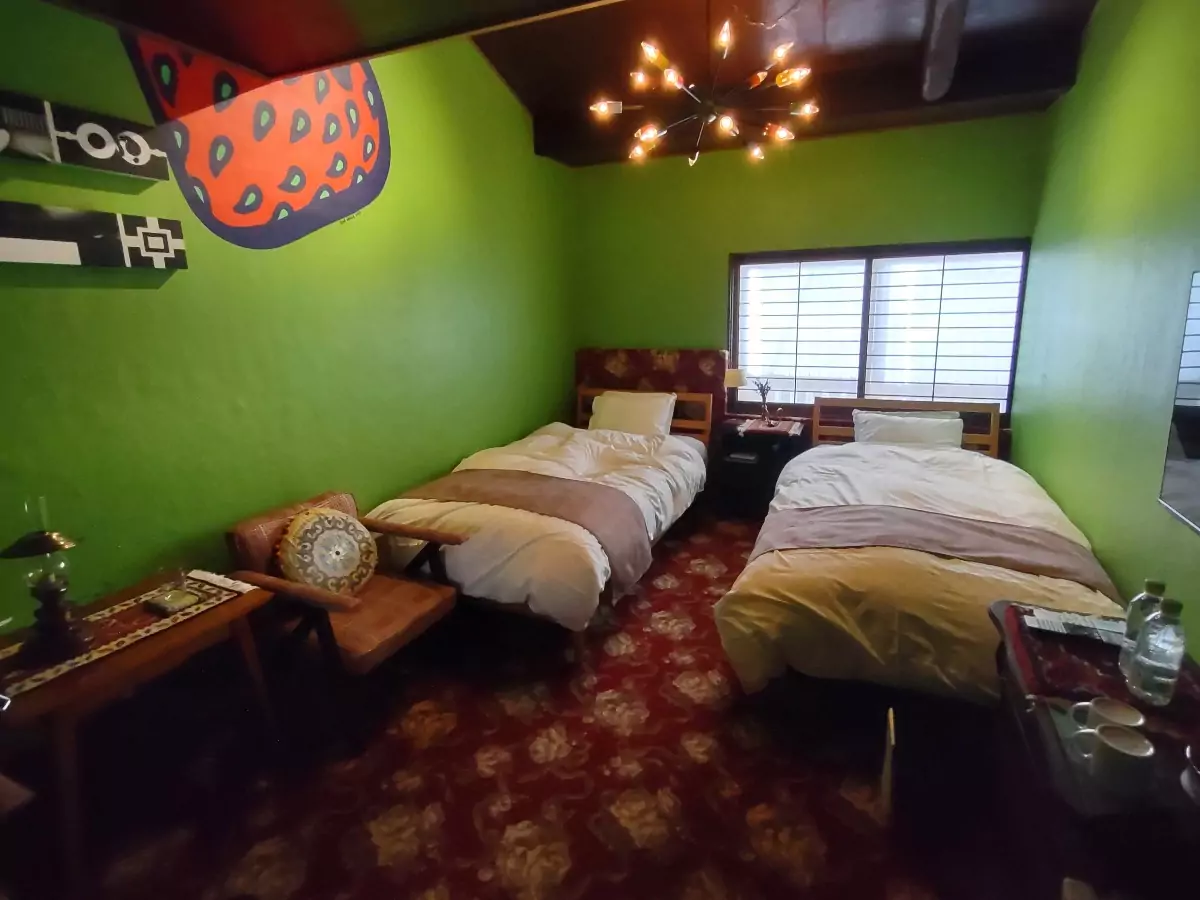 In Kyoto we used Clam Chowder Hotel which we loved (above) before moving to Minn Hotel, on The Gion side of the river. This place had very large apartments with a kitchen and washing machine, it would work well for a basic family stay.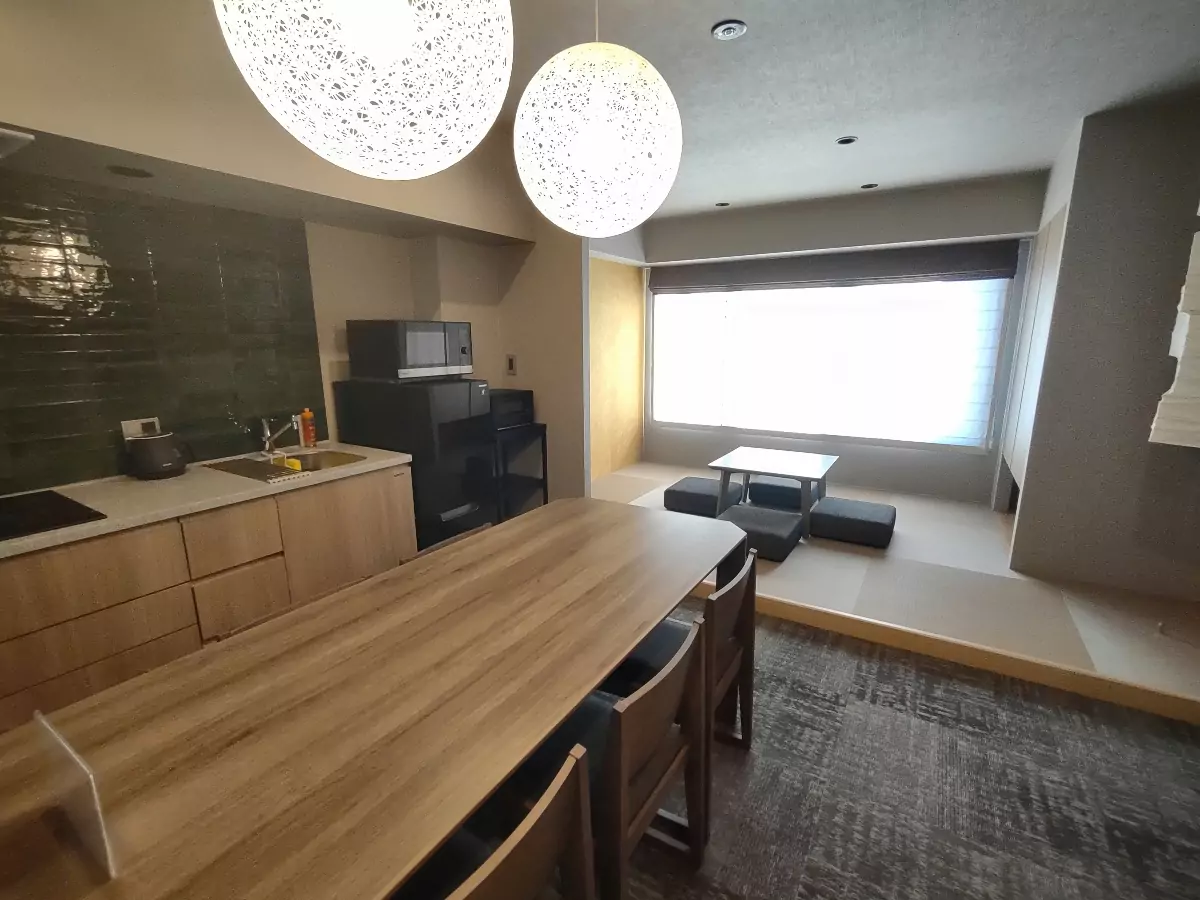 Clam Chowder was hands-down our favourite Japanese accommodation, not least because they let us check-in early. It had a human touch that was lacking elsewhere, and it was cute, in a lovely old building.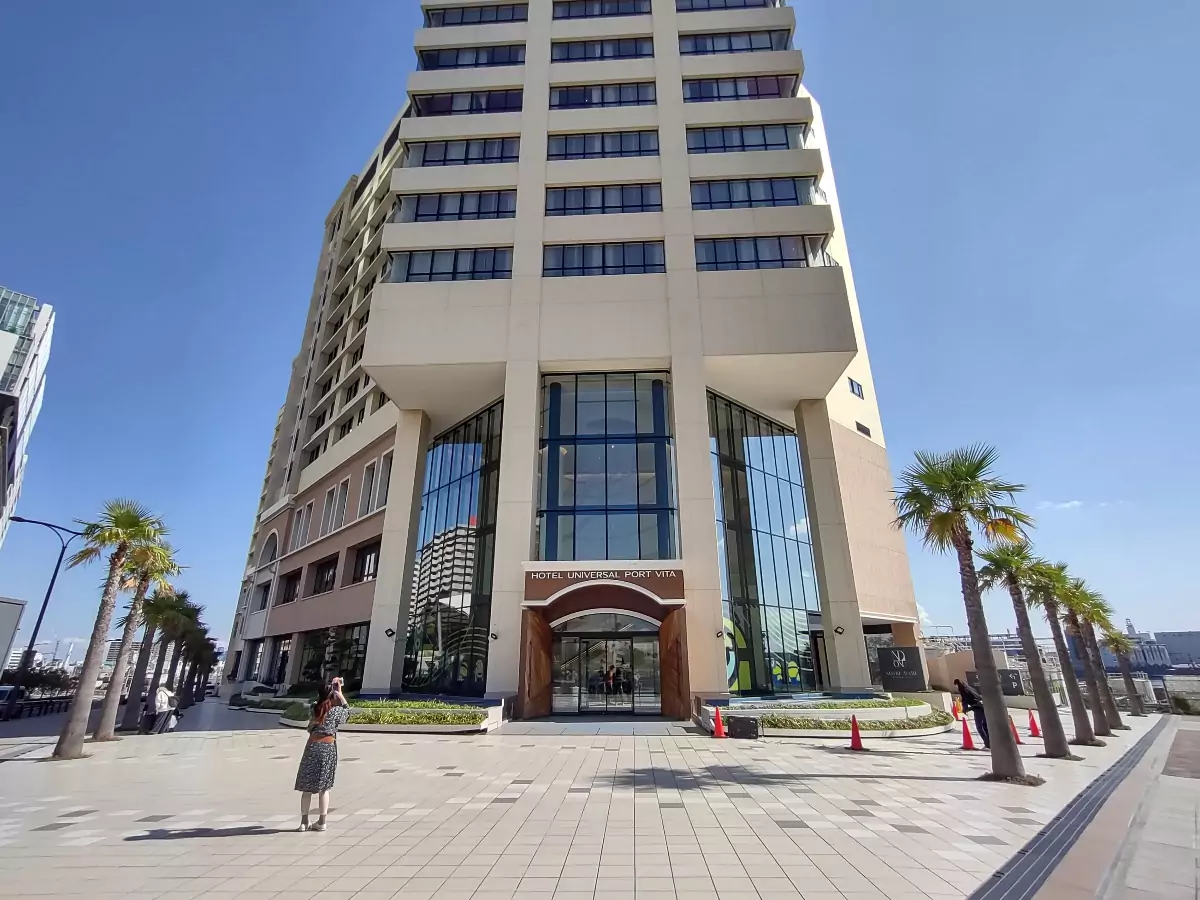 At Universal Studion Osaka we used Universal Port Vita Hotel, from here it was just a few minutes walk to the park and we recommend you do this. The trains to Universal City in the mornings were crazy busy!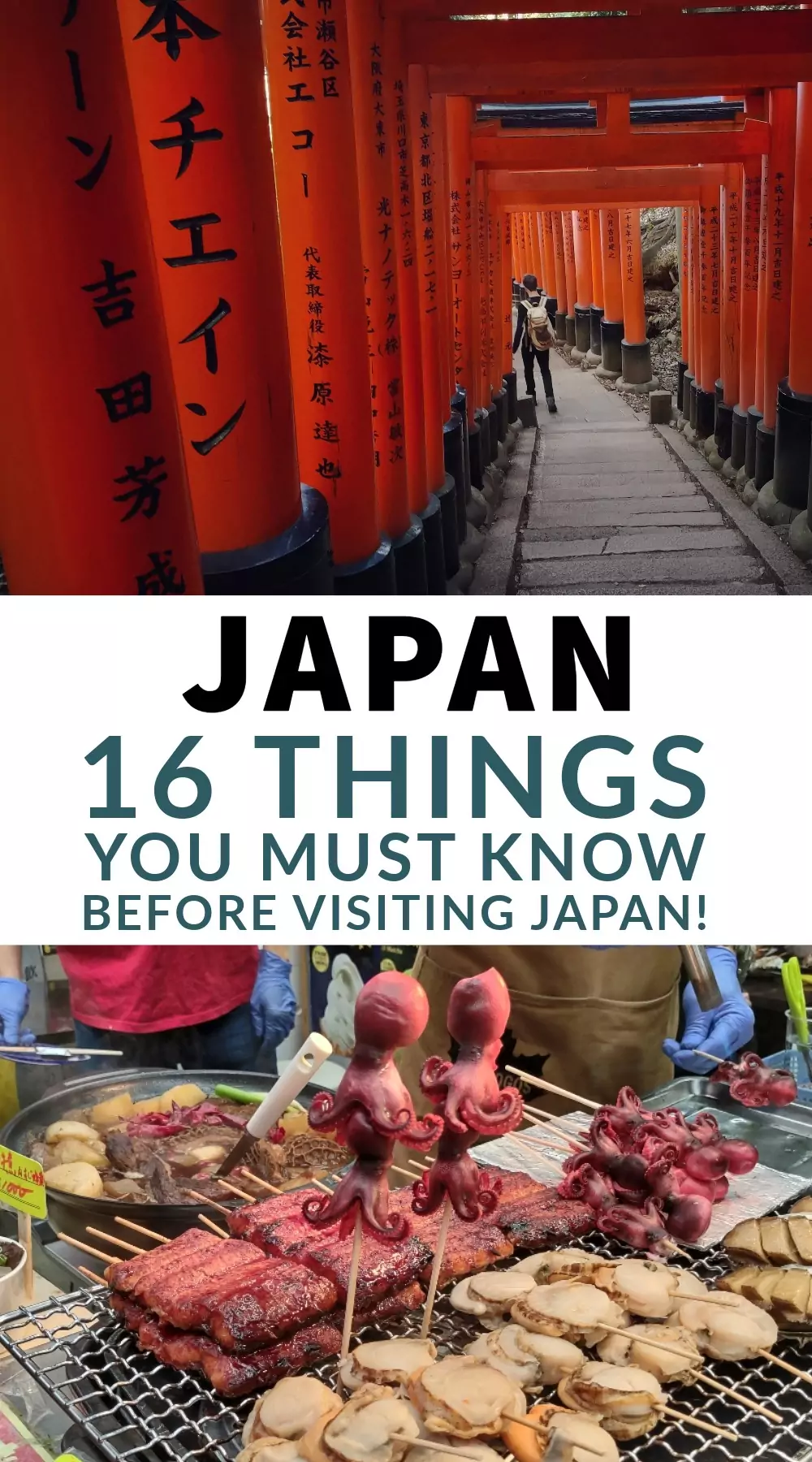 What Tours Did We Book in Japan?
We walked to most attractions and were self-guided, we didn't find it necessary to book tours.
Two tours we did book were Ninja School (look here) and a Night Time Ghost Walk in the bamboo grove (here) at Arashiiyama.
What Are Our Japan Travel Essentials?
You don't need any special travel gear for Japan, it's not that sort of destination.
We took carry-on luggage only, and we packed way too many clothes! Most of our clothes came home unworn. We use an Osprey Farpoint 45L for carry-on.
On this Japan trip I was trialling this anti-theft purse, it was great, so much easier than my usual day-pack and travel (or passport) organiser combo. Take a look at this bag here, I'll be giving you a full review soon.
We have a post on travel essentials, and another on anti-theft bags if you'd like to read more.
If you'd like to read more about Japan, take a look at the related comments, below, and please pin this post to Pinterest and create a Grow account (blue widget, bottom right) while you're here. It helps us a lot. Thanks!
If you'd like to hire a car during your stay, use this car rental comparison tool to find the best deal!

We also suggest you take a look at this company to get a quote for all kinds of the more tricky adventure or extended travel insurance.

Try Stayz / VRBO for an alternative way to find rentals on homes/apartments/condos in any country!