This post may contain affiliate links.
Ireland with kids. What should you see and where should you go on a family vacation to Ireland? This post covers some of the highlights of Ireland for families, plus family-friendly hotels and fun things to do in Ireland with kids.
---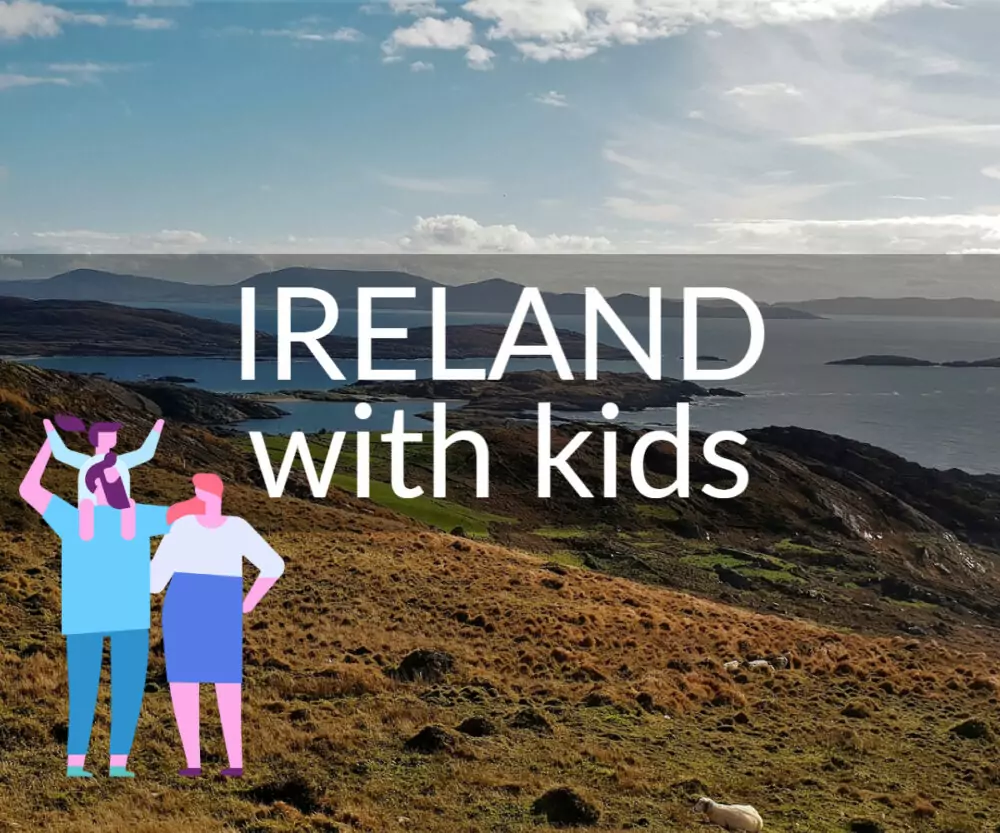 Ireland With Kids
Despite being on the petite size, Ireland still packs a punch. What it lacks in size it certainly makes up for in character. Filled with a wealth of historic sites and breath-taking landscape, Ireland is bursting with must-see attractions and things to do including some family-friendly beaches. The best bit of all? The kids will likely love every moment of it. Ireland is access all areas and the perfect place for inquisitive minds and budding explorers.
The best way to see Ireland when travelling with children is by car. By planning a self-drive tour of the Emerald Isle, you give yourself the freedom of a flexible itinerary and the control over where you go, what you see, and when you do it. Hiring a car couldn't be easier, all that's left to do is choose which of these star attractions you want to visit.
The Ring of Kerry is the perfect destination to explore by car.
Ireland With Kids, Folklore & Leprechauns
The Irish are well known for their love of storytelling. What better place to hear the legends of daring knights and mythical tales of fairy folk than at the settings of these stories themselves. Ireland's ancient castles are the perfect place to let active imaginations run wild.
Bunratty Castle
Bunratty Castle Ireland
Bunratty Castle is the most authentic medieval fortress in Ireland. Complete with a 19th century Folk Park, experience a window into Ireland's rural past first-hand.
The castle itself has had a colourful past. Dating back to the 15th century, it has been raised to the ground, re-built, and renovated more times than it has changed hands. It was restored in the 1950s to its former medieval glory and is now a treasure trove of 15th and 16th century furnishings, tapestries and works of art.
Bunratty Folk Park is a living village which re-enacts the homes, environments and daily lives of the Irish over a century ago. Wander along the village street and enjoy the sights, sounds, scents and tastes of this charming place brought to life by costumed characters. Be sure to stop them and ask them about their day to hear entertaining tales of a bygone era.
King John's Castle
Following a multi-million euro investment, this 13th century castle has had a 21st century facelift. Interactive activities and exhibits tell tales of siege and warfare and will surely get the kids fully involved with castle's history. Add to that the computer animated ghostly apparitions and it's safe to say any active imagination will be captured!
Head out into the busy courtyard where you'll find re-enacted scenes from the castle's 17th century heyday. Venture inside a medieval campaign tent or stroll around a blacksmiths forge. Just like the Folk Park at Bunratty, King John's Castle is populated with costumed guides in full character always ready to share with you secrets and scandals of castle life!
Ireland With Kids – Outdoor Adventures
Visiting Ireland is a great opportunity to get outdoors with the little tykes. The romantic scenery of lush rolling hills punctuated by castle ruins, fairy forts and Viking round towers is the ultimate playground for young explorers.
Top tip: Don't be put off by the Irish weather and come prepared with raincoats and boots. Embrace the likelihood of rain and you may find it only adds to the character and charm of your outing! If it gets too wet take shelter in a nearby pub along with everyone else.
The Ring of Kerry
One way of experiencing the Irish countryside without the risk of getting wet is to drive. The Ring of Kerry is one of Ireland's best-known and most scenic circuits.
It is a 120 mile loop that starts and ends in Killarney. The circuit incorporates some of the highlights of Ireland's landscape: rugged, storm-bashed coastlines, steep mountains, velvety green fields, historic sites and slate-coloured glacial lakes.
The route also passes through Killarney National Park, Ireland's oldest protected wilderness. As you make your way along the twisting course, ascending peaks and passing through quaint villages make sure you have your camera at the ready as the photo opportunities are endless!
The Cliffs of Moher
The magnificent Cliffs of Moher
If it's breath-taking views that you're after, a visit to the Cliffs of Moher are a must. Ireland's most visited attraction and a stunning example of a natural wonder; the cliffs capture the hearts of thousands of visitors each year. Rising up to 700 feet at the highest point, on a clear day you can see the Aran Islands and Galway Bay. You may even be lucky enough to spot the Twelve Pins and the Maum Turk Mountains in Connemara, Loop Head to the south and the Dingle Peninsula and Blasket Islands in Kerry. If the weather permits, wander along one of the many cliff top pathways that get you close enough to the edge for a taste of adventure without the risk of toppling over the edge.
The Giant's Causeway
Located in Northern Ireland, Giant's Causeway is often described as one of the 8th wonders of the world. The causeway has been attracting visitors for centuries. It is believed to be the result of an ancient volcanic eruption. However, the legend is a far more entertaining story for those looking for a more mystical explanation. Unravel the tale of the giant warrior Finn McCool as you clamber across the basalt columns.
Ireland With Kids – Dublin
A family trip to Ireland isn't complete without a trip to its capital city. Despite being a bustling metropolitan city you will find Dublin to be just as child friendly as the rest of the country. Satisfy energetic natures and demanding attention spans with these city highlights.
Trinity College
Trinity college buildings Dublin
The trick with doing Dublin with the kids is to start in the centre and work your way out. Trinity College and the National Museum are great for entertaining little ones & parents alike.
At Trinity College you'll find a world famous library which houses the beautiful Book of Kells. The significance of this is however likely to be missed by the children.
Balance it out with a visit to the college science museum where they can get stuck in with interactive exhibitions and displays. At the National Museum you'll find impressive collections of Pre-Historic, Viking and Medieval artefacts.
Put together with the castles and historic sites you have visited on your tour of Ireland, the museums displays should appeal to the curious minds of children.
Dublin Bus Tours with Kids
If little legs are beginning to tire, another great way to see the city is on the hop-on-hop-off bus tour or, better yet, Viking splash Tours. Opt for a 35 or 90 minute route by bus and visit Dublin's most popular attractions. Alternatively, join the Viking Splash crew on a thrilling tour of Dublin's main sights- by land and by water. Be entertained by your Viking guides who will deliver an informative and engaging commentary ensuring all their passengers are completely captivated!
St Stephens Green
If you strike gold with the weather, a picnic on St Stephens Green is the perfect way to wind up a jam packed tour. With plenty of open green spaces to run around in, a duck pond and mini forests to explore, the park is the perfect place to let the kids burn off some steam. Pick up picnic ingredients from the delicatessens and sandwich shops on Nassau St on the way.
This post is under repair today and so is incomplete.

There are many worthy sites and places to visit in Ireland and I could happily list them all. However, I'm sure that by now you will be convinced that the best way to discover this lovely country's best bits is to do so yourself. So, don't delay book your rental car and start planning your ideal family itinerary today!
If you'd like to hire a car during your stay, use this car rental comparison tool to find the best deal!

We also suggest you take a look at this company to get a quote for all kinds of the more tricky adventure or extended travel insurance.

Try Stayz / VRBO for an alternative way to find rentals on homes/apartments/condos in any country!