This post may contain affiliate links.
The menu just said banh xeo, Vietnamese pancakes. We ordered them, innocent and unexpecting with no idea what would be delivered to our table.
We were in Hoi An, a city in central Vietnam famous for good food so we figured, as we had 3 months to spend in Vietnam, that we should try every item on the menu. Our first banh xeo had us hooked.
This post is about banh xeo, crispy Vietnamese pancakes. We have video of making this dish along with information on how to eat them.
What is banh xeo? You should know by the end of our post.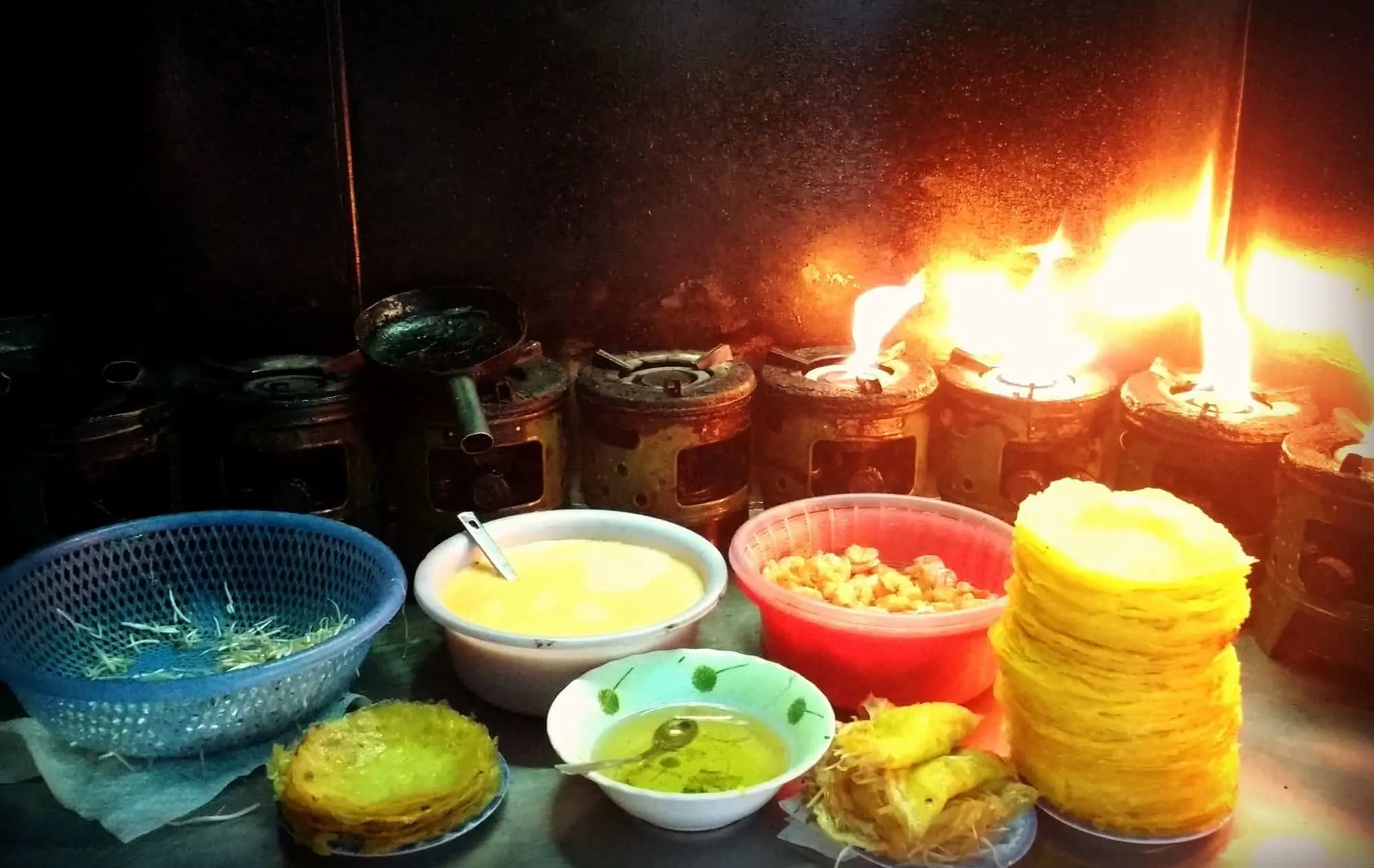 At least one of our family has eaten crispy banh xeo every day since that first taste and texture explosion.
Banh xeo can contain meat or be vegetarian or vegan. Vegetarian or vegan versions of banh xeo can be made without egg and with mushrooms instead of pork and prawn.
Let's take a look at cooking banh xeo crispy pancakes, how to eat them, and what exactly is a Vietnamese crispy banh xeo pancake?
Watch the video below to see how banh xeo are made and assembled.
Banh Xeo, Vietnamese Pancakes
The video below shows us making Banh Xeo at a cooking class in Hoi An Vietnam along with eating banh xeo, assembling the dish, at a restaurant in Hoi An that is famous for its banh xeo.
How to eat banh xeo is a common question.
There is a skill to assembling the dish with the pancake, rice paper, leaves, sauce, and accompanyments.
Is it the best banh xeo in Hoi An? Possibly, but it wasn't our favourite.
What are Banh Xeo?
Banh xeo is a cold-weather comfort food dish popular in Vietnam. These crispy pancakes are delicious and surprising.
There's just something about banh xeo that makes the dish out of this world.
When we first tasted banh xeo we couldn't imagine how wrapping them in thin rice paper could possibly enhance them, but it certainly does.
It's another textural dimension on top of the extra crispy pancake.
The crispness comes from the rice flour used in the pancake mix, coconut, not dairy milk, being the liquid ingredient.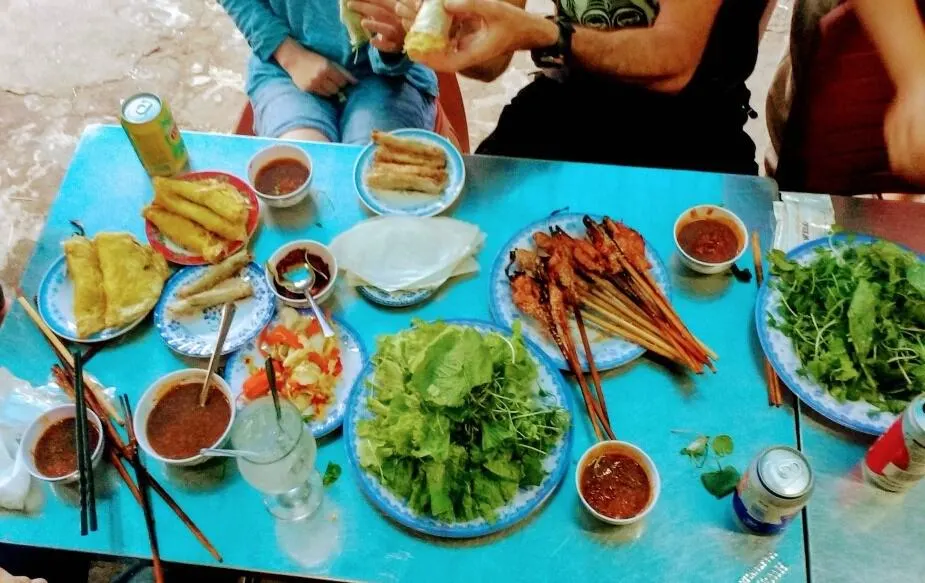 Each banh xeo holds a few bean sprouts along with a couple of plump prawns and a few slivers of finely cut pork.
Overstuffing this pancake would not improve it.
Vegetarian versions we've enjoyed contained mushroom slices in place of pork and prawn.
As with all Vietnamese dishes, the balance is perfect just the way it is.
Add leaves and herbs, particularly mint, and dip in the sweet, sour, hot fish sauce. Amazing!
How to Eat Banh Xeo?
Cut your folded banh xeo pancake into manageable sized pieces and lay it flat on a piece of rice paper.
Using chopsticks, select leaves, and herbs and lay these on top.
Roll the pancake into a tight wrap ( this takes some practice!) dip into the sauce and eat.
What to Serve With Banh Xeo?
Banh Xeo must be served with a selection of leaves, lettuce and mint being our minimum requirements, along with thin, crispy rice paper to form the wraps and the correct dipping sauce.
The sauce is composed of fish sauce, sugar, lime, garlic and red pepper of chilli to taste.
How to Make Banh Xeo Extra Crispy?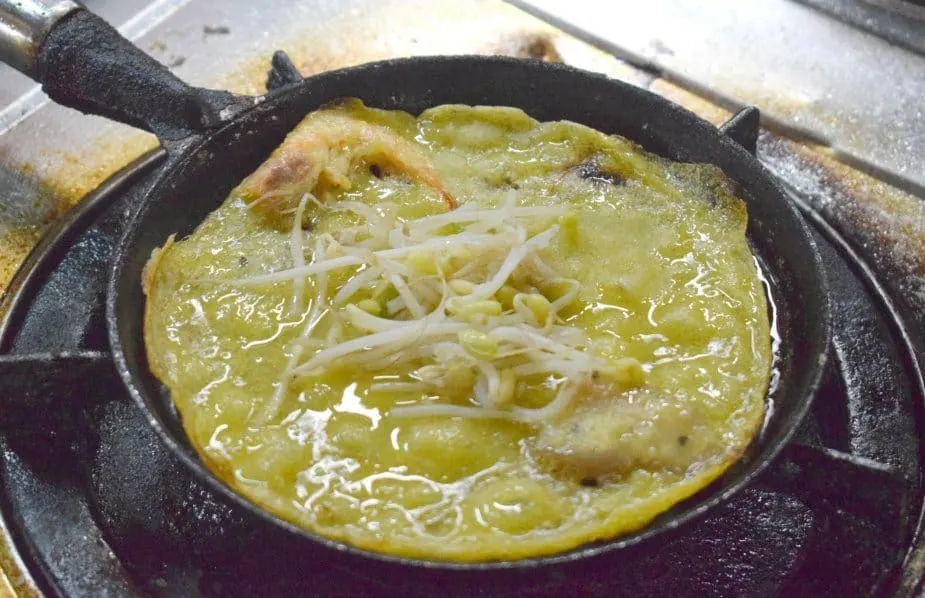 It's in the cooking time and the temperature of the oil.
Don't add your banh xeo batter until the oil is hot enough to bubble a chopstick, then cook for longer than you would expect.
The sizzle is in the name ( xeo) and the crispness comes with long cooking as demonstrated in the video.
Where to Get Bahn Xeo Mix
You can buy Bahn Xeo or Vietnamese pancake mix online or at your local Asian grocers.
Amazon seem to be out of stock due to the current crisis, sorry.
But Banh Xeo mix simply contains rice flour (2 parts), wheat flour (1part) and turmeric powder for the golden colour.
Then add coconut cream, water, salt and some green onion tops. It's not hard to make banh xeo from scratch. Rice flour is available here.
People have been asking which wrappers to use. A reader suggested the rice paper wrappers below ( see comments section) for banh xeo use.
I haven't tried these.
Links for the UK and USA are below, there is a similar product here for Australia , but check the price. A very hard wrapper will not work, it needs to be thin and flexible so as not to crack when you wrap. You do not soak wrappers for banh xeo use.
Bahn Xeo are absolutely one of our new favourite things, we've eaten hundreds from several different restaurants and never had a bad one. We hope you have fun making and eating your bahn xeo. If you'd like to read more about Vietnamese food, Hoi An food in particular, click through, or maybe you need our general Vietnam travel guide.
If you'd like to hire a car during your stay, use this car rental comparison tool to find the best deal!

We also suggest you take a look at this company to get a quote for all kinds of the more tricky adventure or extended travel insurance.

Try Stayz / VRBO for an alternative way to find rentals on homes/apartments/condos in any country!