This post may contain affiliate links.
The Sunrise Premium Resort Hotel in Hoi An is one of the best places to stay near the UNESCO listed Hoi An Old Town yet also on the beach with views of the East Vietnam Sea and the Cham Island Biosphere Reserves. The Sunrise Premium Resort Hoi An could be the resort hotel for you and is family-friendly. It's a fantastic resort with luxury appointments, a spa, incredible dining and staff who simply can't do enough to make your stay a pleasure. Take the free shuttle bus into Hoi An Old Town for shopping, restaurants and the signature Hoi An nightly lanterns or relax by the pool and enjoy the Sunrise resort's facilities, it's up to you.
Check prices for this resort here on Agoda, we can't find this hotel on Booking.com or Expedia.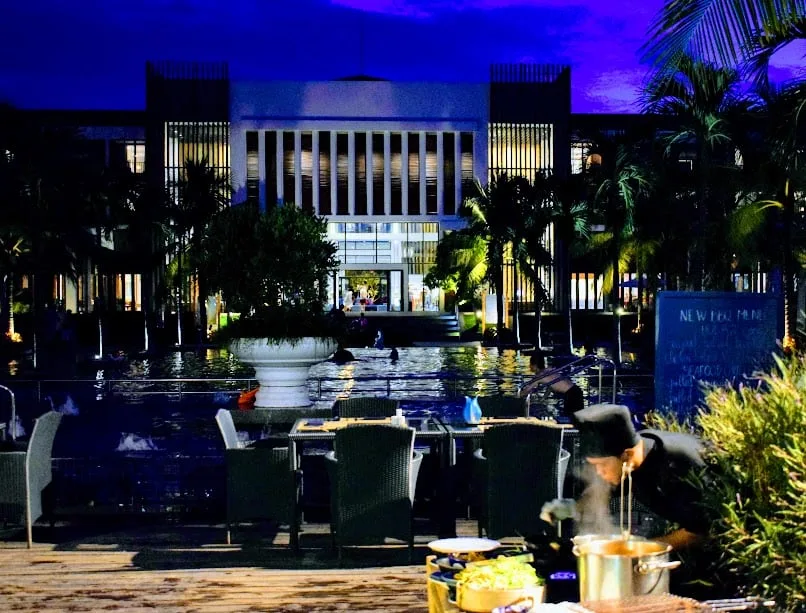 We spent 6 months living in Hoi An and during that time tried out many hotels, B&Bs, homestays and AirBnb. The Sunrise Hoi An would be our pick for the best resort hotel for families in Hoi An.
We have many posts on Hoi An on our site, Hoi An with kids may be useful for you. Also, you may want to check out our post on Hoi An during flooding season. But first, our hotel review.
We paid for our stay ourselves and were not required to give a good review. All views are our own.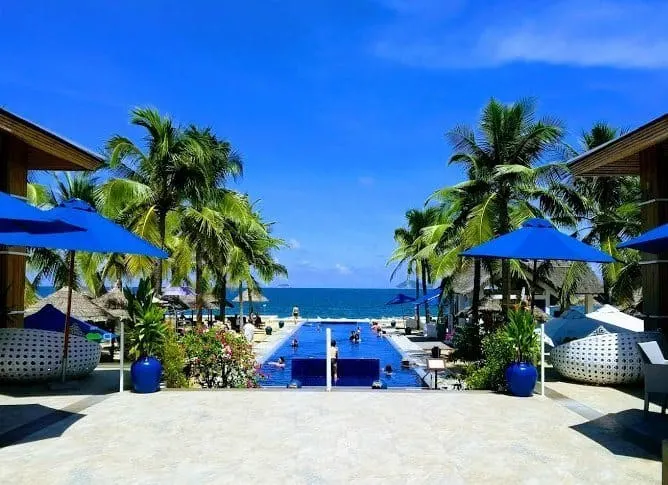 Why Vietnam? If you haven't visited Vietnam before you're in for a treat. Expect high standards in accommodation, affordable prices, the freshest food and delicious local dishes along with fantastic opportunities to learn about and explore this wonderful country. The Vietnamese people are some of the kindest, happiest people you could ever meet and service is superb. For more on travel in one of our favourite countries, visit our complete Vietnam Travel Guide page.
The Sunrise Premium Resort and Spa Hoi An Review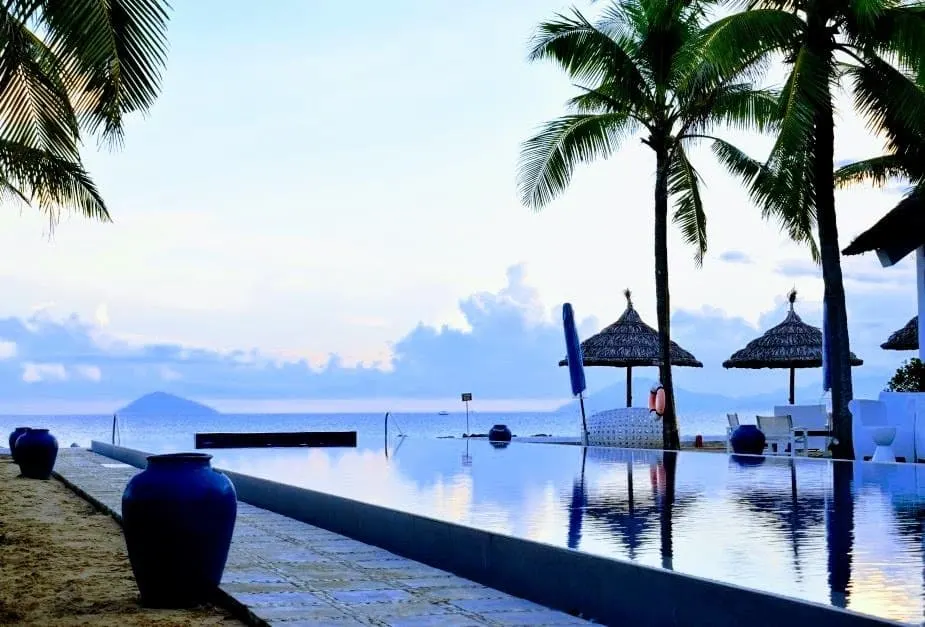 Rooms at the Sunrise Resort Hoi An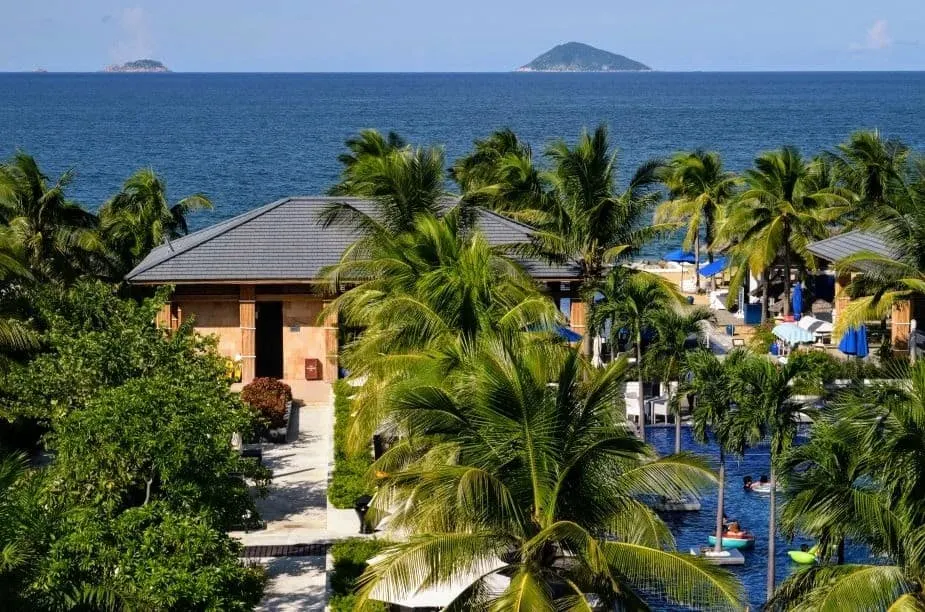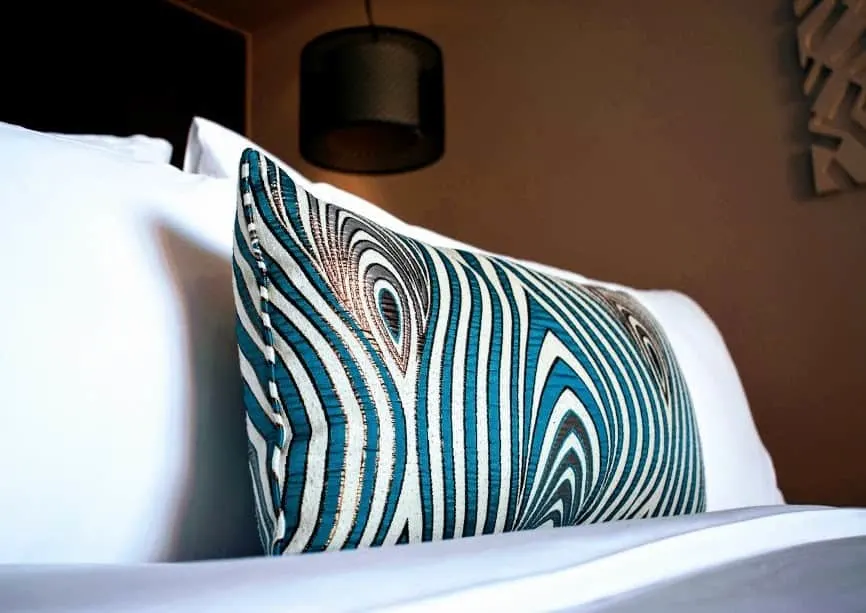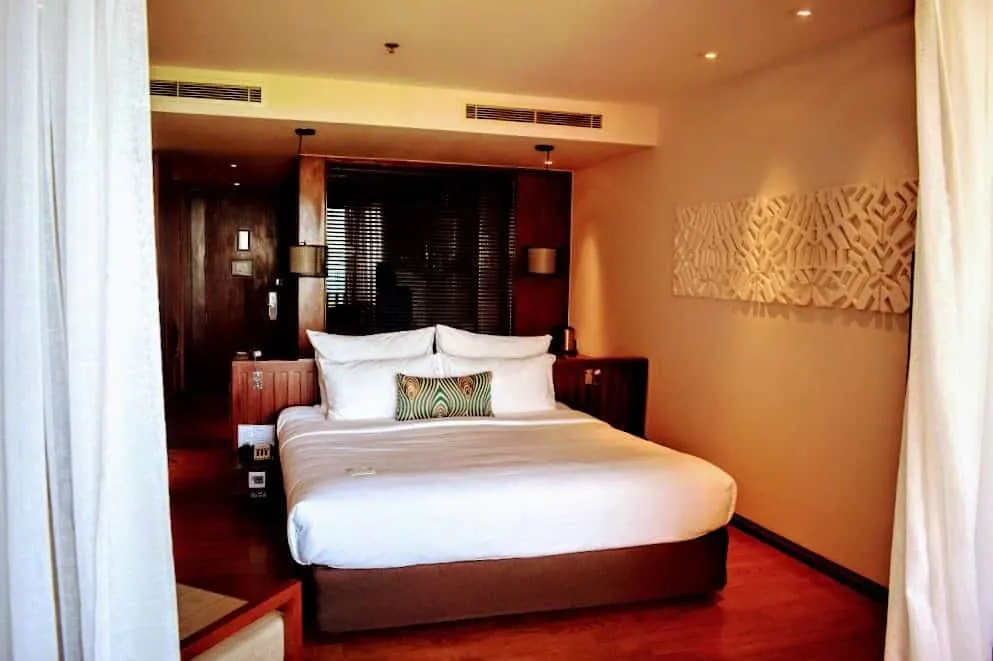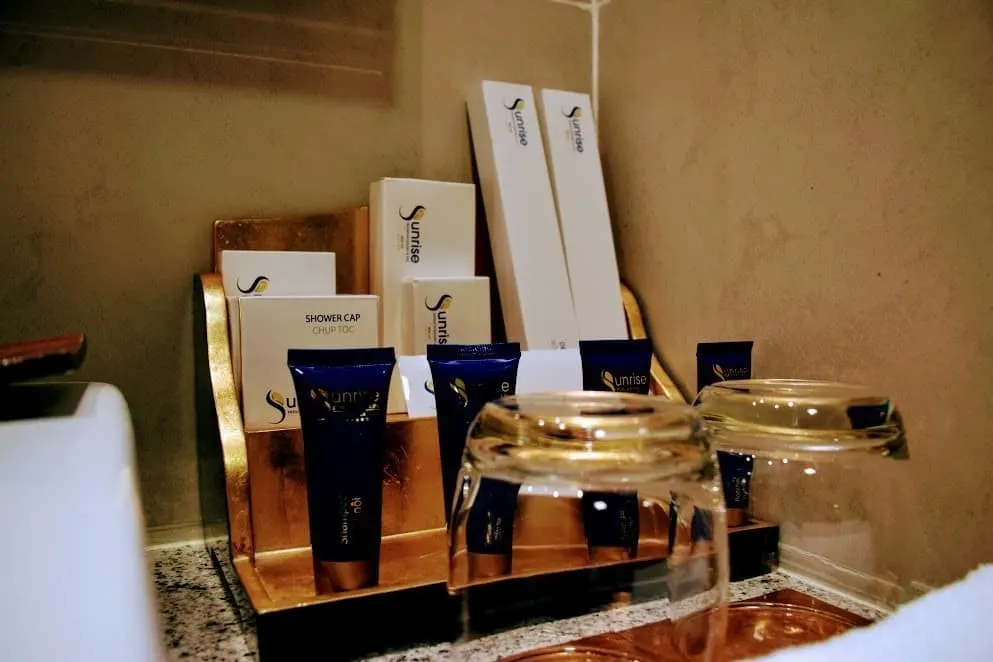 We enjoyed a Deluxe, pool view room at the Sunrise, for 2 people, and were delighted with our choice. We enjoyed a perfect night's sleep on a soft, comfortable mattress, with perfect bed linen and were impressed by the room's spacious feel and luxury bathroom fittings.
The Deluxe Rooms are divided into three areas, the bedroom and cunning inside/outside balcony and seating area is backed by a desk or office area where you can also find the mini bar and tea and coffee making equipment. A rain shower, a spacious and well-designed shower area and luxury toiletries add to the room's comfort.
Enjoy a movie in bed on a huge flat-screen TV and wake to the hotel's signature sunrise view of sea and the islands.
Dining at The Sunrise Resort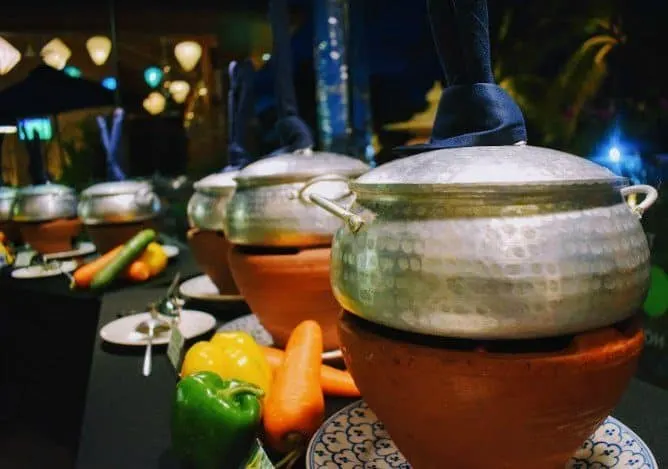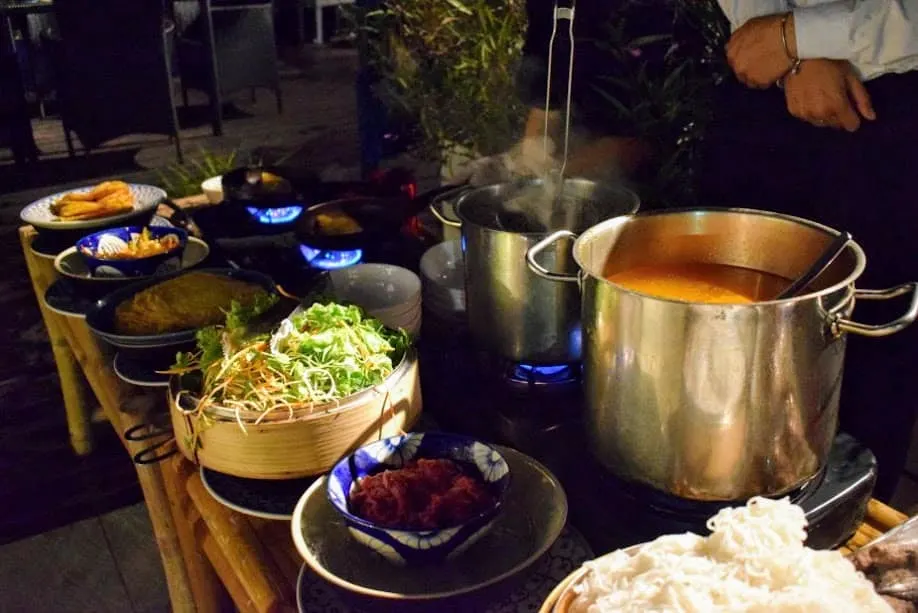 We enjoyed the hotel's signature Saturday night seafood buffet and weren't disappointed in any way. The hotel not only brings Vietnam's vast array of superb street food into the dining room, it also serves a good selection of simple seafood favourites.
Taste local fresh oysters with a light Vietnamese dressing, grilled prawns and fish wrapped in banana leaf along with grilled chicken and pork. The array of fresh salads featuring exotic treats such as banana flower, lemon grass, mint and green papaya was out of this world.
Chefs at the live cooking stations prepare fresh rice paper rolls, barbecue items and local speciality noodles and pancakes. The children really appreciated the all-you-can-eat array of ice creams and other desserts.
Breakfast was equally lavish with all manner of Asian dishes alongside Western favourites including bacon, omelettes, hash browns and waffles.
Other Facilities at The Sunrise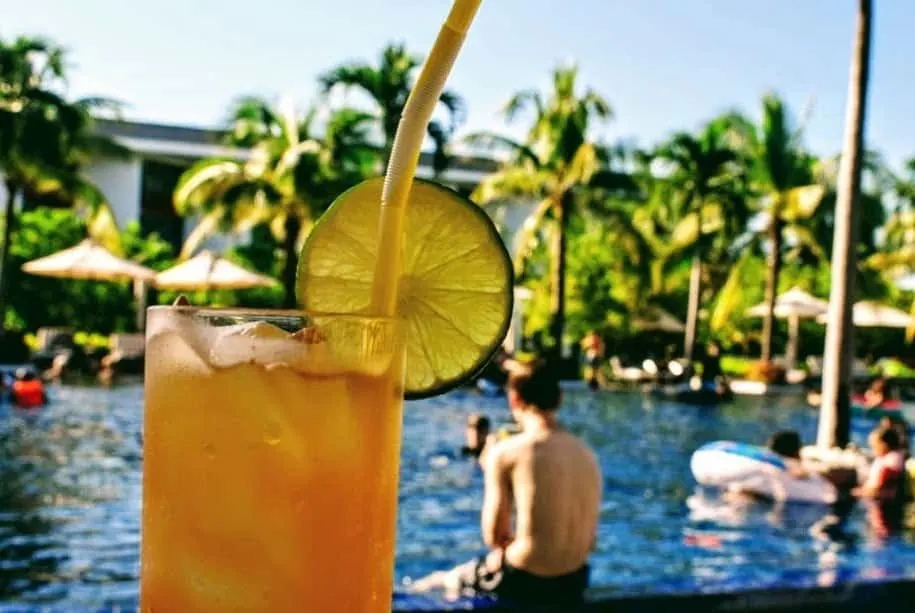 The Sunrise features a kids' club, a spa with a diverse range or services and multiple dining options.
Ways to Find the Best Deal on the Sunrise Premium
If you were too late to catch the impressive deal from Luxury Escapes (it has now expired), find the best price for your dates. Agoda (see Sunrise here). Agoda are Asia specialists and as such can turn up some great deals. We prefer Agoda because we collect Agoda vouchers to use against free hotel stays, their customer service has always been superb.
Booking.com (look here) can show you other good hotels on Cua Dai Beach, Hoi An, but we can't find The Sunrise at time of writing.
Save to Your Travel Plans on Pinterest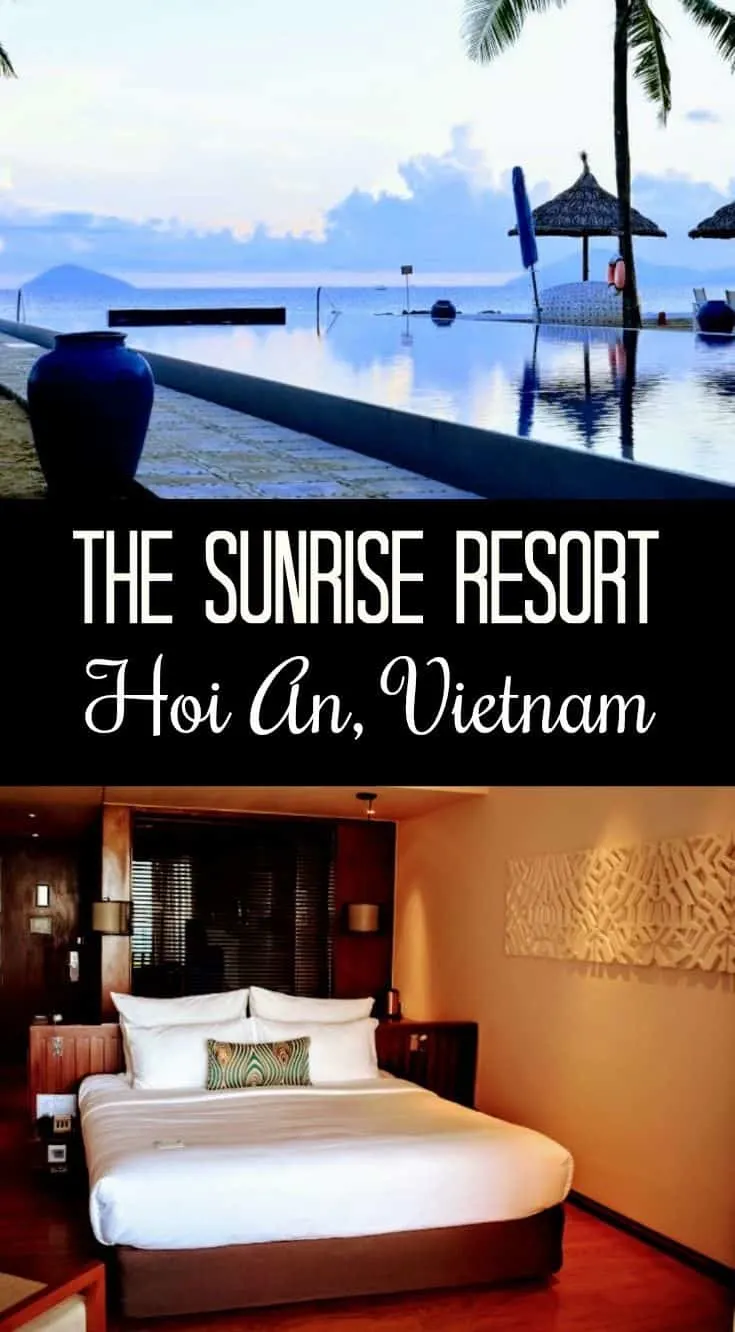 Thanks for checking out the Sunrise Hotel (premium resort and spa) on our blog. We spent 6 months living in Hoi An to fully explore tourism and holiday options in the area. This is just one of the luxury hotels we got to try out during our time in Vietnam. We hope you enjoy your stay at the Sunrise and in this magical little town. If you're not convinced the Sunrise is for you, check out the Almanity. The Almanity is another luxury hotel we tried in our quest to find the best. It is smaller and within walking distance of the Old Town. Which is better? It depends on your needs. Take a look at our essential Vietnam Travel tips for first timers!
If you'd like to hire a car during your stay, use this car rental comparison tool to find the best deal!

We also suggest you take a look at this company to get a quote for all kinds of the more tricky adventure or extended travel insurance.

Try Stayz / VRBO for an alternative way to find rentals on homes/apartments/condos in any country!