This post may contain affiliate links.
Haystacks are an unmistakable icon of Maramures. You will see them here all year round, punctuating the landscape on white, brown or green fields. For haystack lovers, and I count myself as such, you want to be in Maramures at this time of year to watch just one of the annual traditional processes going on. June brings long hot days and the armpit-deep meadow grass is ready for harvesting.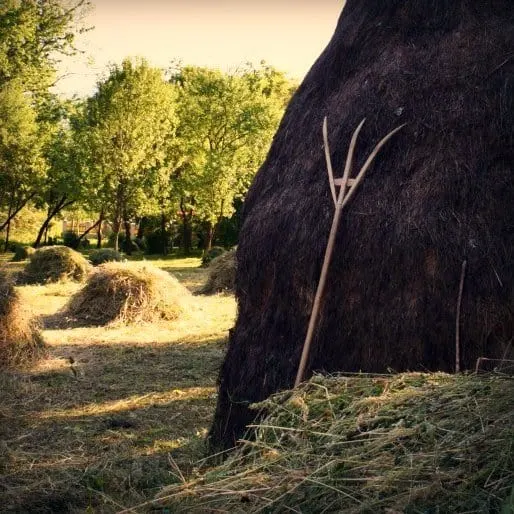 Through spring and early summer our pastures have been dotted with wildflowers but by June the grasses rule and it's time to start the haymaking.
I love how here in the village everyone just knows when it's time to plough, time to plant and time to gather.
Just as the fruit trees all blossom in unison, so do the villagers descend on the fields to make hay.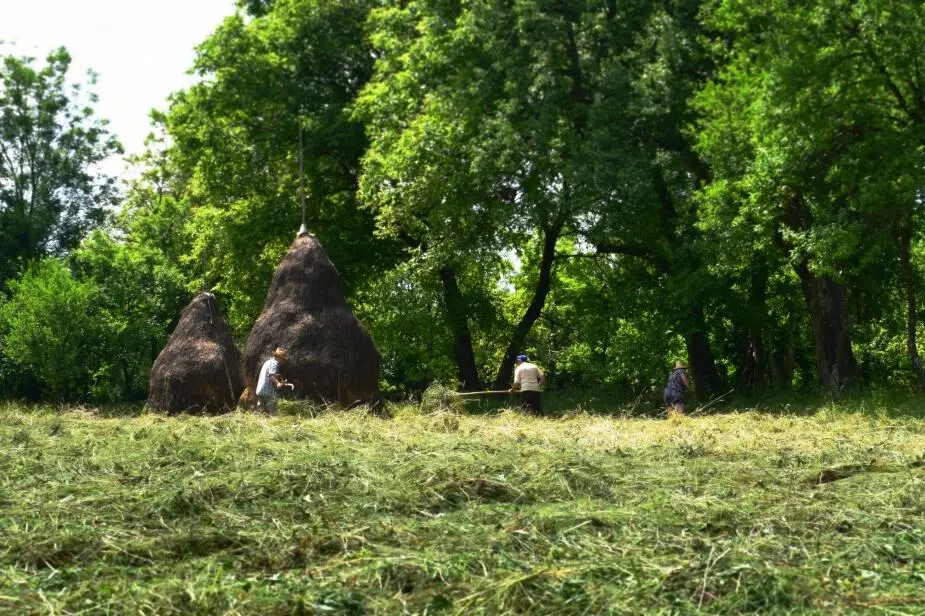 Haystacks and Hay Making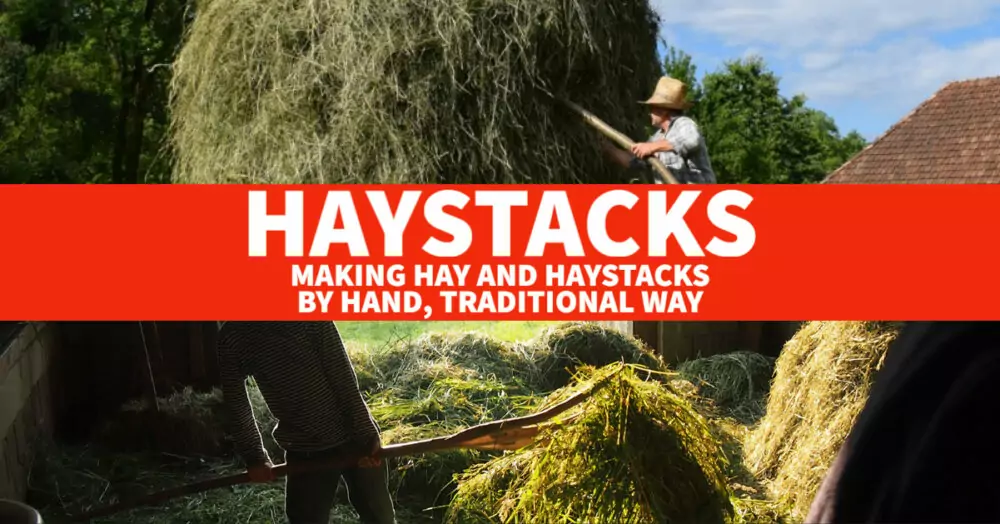 I grew up with hay making, but even 50 years ago in our few small Welsh fields, industrial haymaking equipment and wagons were the norm.
Here in Breb grass is cut by hand, turned in the sun for two days with wooden pitchforks, then piled high into haystacks.
The wife of the family normally perches on top to organise the storage of winter animal feed, just as she organises her own winter store cupboards at home.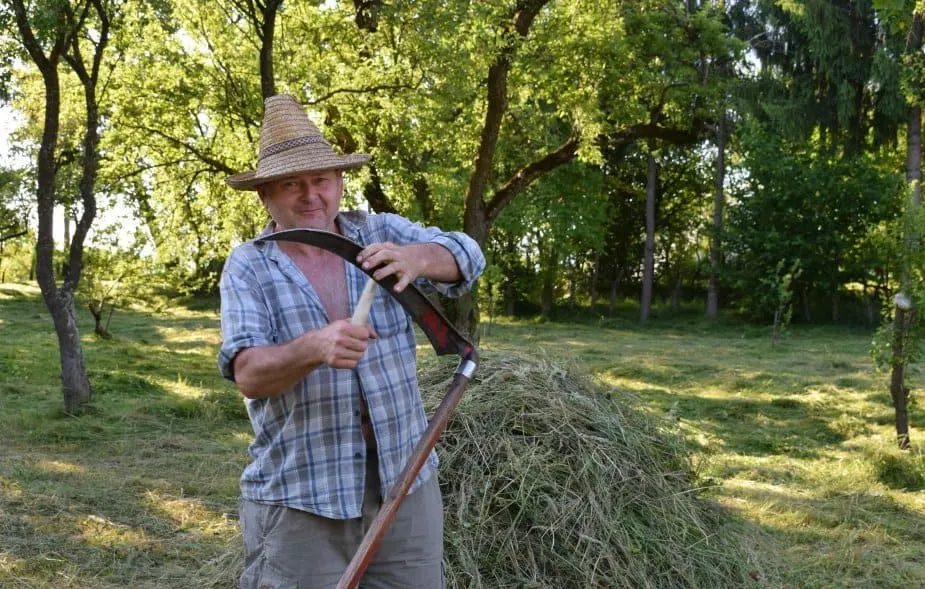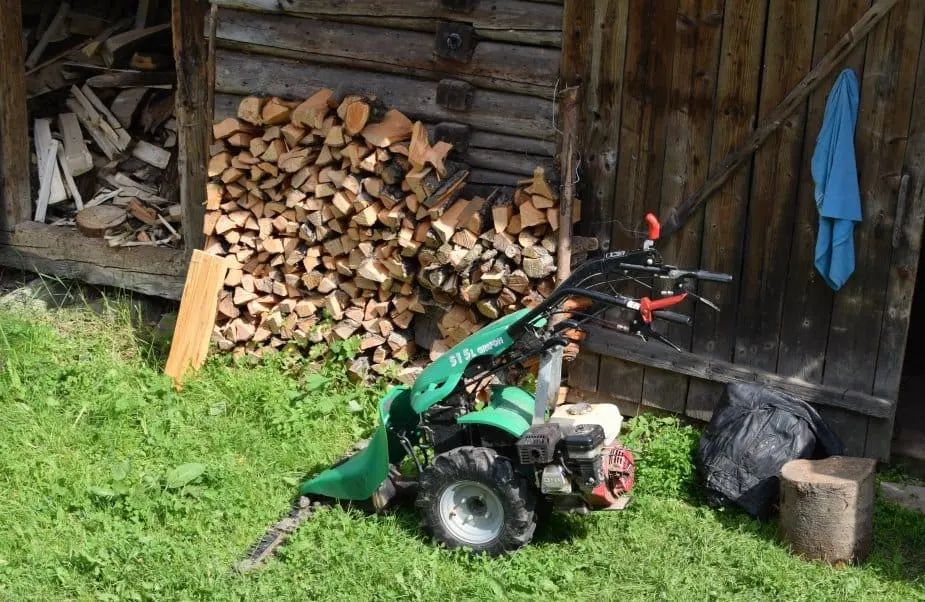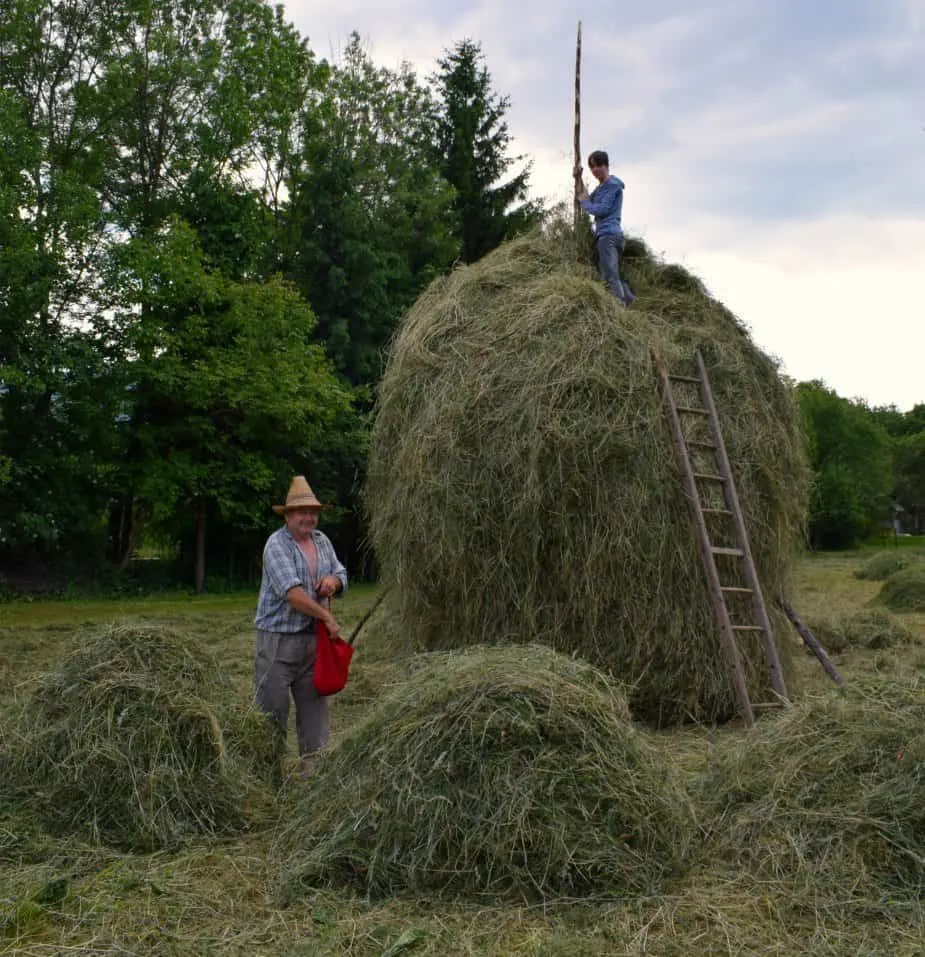 The magic ingredient came as a complete surprise to me and solved a little mystery. We've often wondered why our rabbits drink so much water in winter.
Of course, we raid the haystacks once the snows come, to feed them and keep them warm. These haystacks are laced with salt.
Mihai dipped into that little red bag every few minutes. the idea is to give the cows a thirst, more water, more milk and to help dry the hay. These people are so smart!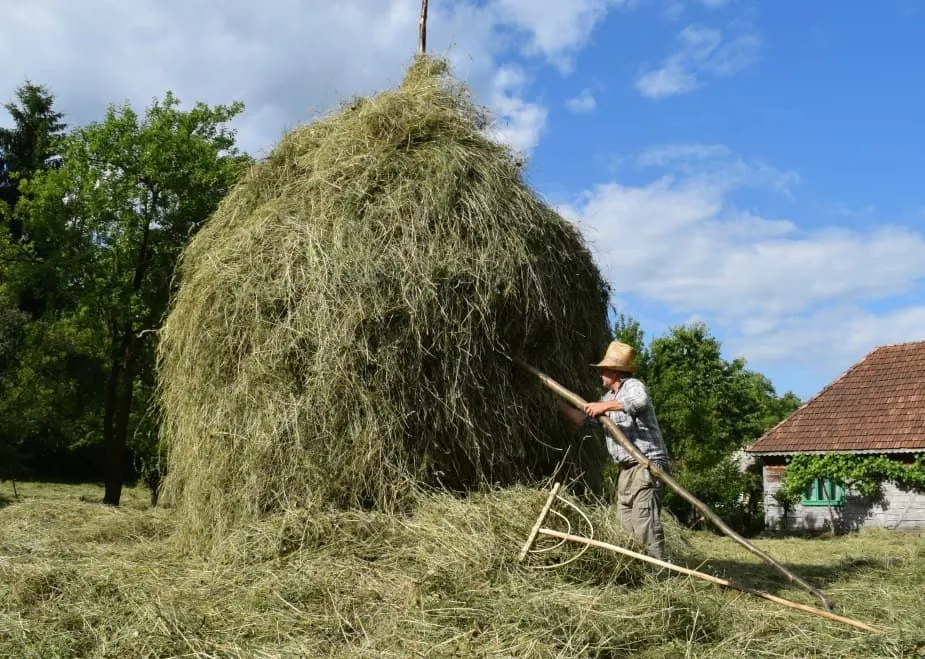 Right across the village whole families are out in the fields working hard from first light to home-made picnic lunch beneath a shady tree.
A rest, some food and a lie in the sun puts them right to work through to sundown, which at the moment is around 9pm.
It's a magical time in a magical place and another thing I feel privileged to have been a part of in our special village, Breb in northern Romania.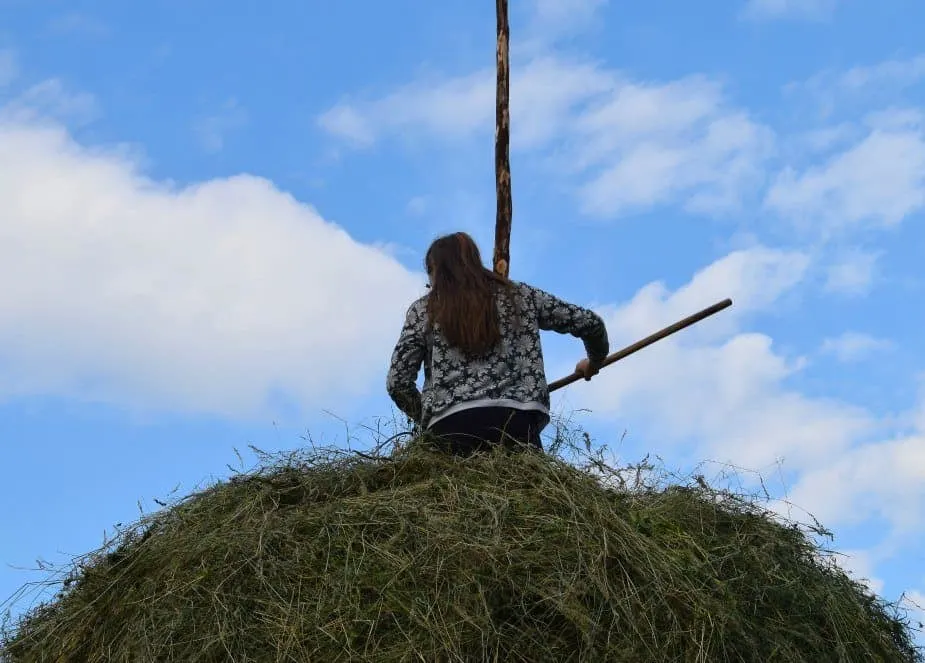 The haystacks can keep grass fresh for 3-4 years and are used to feed barn-housed livestock through our harsh winters.
Snow can lie on the ground here for 5 months, the animals need this food supply just as they have since the beginning of time.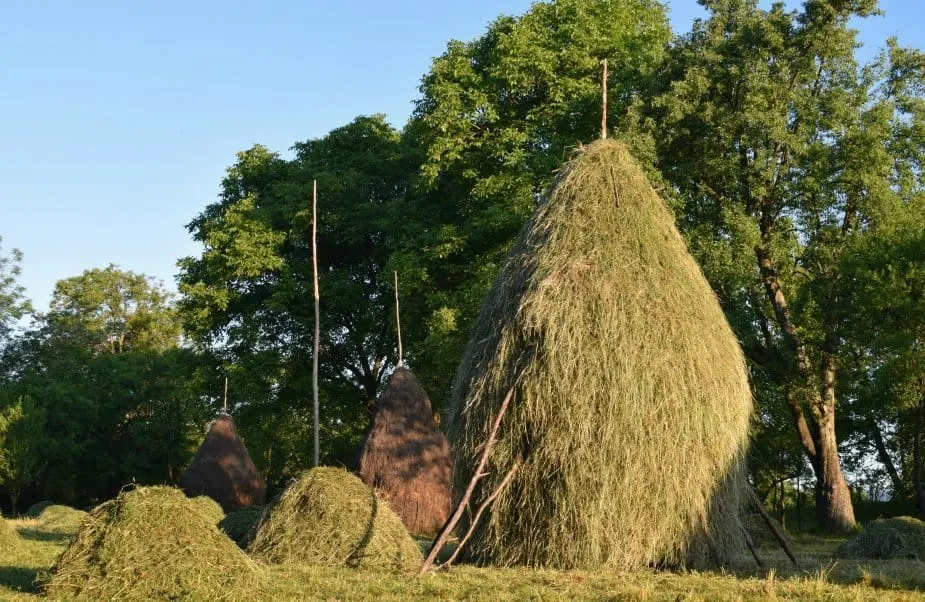 But, they don't always get it right, we woke up this morning to a catastrophic haystack collapse, a day's work wasted.
The horses came to take it away and I'm sure they put it to good use, nobody ever wastes anything in Breb.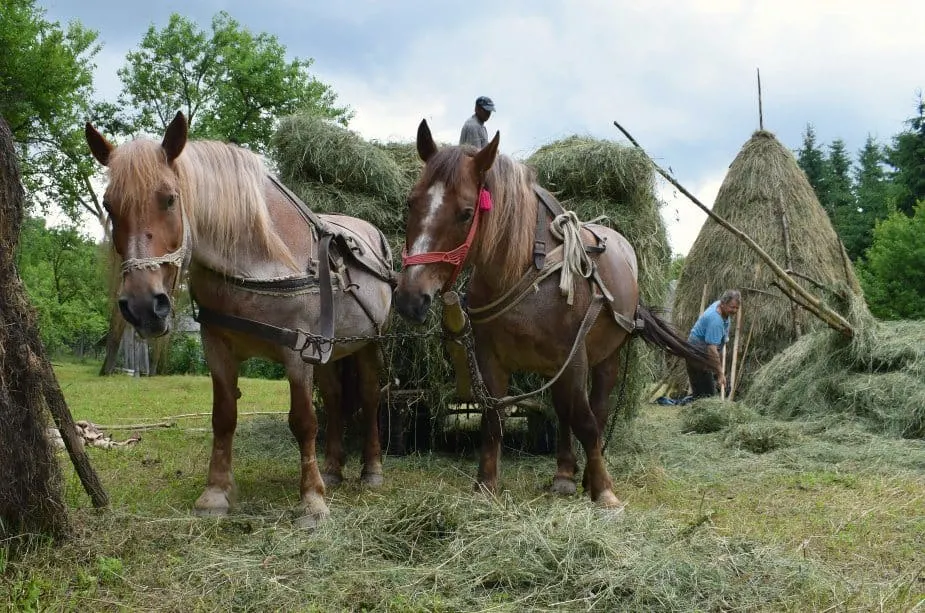 Sign up to follow for more travel from Romania, London, Vietnam, Langkawi, Myanmar and Australia, more on lifestyle creation, more on education, all things travel.
If you're interested in gardening, permaculture and homesteading, we have now swapped our suburban food forest garden in the tropics for a 5-acre homestead or farm. Maybe we'll put our hay-making know-how to good use in feeding our animals. See our farm here on our new website, or check out our garden/farm Instagram.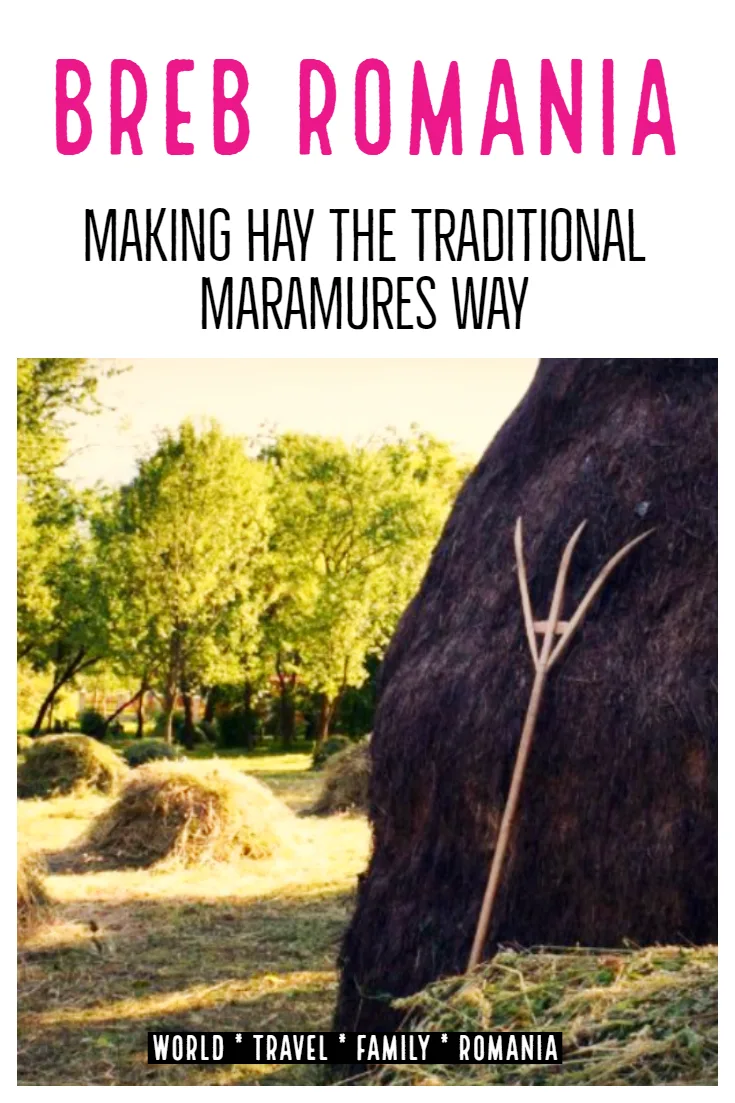 If you use our Pinterest buttons, more images will appear for you for Pinterest.
Back to our main Romania travel directory. We have lots more on travel in Romania and Romanian village life in Breb and Maramures.
If you'd like to hire a car during your stay, use this car rental comparison tool to find the best deal!

We also suggest you take a look at this company to get a quote for all kinds of the more tricky adventure or extended travel insurance.

Try Stayz / VRBO for an alternative way to find rentals on homes/apartments/condos in any country!