Batu Caves lie about 11km from central Kuala Lumpur. The caves are very easy to get to and there are multiple options including, bus, train, taxi, Grab cars, and (partly) by monorail (Rapid KL). If you're looking for the cheapest way or the fastest way, we can help you with that. If you are a single person public transport will be your cheapest option, if you are a family of four you could do better by Grab car.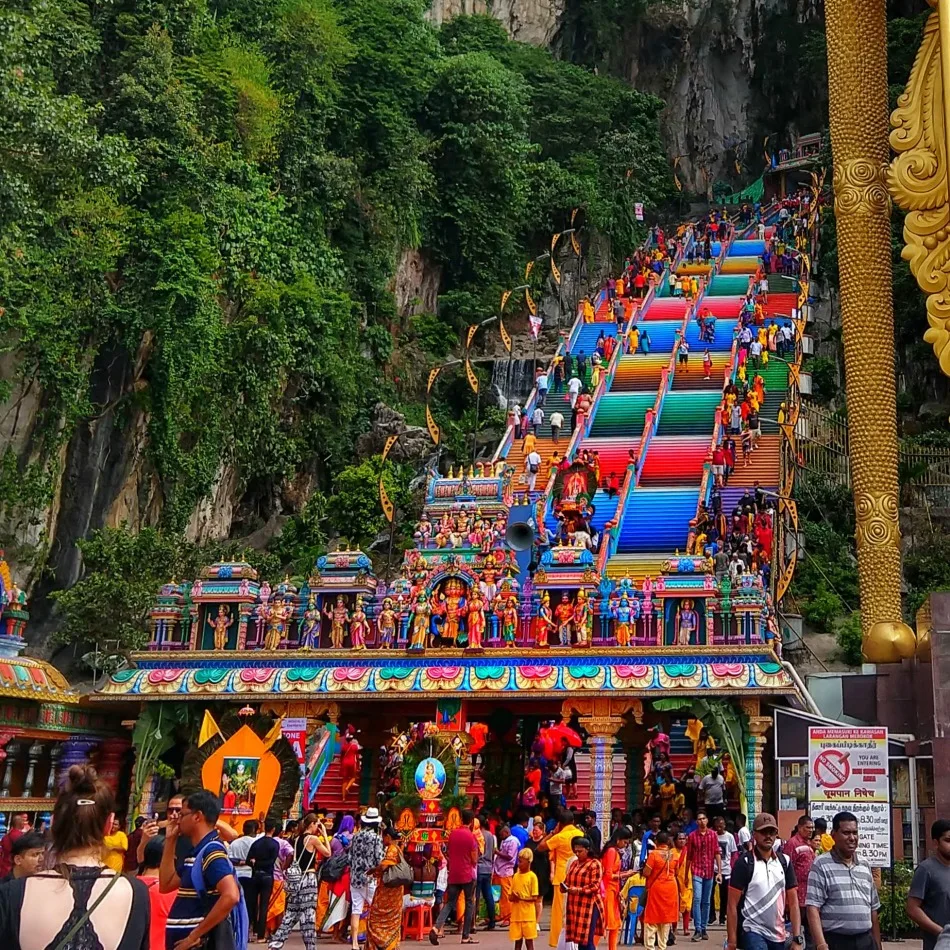 If you're travelling to Batu Caves at festival times the train is sometimes the only way to get there. We look at how to get to Batu Caves from Kuala Lumpur, from various main areas and stations, below. Obviously, information such as this changes often. We try to keep this post as updated as possible, but please use it as a general guide only.
How To Get To Batu Caves
A break down on the various ways of getting to Batu Caves, Kuala Lumpur, including, bus, rail, and road options. The distance from KL to Batu Caves is approximately 11 Km, so you could walk, and pilgrims make this walk in huge numbers at festival times.
If you're a party of 3-4 or a family, we suggest you hail a Grab car to Batu Caves from central Kuala Lumpur, taking the train won't save you much money, although the ride may be quicker if traffic is bad.
For solo travellers the Komuter train from Sentral is a lot cheaper (20 MYR or so cheaper) than a Grab each way.
Batu Caves by Train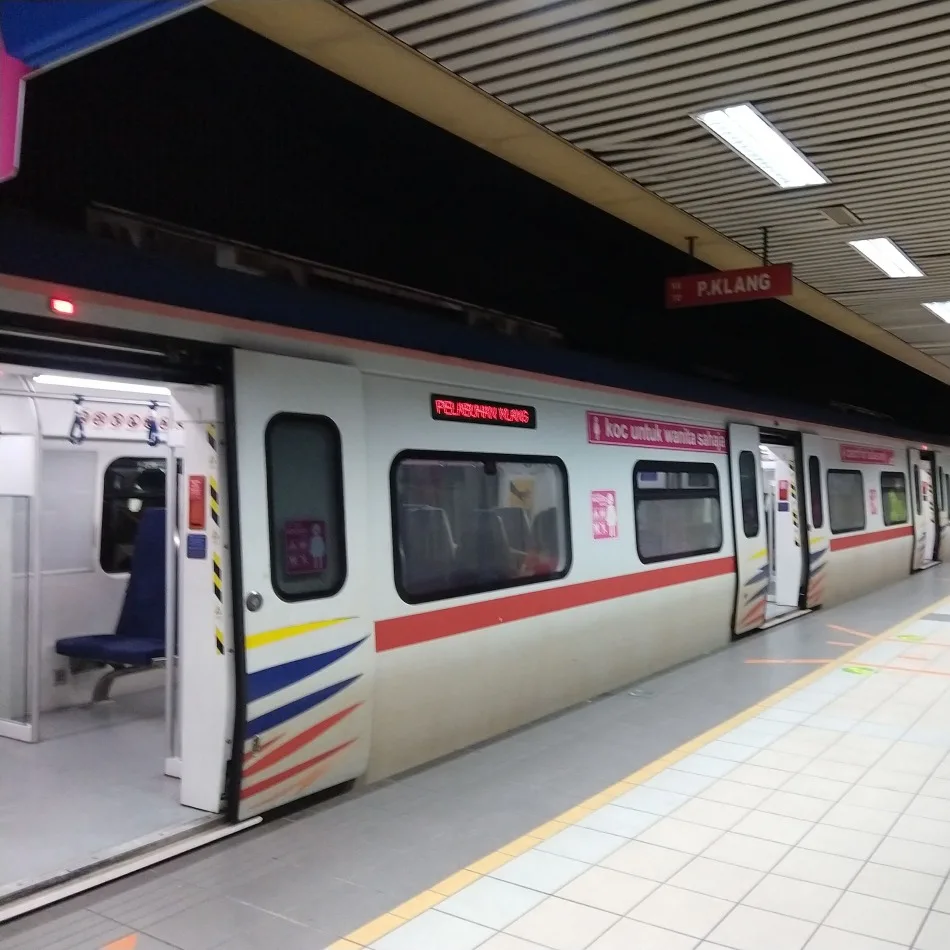 Arguably the fastest way to Batu Caves, especially if you're near Sentral Station or Kuala Lumper station where the trains pass through. KTM Komuter trains are the service you'll want. They terminate at Batu Caves but heading back they go right through KL and terminate at Pulau Sebang.
It takes approximately 30 minutes from Sentral to Batu Caves and the cost is approximately $3.50 US return. You'll need to purchase a KTM card which is reusable or you can return and get your deposit back.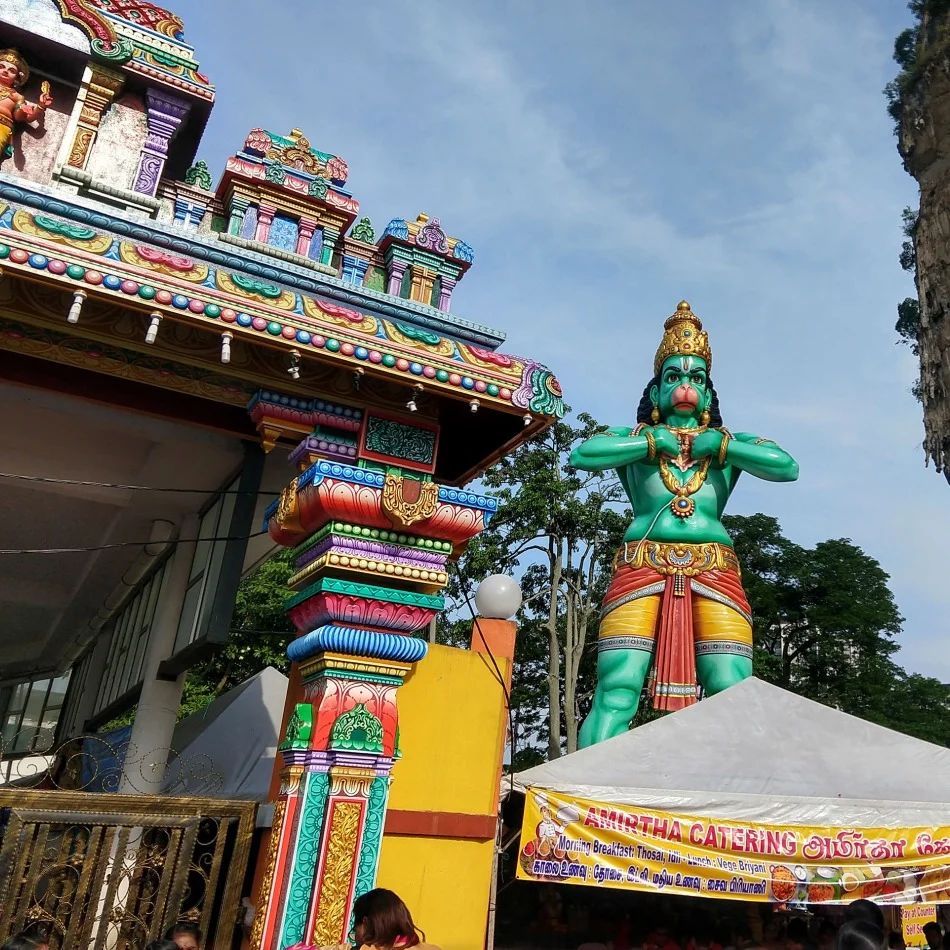 Trains run frequently during peak time and less so in the middle of the day. The train station is right outside the cave complex entrance which makes it very convenient once off the train.
Batu Caves By Bus
There are direct buses from central KL to Batu Caves. Most run a similar route through the city. The advantages of catching a bus come down to convenience and cost.
The cost of the bus is less than a dollar per person which is by far the cheapest option.
Convenience wise buses leave from where a lot of backpacker style accommodation is located. If you're not staying near Masjid Jamek or Chinatown, then it may not be as convenient.
The downside of catching the bus is the time it takes. While only being approximately 15 km outside of central KL the buses don't go direct to Batu Caves, and stop often.
That combined with the traffic KL suffers from, and it can take well over an hour to get to the caves. If you're going during peak time the buses will be full of locals commuting as well so be mindful of this when planning your time to visit.
Batu Caves by Road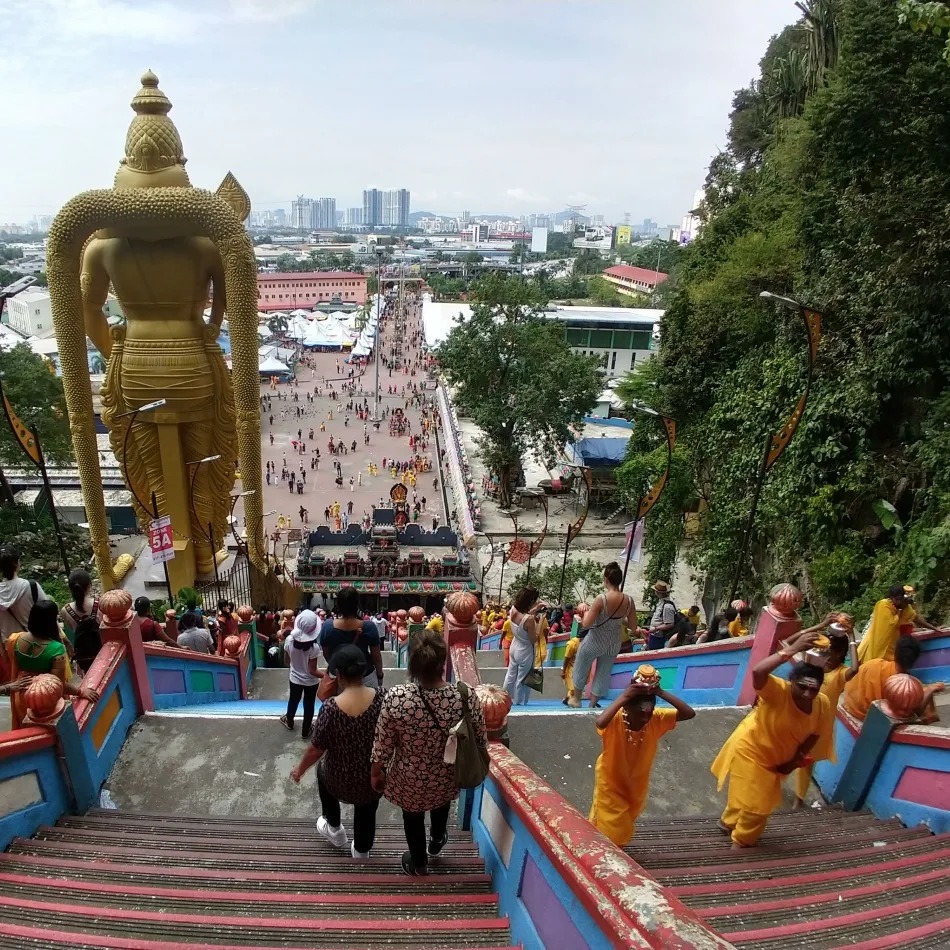 If you have your own car then you could drive to Batu Caves without too much trouble. Like the bus you'll have to deal with the traffic although you won't have to stop every few hundred metres. The biggest issue will be parking. Avoid the weekends and afternoons or mornings to increase your chances of getting a car space. There is no parking inside the complex only outside on the streets so follow the signs as police enforce the parking rules strictly.
Catching a Grab or taxi is the best way by road as they can drop you at the entrance and you don' have to worry about parking.
The journey is approximately 15 km from Sentral KL and would cost roughly 75 Ringgit for a taxi and approximately 45 ringgit for a Grab. Returning is just as simple just make sure you specify the pickup point and are there ready.
How to Get To Batu Caves From Bukit Bintang
There are 3 main methods of getting to Batu Caves from Bukit Bintang. The first and easiest is by catching a Grab taxi which is the most direct and depending on the traffic the quickest.
How To Get To Batu Caves From KLCC (Petronas Towers)
The quickest way to Batu Caves from KLCC is probably to catch a Grab taxi or car. Batu Caves is less than 20km outside of KLCC so with traffic being normal it is less than an hour in time.
A regular taxi from KLCC (Petronas Towers) to Batu Caves should be about 20 MYR, a Grab taxi or car will be a little cheaper.
Install the Grab app on your phone and allow it access to your credit card to use the app quickly and easily. You have no need to pay the driver cash, and the fare will be fixed via the app.
Grab works in the same way as Uber, but is a much more popular ride hailing app in Malaysia and Southeast Asia. You will need an internet connection or a Malaysian SIM card.
MyCar, Dacsee, EZCar and Riding Pink (women only) are other options for ride hailing in Malaysia.
How To Get To Batu Caves From KL Sentral
The quickest and easiest way to get to Batu Caves is via the Komuter train system. It is a direct line to Batu Caves and takes approximately 40 minutes.
You'll want to catch the blue line and the caves are the last stop. Tickets cost 8 ringgit return. During business hours trains run every 15 minutes with the first trains departing around 5am.
Timetables vary for weekends and public holidays, but with trains departing so frequently its easy to just wait for the next train at the Komuter train stop.
You can also catch the free bus that takes you to KL Sentral station where you can join the Komuter train. This takes a much longer time and while is clearly cheaper you'll only save yourself a few Ringgit.
This seems overly long and complicated for me although if you're on the free bus already it may be an acceptable way of getting there.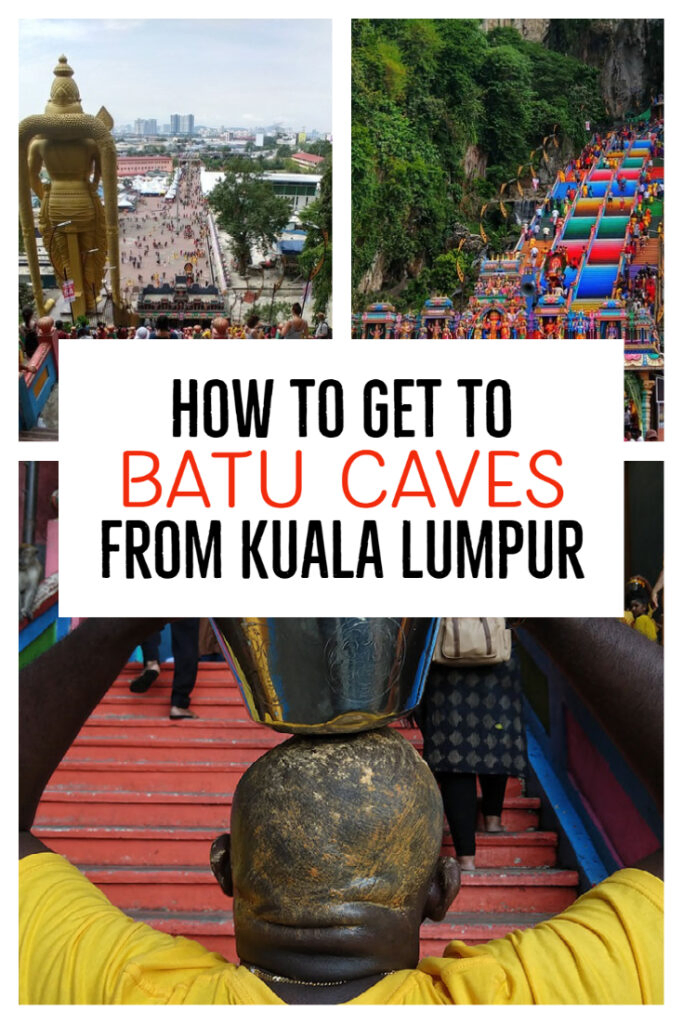 How To Get To Batu Caves From Chinatown
There is a direct bus to Batu caves. This will stop at multiple stops and is the slowest way of getting to the caves.
It does avoid changing buses or trains and is also the cheapest way to get there at just a few Ringgit. Frequency is every 10 minutes or less.
This will obviously change with heavy traffic. During peak hour it may be quicker to catch the train from KL Sentral even with the added changes.
A Grab car from the Chinatown area of KL to Batu Caves should only cost about 20-25 MYR (Malaysian Ringitt) and take 40 mins to an hour depending on traffic.
How To Get To Batu Caves From Pasar Seni
The quickest way to Batu Caves from Pasar Seni (Central Market or the Pasar Seni MRT station nearby) is likely to be to catch the metro one stop to KL Sentral and then the direct train.
A Grab car may be as quick, but will cost significantly more. The cost of a Grab should be approximately 20 to 25 Ringgit (MYR).
Batu Caves During Thaipusam Festival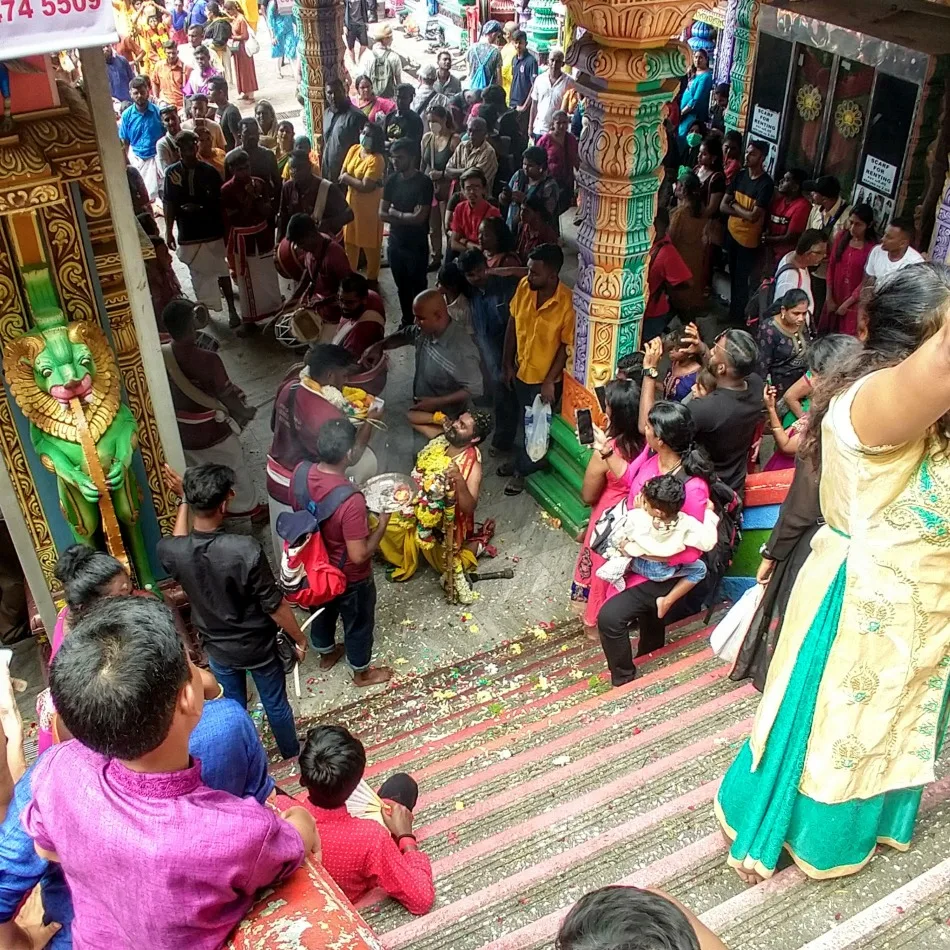 Batu Caves is one of the most important sites outside of India for Hindus and Malaysia has a large Hindu population. Thaipusam festival is one of the biggest events of the year, attracting up to half a million people over the course of the festival.
I'd recommend going, and even say that Thaipusam is the perfect time to go, but there are some things you need to be mindful of. Getting to the caves and returning to KL Sentral will likely be affected by crowds.
Basically don't try and get there by road, either car, taxi, or buses, as the roads can be total gridlock for miles around including the highways which are normally busy, but free moving. Some roads may be closed. It would be quicker to walk a few km if you really wanted to go by car than trying to get near the entrance.
The KTM Komuter train is a realistic way of getting out to the caves and while the train is crowded we managed to grab a seat in both directions. They put more services on for the festival period but we did find that the station at Batu Caves, while very well organised, was extremely busy with large crowds.
Pick your time to avoid the most congested periods or, if you wish to see the arrival of heaviest pilgrim traffic. If you have small children then I'd avoid going at peak times. The worshippers leave from the main Hindu temple near KL Sentral and walk the whole way arriving early in the morning and continuing right through the day. The later in the day the less the crowds will be until nightfall again.
The date for Thaipusam is determined by the moon much like Easter on the Christian calendar and so differs each year. In 2021 it's the 28th of January and 2022 is the 18th of January. 2023 drops back into February and is held on the 4th. It is worth noting that this is a public holiday in Malaysia so expect some disruption regardless of whether you attend or not. Please double-check these dates for yourself.
Batu Caves Are Well Worth Visiting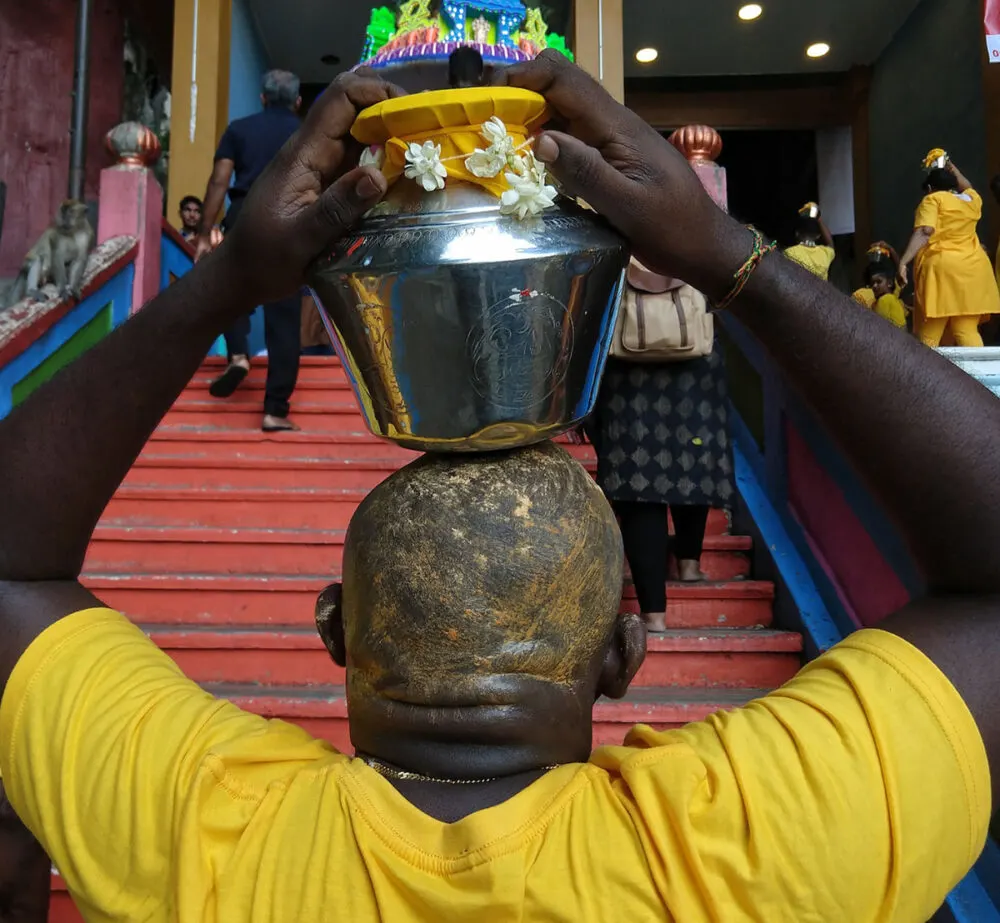 Batu Caves has got to be one of the top must-see places in Kuala Lumpur. A religious site of pilgrimage like nothing many visitors will ever have experienced before. Be sure to visit during your time in Kuala Lumpur and we hope you find our tips on how to get to Batu Caves useful. You may like our complete list of things to do in KL with kids, or find out more about one of the most incredible festivals in the world, Thaipusam, which, in Kuala Lumpur, focuses on both Chinatown, and Batu Caves.
If you'd like to hire a car during your stay, use this car rental comparison tool to find the best deal!

We also suggest you take a look at this company to get a quote for all kinds of travel insurance.

Try Stayz / VRBO for an alternative way to find rentals on homes/apartments/condos in any country!