This post may contain affiliate links.
Port Douglas is pretty popular as a Christmas holiday destination. With Australian long summer school holidays falling over the Christmas period, many families choose to travel around Christmas time and into the early New Year. However, Christmas and summer time bring some of the hottest, most humid weather to the tropics. Port Douglas is just a handful of degrees south of the equator and the tropical wet season really starts to kick in around Christmas.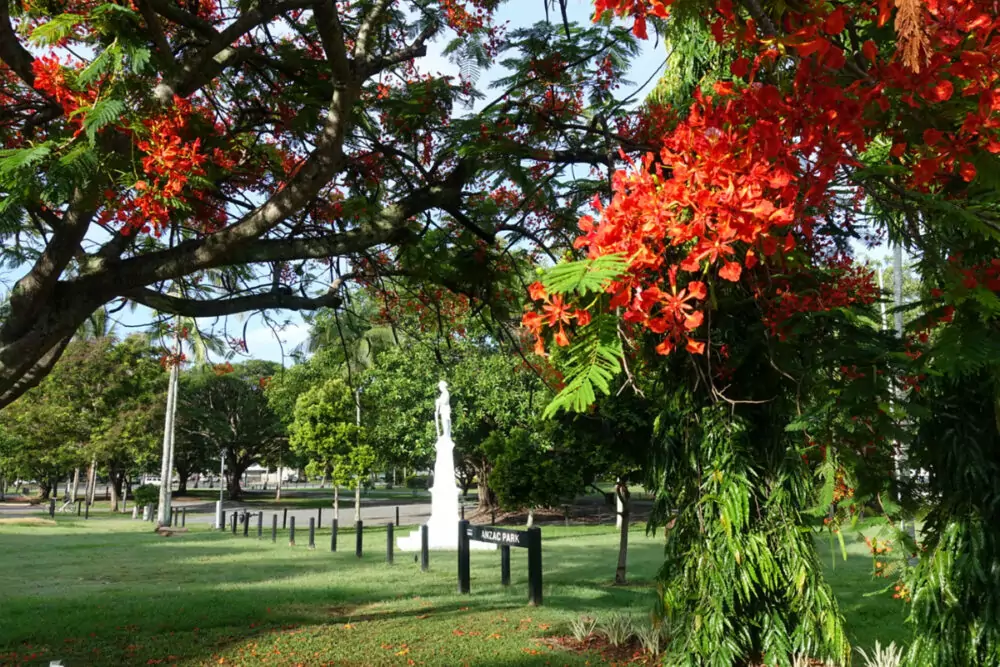 So is Port Douglas a good Christmas holiday destination and what happens in Port Douglas at Christmas? We tell it like it is. Port Douglas is one of our favourite places to visit in Queensland, and we hope you have an enjoyable festive break!
Visiting Port Douglas at Christmas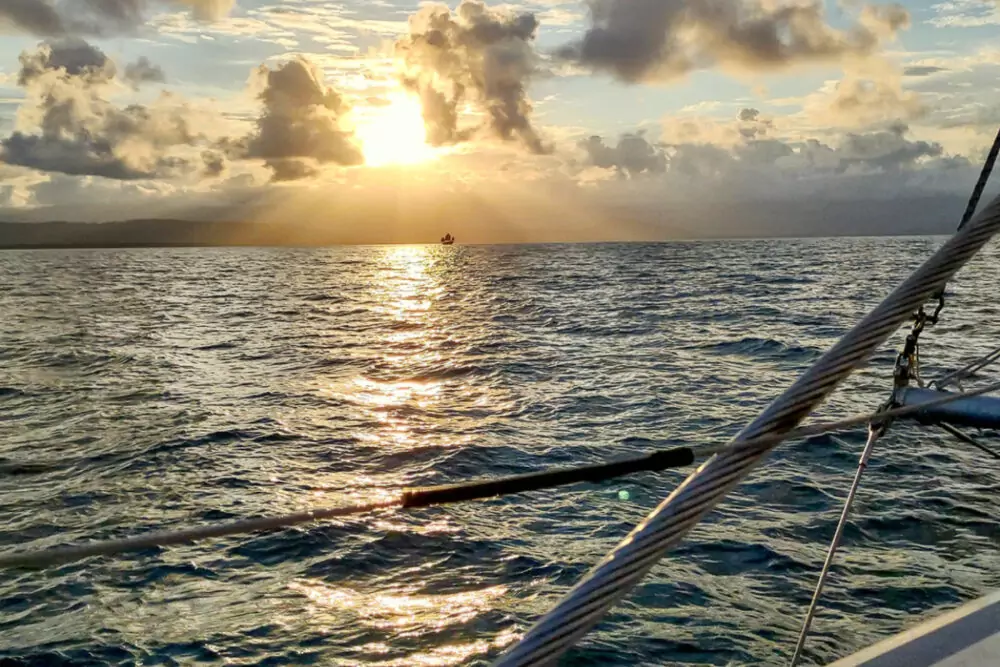 Christmas Lights and Decorations
Port Douglas's main street, Macrossan Street, is lit up year-round. Beautiful fairy lights illuminate the huge trees down the centre of the street at just about all times.
At Christmas, you should be able to enjoy those, give or take power failures! Power failures are rare, don't worry, but they can happen if we get very big storms.
At the far end of Macrossan, you should be able to see the Port Douglas Christmas tree, decorated in blue and white. It seems identical to the Christmas tree in neighbouring Mossman, but that tree has more traditional Christmas colours. They're both quite small.
Will You See Santa in Port Douglas at Xmas?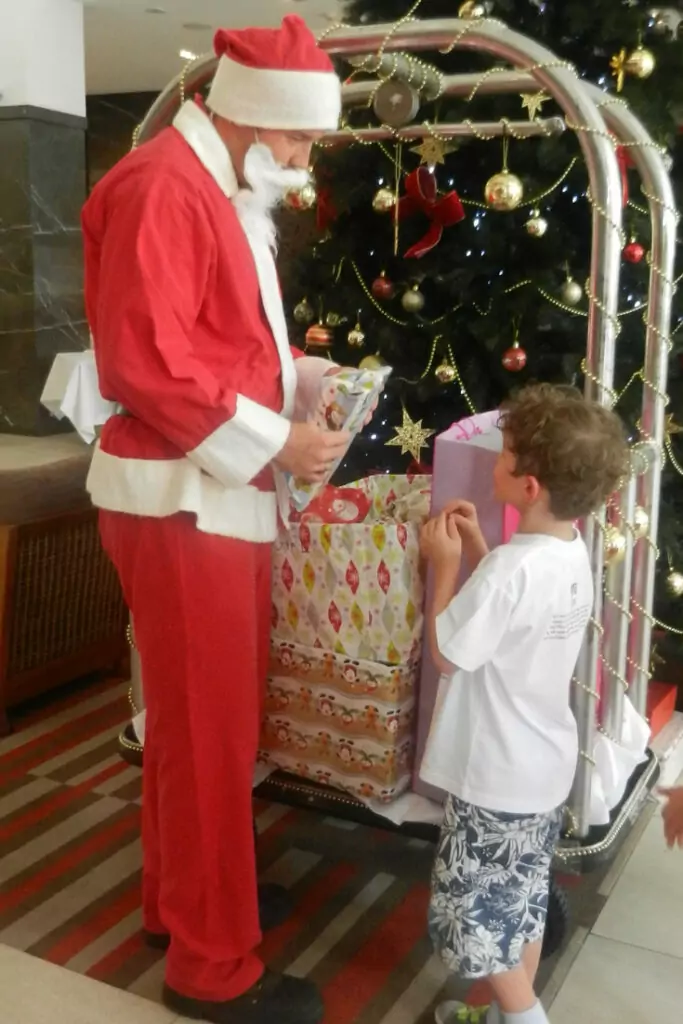 Santa has been known to arrive for a meet and greet in Port Douglas. I even saw him arrive by helicopter one year!
It's quite likely that your resort hotel may get the man in red to hand out gifts. and you may see Santa's legs disappearing down a chimney at The Iron Bar on Macrossan Street.
For department store or mall Santa, with photo opportunities for a fee, you'll likely have to go to Cairns.
Check with your family-friendly resort hotel to see if they're arranging for Santa to come and see the kids.
Christmas Dining in Port Douglas
Port Douglas has long been famous for lavish buffets at the big resort hotels. Because of public health restrictions in 2020 and 2021, many had to stop.
We know that buffets are returning, but we need to do more research on this one, see who's offering what this year!
Port Douglas normally takes it's holidays in January and February, our low season. Most restaurants and hotels should be open and we hope, busy for Christmas this year.
We need our tourists back!
Hotels for Christmas in Port Douglas
Visiting The Great Barrier Reef at Christmas
The reef boats do run over the Christmas period but some do shut for Christmas Day.
It will be stinger season in Port Douglas around Christmas time so you will be required to wear a stinger suit to protect you from poisonous jellyfish. Your boat should provide these.
Port Douglas Beach at Christmas
I love Four Mile Beach in October and November, the build-up to the hottest months. You can see clear waters and glassed out conditions in the stinger net on the beach.
As Christmas approaches this may become a little more unpredictable. But beach conditions change day by day. In very rough conditions the lifeguards will close the beach, but this is pretty rare.
If the waves are big the stinger net can't do its job. So for public safety, it has to be closed.
If the rains arrive before Christmas you're quite likely to see a lot of debris in the water.
The coral spawns off Port Douglas not long before Christmas too. If you're here in late November you might notice the distinctive smell as billions of tiny creatures all try to reproduce at once.
Weather in Port Douglas at Christmas
It's going to be hot! It's always hot in Port Douglas, we barely get winter at all. This is the tropics and Christmas is our summer or wet season. But you're also likely to see some rain.
We've even had a small cyclone before Christmas. It's very unusual to see cyclones here. In the 15 years I've been here I've not once seen a cyclone.
According to the BOM website, weather in December in Port Douglas should bring temperatures of between 23 and 30 degrees C. With mean December rainfall at approx 213mm. Relative humity should be around 72.
This makes December, typically, out the hottest month in Port Douglas, but not particularly humid and not the most wet. Rainfall increases dramatically in the first few months of the year. We think December is a great time to visit Port Douglas with plenty of water activities to cool off, so long as you take precautions.
We live here, even we complain about the heat sometimes. If you really can't take the heat maybe Port Douglas in December won't suit you.
Christmas Events
Carols by Candlelight usually happens in Port Douglas and there's often an amateur show on at the Clink Theatre. Not much happens. There's nothing like the big European Christmas Markets. But I believe an ice rink is coming to Cairns!
Tours and Activities To Book For Christmas in Port Douglas
The most popular tours, activities, and things to do in Port Douglas over Christmas include the following. If you use our links, below, you can book in advance and reserve your spot. If you can, check the weather forecast first.
Trips and tours to Mossman Gorge
Trips and tours to the Daintree Rainforest
Snorkelling at Low Isles, full-day trip.
Snorkelling at Low Isles, half-day trip.
Snorkelling or scuba diving on the outer reef from a large pontoon.
Snorkelling on the outer reef by boat.
Scuba diving on the outer reef by boat.
Crocodile spotting trips on Lady Douglas.
Fishing in December in Port Douglas and Around Christmas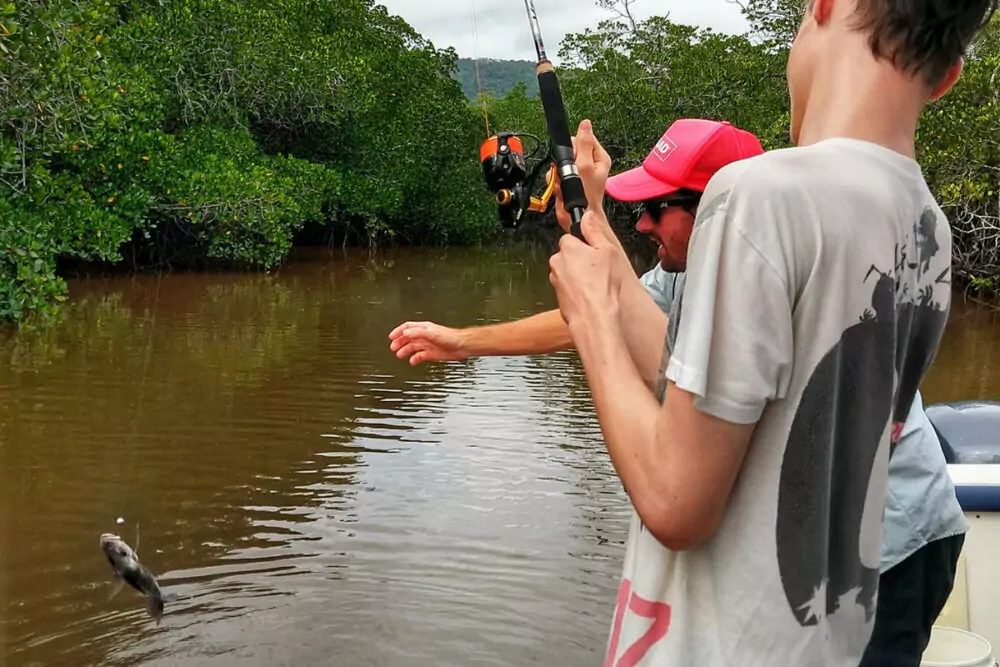 There are a lot of fishing opportunities in Port Douglas and most should be available during your Christmas holiday. Weather permitting.
As you can see from the photo above, we had rain on our last fishing trip. We were able to fish The Inlet, on a private charter boat, but not head out to sea. This trip was on Boxing Day.
Bigger boats may still run, but this little boat couldn't go out. Nonetheless, we had a fun morning. Just pack a waterproof jacket along with your sun and stinger protection.
Marlin fishing may be possible too, although the very best time to catch marlin from Port Douglas is mid-September to the end of November. I got that information from a marlin boat skipper, he should be right! You have a chance of a marlin through January too.
Barramundi fishing is also available from Port Douglas, we believe. We haven't tried it!
We hope you enjoy your special Christmas trip to Port Douglas. It's a lovely spot to celebrate the festive season or to ring in the New Year. There are usually fireworks for New Year's Eve, both early, for the kids, and late. We're keeping our ears to the ground and will share any special Christmas events, deals, meals, or activities that we can find. Do you need our post on how to get from Cairns airport to Port Douglas? Or maybe a selection of great things to do in Cairns, most visitors to Port Douglas will check out Cairns and the Northern Beaches, also the Atherton Tablelands, Mossman, and Daintree Village.
If you'd like to hire a car during your stay, use this car rental comparison tool to find the best deal!

We also suggest you take a look at this company to get a quote for all kinds of the more tricky adventure or extended travel insurance.

Try Stayz / VRBO for an alternative way to find rentals on homes/apartments/condos in any country!