This post may contain affiliate links.
Stuck for places to visit in Melbourne? Have you visited most of them already? What about places to visit near Melbourne? Day trips, tours, places of interest and activities near Melbourne CBD. We bring you our best places to visit in and near Melbourne in this travel blog post!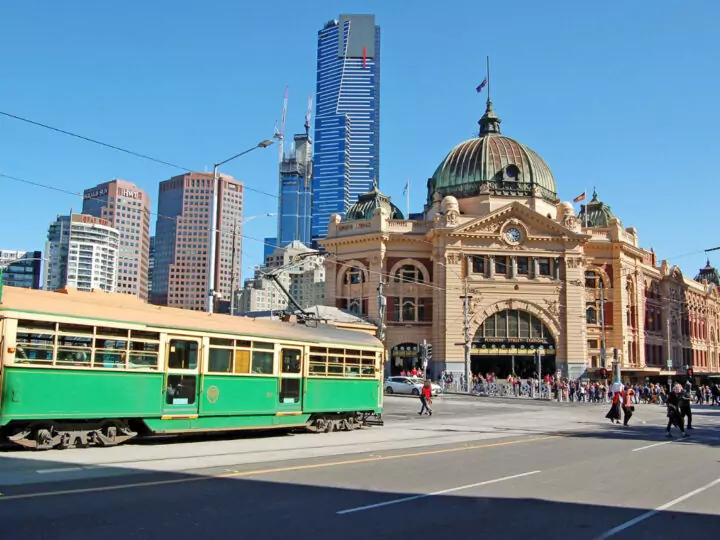 Melbourne attracts millions of visitors from all over Australia and other countries most years, making it one of Australia's most popular destinations.
It is arguably Australia's sporting, fashion, food and cultural capital and has been ranked for several years in a row as one of the world's most liveable cities.
The City Circle Tram is a free tram service in Melbourne's central business district. The free Circle Line tram # 35 rolls through the city centre stopping at most of the city's main tourist attractions.
There is also a free hop-on-hop-off service to and from all of the city's attractions making Melbourne easy to explore.
Its colourful, bustling city lanes, which connect all the main streets of the CBD, wind through the CBD and reaches the foot of Flinders Street Station in no more than 20 or so minutes.
Dotted with street art and full of cafes with the scent of fresh Melbourne coffee, the alleys offer a special Melbourne experience away from the obvious river views and scenery.
Places to Visit in and Near Melbourne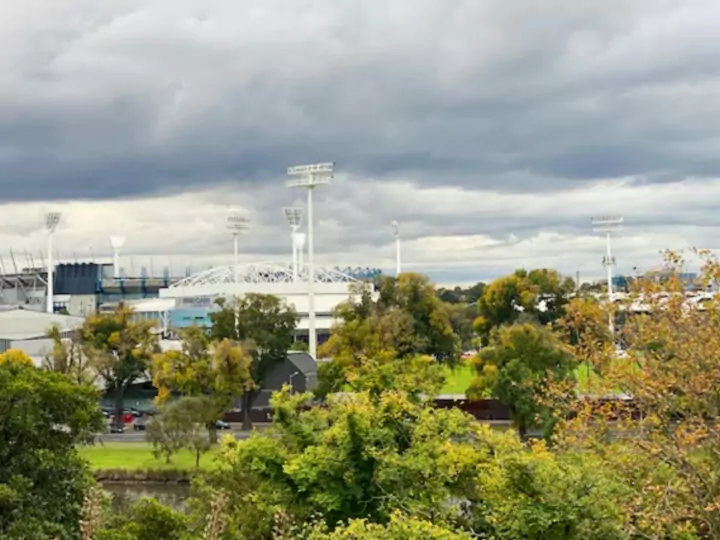 First we'll give you a check-list of places to see and to visit in Inner Melbourne, followed by excursions into outer Melbourne.
Then we'll investigate tours you can book from Melbourne to see more of Victoria, and even into other states.
There is so much to see and do in and near Melbourne that you could see something different every day on a two week holiday, or longer!
PLACES TO VISIT IN INNER MELBOURNE
Flinders Street Station
Walk to Flinders Street Station is opposite Fed Square, and is the main train station in Melbourne.
The front steps are a popular meeting place, which is close to the Yarra River, Southbank, The Arts Centre, The National Gallery of Victoria and many popular restaurants and bars.
Degraves Street
Opposite Flinders Street Station is Degraves street, one of the best and most popular laneways for coffee and breakfast.
Most of the cafés along this laneway have seating that spills out onto the walkway providing plenty of people watching as you drink your coffee.
Coffee Culture
You'll find the best coffee in Australia in Melbourne, due to the influx of Italian culture after World War 2 when European espresso machines came to Melbourne.
The coffee scene has been evolving to an incredible level ever since.
Check the coffee beans, if you're a fan of Arabica, you may find Australian coffee different.
Federation Square
You can spend a few days on a day trip to see the sights of Melbourne. The Federation Square tour is easily accessible from Melbourne Harbour (convenient for those arriving by cruise ship) and St Kilda Beach when the beach is out of town.
National Gallery Of Victoria
The National Gallery of Victoria also known as the NGV was founded on St Kilda Road in Melbourne's Southbank area in 1861 and is the oldest art museum in Australia.
Thanks to art donations and generous funds, it houses more than 70,000 works and is one of Melbourne's top attractions.

Southbank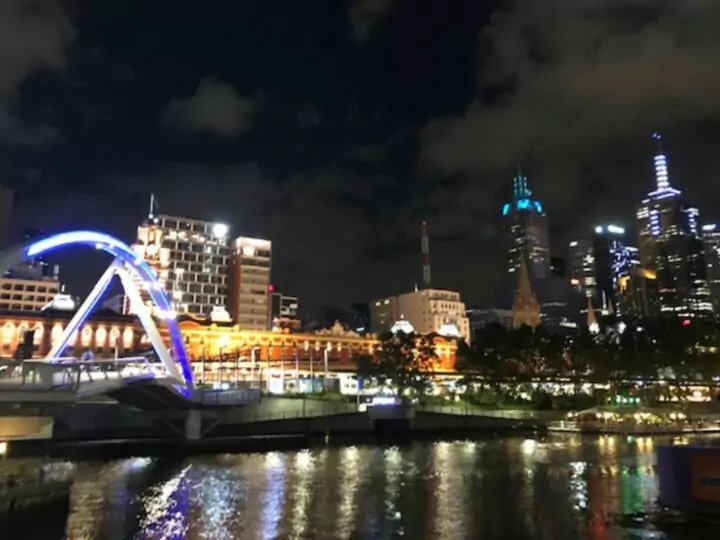 Southbank is home to a variety of cultural institutions, including the Malthouse Theatre and the Melbourne Recital Centre.
There are also many hotels and renowned restaurants with riverside views situated on the south side of the Yarra River.
Queen Victoria Market
One of Melbourne's top attractions is the QVM Market, also known as Queen Victoria Market. A bustling block of stalls a short tram ride from the city centre, this market has everything from clothes, food, gadgets and jewellery.
Local tip: the Spanish Donuts here are legendary in Melbourne.
Melbourne Museum
The Melbourne Museum is a cultural and natural history museum located in the Royal Exhibition Building in the city centre of Melbourne 11 Nicholson Street, Carlton Gardens and was founded in 1854.
It is part of the Museum of Victoria and includes the Bunjilaka Aboriginal Cultural Centre, IMAX Melbourne, Science Works Melbourne, Planetarium, Immigration Museum and Royal Exhibition Building.
St Kilda
St Kilda offers a wide variety of attractions ranging from relaxing on the beach to thriving nightlife, a famous promenade, markets and some of the best restaurants in the city if not Australia.
You will undoubtedly find some of the best eats in the city, here.
A hub for backpackers, especially in the warmer months, St Kilda has a fun and eclectic atmosphere and is a half-hour tram ride from the city.
BEST PLACES TO VISIT IN OUTER MELBOURNE
Mornington Peninsula
Some of the most popular day trips outside of Melbourne are to the Mornington Peninsula, where you can take a wine tour, visit the Peninsula hot springs and the beaches of Phillip Island to visit the little penguin parades.
Yarra Valley
The Yarra Valley, an hour out of Melbourne CBD is famous for the wineries set amongst picturesque views of the area.
Wine tours run daily from inner Melbourne, or you can take a car and choose your own itinerary.
Popular wineries include Domaine Chandon , De Bertoli Wines, and Yering Station.
Macedon Ranges
The Macedon Ranges are an hour drive from Melbourne. Mount Macedon and the surrounding towns are well worth the visit for the stunning gardens, sprawling mansions and magical history of the area.
Take a trip to Hanging Rock for epic scenery or to the small town of Woodend for antiques and boutique cafes.
Some of the many other attractions to visit in Melbourne include the Australian Centre for Moving Images, Werribee Open Range Zoo, and the Melbourne Cricket Ground.
TOURS TO BOOK FROM MELBOURNE AUSTRALIA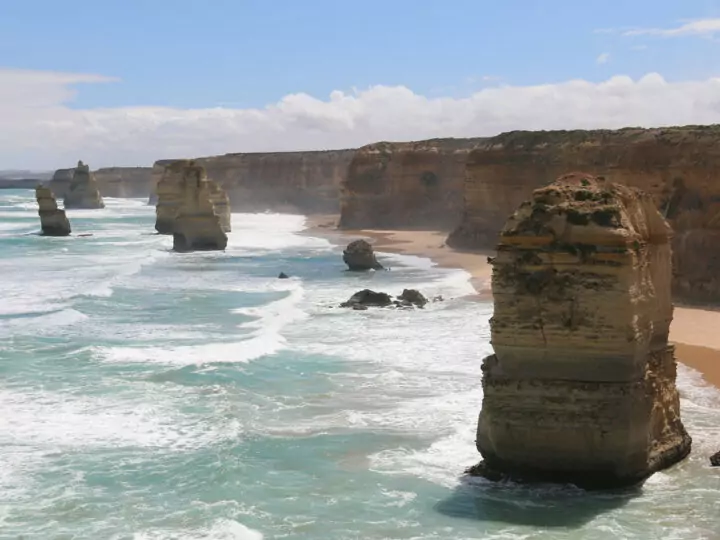 Some of the most popular tours, trips, and activities to book from Melbourne Australia are in our list below.
Book your ticket to Werribee Open Range Zoo. The zoo is about 40 mins from Central Melbourne by road.
The Great Ocean Road and 12 Apostles Day Trip. Book this tour from Melbourne, it's near Melbourne by Australian standards, but at about 100Km away from the CBD, it's not what most of us call nearby. However, this is a very popular excursion from Melbourne. Expect the drive to take a little over an hour. The drive from Torquay (the starting point, nearest Melbourne) to Warrnambool, near the SA border, takes over 4 hours. This doesn't allow for the many stops you will make along the way.
Dandenong Ranges tour, from Melbourne, by Puffing Billy Train. The Dandenong Ranges National Park is about 45 Km, under an hour depending on traffic, from the Melbourne CBD. But why not do it by steam train? This excursion allows you to see some stunning scenery and wildlife while visiting historic towns and enjoying a tasty cream tea.
Part of what makes Melbourne such an exciting place is that you can eat, shop and experience things from all over the world. It's also well located for taking day trips and tours to places of interest in Victoria
Melbourne is a multicultural oasis full of food and culture which does not exist in other Australian cities.
Explore the city's varied galleries, cafes and shops, stroll through lush gardens, ride alongside The Yarra River, hop on heritage trams and discover a city of magic, cultural diversity and creativity.
If you'd like to hire a car during your stay, use this car rental comparison tool to find the best deal!

We also suggest you take a look at this company to get a quote for all kinds of the more tricky adventure or extended travel insurance.

Try Stayz / VRBO for an alternative way to find rentals on homes/apartments/condos in any country!