This post may contain affiliate links.
Kuala Lumpur is a wonderful city, in one moment ultra slick and modern, the next ancient, traditional and cultured. Its a city everybody should experience at least once, and a city that many of us these days visit because of the great connections Air Asia offer. Prices seem low at the moment, they're lower than we've seen even 3 years ago, but in our experience, there isn't a huge amount of ultra-low-cost family accommodation available in KL but there are plenty of affordable appartments as well as luxury hotels and chain hotels. We cover all types of family hotel in Kuala Lumpur in this post.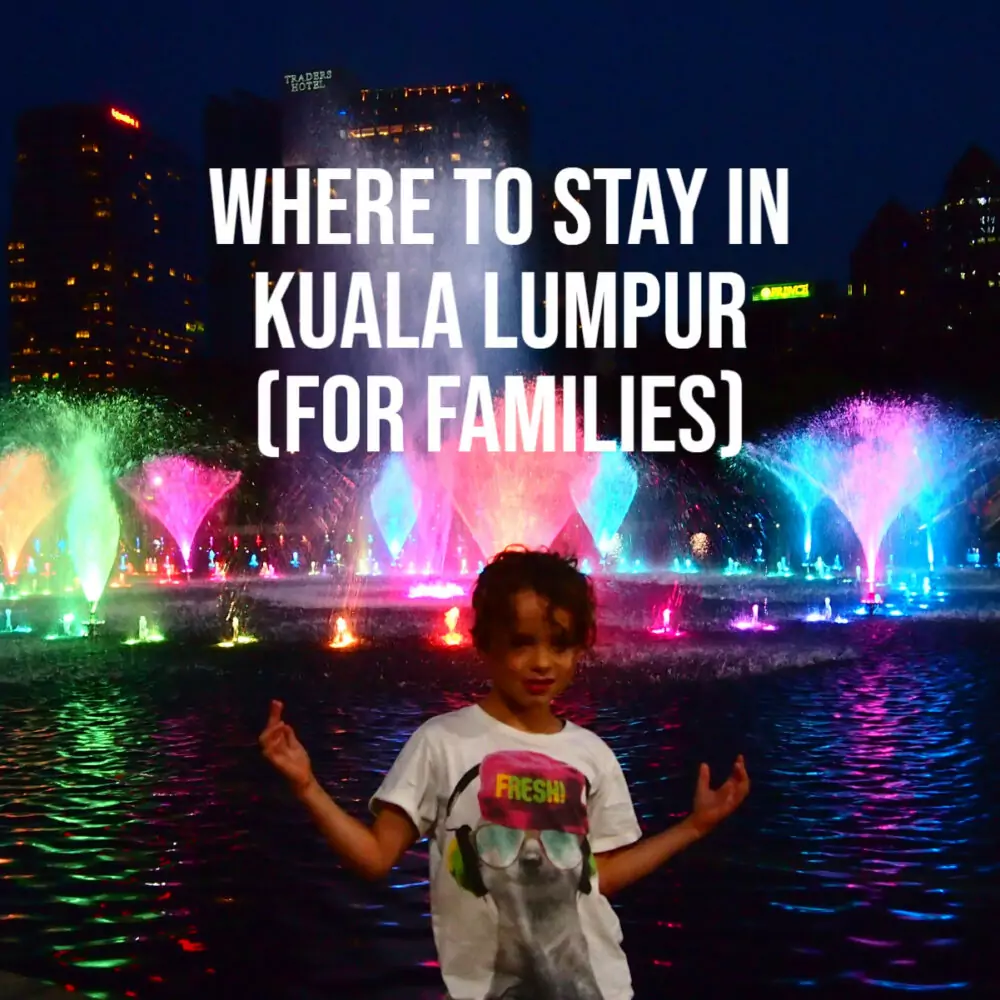 We have 1 hostel here we always use (see a family-friendly KL hostel here) which has suited us when travelling as a family of 3, several times. Another budget option that's great fun for kids is this space-themed capsule hotel in Chinatown, it has rooms for four, but if you want somewhere more luxurious, Kuala Lumpur has some amazing hotels and apartments for kids and families.
In the mid-range, $70-$150 range, there is an abundance of family options including 2 bedroom apartments some with pools and washing machines. Top-end luxury hotels are also plentiful in Kuala Lumpur, some with family rooms.
Lets have a look at the accommodation we have used and recommend in Kuala Lumpur, other hotel, guest house, hostel and apartment options for families in Kuala Lumpur, what it costs to stay there and what you will get for your dollar. Visiting Kuala Lumpur with kids is a great plan, there is loads for them to see and experience here from many cultures and points in history. Let's sort out your family accommodation first.
Agoda is the local booking specialist for South East Asia, being local they often have the best deals, but you could also use. You can access Agoda's deals and recommendations for KL here. If you join AirBnb there are some good family accommodation options in Kuala Lumpur. But apartments are also available on other platforms. This is an example of a child-friendly family apartment in KL, without the Airbnb cleaning fees. This one is centrally located with amazing views and a rooftop pool.
Family Accommodation, Hotels, Hostels and Guest Houses in Kuala Lumpur
All of the hotels below have rooms for a family of 4 and good reviews.
Back Home Hostel
Back Home has 4 bed dorms, 3 bed dorms and 6 bed dorms, so if, as a family, you book out an entire dorm, you're winning! We've stayed here several times and the children loved it. We stayed in 2013, 2014 and 2017, 2019 and 2020 and it's always been good. It's not ultra-budget, but for KL it's cheap. Take a look at Back Home here.
Don't be put off by the fact Back Home is a hostel, it has private rooms ideal for families, a great atmosphere, wonderful staff and a movie room and a spotlessly clean kitchen. A typical hostel breakfast is included.
The location is ideal for exploring China Town and the Colonial District on foot and for catching the free public transport into the the city center for spectacular malls, the Petronas Towers and some world-class kids facilities.
The bus stop for Batu Caves is in the next street.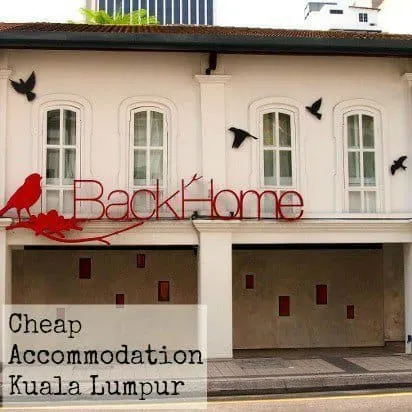 Back Home is near to train and bus stations, convenient for your arrival from the airport or for onward travel.

Check prices for Back Home KL on Agoda here
There is a full review on BackHome KL at the foot of the page.
Nu Hotel @ KL Sentral
This place is a bargain, a family room with 1 double, 2 singles for under $40 US/ night.
It has a "very good" 8.0 rating on Agoda.
Trip advisor gives it a 4/5 for modern clean rooms and good location.
Check prices and availability on Agoda here .
The Face Suites at KLCC
These suites have an " excellent" 8.8 rating on Agoda Stunning 2 bedroom suites at various price points under $150/ night. A rooftop infinity pool and washing machine are big bonuses here.
Trip Advisor gives this one a 4.5/5
Check prices and availability on Agoda here.
Vortex Suites KLCC Kuala Lumpur Hotel & Services
Another incredibly low price here, under $70 for a 2 bedroom family suite. This one offers a swimming pool too! Another " Excellent" 8.9 ranking on Agoda.
Check prices and availability on Agoda here.
Costs in Malaysia Generally
Although accommodation is a bit more expensive in Malaysia and you get less for your dollar, we feel that overall the country works out quite cheaply. Bus and taxi fares are low and the city rail network in KL is a bargain. Local food, particularly Indian is really good value, about $1-$2 for a big thali (or "banana leaf") meal sometimes. Roti and dosa (thosai) meals come in at around $1. Street food, particularly Indian, is dirt cheap, you could easily have full tummies all-round for under a dollar per head if you eat vada, bhajis, curry puffs, maybe fruit, even in KL.
If you go to more upmarket eateries, prices skyrocket. Prices for clothes and electrical goods seem really high to me, certainly higher than Australia. Drinks prices vary enormously. The cheapest beer we've found is 4.5 MYR/can for Tiger or Heineken, in local type shops away from tourist areas. 7-11 is more expensive for beer, as are the supermarkets. The most expensive beer, 16MYR/can. Wine is pricey but you can pick up a cheap bottle of red for 45MYR, $15.
Back Home Kuala Lumpur, Full Review
Cost per Night:
$45 to $55 per night for 4 of us. I can't give an exact figure as we have stayed in a triple room, where we payed for an extra adult, in 2 double rooms and in the couples dorm in double bunks. Back Home operate a stay 6 nights get the 7th night free discount system, so if you can stay longer you can save a decent amount of money, we book around this system to make our stay as cheap as possible. We also had a small discount.
Number of Beds:
The triple rooms have a double bed below and a single bed above. The bottom bunk is easily big enough for the children and I, we had to pay for an extra mattress on the floor , but rules are rules. In the couples dorm the three of us shared one double bunk bed, my husband wasn't with us on that trip.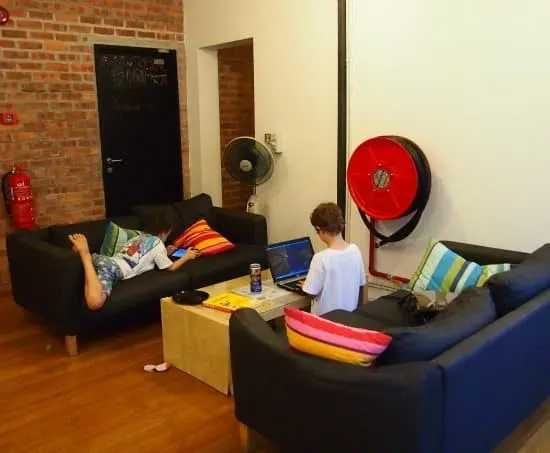 What we got for our money:
Good WiFi in all areas. Air-con in room. Shared, very clean, showers and toilets. Spotlessly clean sheets and a blanket, no top sheet (this is normal in Malaysia). No towels. Sink in room. Basic breakfast ( toast, jam, peanut butter, fruit) and tea/coffee are included. There is a gorgeous movie room with loads of kids' and adults' movies on demand. There is a basic kitchen for guests to use, a fridge, microwave, plates and cutlery. There are toasters at breakfast time. Hot water and filtered chilled water are available all day. Staff at Back Home are excellent, helpful, friendly and knowledgeable. Plenty of communal areas for sitting. Outdoor smoking area, luggage storage. There is a laundry service available on site, or there is room to hang out your hand washing to dry. They have a coffee shop/restaurant attached to Back Home.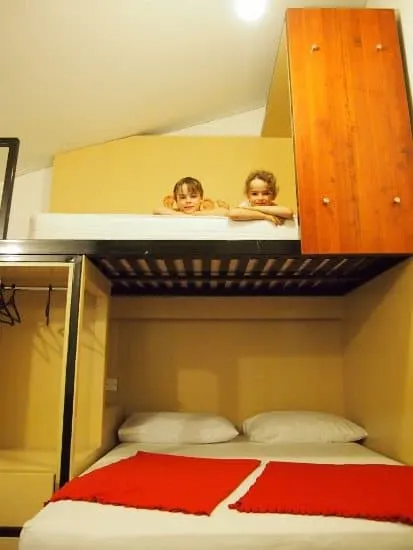 Location:
Back Home hostel is a very short walk from Masjid Jamek train station and the Telekom Museum stop on the free GO KL bus system. It's easy to walk into China Town or the Colonial district, a longer walk will take you to the Central Mosque. The next street houses a South Indian community with great food. There are plenty of shops in the area, including a big pharmacy, a Mc Donalds, 7-11 and other food outlets and shops selling beer and wine. In just a few minutes on public transport you can be in any of the huge malls, KLCC ( under the Petronas towers) or Bukit Bintang ( where you'll find the roller coaster in a shopping mall). The bus to Batu Caves leaves from the next street and the main bus station for buses to Penang is roughly a 10 min walk. There is plenty of really cheap Indian street food nearby, along with fried bananas, curry puffs, juices, all sorts of things. There is a great little bakery up on the main road selling cakes and tarts for $0.5. You could easily stay here and eat for a few dollars a day.
Negatives:
Note: I always point out a few negatives. Obviously, if they'd been a big deal we wouldn't have stayed, I just find a few for the benefit of others who may be sensitive to noise or the fluffiness of towels. They're not my negatives, I'm usually very happy with everywhere we stayed.
This place is great, but if I had to be picky I'd say the following. It's a bit pricey, but accommodation in Malaysia is more expensive than in the rest of S E Asia, particularly in KL. Back Home is popular and in demand, you should book. Laundry is expensive here too, at 10 MYR/Kg (over $3), more than twice the most expensive laundry costs we paid in Thailand. It can be a noisy at night sometimes if guests bang doors or stay up late socialising. If you are in one of the rooms facing the road the traffic noise is a little irritating, the road is very busy. There is double glazing which helps a lot but it's still noticeable. I've slept through much, much worse.
If you have small children you couldn't let them wander around the hostel without you, the stairs and upstairs walkways don't have railings designed for children, they could fall. We have been warned about bag snatchers and pick pockets in the area, although we haven't experienced this here ourselves.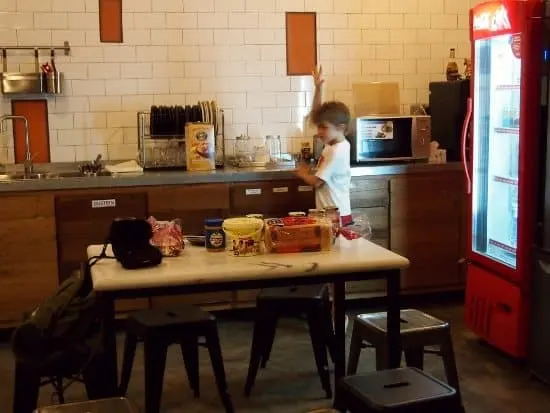 Our Verdict:
We really love Back Home . The kids are blissed out by toast, jam, and movies. We love the design and decoration, it's sort of industrial funky. There are plenty of power points and clever little storage spaces. Our triple room even had a built-in desk. Having our own sink in-room makes life so much easier, as does being able to get up and have breakfast on-site. The included basic breakfast saves us a fair bit of money and plenty of aggravation. We bought extra food supplies ( real cheese and Marmite) from the Cold Storage supermarket at KLCC. It really does feel like "home" we can live a normal sort of family life here. Since our last visit all the pavements in the area have been fixed, it's much easier and safer to get around now. The traffic and air quality in KL remain terrible.
We hope you enjoy your time in Kuala Lumpur and find the accommodation to suit your family and your budget. Again, we'll recommend Back Home, I'm sitting here right now, our 4 th stay, and it's still good. We have already published Family Accommodation Johor Bahru for Legoland Malaysia. More posts are still to come. Back to our main Malaysia Travel Blog page
If you'd like to hire a car during your stay, use this car rental comparison tool to find the best deal!

We also suggest you take a look at this company to get a quote for all kinds of the more tricky adventure or extended travel insurance.

Try Stayz / VRBO for an alternative way to find rentals on homes/apartments/condos in any country!