We've had no problem finding things to do in Kuala Lumpur with kids , almost three weeks here now, something new every day. If you scroll to the bottom of the page you'll see my kids' top 5 things, chosen by them. We've checked out China Town and its temples, seen the roller coaster in a shopping mall and tried our hands at indoor archery, we've taken the obligatory photos at the Petronas Towers and Batu Caves before having a science fest at Petrosains ( click the links for pictures and information).We've played in the pools in front of the iconic towers, dismissed the playground next door, seen the evening light show and had a brilliant time at the aquarium.
At the risk of starting to sound like the Lonely Planet, here are a few more places, a few more photos.
Looking for a hotel in Kuala Lumpur? Find latest deals here.


Kuala Lumpur's Colonial District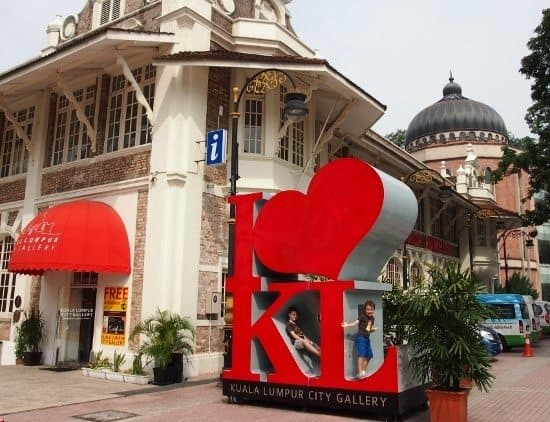 This is where you find the Kuala Lumpur City Gallery with the famous I love KL sign. This place is a little gem, there is a great display on the history of KL, just enough reading to not switch off an under enthusiastic nine-year old, a beautiful model of the city and a craft gallery where you can watch intricate wooden buildings and decorations being made.
It's small, but totally free, the miniature houses and monuments fascinated the children and it's a nice break in the air con as you walk around this hot, sticky city.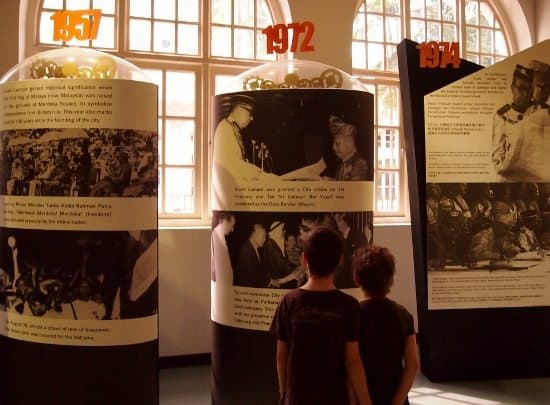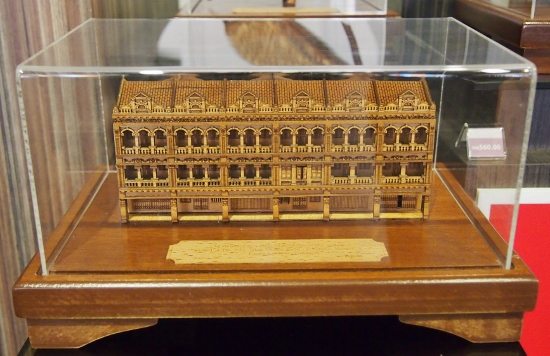 The biggest surprise in Kuala Lumpur's Colonial District was this. A cricket pitch that wouldn't be out-of-place in a British village, it's right in front of the Kuala Lumpur City Gallery in Merdeka Square.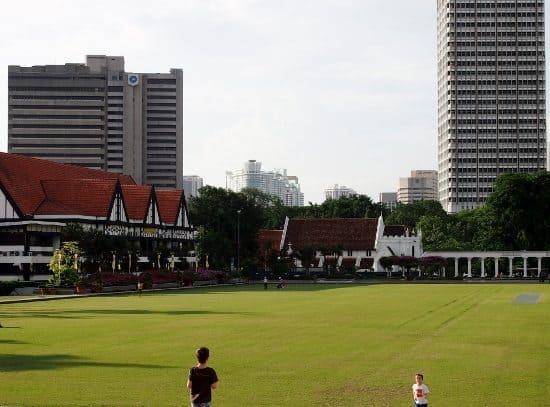 On the other side of the road is the most photographed building in Kuala Lumpur, the Sultan Abdul Samad building, built by the British, surprisingly.
If you carry on walking out of town along the main road, you can have a totally different experience, Malaysia's National Mosque, Masjid Negara is about five minutes away. I'll save the photos of me in a hijab for another post.
We really like Kuala Lumpur, it's efficient and well organised, the public transport is fantastic, the supermarkets and shops would give any Western capital a run for its money, plus you've got the old and traditional for a change of pace. It's been easy to find things to do in Kuala Lumpur with kids, everything has been new and different for them. Sometimes they've been fed up with walking or catching yet another bus, but if you break the day up a bit with things they enjoy they've been fine.
We can easily walk from our hostel to the Colonial District, the Central Market and China Town, they are side by side, but it's hot, the air pollution is terrible and dodging the traffic is a bit of an experience if you're not used to it. Kuala Lumpur has its flaws, the same as any other city, but we've had a great time here, we love it.
Time to move on now, down to Melacca for a new set of experiences.
Things to do in Kuala Lumpur with Kids. Our Top 5.

1.The Petronas Towers. My boys loved seeing them, they like big things.

2. Playing in the water of the pool and fountain just in front of the Petronas Towers. They didn't like the huge playground complex there so much, it was more for little kids and it was too hot.

3. Indoor Archery in the mall ( link above) they thought it was fantastic.

4. The Aquarium. Particularly the touch pool. You can hold horseshoe crabs and stroke a shark.

5. Petrosains. They're itching to go back, it was too much to see in one half day visit.

Back to our main Malaysia Travel Blog page