This post may contain affiliate links.
Malacca doesn't seem to be much of a backpacker town, most of the tourists we see are local and/or considerably richer than us, which isn't hard. Maybe all the backpackers are in other districts rather than the Old Town. Finding cheap accommodation (for a family of 4 in particular) in Malacca has been tricky. We feel that hotels and guest houses in Malaysia on the whole are quite expensive for South East Asia and you don't get much for your money (remember in Thailand and Laos we were sometimes paying $12/night outside the big cities and beaches). So far in Malaysia we have only stayed in Malacca, Kuala Lumpur and Penang. Maybe the less touristy parts are cheaper, we'll find out eventually. One of the places we stayed in Malacca (Melaka) was Kawan Kawan Guest House, find our review and thoughts on this budget hotel or hostel below.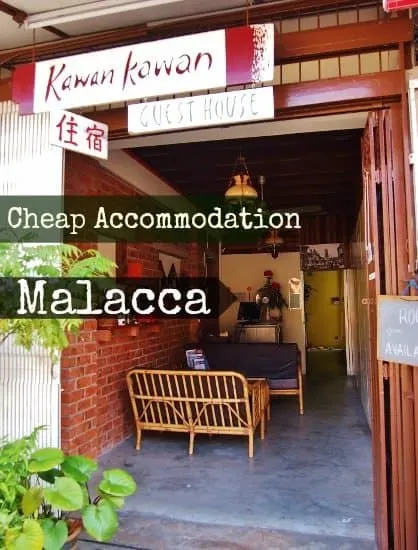 Weekends are the busiest time in Malacca, everywhere fills up as local tourists head to the old town. Vacancies were scarce, I don't often say this, but book ahead. Some places have tried to charge us a 50% weekend supplement.
Much of the accommodation is in the lovely old shop house buildings that line the narrow streets. See the pictures in Malacca. First Impressions to give you an idea. We've stayed in several now and they have loads of charm but wooden floors and stud walls do little to deaden sounds from your neighbours or the street. It's fine for us, but light sleepers may want to stay elsewhere.
We found very little accommodation that included a bathroom at a reasonable price, shared bathroom facilities were pretty common as we searched. Also many places do not take children, I guess this is down to safety in the old buildings and noise concerns.
Note: I always point out a few negatives. Obviously, if they'd been a big deal to us we wouldn't have stayed, I just find a few for the benefit of others who may be sensitive to noise or shared showers or whatever. They're not my negatives, we're pretty easy to please.
Booking Information.
Book Kawan Kawan here on Agoda
Or try Hotels Comparison site, Hotels Combined here. They will check Booking dot com, Hotels dot com and others to find you the best price, but you need to check Agoda separately.
Or return to our Malacca page here or our post on Malacca for kids here.
Kawan Kawan Review
Kawan Kawan is in the Old Town, right in the heart of it, on a narrow street opposite a Chinese Temple. The second place we stayed in Malacca, Casa Blanca, is a 2 minute walk to Jonker St. or the waterfront, but in a more modern building in a less pretty area. It's right behind the big Casa Del Rio Hotel.
Kawan Kawan Guest House
Cost per night: for a 4 bed room $20-$30 US plus tourist tax. For a twin or double approx $20 plus tax. Delux double with bathroom approx $20 plus tax.
Number of beds: 4 single beds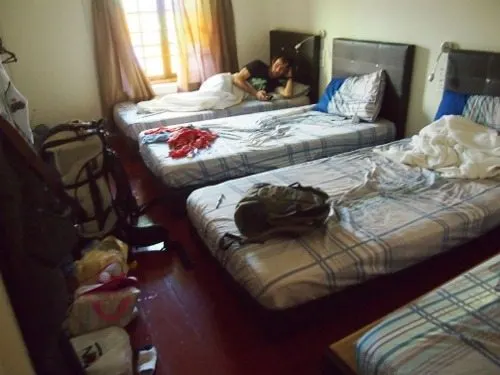 What we got for our money: Air-con, fan, shared bathroom facilities and common areas in a lovely old shop house building with a great Old Town location. Free Wifi.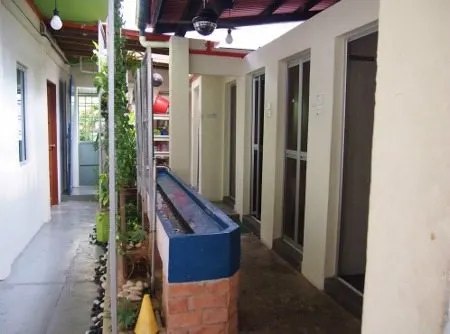 Kawan Kawan was simple but absolutely fine. The beds were comfortable and the bedding clean. It is a well known guest house and is listed on Agoda Check Prices and Availability for Kawan Kawan here. We booked online as we were arriving after dark.
---
Keep our site free and support our family business by using our affiliate links-at no extra cost to you!
---
The bathrooms were shared but spotlessly clean, the showers were great. The wifi was excellent. The room was tiny, we had a small amount of floor space and no furniture, no big deal. Individual reading lights and power sockets at each bed were a nice touch. We had no top sheet, just a small, clean, cotton blanket, that seems standard in our experience in Malaysia. I was cold, mostly because my kids love to sleep with the air-con set to Arctic.
You can hear the call to prayer in the mornings from the mosque up the road (before 6am) and the gongs of the Chinese Temple opposite. That doesn't bother me, it's atmospheric. What did stop me sleeping was the noisy group in the next room (just bad luck) and the musical bicycle rickshaws on the road outside. The road is one way only and very quiet other than the odd rickshaw, it could be much worse if you're on a main road.
We stayed 2 nights at Kawan Kawan Guest House, we had to move on because they were fully booked over the weekend, we would happily have stayed longer and would go back.
If you'd like to hire a car during your stay, use this car rental comparison tool to find the best deal!

We also suggest you take a look at this company to get a quote for all kinds of the more tricky adventure or extended travel insurance.

Try Stayz / VRBO for an alternative way to find rentals on homes/apartments/condos in any country!