This post may contain affiliate links.
In this post you will learn the basics of how to start and set up a blog and how to begin making money. It is aimed at complete beginners and at those wanting to improve their blogging game and grow their income. I am a travel blogger and a homeschool blogger, my online income supports my family as we travel the world. I'm not selling any blogging courses and all of this information is available here, for free and in our Facebook support group, Living Differently. Subscribe here and you will be invited. I hope you find it useful. We also have some free tips and blogging guides elsewhere on this site and a basic "new blogger's checklist" to print will be sent to you when you subscribe below.
If you subscribe, you'll get our newsletter, that will let you know when we add further blogging content reflecting changes in the online workspace and so on. Still no sales pitch!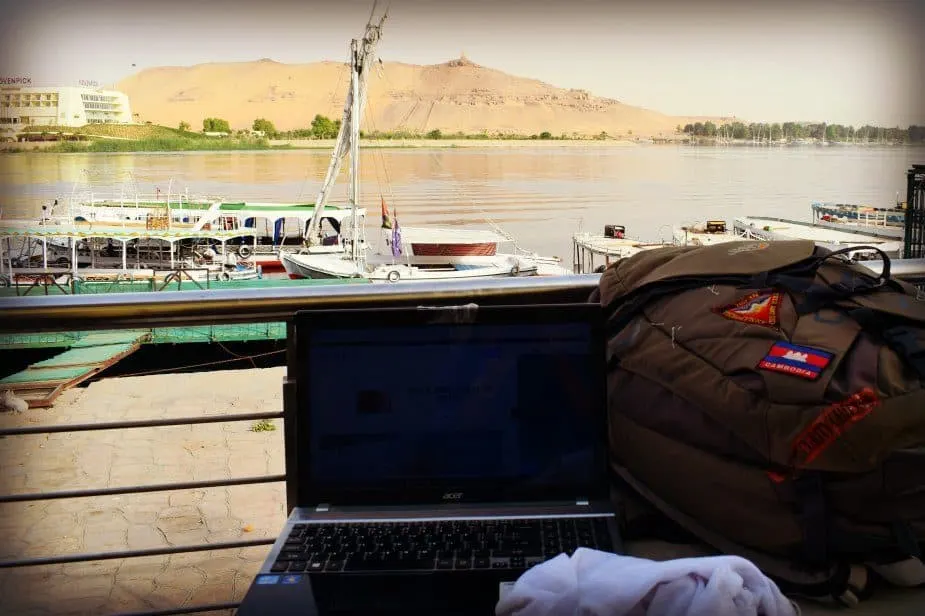 How to Start a Blog and Make Money
I wish I'd had somebody to hold my hand through this process back in 2012, when I started a blog, just for fun. I also wish I'd known then what I know now about the nature of blogging.
Several years down the line, I have one large blog and 5 smaller ones that support my family financially, a millionaire travel lifestyle on a reasonable income.
Here are the basics, how to start your own blog or website (they are the same thing) and a look at how bloggers make money, for newbies, just like you or for those looking to grow their blogging income.
Key word research and good SEO lie at the heart of every financially successful blog, I explain more about Long Tail Pro and other keyword research tools, in this post on tools for making money through blogging. If you do your keyword research right, from day 1, your posts will rank in Google and draw the traffic you want.
But first let's go through the basics of blogging.
First Steps In Blogging
I set up this website myself. I had no training or experience in website design or all the technical stuff that goes with it. I didn't even do IT in school.
The only extra skill I have is a basic knowledge of HTML, something I taught myself years ago from HTML for Dummies, just for fun. You don't need to know HTML, but it helps sometimes.
You do not need to pay somebody to set up a website for you. You can do it!
You can create a website that works, you can improve it as you go along and you can learn new skills and make money. I made $500 within the first 4 months.

In very simple terms, these are the first six steps to setting up your own site.
Step 1. (Optional) Practice on a Free Blogging Site
This is optional and it's not going to help your "real" blog at all but it will help you find out if you actually like blogging before you spend any money. If you're unsure, try it, but I would recommend skipping this step.
A lot of people will take this route not realising that these free sites are just not the way to do it. To get anywhere as a professional blogger, you need a self hosted site.
WordPress.com is a very good place to start if you'd prefer to try a free "practice" blog because when you set up your real site you'll be using the same interface. These free sites have names like this mywebsite.wordpress.com, a "real" self-hosted site will be mywebsite.com
Setting up a "real" website is so cheap (usually under $10/month) that you may as well go ahead and buy a domain and hosting from the word go. I'd skip the free sites, knowing what I do today.
I'd also maybe use keyword research to target keywords with lots of traffic, right from day 1. I'd even use a keyword research tool to pick the name and niche of my new site.
I've learned so much over the last 5 years that my growth period would be months, not years.
If you're at the stage of owning a free WordPress dot com site, that you now want to transfer to a self-hosted, professional site, our favourite hosts, Site Ground, will do this for you. Click through to them below.
Step 2. Pick Your Domain Name and Buy It
Register and buy a domain name. There is a great way to do this, SiteGround, the hosting company we recommend, give you one free domain name with every hosting package. Hosting starts at well under $5/month for a basic package.
UPDATE: Unfortunately SiteGround have stopped offering this free domain name with every hosting package at time of writing. but the name will cost you just a few dollars. You can still buy your name through them. This changes all the time, check with them at the links below.
All the best domain names on the internet are already taken, of course, so you'll have to get creative. Go for a domain name ending in .com if you possibly can and pick something short, memorable and easy to spell. I now have 6 websites (yes, 6! They all make money, but let's talk about World Travel Family).
I picked worldtravelfamily based on keywords, words I wanted in my URL to help people find my site in searches. My website deals in world travel and a lot of family travel, so having those words in the url has been helpful.
I would suggest not limiting yourself by having family or kids in your url. That hasn't been helpful, but there are ways around it that I can explain elsewhere.
My kids are grown now and we do more adult travel, we still rank for those terms and a little bit of knowledge and meta descriptions help me take the "family" out of the Google search results and helps me get more clicks from the non-family audience.
Do not get bogged down in niche. Niche really isn't as important as some would have you believe. Just know that creating a general travel site, with in-depth information on multiple countries is a whole heap of work.
Go for something that doesn't spell out WTF when you abbreviate it, is also a good tip.
Step 3. Find Someone to Host Your New Site
If you bought your domain name from somebody like Go Daddy you will next need to find someone to host your new website. The hosting company stores all your files and ensures everything is running as it should.
I chose to use Host Gator back at the beginning, at around $5/month for the first few years. They were great and I would still recommend them as a starter option but after a while I outgrew them and had to move, I switched to Blue Host, which was a disaster and just days later switched to Site Ground Hosting.
That was when I found out what good hosting and customer support was all about! Use the link below to visit their site and arrange your hosting.
If you need help on transferring your domain from Go Daddy to Hostgator, (should you choose Host Gator as a host and buy your domain from Go Daddy) this video simply explains the process of transferring nameservers. Don't worry, it's just a few clicks and a bit of know-how. You can find videos like this on YouTube for almost every problem you run into but these days I just ask the SiteGround support team and they do everything for me, for free.
If you buy your domain from SiteGround to start with, you'll never have to do this.
These days we're with Site Ground and we can't say enough good things about them. If you have any kind of problem they're onto it straight away with efficient, courteous responses. Our site is faster and they set up caching and back-up for me. I'm not very tech-savvy when it comes to hosting, they've been great.
We had a lot of problems with Blue Host, they took my site down for several days and were very unhelpful. I never received the full refund they promised me (when they admitted liability), so I choose to avoid them.
Buy your Site Ground hosting package here.
Step 4. You Need Word Press
Install Word Press on your new website. It is a free download and can be done with 1 click from your hosting company's control panel. This is where your practicing will come in useful, you will already be familiar with the WordPress interface.
WordPress is where we write our posts and add images on a blog of any sort.
Step 5. Pick a Theme, Buy a Theme
Buy a theme to use on your new site, this is what gives your site its "look". People often believe that a website or blog has to be "designed", it's not true, you simply buy a theme.
In all honesty, the look of your site isn't that important and you shouldn't get bogged down in it. Simple is often best.
There are thousands of free Word Press themes, I tried a few but I wanted something slicker at that time. Today GeneratePress is an excellent fast, free theme, give it a go. You have nothing to lose by downloading and trying out free themes and we use Generate Press on several sites we own. Get GeneratePress here.
When I first started this site, after much research and a bit of advice, I found the awesome StudioPress Themes for WordPress. They're not free, but they're pretty cheap. All of their unique themes work on the Genesis framework and a huge selection of looks (they call them child themes) are available.
They are constructed with speed, security and usability in mind. Click below and take a look at the range on offer, you'll be amazed by the diversity of options, from photographic showcase, to magazine style, to pretty, feminine styles. Visit here StudioPress themes, now owned by WP Engine.
The initial purchase of 1 child theme plus the Genesis framework cost me just $90, both were easy to use and worth every cent. They are mine to use forever on as many websites as I like. The underlying Genesis framework remains constant, you can change its look with a new child theme at under half the initial cost.
I've just bought and installed the new Magazine Pro child theme to roll out across my 4 websites at around $30, updating my theme improved usability and speed, increasing income instantly.
Changing themes to modernise your site is simpler when you have a theme with a framework like Genesis. For me it took just moments. Shop for Studiopress Themes based on the Genesis Framework here.
Today on this site we use the Trellis theme by Mediavine, it's expensive and I don't think I would buy it again, I'd stick with GeneratePress or StudioPress.
Step 6. Off You Go!
Start creating and learning as you go. Yes, there is a lot to learn, there will be plenty of tabs and buttons that you don't understand and getting used to the back end of WordPress and your individual theme might take you a few weeks, but there's no reason why you can't have your first post up within days.
I transferred some of my blog posts over from my old site (it was a wordpress dot com free site), that was very straightforward, just copy and paste. The most popular ones, obviously.
Make sure you don't duplicate content, Google don't like that and the original content will always rank higher. If you have a lot of content to transfer from a WordPress dot com site to your "real" site, Site Ground can do this for you. (see links above).
You need to learn about SEO, and you need to use all social media platforms to promote your blog. There is a lot to learn but you can do it! A useful tool to buy is Long Tail Pro, it finds search terms for you, tells you how much traffic those terms receive and what chance you have of ranking for those terms, you then write the post around the search term to get traffic fast. I wrote more about this tool in Make your First $1000 with Amazon there is also a video demonstrating what Longtail Pro can do for you in there.
Every scrap of information you need is on the internet, for free. Start Googling! Don't get sucked in by expensive courses.
I also wrote this posts full of tips to grow your blog.
To make your life easier I put together this post on how to be a Pinterest ninja, it should get you started on the road to Pinterest domination. Pinterest brought me 85% of my social media traffic at one point and my success had a lot to do with Board Booster, the Pinterest tool I swore by. Unfortunately Board Booster no longer exists so Pinterest is not my best friend these days although it still is my number 1 provider of social media traffic. Right now around 90% of my traffic comes from Google search because I just LOVE SEO. You need to learn to love it too.
How Bloggers Make Money
You will need a combined approach to making an income through blogging, get every ball rolling as soon as possible and over time your income will grow. Blogging is just one of several ways to make money while travelling but it is far from a get rich quick scheme.
Making Money From Blogging
You don't have to set up a website with the aim of making money, many people do it for fun or to create a record of their family adventures, we even have blogs for the kids as educational projects. But if you can make a few dollars from your efforts, why not?
I see no point at all in being snobby about not monetising a blog, to me that's crazy.
Here's a basic look at how bloggers make money from what they love.
Making money goes hand in hand with getting traffic, eyes on pages, the more traffic you have, the better your chances. Sometimes pure traffic isn't the answer though, for sales, you need targeted traffic, visitors who are ready to buy.
The key to attracting visitors is to write stuff that people want to read and that is valuable to them, using terms that they search for. More importantly, they should like it so much that they share on social media. That is why you see all the little social share buttons all over websites, it's not because they look pretty.
Traffic will come with time, lots of great content and social networking. After 6 months I was getting 9,000 page views a month, that increased sharply once Google gave me a page rank. After 2 years I was on 33,000 page views per month, 2.5 years 55,000, 4 years 110,000. Right now I'm almost at 200,000 monthly page views.
Traffic comes from different sources such as Google search, social media, image searches and incoming links from other sites. You need to work on SEO to get the Google search traffic, that's something too big to cover here. Google "Search Engine Optimisation", what you have to do to make Google show your website to more people. We have a post on the very basics of SEO for new bloggers here.
Of course, a lot of bloggers supplement their online incomes through selling courses, e-books and photographs. Some are freelance writers. I'm doing OK out of a collection of affiliate links, coaching and advertising so they aren't avenues I've explored as yet.
I like to strike a balance between writing the story posts I and my followers enjoy and the money-making posts. They are two different things and your regular readers should never be bombarded with the latter.
Adsense
To turn your traffic into money you could install adverts using a Google Adsense account. You need to apply to Adsense and be accepted, I was rejected first time as I didn't have sufficient content, a week later and four posts up, they let me in.
If visitors see ads on your site Adsense pay you a small commission, if they click on them Adsense pays you more. Google chooses the ad, tailored to the reader. These days I'm big enough to qualify for a managed ads company, Mediavine, once you get the that stage ( over 25K sessions per month) they can more than double your advertising income overnight.
Don't expect Adsense to make you rich, it won't. I made between $8 and $40 per day from Adsense, which is more than enough to cover website costs.
Other agencies similar to Adsense exist, you can run more than one simultaneously, "waterfalling" ads will make you more money, give it a Google.
There are plugins, such as Advanced Ads (Free at basic level) and Ad Inserter, to help you install ads on every page, it's much easier than manual placement and well worth investing in. You tell Advanced Ads where you want a particular ad (be it Amazon, Adsense, or other) on each page, and it adds it to every page on your site in one click.
I went from $20/month to $300/month almost overnight when I bought that.
Affiliate Links
Affiliate links point to sales sites on commercial websites and are another way bloggers make money, there are thousands of affiliate programmes out there. Most big companies have one, either independently or through one of the agencies mentioned below. " Can I sell anything in this post?" Should be a question you ask yourself as part of the process of deciding what to blog about.
I just published a very useful post to fast track your Amazon Affiliate earnings. Make Your First $1000 from Amazon Affiliates here.
Amazon is possibly the biggest affiliate programme ( join Amazon Affiliates here), the blogger advertises and recommends products, when visitors click-through and buys absolutely anything, the blogger receives around 4% of the purchase cost, the more people who buy, the higher that percentage becomes.
You may need to get Amazon set up globally using an Amazon affiliate localiser plugin or Amazon's new built-in localiser. You'll need to join the Amazon affiliate schemes from each country. You'll probably find you'll make the most money from the USA.
You should also join one or more of the big affiliate sales agencies such as shareasale.com.
My best tip for making money through affiliate links, write the post to suit the link. Don't just insert random links in side bars and footers, they have to be part of a post that attracts readers who are almost ready to buy. Also put at least one affiliate link in every post, right from day one then watch your income grow. We have another post on which elements every blog post should contain.
Sometimes advertisers contact you, the blogger, to enquire about buying an advert on your site. In my experience this happens rarely. The bigger and more financially successful bloggers chase advertisers, it's not something I've tried.
Social media advertising is easier to get, advertisers want you to share their name or product to your thousands of Facebook, Twitter or Instagram followers. Prices vary and can start at just a few dollars depending on your audience. Sometimes advertisers contact you, sometimes you can apply for these opportunities through sites like Izea.
Sponsored Posts
The days of link selling are almost over, this dodgy SEO practice is frowned upon by Google, so was never a good idea anyway.
These days you can sign up to publish legitimate sponsored content with agencies such as Copypress, Cooperatize and Izea.
Other Perks and Financial Incentives of Blogging.
As a blogger with social influence you get perks. Free hotel stays, free admission to attractions, free products to review, even totally free trips, including flights. The bigger you get, the better they get.
Of course, you have to work for them, nothing is ever truly free. We take up surprisingly few of the free travel offers we receive, we only say yes if the deal fits with what we actually want to do.
For you for Pinterest Which do you prefer?
Another Pinterest image…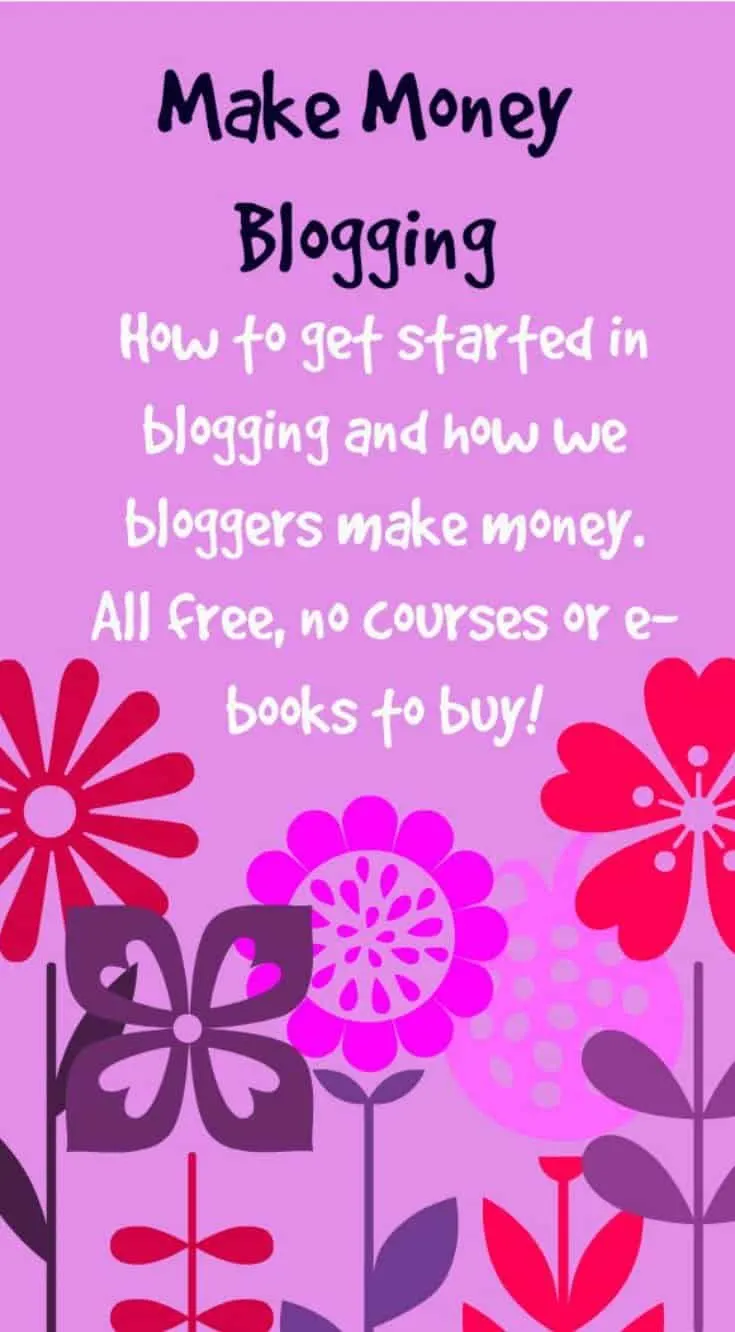 So, Do You Still Want To Set Up a Blog?
Setting up the site, including all the research, deciding where to host, choosing a theme, installing everything I needed, working out how to do various things, took just 3 days for me, 1st time.
Design and improvements are ongoing. Obviously a website evolves, and changes over time, but in 3 days I had a functioning website.
Starting to make money took me 6 months, it took me a while to figure out how to make blogging a full-time family-supporting income, but we got there eventually. If you get everything set up right from the start your income will start almost immediately, it will be small but it will grow.
I'm kicking myself for not having Adsense running correctly all along using Advanced Ads, I threw away thousands of dollars. I wish I'd bought Longtail Pro and started doing solid keyword research sooner.
I should have localised my global Amazon links and I should have figured out a way to collect my international Amazon earnings in cash not credits. We use Transferwise for this now.
I wish I'd updated my theme years ago, the improved performance and speed a simple theme change brought was instantly visible.
I wish I'd had good hosting from the beginning, bad hosting held me back.
I love my new social share buttons (bottom of the page) they're from Grow by Mediavine, I paid for them and they do a bunch of amazing things at lightning speed. Social Pug became Grow.
You do need to spend a little money to make bigger money.
So there you go, if I can do it, with no experience, you can do it, have a go!
How about this one for Pinterest?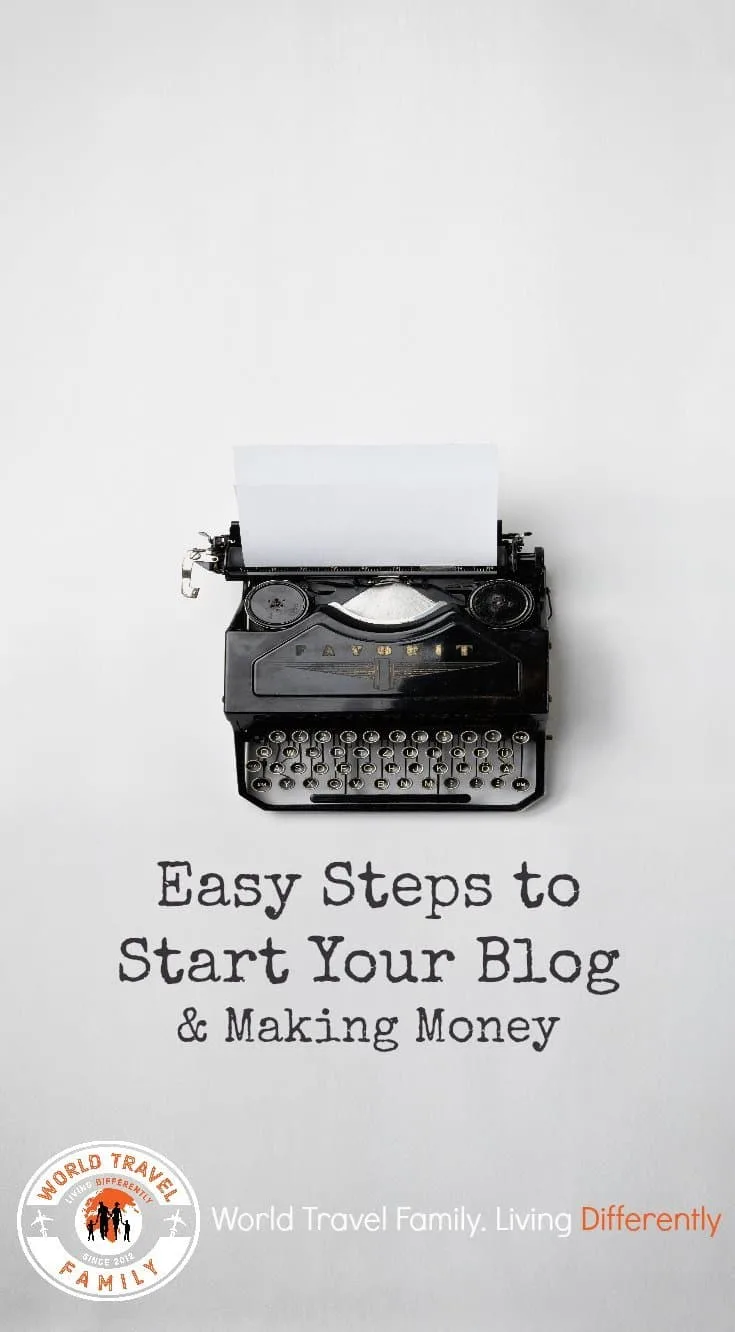 If you have any questions about getting started in blogging, feel free to ask in our Living Differently group, I'm happy to help if I can. (subscribe to get your invitation) This support group is a great place to connect. Maybe our members can give you other options for earning money while travelling too.. If you want more help we also ran a secret bloggers' support group (closed now, sorry) on a monthly basis packed with tips, vital information, videos, connections, and documents. I'm in there with you for 1 on 1 help and support. What is blogging really? Maybe read this post on things to know before starting a blog. Best of luck with starting your blog.
If you'd like to hire a car during your stay, use this car rental comparison tool to find the best deal!

We also suggest you take a look at this company to get a quote for all kinds of the more tricky adventure or extended travel insurance.

Try Stayz / VRBO for an alternative way to find rentals on homes/apartments/condos in any country!