This post may contain affiliate links.
Yes, travel blogs still make money today. My travel blog has made money throughout the pandemic period and today, with travel starting to make a comeback in 2023, that income is rising. Travel bloggers make money in many different ways. I already posted about that in a post about how travel bloggers make money. I also documented our reduced income in our month-by-month income report for 2020. Travel blogs, almost all travel blogs I suspect, are making less money since COVID and the pandemic but there are ways to increase your income despite pandemic travel shutdowns.
I'll talk a little about how various travel blogs have increased traffic and income, despite the current state of the travel blogging industry.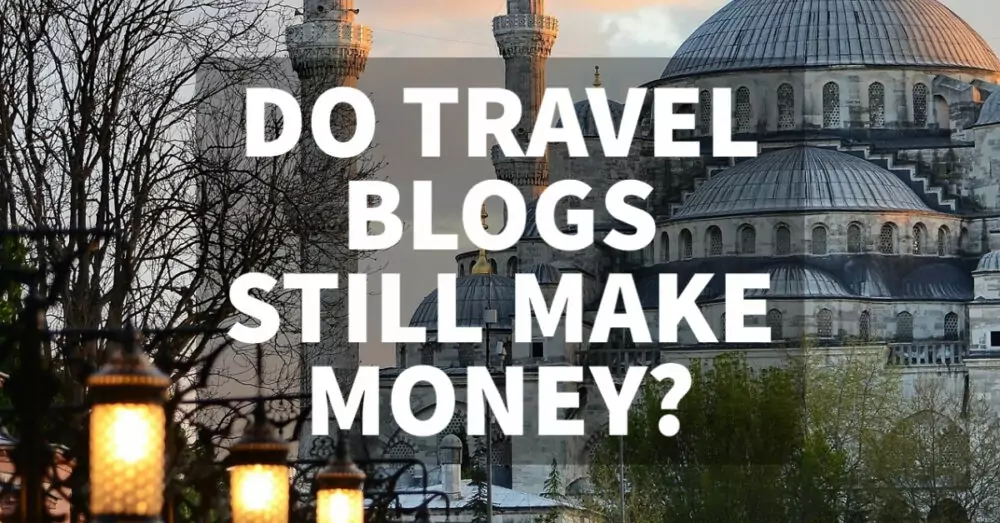 Is Travel Blogging Profitable?
Yes, travel blogging is very profitable if you know how to create a travel blog in the right way. If you consider the costs of world travel vs the profits of travel blogging, maybe not. It depends how you travel.
If travel is your lifestyle, or your dream lifestyle, and you plan to travel anyway, why not make money to fund your travels?
The overheads of running a basic travel blog can be minimal. Hosting and buying your domain name can cost under $50 per month. The bigger your travel blog gets, the more it will cost you to run as you need premium hosting and more expensive tools.
Before the pandemic this travel blog could make 5 figures per month. The global travel shut down impacted that profic severely.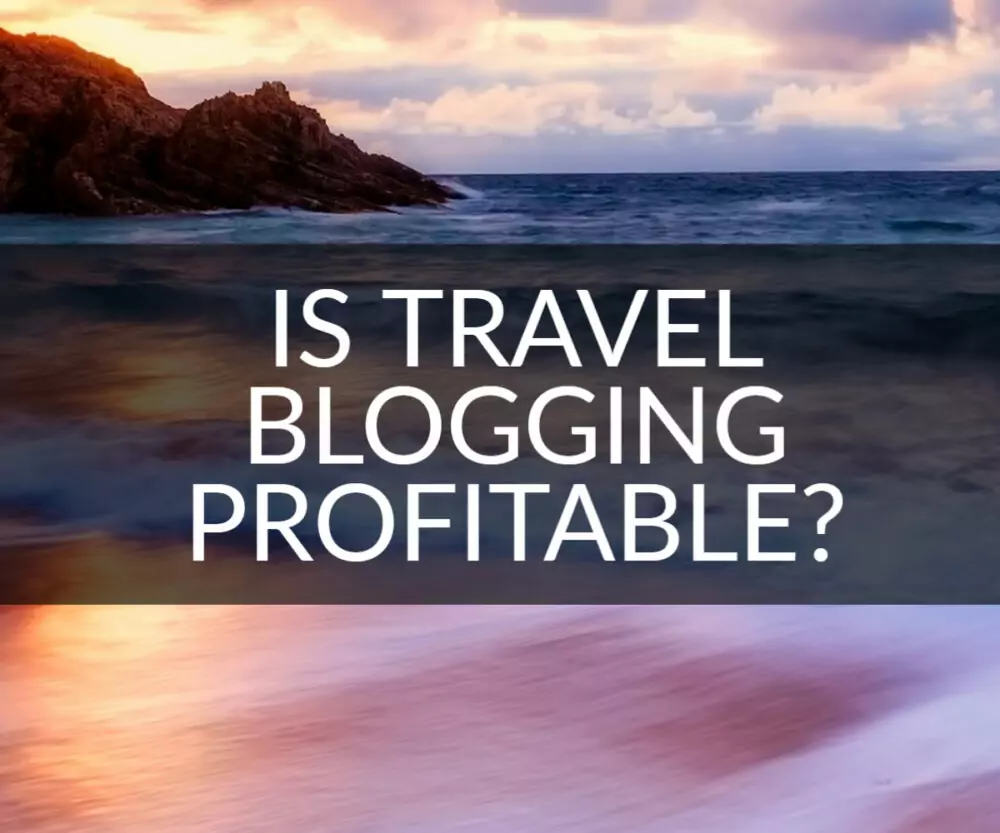 Travel blogging remained profitable through 2020 and 2021, but profits were low. Travel blogging stopped providing a liveable income for us.
I use SEMRush daily, I track 30 other travel blogs at one time and can see this tool's estimation of the traffic other travel blogs are enjoying.
I know who's up, who's down and for which keywords.
It's an interesting window on the travel blogging world. According to this tool, I'm 30% down. I'm not. I'm 80% down from our pre-Covid days but still, we make money.
Our travel blog currently makes about $100 (US) per day. To some this would seem a lot, it doesn't come close to paying the bills for a family of 4 stranded in Australia.
Our current travel blog income is nice pocket money but my husband has had to become the breadwinner again until travel returns and borders open.
Why are Travel Blogs Making Less Money Now?
The pandemic brought about a massive decrease in the number of people searching for travel information.
Those people could be travelling and researching their next journey or destination, they could be in the process of booking a vacation, or they could just be curious.
Whatever their travel interest, it all but evaporated as the pandemic took hold and closed international borders.
Many people outside the blogging industry assume travel blogging is about followers.
It can be done that way, but in my case, the blog followers and subscribers really are insignificant in terms of traffic volume and income.
Growing blog followers or social media followers became incredibly hard during the lockdowns.
I like our subscribers and followers, they're my mates, some of them have become good friends, but they don't put food on the table for our family.
Followers also decreased due to the pandemic, they lost interest, some got angry, some were just distracted by other worries.
During the pandemic, a number of prominent companies cancelled their affiliate schemes and partnerships. Airbnb was one. Travel bloggers all around the world saw years of work and reliable incomes destroyed overnight.
It was an underhand move. You won't see travel bloggers recommending or using these companies ever again.
The sunglasses company we used to work with did the same. I'm still in the process of deleting every link we ever gave them.
This has been a cruel double-whammy to many of us in the industry. They kicked us hard when we were already scrabbling in the dirt and it won't be forgotten.
Whichever way you look at it, the travel blog world was decimated, unless, the blogger got really smart indeed.
Was it time to stop blogging? No, we just had to blog smarter.
Travel Blogging Without Travelling?
Yes, you can do this, I do this all the time. Yes, we travelled full-time for 6 or 7 years, we were a nomadic family. Very few people are doing that right now. I've visited thousands of destinations in my travelling life, have I written about them all? Not even close.
I have a vast library of past experience and photos to draw on, any of these can go into a blog post, any time.
I've also posted about where I'm living currently. We happen to live in Port Douglas, for now, it's a tourist destination with plenty of scope for travel blog posts and affiliate sales.
Wherever you live, you can post about it. I've posted about living in Twickenham and Richmond, for instance. Those posts do well and there is still post-Covid traction for those places.
In fact, without all that travel you actually have more time for blogging. Right now you should be pumping out content for when the world gets back to normal.
Of course, make sure your site is fully optimised for speed and SEO first.
I'd highly recommend sales posts, they get a lot of traffic plus affiliate sales, such as this one on travel gear. The affiliate programs doing best for me now, after the lockdown years are Discover Cars (join here), Booking.com, Stay22 and good old Amazon. Viator and GetYourGuide both perform well too, bringing in a few hundred dollars each month.
Since starting to use Affilimate to organise and monitor my affiliate sales this revenue stream has really shot up.Get a free trial of Affilimate here, a free month may be all you need to really change how you approach affiliate sales, it's eye-opening.
Yes, you can create travel blog posts about places you've never been. I don't like it, but sometimes you need to. Some travel blogs consist entirely of AI generated, factually inaccurate junk. It can be done, luckily you found a genuine one here.
I'll leave you to find those on this blog. Bet you can't! Tell me in the comments if you find one.
Travel Blog Posts That Make Money Today
Because there are multiple ways to earn an income as a travel blogger, there's no one-size-fits-all ultimate answer to the question, "How to make money as a travel blogger today?" But, I can give you a few ideas below.
If you enjoy making money as a travel blogger through display advertising (as I do with Mediavine) you need to go for posts that draw a large volume of readers from the more affluent countries. These days when I do my keyword research I only look at figures from the US, that's where the highest advertising rates come from. So post content that American audiences will be looking for in huge numbers. Food posts and recipes are good examples. Recipe keywords have insanely high search volumes compared to travel. Posts about places that aren't really travel, but are about a particular thing or place that fits in well with your other content work well. For instance you could provide information about The Great Wall of China or Sherwood Forest. Quotes, Instagram captions, sales posts of all kinds, informational posts, these all still bring big numbers. Alternatively post about the destinations that are open right now, local travel, staycation ideas, do your research on how and where Americans are travelling or are due to be able to travel. Australia, the UK and Canada are our other highest paying home countries. Look at local travel there. In Asia, Malaysia and Singapore pay best but are still pretty much closed.
Optimise all your old USA travel content for SEO, get it working for you. Our USA content is some of the oldest on this site, created before I knew what I was doing, but some of that old stuff from our last USA road trip is getting great traffic today with just a few tweaks.
Use your crystal ball and try to predict where highest travel interest will lie this Christmas. Get your Christmas gift guides out now. These posts can see huge seasonal traffic at the highest revenue time of year.
Affiliate sales can still work if you diversify somewhat. Home and garden, health, beauty, pet products, these items are selling well and you can easily slide them into a travel blog and be able to link internally to other content. That's vital, internal linking and a sensible silo or cluster structure are hugely beneficial in the SEO world. If you're targetting high value affiliate sales precisely, you may not need huge traffic volume to make a decent amount of money. Think about what people are needing and wanting to buy today. We recommend joining a number of affiliate platforms plus becoming direct affiliates for multiple brands. Join Share a Sale, that's been a good one for me. Always check commission rates and cookie length before deciding which schemes and platforms to use.
Other Ways a Travel Blog Can Make Money Today
The sponsored post market still exists and I'm being badgered by these cheapskates daily. It's been a long time since anyone offered me a price I would accept ($600 is my absolute minimum).
I even had somebody today offer $10. You'd have to be really desperate to take that.
Some bloggers create and sell products such as courses, e-books, planners and worksheets. (By the way, we have free kids' worksheets to download on our Egypt for kids page, just a bit of lockdown fun for me.)
Some bloggers make a lot of money that way, courses, in particular, are incredibly lucrative. I've vowed never to sell a course, I think knowledge should be shared freely.
I have mentored bloggers in the past and I'm thrilled that several of them are blogging professionally today. There's room for everyone and I'll always support the bloggers I helped.
The pandemic saw a lot of travel bloggers pivoting and starting niche sites in other areas. Food was a popular choice.
I actually own 8 websites but this travel blog is my first love, I just can't seem to put the time into other sites. Your heart has to be in blogging.
Promotional opportunities are still happening. I've been invited on promo (famil) trips in Greece and London this year.
We were invited to meet David Walliams last week. I was pretty gutted to miss out on that one.
Closed borders meant I couldn't go, but some bloggers out there must still be making a buck that way.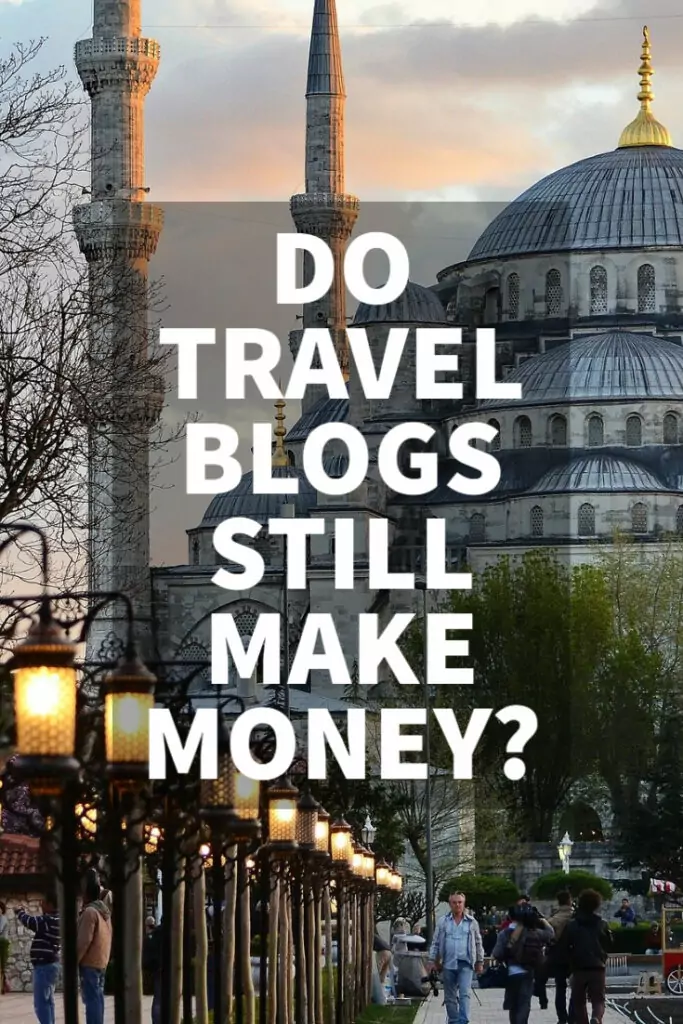 Do Blogs Still Make Money
It's not all gloom and doom, yes, the pandemic (and some nasty little Google updates) wiped out a huge chunk of traffic to this travel blog.
At one point I was 80% down and this site only made $500 in advertising revenue that month. But it wasn't just the pandemic, I also made a few critical SEO mistakes related to the new Mediavine Trellis theme. I think I've found them, I've fixed most of them.
At one point I thought we were set for life. I thought the travel blog income would just keep on growing forever. Who could have known what was just around the corner?
Competition in the travel blog world is fierce today, worse now than ever with cheats and scammers stealing content and original ideas, but yes, travel blogs do still make money. It's undoubtedly harder to be a travel blogger post 2020, with each post requiring an incredible amount of work to rank. Mine does still earn, this is an old established travel blog, but we also have a small general travel blog and some niche sites, they all bring us an income. This, our general travel site, still out-performs them all because it is made with love. It is my third child and I will never give up on it. Thank you for being here and the very best of luck to you. Hopefully, we'll all be back on the road, happily worldschooling again, soon.
If you'd like to hire a car during your stay, use this car rental comparison tool to find the best deal!

We also suggest you take a look at this company to get a quote for all kinds of the more tricky adventure or extended travel insurance.

Try Stayz / VRBO for an alternative way to find rentals on homes/apartments/condos in any country!