Travel can be one of the most important and incredible things you can do in your lifetime, opening you up to amazing new experiences, teaching you more about the world and its people while giving you a chance to enjoy freedom and exploration. Of course, it also means time when you are not working in the conventional sense, and this can make it hard to fund the things you want to do on your travels and get the most out of your experience. We financed our first year through savings, most people can do that given a year to save and rearrange their lives, but if you want to continue the adventure and join us on the long-term travel and digital nomad circuit, you need a way to earn while travelling.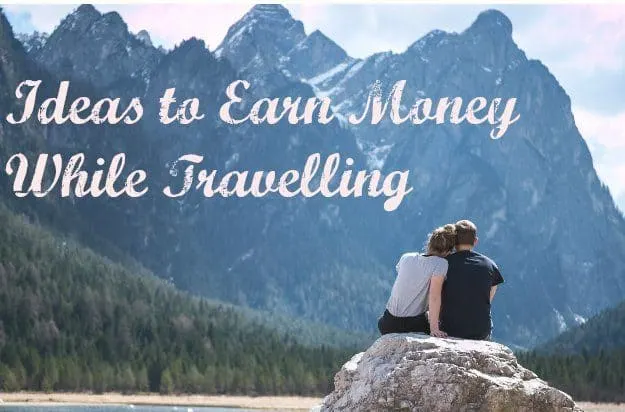 Realistic Options to Earn Money While Travelling
In some places it can be possible to get some casual work doing things like bar work or fruit picking if you can get the right visa but this isn't an option everywhere, and getting it can be harder than it sounds.
It is best not to rely on destination based work options while you travel, and instead have a plan for how you can earn some money anywhere using online options. This is the key to real freedom, creating an income that travels as you do.

Here are some ways you can make money while you travel the world anywhere you have an internet connection:
Online Trading
Online trading is something that anybody can try and you do not have to have thousands to do it. Chef tried trading for a while and even as a complete beginner he made a profit most days. I know one family that almost solely funds their travels through trading.
Whatever time zone you are in, and whatever time you have free, with a little capital you can earn money by doing some form of online trading using something like the IG online trading market. Online trading platforms can allow you to trade foreign currency (forex), which can be a very interesting option because the markets operate 24 hours a day, with just a bit of time closed at the weekend, due to their global nature.
As you move around the world you can also become more familiar with local socio-political events that affect currencies, and become a well-informed trader.
If forex doesn't appeal, you can also trade CFDs or do some traditional stock market trading. While profits are of course never guaranteed, by learning good analysis skills and strategy you can usually use this approach as a fun and interesting way to make some money, as well as finding some skills that will remain useful when you get home.
Freelance Writing
If you are a good writer, you may be able to find some freelance work that you can do while travelling using freelancer sites. We would suggest you try Copyblogger, they offer training and basic certification for people just starting out.
Many companies need blog posts and web content, and as long as you can do some research on your laptop and create posts that read well and offer accurate information, you don't need any English or journalism qualifications to find this kind of work – just some good samples of your writing.
Sell Your Photos
While you are travelling, chances are you will pick up some interesting photographs, perhaps of things nobody has ever seen before.
A lot of people make money by selling their photos on sites used by publications and website owners, and so you can list your pictures on these. You may be surprised at how in demand pictures of locations, nature and all kinds of other stuff you will encounter on your trip will be.
This can also remain a good secondary income when you get back. Learn the kind of images that are accepted by photography sites, and have fun taking lots of them and posting them to sell.
Blogging or Other Online Content Creation
This has been our key to freedom. If you can create a website, YouTube account or Instagram feed that attracts a healthy daily audience, you can monetise it.
People will pay good money for you to share their products or services with the audience you have created. You can also get involved with affiliate marketing, this doesn't need the big numbers but it does need you to be smart with SEO and keyword research.
I would strongly recommend that you learn about these two things before you buy your domain or create your first blog post. These are the keys to your online blog-related income.We have a post on how to set up a blog and start earning money.
Other online content creation options that can easily be monetised include course creation ( beware buying courses, few are good value) and writing and selling e-books.
VA Work and Social Media Management
People like me are always looking for help with their lives or websites to spread their workload and give them more time to focus on raising income and enjoying their hard won freedom.
You will need a level of expertise equal to or ideally, higher than the person employing you. There are a lot of Asians in this market with high level skills and perfect English along with good references, I think you'd find it difficult to find employment at western pay levels in this field.
Some VA s take on life organisation tasks for their employers, others are experts in Twitter or Pinterest. You will need a track record and expertise to succeed. Try listing yourself on sites such as Upwork.
Teaching Online
While many people take the TEFL and real-life teaching option, more and more people are teaching online. They connect with their students via Skype or similar, no classrooms, just an internet connection. This couple use this method, among others, of making a digital-nomad income. Read their post on teaching English abroad here.
These are some ways you can make money while travelling that only rely on you having an internet connection and a laptop or camera phone – regardless of where you are in the world.
If you'd like to hire a car during your stay, use this car rental comparison tool to find the best deal!

We also suggest you take a look at this company to get a quote for all kinds of travel insurance.

Try Stayz / VRBO for an alternative way to find rentals on homes/apartments/condos in any country!