This post may contain affiliate links.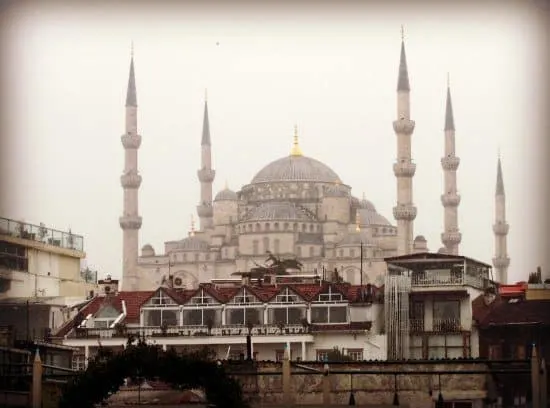 We've enjoyed 5 nights at the Armada Old City hotel in Sultanahmet, Istanbul.
Sultanahmet is the tourist hub of the city, this is where you'll find Istanbul's major historic attractions, the Blue Mosque, Hagia Sophia, the Basilica Cistern and Topkapi Palace. All are outstanding on a global scale and we really can't recommend them highly enough, we'll be posting about them soon.
Staying in a hotel in Sultanahmet puts these attractions on your doorstep, each of them is an easy walk away and the stunning Sultanahmet square is a lovely spot to just stroll and enjoy.
We found the trip from the airport to Sultanahmet tram station fairly straightforward and the hotel is less than a 10 minute walk from there through streets that made us feel perfectly safe.
The Armada Hotel Istanbul
The Armada Hotel Istanbul is a large, well appointed, beautiful place to stay in Old Istanbul. The location is very good, and the breakfast served at the hotel was superb.
Rooms at The Armada Hotel Istanbul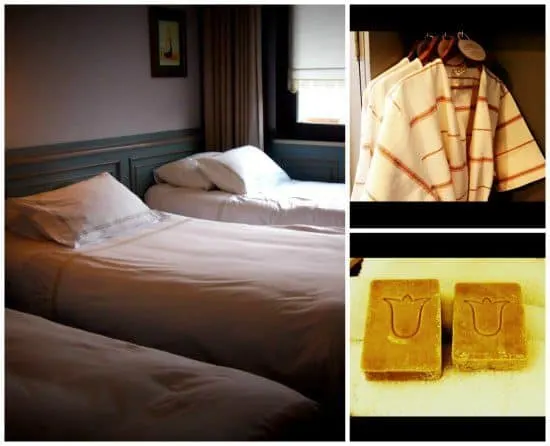 We had a sea view room for two, classed as a Superior room, with an extra child bed. With the extra bed there wasn't much space, but the room was extremely comfortable, warm and the window opened for ventilation.
The decor was charming and had an air of Old Istanbul, as per the hotel's theme.
The beds and pillows were perfect for us.
The bathrooms were big and the rain shower was lovely. The soap/shampoo bars provided by the hotel were great, we loved that they were locally made, organic and ecologically sound. Shampoo is also available if you would prefer.
The room featured tea and coffee-making facilities, satellite TV, minibar a desk and comfortable seating. The hotel provides traditional Turkish fabric bathrobes, pictured above. The bathroom hairdryers were old-school wall-mounted models, but ours worked fine.
Armada Hotel Breakfast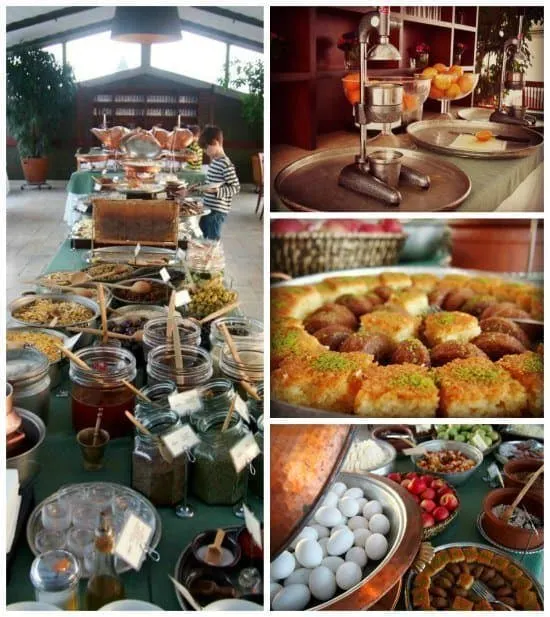 This is, quite honestly, the best buffet breakfast I've ever had. My husband (we call him Chef) will hate me for this, but I preferred it to every 5 star resort hotel I've ever been in, including his. The variety of local produce was stunning, much of it organic. We enjoyed a large selection of Turkish cheeses, olives, dried fruits, breads and hot egg dishes. 3 types of hot borek were served, along with sausages for meat eaters.
I've already posted about the breakfast foods we enjoyed at Armada and another hotel in this post.
Guests were able to squeeze their own orange or grapefruit juice, this is a lovely touch.
There is coffee, a huge selections if teas, still lemonade and Turkish sherbet to drink.
Armada Hotel Dining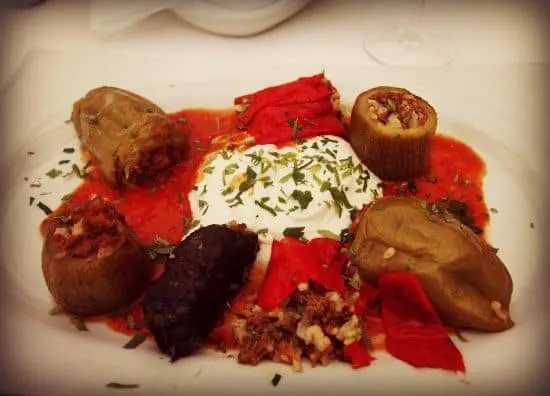 We ate dinner in the rooftop restaurant one night the food and service were excellent, the dish above cost around 30TL.
From the roof guests can enjoy sea or city views.
The open roof terrace must be stunning in summer, it has the best view of the Blue Mosque which is dramatically lit at night. We visited in snow, in winter, so unfortunately it was closed.
The hotel hosts weekly cheese and wine evenings, if the cheeses at breakfast are anything to go by, these would be interesting events to attend. For dance fans there are also weekly tango events.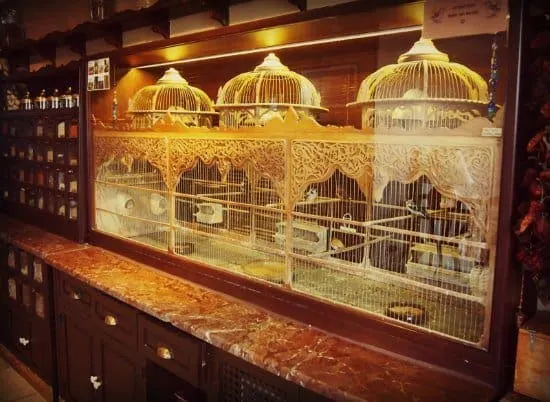 Good Wifi at the Armada Hotel
The internet connection in the room was excellent. We didn't try to connect anywhere else.
Armada Hotel, Old City, Details.
This is a mid to top price range hotel in Istanbul, we thought it offered very good value. At the time, February, we saw our room available for $144/AU night. Today you can check prices for The Armada Hotel on Booking dot com or on Agoda.
Our map, below, gives you other Istanbul hotels near the Armada Hotel, some much cheaper.
Being a large hotel, service, although good, wasn't as friendly and personal as elsewhere in Turkey, guests can remain more anonymous if they choose to.
Tel +90 212 455 4455
We stayed as guest of the Armada hotel, all views are, as always, 100% our own and we were under no compulsion to write this review.
If you'd like to hire a car during your stay, use this car rental comparison tool to find the best deal!

We also suggest you take a look at this company to get a quote for all kinds of the more tricky adventure or extended travel insurance.

Try Stayz / VRBO for an alternative way to find rentals on homes/apartments/condos in any country!