I get ideas for posts in all kinds of ways, sometimes I want to tell a story about some cool place we've been, sometimes I want to help or inspire, sometimes ideas just pop into my head and sometimes, like today, I get ideas from other people's words.
Earlier this week I read a post about how this thing travel has changed somebody.
It was a great post, but I didn't agree with most of it.
It's a question I was asked in a podcast interview too, "How has travel changed you?" I replied that it hasn't. It hasn't changed the kids either. I thought that was a pretty reasonable thing to say, others disagreed.
Yes, I'm in trouble again!
I strongly believe that it hasn't changed me, it might change you, but me, nope.
Then there is the other travel cliché, that you travel to find yourself. Well I think, surprisingly, that's actually more true than the "travel changes you" thing. So now I've got time to sit and fully explain, let's talk.
Could you pin this for me? Thanks.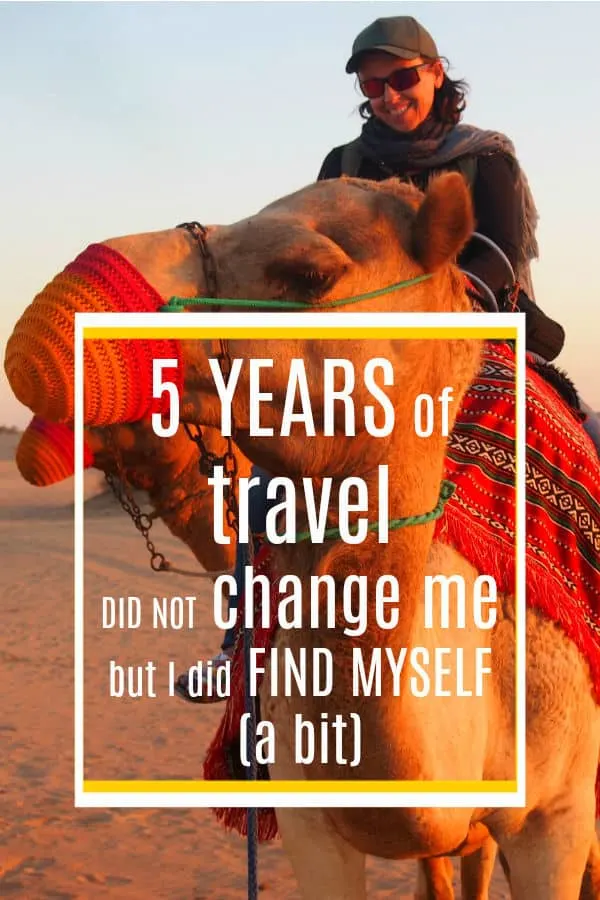 There is no doubt at all that travel is a wonderful thing and there is much to be learned. But learning and changing aren't the same thing. So at the risk of sounding arrogant, which is really worrying me here because the day my ex-husband uttered the words "My character doesn't need building." was the day I knew divorce was coming, I'm going to talk a bit about learning, changing and discovering your real self through travel.
How Travel Hasn't Change Me
People talk a lot about how travel opens your eyes and injects compassion, empathy and world understanding where there was none.
There is also talk of seeing the good in all people and the realisation that most people on the planet are just like you and good, not to be feared.
Then there's the bit about knowing how lucky you are to be born privileged, with freedom.
All those things are fabulous but I believed them long before I set off on this trip. I've always believed them. Or maybe, I've just believed them for as long as I can remember.
I grew up with a Sri Lankan family, Hindus, with Ganesh in their front room. I have good friends from India, Iraq, the USA, Australia, Spain, Nepal, heck even England! I already knew that people were basically very similar. Yes that guy from Iraq was a very devout Muslim and he was the most lovely man I knew. Several colleagues from Pakistan and Bangladesh were Muslims too, but the beer drinking pub-going kind. They were fun and taught me that faith came in many flavours. I'd read extensively about their religion and the countries in which it is prevalent so there were no surprises in going out into the world and mingling with those of the most feared religion for many of my white, western background.
I'm not unique in this, plenty of others read, research and are just interested. So I don't want to hear that I can only get this sort of understanding of people and the world through travel.
For me it came from people, books, even documentaries and movies. Travel has given us lots of examples, yes, but we knew about it already.
Travel is not compulsory, some of us dig it, others don't. If you'd rather stay home there are plenty of books ( or even blogs) that will give you a similar understanding of the world.
Just because I've been there, doesn't make me better or wiser than you. I go there for fun.
I've had a deep interest in foreign lands for many years, long before I owned a backpack. I'd read every book I could find on the subject. If a book has the word "India" in the title you can bet I've read it.
I have a post here about great books on India and about Indian travel.
My fascination with the rest of Asia was almost as intense, but I never read A Year in Provence or Notes From a Small Island. Europe was never my thing.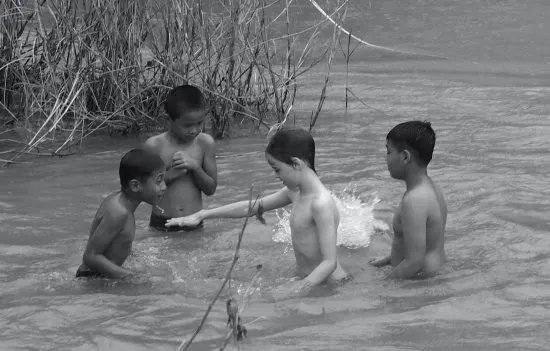 I think when people talk about travel touching your mind so deeply that it changes you, they're talking about the poorest countries and those with the most alien cultures. I think India is possibly as extreme as you can get. I don't think many western people experience much of an epiphany in France.
The only place I've visited where I experienced any sort of shock or awakening was South Africa. I had no idea that the divide between rich and poor was so immense, nor did I have any insight into the ways South Africans think. I'd never read about it.
I first went to South Africa for my brother's marriage to a local girl. It wasn't a destination I'd picked out for myself and that deep interest had never previously been there. I started reading and being interested after that first visit.
There's also talk of travel giving you belief in yourself, self-esteem maybe. You learn to trust that you can, both physically and mentally. Well, I've always been a bit like that, my only fear is social. I'm not good at social.
Physically I'll take on anything ( like Everest for instance) and think nothing of it, but as an introvert and somebody of a nervous disposition, I don't generally like doing things by myself or on my own.
I've done solo travel. I still don't like it. I'll do it if I have to or if I wanted to, but I don't. So nope, that didn't change me.
I think travel has boosted my self-esteem because I don't feel like a nobody anymore. I had shockingly low self-esteem as a kid but now I feel like somebody with accomplishments and travel is just one of those.
I'm guessing that everyone gains accomplishments as they age. I love that I've completed physical challenges like the trekking and bike riding, I love that I'm a proficient skier and I'm proud of my websites and of course, my family.
Just giving birth to kids is so ordinary yet something to be immensely proud of. Doesn't everyone go through life collecting various achievements? I don't think I'm anything special because I travel.
How I've Found Myself Through Travel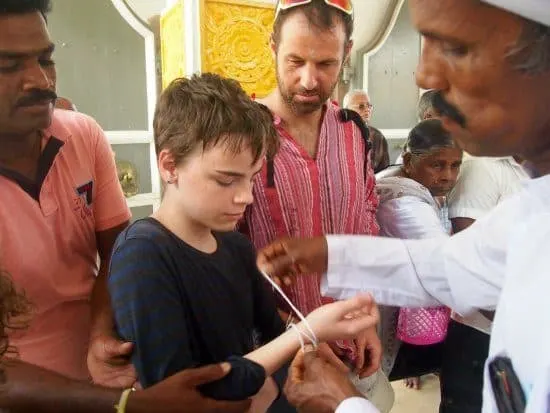 I used to think that was the most ridiculous expression ever ( "Live like the locals" is the 2nd most ridiculous, read why here, it's at the end of the post.) I didn't even understand what it meant, but now I think I do, maybe.
I didn't know what I wanted or needed in life, now I do.
Is that what it means?
I used to do what was expected of me, I got my education, got a respectable job, climbed the career ladder, got married, bought houses of increasing size, had kids, sent them to school….and on it went until I jumped into Living Differently.
Yes, we're back to that again.
I was living a life according to society's expectation and not being true to myself.
I wore the label "scientist" in school, so that's what I was right through to 39 years of age. I hated it!
I'm naturally creative, I'm better suited to what I do now, writing, photography, website creation, image manipulation. I love this stuff and it makes me happy in a way that dissecting somebody's large intestine never could.
Through trying different things and having the freedom to try those different things, the freedom that was given to us by, guess what, TRAVEL, I've found my groove.
I've experienced life in many parts of the world. I've lived long-term in Wales, London, Vietnam, Romania and Australia and I can see that there are elements of each that I love but that no single place ticks all the boxes. I NEED TRAVEL.
I need well-defined seasons and to feel connected to the land. I need to be around, or in, water sometimes. I need amazing museums, I need mountain-tops, I need great food, I need snow, I need peace and I need cities. We can do that, we can have a little of each. We are extremely privileged.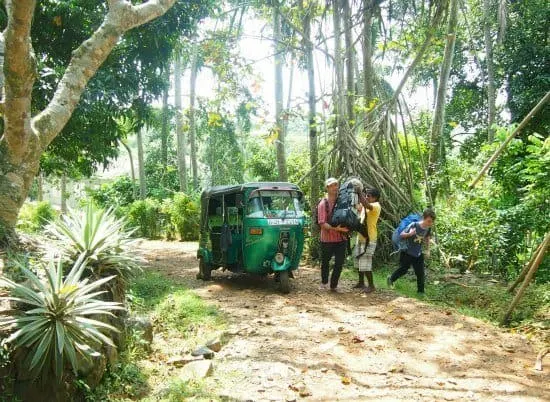 I know now what sort of house I need to live in. It has to be fairly small to enhance family connection and I also need to feel connected to the outside world. I can't live behind high fences or remotely from people. I have to at least see life and nature outside, not just a garden, it must be a public space. I know what belongs in that house, not much.
Possessions cause stress and I'm glad we got rid of them when we whittled them down to what fits in a backpack. That's something that's reinforced in me every time we house sit, people have so much stuff! I really couldn't live with it anymore. So maybe some would see that as a real change in me through travel. I'm a complete minimalist, but I suspect that was me all along and I didn't know it yet. I've found myself, not been changed.
My social group has changed since we became abnormal. I've lost and removed myself from certain old friends, but I've gained wonderful new ones. I woke up to the fact that those old relationships weren't good for me and that those people wanted to keep me like them, their version of normal.
I have a need to be around others like me, people who think and live differently or those that travel. Again, I don't think that's a change, more the real me being allowed to thrive. I've talked before about how I tried to change myself to fit into life in Australia, it didn't work and made me miserable. I just wasn't like the people I met.
I've also discovered that I don't need much of a social life. I don't force myself to go to parties and act like I'm having fun any more. I'm an introvert and now fully embrace that. I've always been that way but these days I don't feel a need to hide it for social acceptance.
What I haven't talked about yet is travel not changing the kids. They've grown up, not changed. I knew they needed to see more of the world than just our town in Far North Queensland to grow into well-rounded human beings. There was little diversity there for them to learn from at this early stage and I wanted to give them that sooner rather than later.
That has happened, they've grown up differently to how they would have if we'd remained. But change them? No, they're the people they were born to be. Two very different personalities. If travel ( or unconventional parenting) was the major force in creating them surely they'd be more similar? They're more knowledgeable about the world and its people than they would otherwise have been at 9 and 12 but changed? I don't think so.
So that's my brain-dump for today. Travel hasn't changed me, but who I was all along is more clear. Society's expectations of me have been stripped away and the inner me is free to be who she always was and needed to be. I'm much happier now because we took that massive lifestyle leap into travel. Is it something you'd like to try too? We're here for you.
I'm aware that I'm constantly talking about "I" and "me". That's because I'm the only person I'm able to talk about with any authority. You may feel totally differently about everything above. Do you? Tell me. I've asked Chef about this, he agrees. I've asked the kids but they can't be bothered to think about it and would rather catch Pokemon. Also, this is how I feel right now, today, 4 years into this experiment. I'm happy, the kids are happy, Chef is happy. We're not doing anyone any harm and we're loving the ride.
How we Raised the Money to Travel and How We Keep the Money Coming In
The Secrets of Living Differently
Living Differently: Uncertainties, Stories and Bookings
Living Differently: Owning Less Living More
So if you want to chat about this and I'd love to hear what you think, let's do it in the comments section below. You know, I could be totally wrong here, I'm using you all as a kind of sounding board, am I crazy or am I making sense? Therapy through blog subscribers, if you like. Thanks for being here.
If you'd like to hire a car during your stay, use this car rental comparison tool to find the best deal!

We also suggest you take a look at this company to get a quote for all kinds of travel insurance.

Try Stayz / VRBO for an alternative way to find rentals on homes/apartments/condos in any country!