This post may contain affiliate links.
This is the question everyone asks us. How do I travel the world with my family? People see us travelling as a family and want to do the same. Here we'll tell you how we do it and how you can make it possible for your family.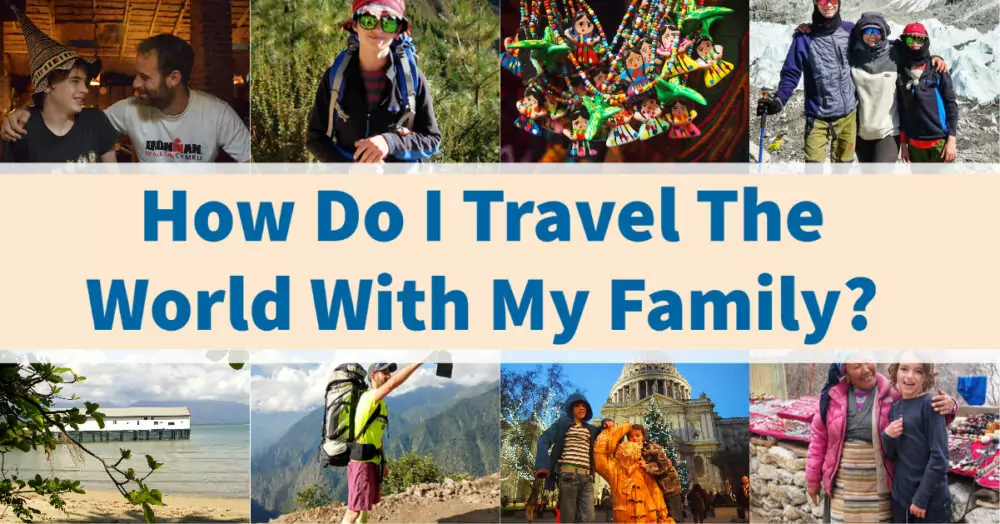 How To Travel The World With Your Family
There will be a long period of figuring things out before you can launch your family into a travel lifestyle. In the days of travel restrictions, a travel lifestyle was ever more difficult, but could be done. Today the world is mostly open again, so this is how you can travel the world with your family.
Travel The World With Family – First Steps
The first steps to take, to be able to travel the world with family, are as follows:
Be certain every family member wants to travel the world.
Figure out a way to fund your travels.
Decide how you will handle your kids' education.
Decide what to do with your posessions/house/car.
Decide what to do with your pets.
Brainstorm where you want to go.
Link your destinations into a rough route that makes sense and is cost efficient.
Set a date
Check visa and health requirements for your first destination.
Get all necessary travel vaccinations
Buy travel insurance
Invest in suitable luggage
Pack your clothes and travel gear
Buy a flight to your first destination
Book 2-3 nights in a hotel, guest house, or appartment on arrival.
From there, just continue to travel wherever you please, booking all accommodation, tours and transport online, checking visa and entry requirement closely.
You can, of course, alternatively, pre-book many flights, tours and stays. You could even buy an around the world air ticket, but we strongly feel it's best to stay flexible. Particularly in 2022.
If you keep your flexibility you can take advantage of opportunities such as flight sales, mix in a repositioning cruise or decide to travel overland by bus or train.
If you fall in love with a destination you can stay longer, months even, if visas allow. If you dislike a town you can be on the next bus out.
We travelled the world as a family like this for 6, almost 7 years. It's very possible, was great fun, and was really good for our kids and our family unit.
I'll give you more details on how to travel the world with a family below. Let's get started!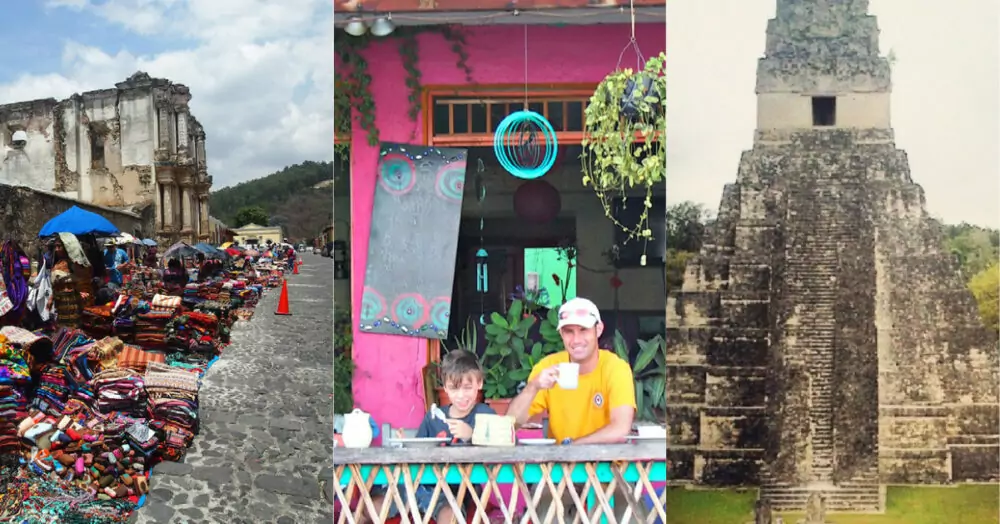 Travel Know How For Travelling With Family
The tips and know-how you need to travel the world with your family are in the following posts.
Funding Travel as a Family
We funded our first year of travel through savings. It took us 12 months to save $30,000, and we spent that amount in our first year while we were building this travel blog to be our full income source on the road. My husband also did some work in London as a Chef to help fill our bank accounts in the early years. Our blogging income hit 6 figures in 2019 and we also have other websites which contribute to our patchwork income for world travel.
A lot of that lump sum came from selling our possessions.
After that, blogging and affiliate marketing funded travels.
Others fund travelling the world with their family through various digital nomad jobs, mostly online.
You will need the following posts.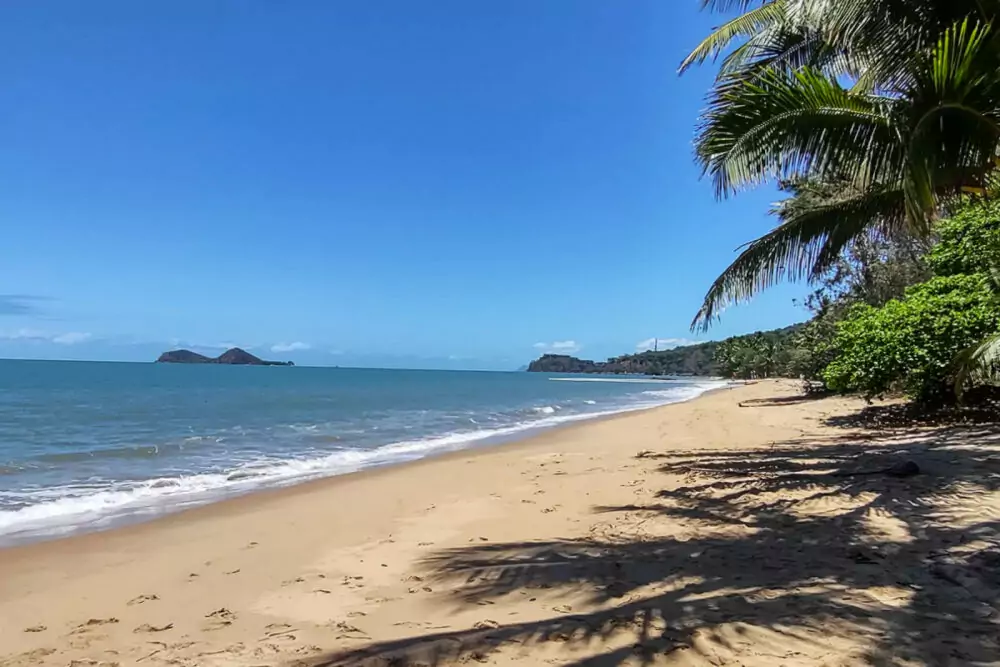 Travel Insurance
There are two travel insurance companies that we know can cover world travel for families. Find them here.
Luggage for Travel With Family
Soft, hands-free luggage is absolutely the best way to go for extended travel with family. We found through experience, that expecting young children to carry their own bags is a non-starter. That said, they do need a carry-on bag for planes to maximise your family's baggage allowance.
I like a backpack for trekking, but I also like travel packs as luggage. No way would we ever travel with suitcases or wheely bags!
We're also, now, very proficient at carry-on only travel, which is quite a skill! If you can get by with a minimalist wardrobe and few supplies, it's achievable even for travelling long-term with a family.
Packing and Travel Gear
You don't need a huge amount of specialised travel gear for travelling the world but a few special organisers and packing cubes can make life far more easy!
If you plan to become a travel blogger you'll need a lot of gear for video etc.
We cover all the gear you'll need, or may need, below.
The Kids Education While Traveling
This is possibly my favourite part of travelling the world with my family. It's amazing for the kids education and outlooks.
Today my boys are sitting iGCSEs and A levels online. Taking time out of school, right through to 14 and 15 years old, was absolutely fine for them.
We never planned for them to sit exams and many world school kids don't sit them, but that's just how it worked out for my kids.
I feel really strongly that the travel we did with the boys, and will do with them in future, was a vital part of shaping who they are today. They're all the better for those experiences and spending all their time with their parents and the diverse and interesting people we encountered all over the world.
You'll find the following posts useful.
Selling Up and Leaving
The year in which we sold everything and got our ducks in a row ready to leave was an interesting one.
We talked about that, and blogged about the process month by month.
One of the uposides of going through such a big declutter at least once in a lifetime is that you really do streamline your possessions.
All future house moves will be much easier. We're moving house right now, to a smaller, cheaper, home. Another way to create more freedom in life.
Where To Go?
Where you go when you set off to travel with your family should be down to personal interest level, financial restrictions, and opportunities for your kids. These opportunities could be visiting friends and family, educational value, diversity, or just fun.
Your working requirements may also dictate your route or location.
We travel to cover places on this site, for instance, and to accept occasional press invitations.
Which parts of the world do you find most interesting? What are the major world landmarks and sites that you just have to see? Is there a particular museum or theme park your kids should experience? Also, which countries are the cheapest or most affordable?
You'll need the following posts:
How To Book Hotels, Tours, and Transport For World Travel With Family?
The companies we use to book all of our travel needs are below. These are the companies we personally use, that we've found to be easiest, most reliable, and cheapest.
For flights, we always check prices for particular dates and routes on Skyscanner (see link above) but then we cross-check prices on the airline's own website. Sometimes it's cheaper to book flights direct with the airline. We never reserve particular seats and we've never had a child seated away from an adult.
For hotels, apartments, guest houses, hostels, any kind of accommodation, we use Booking.com or Agoda. Agoda are Asia specialists and our #1 choice for travel in Asia but we have also used Agoda in Europe. We never book direct with a hotel and haven't used a travel agent in 20 years. Booking your own travel is easy online. See Agoda here, and Booking dot com, here. We do occasionally use the hotel comparison site , Hotels Combined, but we generally find that checking all the sites just eats time and makes life difficult.
For tours, tickets, transfers and activities, even multi-day tours, we use GetYourGuide. We've used them for years and highly recommend them as a ticket and tour provider. They're often cheaper too. They're a great way to research what activities are available in your chosen activity. Click through here and test them out for a few cities or towns.
For online shopping we use Amazon. If you're in one place for a few days, in one of the countries Amazon covers, we've been able to get items delivered. Visit Amazon here.
We hope you found our round-up page useful. Bookmark it (maybe to Pinterest) or in your browser to refer to as you plan your travels. Does this post fully answer your question, how do I travel the world with my family? If we've missed anything, or you have any more questions, please do drop them in the comments. We aim to be the most comprehensive guide on the internet because we've done it ourselves, we ironed out the best ways and we know what we're talking about. Happy to help!
If you'd like to hire a car during your stay, use this car rental comparison tool to find the best deal!

We also suggest you take a look at this company to get a quote for all kinds of the more tricky adventure or extended travel insurance.

Try Stayz / VRBO for an alternative way to find rentals on homes/apartments/condos in any country!