This post may contain affiliate links.
I know London pretty well, I've lived here for over 8 years on and off and I'm able to navigate my way around the city easily by foot, by car and by tube. Buses are a bit of a mystery to me, although my various travel passes (currently Oyster card) have included buses, I've very rarely had any need to use them. London is small, easy to walk and the tube system is great, so why take a bus? We had a chance today to try The Original Tour open-top bus sightseeing tour as their guests, an opportunity that we grabbed with both hands. The tour sounded fun and we always like a new experience.
What can beat cruising round London on an open-top bus?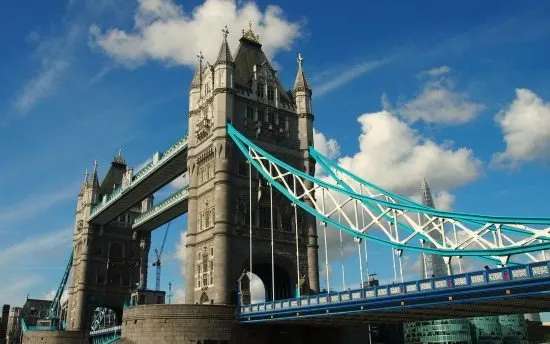 There are several bus companies offering similar hop-on hop-off tours around London, but as the name suggests, this is the original one. We were happy to be guests of the company on this day, all thoughts are entirely our own, we are never under any pressure to leave good reviews.
Original Bus Tour London Reviews
Original London Sightseeing Tour Routes and Included Benefits.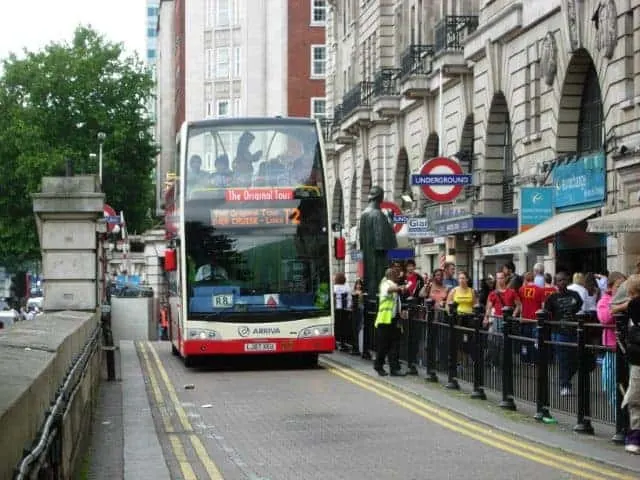 When you buy your Original London Tour tickets, you're not just buying 24 hour access to their 4 hop-on hop-off bus routes.
A river cruise along the Thames is included in the price, as are 3 London walking tours.
It's a great deal, unfortunately we couldn't possibly have squeezed it all in. We did one bus route, the T1, yellow, route, hopped off a few times for a leisurely coffee and a few photos, and hopped back on again. That was all we could manage. Our ticket was valid for the next day too, but our plans to return were foiled by a house-sitting difficulty.
It's a shame, we'd love to try the other routes and walking tours, particularly the Jack the Ripper tour (3.30pm daily). The yellow route is the only one with a live tour guide, that's what made us pick that particular route. You can find the 4 bus tour routes here.
New London Discoveries from the Original London Bus Tour.
There was a great mix of fun facts, history and modern narrative. We all came away knowing more than we did. Child 1 particularly enjoyed hearing about the Great Fire of London, in sufficient detail for me to consider that topic done and dusted. We're giving the tour a big thumbs up for education and entertainment. Here are some things I didn't know this morning, that I do now
1. Buckingham Palace has a delivery door, it's around the side next to The Queen's Gallery and the Her Majesty still has her groceries delivered by horse and cart with particular royal livery.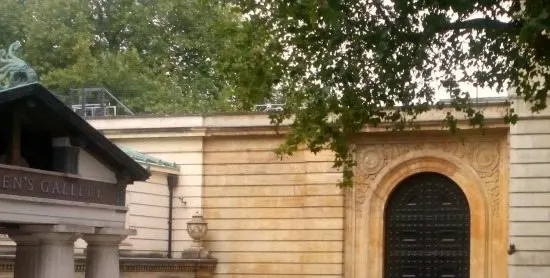 2. Prince Philip has his hair cut at a particular barber on St James St.
3. Australia House was Gringotts in the Harry Potter films.
4. Daniel Radcliffe went to school on the banks on the Thames.
5. Monument station is so called because the monument to the Great Fire of London is there.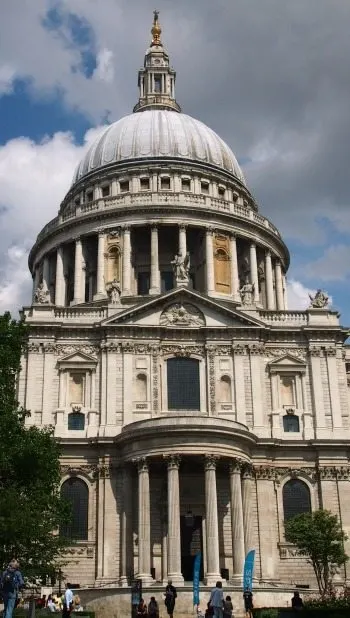 6. The St Paul's Cathedral site has been occupied by a church for over 1,000 years.
7. The Tower of London's construction started in 1066 as part of the Norman conquest. It has been expended on over the years.
8. After the great fire, when Sir Christopher Wren was busy designing and re building St Paul's , he also built this pub on Fleet St so that his workers could relax after a hard day's graft. I've checked these facts on the internet, the story I've found is that the pub was built for the Masons building St Bride's Church, I don't know which is true, but it's a good story.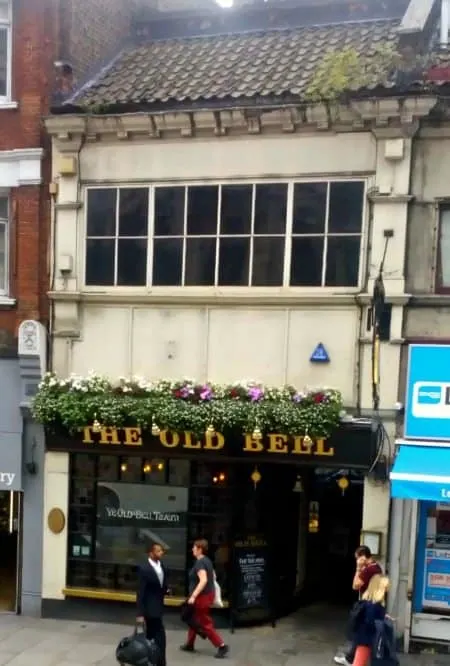 9. A statue of Queen Anne stands outside St Paul's, we'd been trying to figure out which monarch it was the day before. Anne was Queen when St Pauls was built in 1710 but this statue is a replica, the original fell into the posession of a 19th century travel writer.
10. Queen Victoria has the most statues of any world monarch.
11. There are some amazing pieces of street art near the Tate Modern, Poured Lines by Turner Prize nominee Ian Davenport and intriguing upside down house installations can be found on Southwark St..
12. Shakespeare's original Globe Theatre once stood on the North Bank of the Thames, it was once taken down and carried, piece by piece, to the South Bank, across the frozen river Thames. The Globe replica now stands near the original site.
13. Charles Dickens and other great literary figures, used to drink in Ye Olde Cheshire Cheese pub on Fleet St, almost opposite Britain's narrowest shop. This pub was built shortly after the Great Fire of 1666. I've been in this pub, it's well worth a look if you're in London.
14. The Shard is the tallest building in Western Europe and we now know the names of many other modern buildings, including the gherkin, the cheese grater, the walkie talkie and the sliced egg.
Original Tour London Tips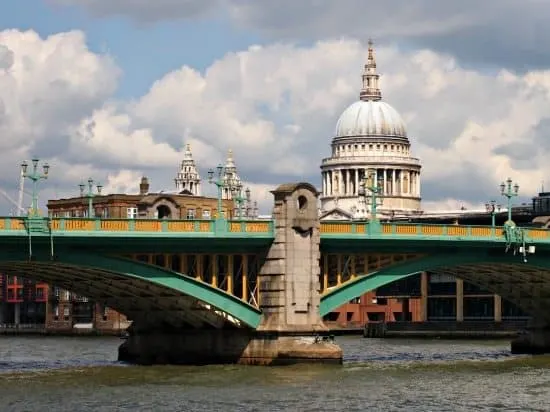 Do your research! Study the maps and tours, pick what you want to see most. I really don't think anybody could do everything included in the ticket within the time limits unless they really wanted to get optimum bang for their buck. We recommend the T1, yellow route, for it's live commentary and guides. Ours were highly entertaining.
On a hot day you will be out in the sun for a long time, you'll need sunblock
On a cold wet day, they give you plastic ponchos, much appreciated!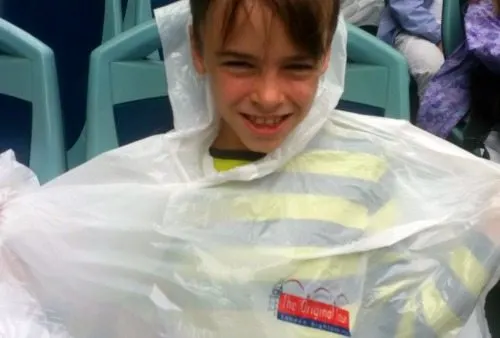 You can go downstairs, or to the front, covered portion, of the bus to escape the elements, you can still hear the commentary, but the top deck is much more fun and has a great view.
We took the tour on one of the busiest days of the year, during August school holidays, we had no problems getting top deck seats and had negligible wait times when we returned to hop-on. There was, however, heavy traffic congestion around St Paul's, elsewhere it was OK.
The commentary was well amplified, we could hear it clearly at the front or back of the bus.
We found our first tour guide a little hard to understand, she had a slight accent and her microphone was feeding back a little. We hopped off and picked up with another tour guide who was excellent, very easy to understand and great with the kids. It's simple to do this, we stuck with our second guide and really enjoyed his tour.
In places the bus can pick up a fair bit of speed, it gets windy. Think about wind-friendly hair, hats and warm clothes.
We found it hard to take photos from the bus, serious photographers will need to hop off.
My boys, at 10 and 8 , were old enough to enjoy the commentary and the view, small children travel free and all kids receive a fun activity pack.
Do We Recommend The Original London Bus Tour?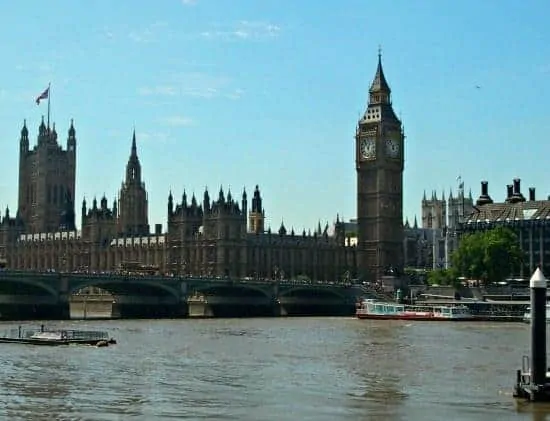 Yes, we enjoyed our tour very much. For complete London beginners, it's a great way to see everything you want to see without having to walk and the commentary is informative, educational and fun. Even for old London-hands like us, it was a great experience and a fun day. Some people like tours, some don't, you know yourself best. If you love an open top bus in old London town, go for it, have fun!
Visit The Original Tour website for ticket prices.
Back to our mail London Family Travel Blog page.
Back to our main UK Travel Blog page.
If you'd like to hire a car during your stay, use this car rental comparison tool to find the best deal!

We also suggest you take a look at this company to get a quote for all kinds of the more tricky adventure or extended travel insurance.

Try Stayz / VRBO for an alternative way to find rentals on homes/apartments/condos in any country!