This post may contain affiliate links.
By travelling, we see the world and to learn about it while enjoying family time and making memories. You all know that, right? Shall I let you in on a secret? I also travel because it makes me fitter, an added travel benefit that enhances my life. If you really want to go for gold and increase fitness while dropping a few pounds as you travel with your family go for an active tour or holiday, something that builds fun exercise into every day, be it hiking, biking or even scuba diving, trips where you can get your heart pumping on a daily basis can be extremely rewarding. This blog posts talks about family biking, how to do it, where to do it and how to make it part of your life or vacation.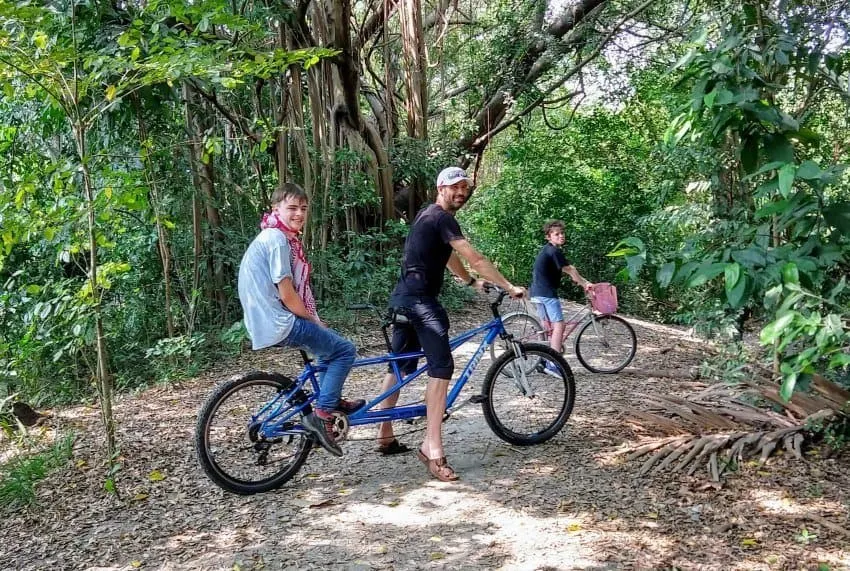 Active holidays we've enjoyed in the past have included 10 days of bicycle adventure across Cuba, trekking the Annapurna circuit and the Everest region ( with kids!) the hills of Thailand and the Inca Trail, a week of 3 daily dives in the Maldives and long weekends of cycling in France.
I think cycling is a more accessible option for most of us and certainly for families, taking the kids on high altitude treks is something that most of us don't do, probably rightly so! I don't know about your kids, but mine consider bikes far more fun than hiking.
Let's look at why cycling is such as great idea and how you can get more bicycle fun into your next trip.
Family Biking in Your Next Holiday or Vacation
Cycling comes in many forms and most people can find the right one for them, or their family.
What's your style? A gentle day of exploring the countryside at a laid-back pace? A few days of serious bike touring? Maybe some off-road mountain bike action?
Whether you're a beginner or an expert, you can build some form of bike riding into your next trip.
Exploring by bike puts you more in touch with the landscape, in simple terms, you miss less than you do in a car.
How many times have you pointed at something from the window of your car "Look at that kids?". But they're too late, they missed it. On a bike you never miss a thing, be it a wild flower, a cow in a field or some interesting road kill ( my boys love dead things!) If you've never ridden a bike before you'll be amazed at what you'll see.
A cycling pace is a very pleasant pace indeed, not slow enough to be boring ( as walking can sometimes be) but fast enough to be interesting, without missing the fine detail.
How to Get Biking Into Your Vacation
Take Your Own Bike
This is a little tricky and we know a lot about it. My husband carries his triathlon bike all over the world to train and take part in Ironman Triathlon events. I'll let him talk about bike transportation on planes, trains and buses, here.
Fairly easy if you are travelling by car or camper van, but did you know you can sometimes take your bike on a plane for no extra charge?
Car ferries are a great choice for cycle tourists too, just ride them on and ride them off again. Your ferry ticket will be much cheaper than if you took the car.
A Self Guided Day Tour
Many locations are great to explore by bike, some are absolutely best explored by bike in which case you can bet somebody has set up a bike hire shop nearby!
Just rent a bike and a helmet, grab a map and off you go for a day of exploring.
A self guided day of exploration could be a very good option for families if you aren't sure if your kids will remain interested enough or energetic enough to cope with a fixed duration group tour. If they need a break or just want to go home, you can do that.
We hired bikes in Vang Vieng, Laos and had a great time exploring the countryside together. The kids had a blast on their bikes and we got to see a slice of rural life as we toured the tiny roads that most visitors never see. Living in Hoi An, Vietnam, our bikes have been absolutely essential in exploring the narrow paths between rice paddies and market gardens. We've put a lot of miles on those bikes.
A Short Guided Group Tour
In most towns and cities around the world, from London to Cambodia, you will find guided day tours, ranging from a few hours to a full day. In many instances, you will be allowed to take children, but just check to see if child sized bikes and helmets are available. You may be exploring a city, a particular historic attraction or park, or a rural area.
Your guide will be your source of information, he will take you on the best route, find you a great spot to have lunch and fill you in on local history, culture and tradition. They will also take care of any on-the-road bike repairs and adjustments. Group tours normally have a pretty steady pace to suit beginners, but tours based on a high level of experience also exist. It's also a great way to meet new people as you enjoy an active, fun and interesting day.
A bike tours that particularly appealed to us was one in Battambang Cambodia, it included city sites, fishing villages, local cottage industries and temples.
A Dedicated Cycling Holiday
My 10 day trip to Cuba was an outstanding experience, it was a long time ago now, back in 1998, my 30th birthday. I haven't posted about it, but ever since I've wanted to do another of these trips.
Preparing For Your Cycling Trip
If you will be hiring bikes in a county where helmets aren't standard, I'd seriously consider buying your children their own cycling helmets and making sure they fit.
My best friend on my razor sharp saddle in Cuba ( and ever since!) was a Gel Seat Cover similar to this one ($10.39)
. These slip over your saddle, tighten with a drawstring and make your life so much more comfortable!
Long sleeved tops to keep the sun off, ideally with a high neck, are the best possible thing to wear. Consider something specially designed for exercise and keeping cool like these super cute ladies' jerseys.
Cycling shorts with a padded rear end are the best thing ever, even if you already have a gel cover as above.
Don't forget plenty of sun block and water.
Want to Read More About Cycling Holidays?
Try this guide to bicycle adventure from Olympic cyclist and gold medal winner, Nicole Cook MBE. You can also find guides to cycling in Portugal's Algarve, Mallorca, Lanzarote, Menorca and Cyprus, detailing a variety of routes at all proficiency levels.
This post was brought to you in association with James Villa Holidays, who also supplied the other images.
If you'd like to hire a car during your stay, use this car rental comparison tool to find the best deal!

We also suggest you take a look at this company to get a quote for all kinds of the more tricky adventure or extended travel insurance.

Try Stayz / VRBO for an alternative way to find rentals on homes/apartments/condos in any country!