This post may contain affiliate links.
I've been asked more than once if my kids enjoy travel. Some readers are concerned that children could be sad being away from friends and family or that they miss pets, bikes and toys. Others feel kids need stability and routine and may find long travel days and uncertainty hard to cope with. I can tell you for sure that my kids do enjoy travel, we have conversations that go like this pretty regularly:
Me "Do you want to go home?"
D or Boo " Yes, maybe for 2 days or 5 days."
After 2 years on the road they don't want to stop. So here, for the doubters, are my kids' reasons for enjoying our travel lifestyle. So in answer to the question "Do kids enjoy travel?" Here are my tweens ( now teens and still happy) on the subject.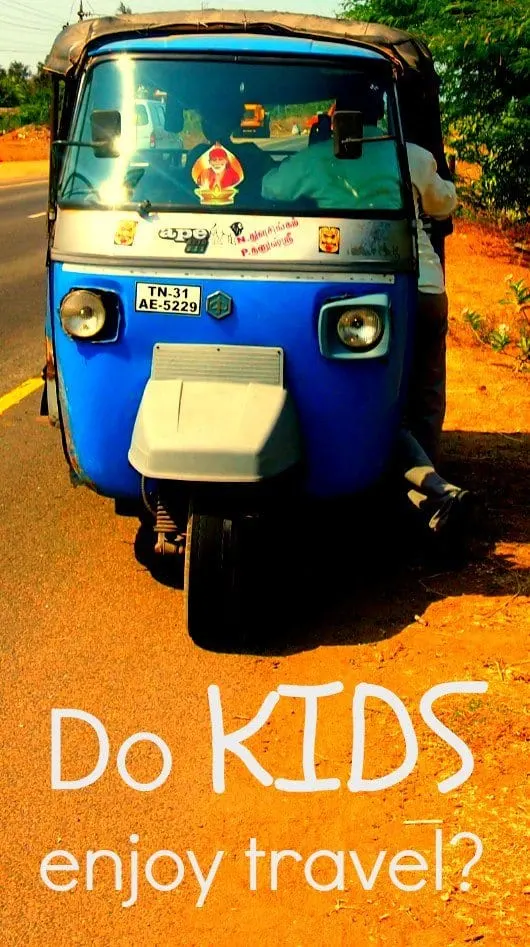 It was an overwhelming yes, these are their reasons, as they came.
Being adventurous makes me feel good. That's music to my ears!
Staying in 1 place is boring, I like doing new things all the time. I can agree with that.
It's exciting to taste new foods. They always try local foods, these kids are great eaters and budding cooks, we've taken a few family cooking classes around the world.
We'd been to all the good places at home already, we just had to go to the same places over and over. Much as we loved the Wildlife Habitat and Hartley's Crocodile Adventures, after the first 10 times they got a bit stale. Although visiting the Great Barrier Reef was always fresh, we wanted more.
I like seeing lots of different animals in the wild. They're both animal nuts, as am I. Favourite animals so far are blue whales in Sri Lanka and coatis in Guatemala. Did you know I studied Zoology at university? My enthusiasm rubs off on them.
Carrying a backpack helps build my muscles and makes me strong. Says D, he comes up to my chin now at 10 years old and loves carrying my pack for me occasionally or collecting the heavy bags from airport carousels. He bursts with pride at his new strength. His father and I both love a physical challenge.
We can eat amazing foods, only a few weeks ago I ate a tarantula. In Siem Reap, Cambodia, read that post here, it was all D's idea.
I get to see my Dad much more because normally he's always in work. He's a chef, so this is a particularly big deal in our family. The kids deserve to have their father in their life more.
We love playing with Dad in the sea, particularly body boarding in new countries. In Kovalam, Kerala, read that one here, or the hours the boys spent jumping huge waves in Mirissa, Sri Lanka. I'd like to point out that Mum does all this stuff too, but Dad is more fun, apparently.
I can do my own thing, I can get my ears pierced and not get haircuts. I want to be a goth . Says D, like mother like son.
We love eating at buffets, free food is the best. Who doesn't love a buffet now and then? Or for 11 days straight, as on our trans-Atlantic cruises or at some of the amazing hotels we get invited to review.
We don't have to go to school. D hated school and Boo has never been. Neither have any desire to go.
I like learning Spanish and asking for things in Spanish. They picked up a fair bit of Spanish in Guatemala, so much so that they got English and Spanish mixed up for weeks afterwards. D is now teaching himself from a book with great enthusiasm.
We go to amazing places like Angkor Wat and Disney. D has a song he sings " I've eaten bugs, I've been to Angkor!"
There's not usually any bedtime, we go to bed at the same time as Mum and Dad and sleep for as long as we want. Suits me, body clocks are there to be listened to.
I like tuk tuks loads (Boo).
We spent lots of time learning to kayak and we're really good at it now. 6 weeks on Ko Phangan and a couple of kayaking trips in wonderful Laos in rapid flood waters.
We got to see snow. Not just snow, they saw Niagara Falls frozen solid and learned to ski.
We had friends in Australia and now we have friends in London too. Great friends, there are many places around the world that feel like home now, including Bangkok and Kuala Lumpur. Sometimes we stay with friends around the world and always look forward to reunions.
Granny came to see us in London, we hardly saw her in Australia. Good old World Travel Granny! I'm trying to persuade her to blog.
We got to go to Forest School.
Lots of people read my blog. ( Boo). It's called Boy Around the World. He's not been blogging lately, we've been travelling hard in India and haven't found the time, but soon!
We love reading books on buses and trains, we have lots of time to read. books are costing me a fortune, but it's so easy to just order them a new book for each long journey. Both boys learnt to read outside school and both are passionate about books.
We like going to different museums and zoos and things like that. So many museums! Multiple visits to all of London's great free museums as well as trips to incredible places like the Dali museum in Spain, the New York Natural History Museum ( Night at the Museum) and the Kennedy Space Centre.
We love being homeschooled. The reasons they like alternative education can be another post.
I can listen to music on my headphones. He's heavily into the Stereophonics at the moment and sometimes listens to Horrible Histories audio books.
I like money, working out all the different currencies. Says Boo, he loves maths.
I like seeing the differences around the world. It's shocking, the difference is so tremendous. Said D, meaning London and India, I love that word "tremendous" and very glad that he sees the differences.
We get to watch loads of movies on aeroplanes. And occasionally we have hotel rooms with English TV where the kids can totally knock themselves out on films. They watch TV so infrequently that I actually think it's good for them to catch up with the western world.
So there you go, that's their top 30 reasons for loving travel, as they thought of them. Obviously, they're kids, so you're not going to get answers like, " We love experiencing different cultures and climates and learn so much from them." Nor will you get " We love learning about world religions and history at source." But I'm here with them, 24/7, I pick up on the little comments. When we went camel riding in Dubai D said " I can't believe how many biomes I've seen now." When we saw the mummified body of St Francis Xavier in India I heard, " He went all over the world didn't he?" . In Fort Cochi Boo said, " Oh, it's the spice trade again!". They're learning and growing all the time, the pieces of the jigsaw are fitting together for them beautifully and, most importantly, they are happy. So are Chef and I, so for now we will continue.
What do you think? Do you travel with your kids and do they have any reasons they could add to this list? If so, let me know in the comments, I'm happy to add them and credit them.
If you'd like to hire a car during your stay, use this car rental comparison tool to find the best deal!

We also suggest you take a look at this company to get a quote for all kinds of the more tricky adventure or extended travel insurance.

Try Stayz / VRBO for an alternative way to find rentals on homes/apartments/condos in any country!