This post may contain affiliate links.
During our first year of full time travel ( our family gap year, if you like) we were on a tight budget. We kept to around $50 per day in South East Asia and the whole year came in at $100 per day. During that year we took two cruises. Both were trans Atlantic repositioning cruises. So how can you take a cruise as a budget traveller or backpacker, how can you make a cruise budget travel? Here's how.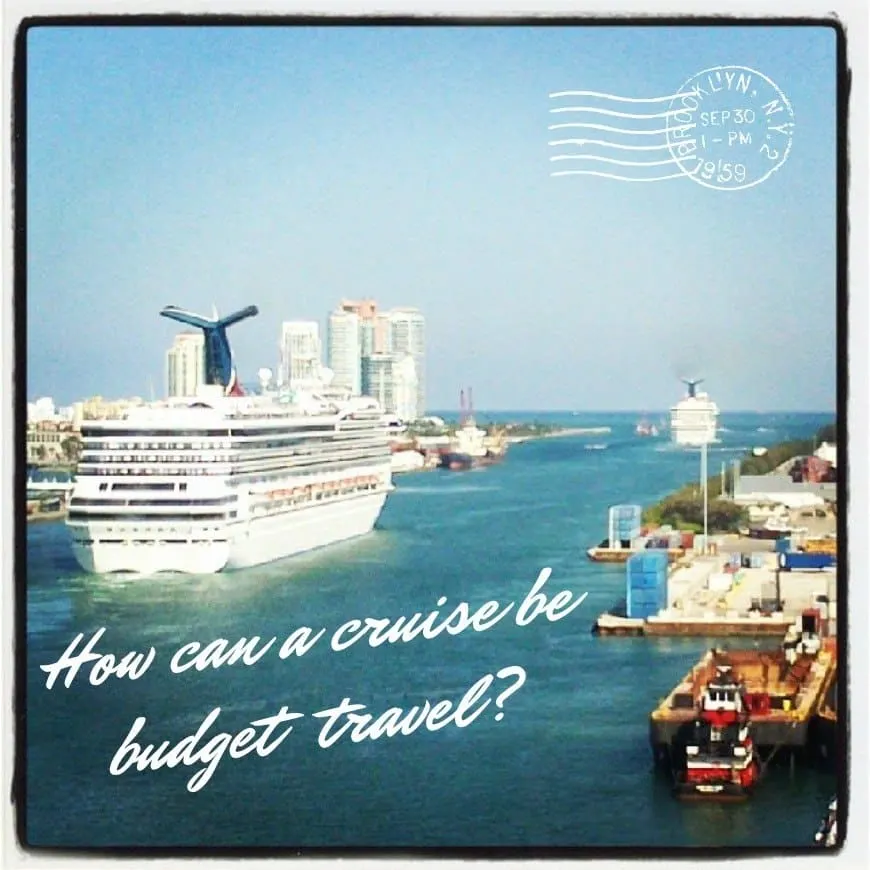 How to Make Cruising Fit With Budget Travel or Backpacking
We never expected to be going on a cruise!
When we set out on this trip, our plan was to spend a few years in South East Asia and the Indian Subcontinent. We worked out, based on the amount of money we had in the bank, we could last 4 years if we spent $41/day.
We've found that budget pretty OK, we're probably spending more like $50/day plus the odd splurge when I make some money.
But life happens, we've ended up heading to the UK for Christmas for family reasons. We can be cheap there, no accommodation costs, that fits our budget fine.
But next year we blow our budget out of the water. We're going on a cruise and then to the Americas!
Why Did We Want to Go on a Cruise?
Mostly for the experience. We want to give the kids ( and ourselves) as many diverse experiences as we can. We saw this cruise advertised and it just looked like a great opportunity.
It's the maiden voyage of a brand new cruise ship as it relocates from the European shipyards to its new home in Miami.
It's what's called a relocation cruise or repositioning cruise, these are the bargains of the cruising world. They usually happen when ships relocate with the changing seasons. They take you from A to B rather than in a loop, so you can use them as a form of transport.
We're going from Southampton to New York.
At $700 each, it's not that much more than flying across the Atlantic and food, drinks, accommodation and entertainment are generously covered for 10 days.
The ship looks AMAZING! It has everything from an ice bar to a huge nightly magic show in a purpose-built two story theatre. It has all the usual on-deck pools and slides, but in January I don't think we'll be using them.
There is loads for the children to do, their eyes lit up when they saw the computer games room with its giant screens. I'm just looking forward to something completely different, something I've never done before, or even considered doing.
I've been collecting pictures of the ship on a new Pinterest board, if you'd like to see. She's vast, 5th biggest in the world.
My mum and dad go on cruises, they enjoy dinner dances and shows, but from what I can see, cruising doesn't have to be like that. Cruising can offer a lot to families like ours if you pick the right ship and right cruise line.
Fancy dressed-up dining isn't our thing, good food is. I've posted before about how travel makes me thinner, I reckon all that is going to change. I have a feeling we'll have to update our wardrobes and not just because of the cold.
After we pull into New York harbour, past the Statue of Liberty, we're going to stay in the States. Probably for 3 months, as that is the length of the visa, and have ourselves a big old road trip!
Then we have to fly out to somewhere more remote than Canada or Central America, those are the visa restrictions. We're thinking maybe we'll go to Peru and cuddle some alpacas.
Update: Read about how our cruise went here. We loved it! So much so that we've booked a return Atlantic crossing cruise in April. This time it's only costing us $320 each, under $30/day, for a family cabin with balcony. Even more of a bargain!
What Will Our Budget be for the USA?
At the moment I have no idea, it will be a lot more. We're not going to scrimp, we're not missing out on all the big-ticket attractions although we will be very frugal with food and accommodation. We will most certainly be visiting Disney ( we managed to visit all 4 Disney parks in one day!) and Kennedy Space Centre again, they're too good to miss. But we will do this thing as cheap as we can.
Update: We have now completed our USA road trip, that was also wonderful. Click the link to read more about it.
We won't run out of money while we're there, but by the end of next year we'll have to come back to the UK and James will get a job. But that's cool, it will only be for a few months, we can set off for India and Nepal after that and start living cheaply again. Or, who knows, another opportunity might present itself. That's the beauty of having the total freedom that we have now.
So no, we're not giving up on our extreme budget travel lifestyle, we haven't had enough, it's not a cop out , we're just doing something a bit different for a while. We quit our old life to travel and to have our freedom. The freedom to bob about on the Atlantic for over a week is part of that.We think it will be fun!
If you'd like to hire a car during your stay, use this car rental comparison tool to find the best deal!

We also suggest you take a look at this company to get a quote for all kinds of the more tricky adventure or extended travel insurance.

Try Stayz / VRBO for an alternative way to find rentals on homes/apartments/condos in any country!