This post may contain affiliate links.
Hello from our Atlantic Crossing cruise on Norwegian Epic! Epic is a beautiful ship and we're off to a good start on our second cruise with Norwegian Cruise Lines this year. I can't check in to social media as often as I normally do because satellite internet at sea isn't cheap. Connection is difficult, but I do have a very limited amount of online time. We've managed to post a few photos and updates to Instagram and Facebook, click the links to check them out. This post is about what its like to cruise on Norwegian Epic, our first-hand experiences, and reviews.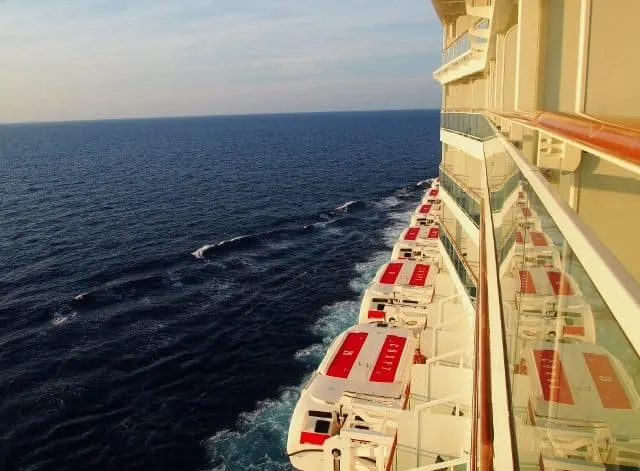 I thought I'd publish a quick post to tell our non-social-media followers how we're getting along.
Cruising on Norwegian Epic
Yesterday was just amazing. Boarding this vast ship, she dwarfed the other cruise liners waiting to leave the Port of Miami, enjoying our complimentary bubbles and strawberries on our private balcony and sailing away from the USA under blue skies on a bluer sea was a wonderful experience.
Sorry Southampton, no offence, but Miami is a spectacular port to sail from, there's no comparison.
Norwegian Epic vs Norwegian Getaway
Epic is a bigger ship and the layout and facilities are quite different. The pools, slides and climbing wall are still there and the kids' favourite, the ping-pong. The boys have raced off to the Splash Academy kids club this morning, it looks a lot bigger than the one on Getaway.
The gym on Epic is sensational, extremely well equipped, and free, therefore crowded. Guess where my IronMan husband is now?
Dining facilities are very similar, so far the food from the complementary Garden Café buffet restaurant has been good, there is slightly less variety than on Getaway but I haven't come across an overcooked vegetable yet and there is plenty of salad.
This cruise has far more passengers on board than our January Atlantic crossing. Getaway was operating at just one-third of maximum passenger capacity, we never queued or struggled to find a quiet table or corner. Every cabin on Epic is full, although passenger numbers aren't as high as they could be if there were a lot of children on board. It's school term time, so not many kids, although there are plenty enough to keep my boys happy. The dining room is packed, sometimes we've failed to find an empty table and the best food tends to run out occasionaly. The crowds can make everything more sociable, we've met some lovely and interesting people of all ages, from many countries and enjoyed fun conversations. Staff can't keep up with the rapid turnover of guests, food and tables as well as they could on Getaway.
Not everyone is charming, there are a few grumpy older people on board. I saw a young family highly distressed yesterday when a pensioner became verbally aggressive about their baby crying during the compulsory first-day lifeboat drill. It's out of order. If you don't like human beings you really should stay home. Reserving tables and chairs with towels or water bottles is another unpleasant practice that some seem to think is socially acceptable. Theater parties who send one member to reserve an entire row of seats are another cruise-peculiar happening. A full ship is a very different experience to a two-thirds empty ship.
Rant over!
The crew on Norwegian Epic are delightful, as they were on Getaway, particularly the chefs and waiters, super-friendly, super-helpful and always smiling. They come from every corner of the world and it's a joy to meet and talk to them.
We've been invited to cocktails and canapes with the captain in the exclusive Haven area this evening. I don't know if everyone on board gets a turn or if we're singled out for special privileges, bloggers perks, but there was no such invitation on Getaway. We kept our media presence quiet for that one. I'm breaking out my one and only dress and yes, the kids are coming too.
Inside Cabin vs Outside Cabin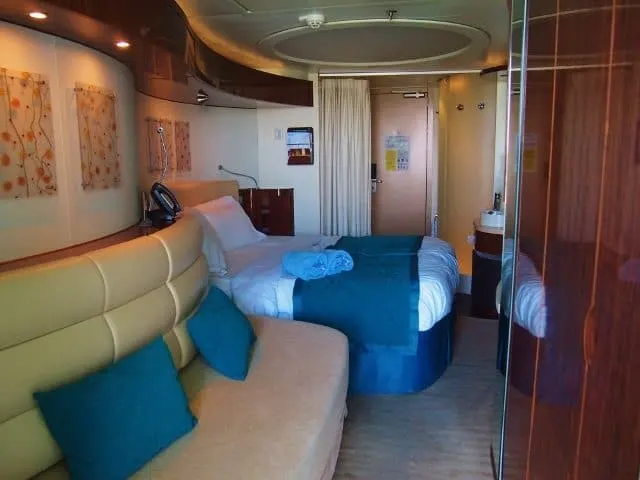 We've gone upmarket this time. For our cruise on Norwegian Epic we have an outside, balcony cabin. It cost us very little extra or we wouldn't have taken it, we were perfectly happy with our inside cabin on Norwegian Getaway. Having that sea view in incredible, but I tend to sit in the public areas more often than not, I like a bit of life around me. The cabin is superbly well designed. It took us a while to work out where our extra bunk had materialised from last night and I'm still finding hidden storage spaces.
So all good so far and we're extremely pleased that we chose to cross the Atlantic this way and not by plane. For those of us with plenty of time, cruising is absolutely the way to travel and kids and grown-ups can have a great time on these incredible ships. Cruising these days is affordable, comfortable, family friendly and as active or as relaxing as you make it, we like it a lot.
Lots more photos and posts about Norwegian Epic to come, lack of internet is extremely frustrating at the moment, but I'm compensating with cocktails, we'll be back soon
Check out this post to see how little a cruise can cost you.
If you'd like to hire a car during your stay, use this car rental comparison tool to find the best deal!

We also suggest you take a look at this company to get a quote for all kinds of the more tricky adventure or extended travel insurance.

Try Stayz / VRBO for an alternative way to find rentals on homes/apartments/condos in any country!