This post may contain affiliate links.
There are quite a few options in Port Douglas if you are interested in helicopter rides and charters. We live in Port Douglas, but tourists are just as likely to take a helicopter ride here in Queensland too.
Taking helicopter rides is one of the more expensive things to do in Port Douglas, but there are plenty of free natural attractions in and near Port Douglas too.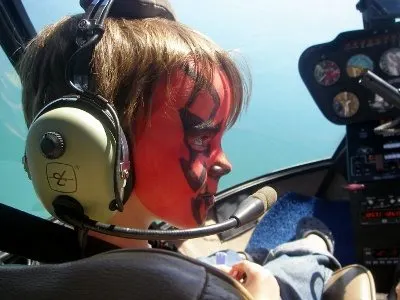 You can take a helicopter to or from the Great Barrier Reef, some reef charter boats let you book short helicopter rides from the reef pontoon.
You can even be dropped on a sand bar and have yourselves a very private picnic out there.
Port Douglas Helicopter Rides (Free With Every Sausage)
For us, the locals, they are expensive, a real luxury, but on one day of the year, Father's Day, you can get a free helicopter ride with every sausage you buy.
OK, so the sausages are expensive at $80 each, but it looked like fun, so I took the kids.
We had a short flight out over the Mowbray River, along the coast to Dickinson Inlet and back to the landing pad in the middle of Port Douglas.
It was just beautiful, we could pick out our house, the swimming pools and big hotels and we were blessed with a crystal clear sea that day, we didn't see any sharks or crocodiles but I now understand how they use helicopters to spot them.
The children weren't scared at all and thought it was all great fun, little Boo couldn't believe that Mum's voice was coming through those great big ear muffs.
He was only 3, D was 4 or 5.
This one is all about the photos, so here we go!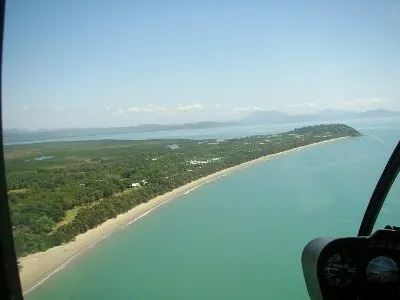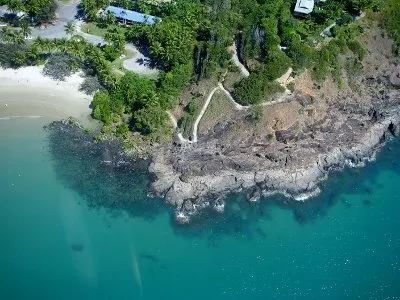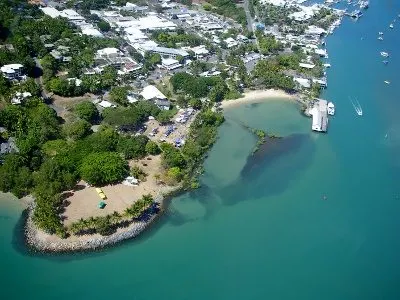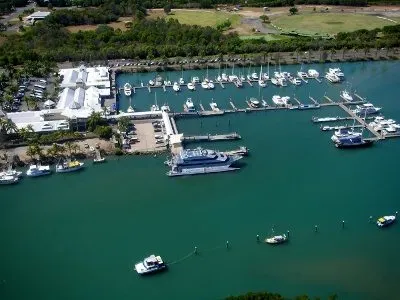 It was a pretty special flight, one I'd love to do again. Flying over the Great Barrier Reef and Daintree Rainforest itself must be breathtaking.
People say the reef is one of the 7 wonders of the world, but of course, it isn't.
Maybe one of the 7 natural wonders of the world or the 7 wonders of Australia.
So, the moral of my story, if you are thinking of heading up to Port Douglas and fancy a helicopter ride at a more reasonable price, come on Father's Day.
Fathers Day in in early September in Australia and is a very good time to visit Port Douglas and Cairns and to go snorkelling on the Great Barrier Reef.
Helicopter rides and charters in Port Douglas and Cairns can be arranged through SkySafari and Quicksilver Helicopters. Visit our full Port Douglas coverage, here. We've lived and worked in Port Douglas since the early 2000s, we're one of the best sources for Port Douglas information in the travel blogging world. We are professional travel bloggers, have visited 50+ countries (usually with kids), but Port Douglas and Far North Queensland are home.
If you'd like to hire a car during your stay, use this car rental comparison tool to find the best deal!

We also suggest you take a look at this company to get a quote for all kinds of the more tricky adventure or extended travel insurance.

Try Stayz / VRBO for an alternative way to find rentals on homes/apartments/condos in any country!