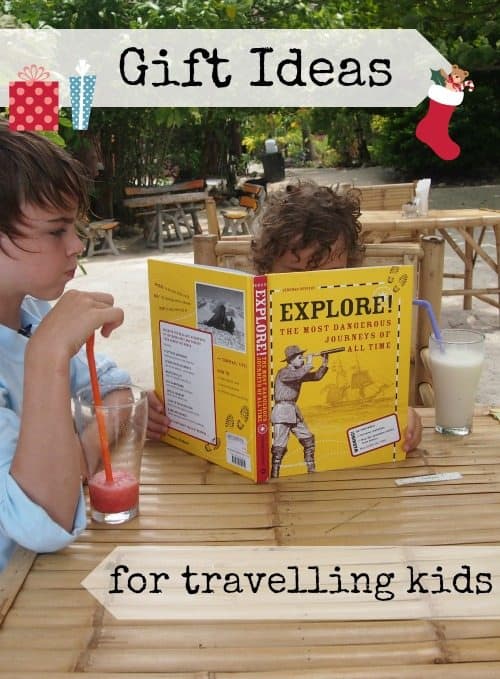 I've been there, I'm still there actually. How on earth do you buy Christmas presents for children who live out of backpacks?
Maybe you know a family who loves to travel or a family like us who will be setting off soon. It's really hard, but here are a few ideas to get you going. Mostly these are practical gifts that will be lasting and useful.
We had some travel games, they haven't stood the test of time and took up valuable space in our packs, we don't have them any more.
We have a few toys with us, bits and pieces of Lego, toy cars, Monsoonos and Backugan, they rarely see daylight. The toys below are the ones that my kids actually use.
This post contains affiliate links, if you click through from them I make a few cents towards replacing my stupid camera. Affiliate links don't cost you anything extra, the money comes from the affiliated company, in this case Amazon.
UNO

In our family Uno is the ultimate travel Card Game.
It's always in my day pack for quite moments in airports and bus stops. It's great for all ages and it's how little Boo originally learnt his numbers. Big thumbs up for UNO!
Pen Knife
What boy ( and often, girl, I love mine) doesn't want a pen knife?  If you're going to get one,why not get an iconic Swiss Army knife? Victorinox Swiss Army Super Tinker Pocket Knife
. We have 3 Swiss Army knives with us, my husband says both of his are essential and, of course, mine is.
 Packing Cubes

Older kids, probably girls, might dig packing cubes. I have a set and they're great. I bought a set of three eBags Packing Cubes
 in small, medium and large. The small one takes all of our electrical leads and chargers. I love that it's tough enough to cope with all the pointy metal bits. The small sizes would also be great for younger kids' toys. The medium one takes all of my tops and shirts and the large one holds a load of spare winter clothes and gear.
Rubik's Twist or Snake

  We have two of these with us and they've seen a lot of use, click the image to buy one on Amazon.
If you know a child who loves books a Kindle is essential travel gear. I preloaded ours with kids' books before we left, picture story books for little Boo (6), reading books for D (8), it has seen a lot of use, particularly on buses and trains. We have a Kindle Paperwhite
 it's easier on the children's eyes than other reading devices, (I love being able to enlarge the text for my elderly eyes too), the battery life is amazing, it's small, light and easy to carry.
There are book exchange shops in most backpacker towns but the range of children's books is always tiny and it's not a cheap option. We wouldn't travel without at least one Kindle, ideally more.
Neoprene Kindle Case for Paperwhite

I love my Pink Neoprene Kindle Case 
, it keeps my Kindle safe in my day-pack. D, now 9 has long since taken controll of my Kindle, so I guess it's his pink Kindle case now. Maybe I should have bought blue instead.
Cool Kids' Case for Kindle Fire
I've just spotted these cool and funky Kindle cases for the Kindle Fire. They're supposed to be super tough and the colours are great.
Head Torch

Kids love playing with head torches, sometimes they use them for reading, other times playing outside in the dark, they're very handy for power cuts too. You could get them a sensible one
, or you could get them a super cool LEGO Darth Vader Head Lamp
. I want one.
We Loved This Book!
Well-meaning friends and family bought the kids all sorts of bits and pieces before we left. The only one that made it into our pack was this one Explore!: The most dangerous journeys of all time because it was a truely exceptional book
. It covered a lot of educational bases and was great fun to read. Even if the book doesn't travel it's a great preparation for and introduction to our amazing and exciting world. If you stop by Haad Salad villas you will find ours there, it was too heavy after Chef's surgery, or you could just buy your own!
Cameras Rule.

My kids love to take photos. If I could afford to buy them a camera each I'd make sure it was tough and waterproof. Taking photos in the water is excellent fun. I'd choose an Olympus TG-820 12MP Shock/Water/Freeze-Proof Camera. But given my track record with cameras maybe you shouldn't listen to me!
……………
Was that any help? I hope so. This is the second Christmas that I've had this headache. Shall I tell you what I've bought the kids?
Boo (7) is having Doctor Who Monopoly, D is having a Bop It! Smash
 game and a new watch, and some other little things. I thought that as we'd be at Grandma's house we could play like crazy and then safely leave them behind while we set off with our packs once more. I'm so looking forward to Christmas this year, hope you are too!
.