This post may contain affiliate links.
This is how we renewed a UK passport in Bangkok. British passport renewal in Thailand.
Our younger son's UK passport was down to less than 6 months and we had absolutely no desire to head back to the UK to get it renewed. We were in Vietnam and about to travel to Malaysia so it had to be done on this side of the world and in the quickest way possible.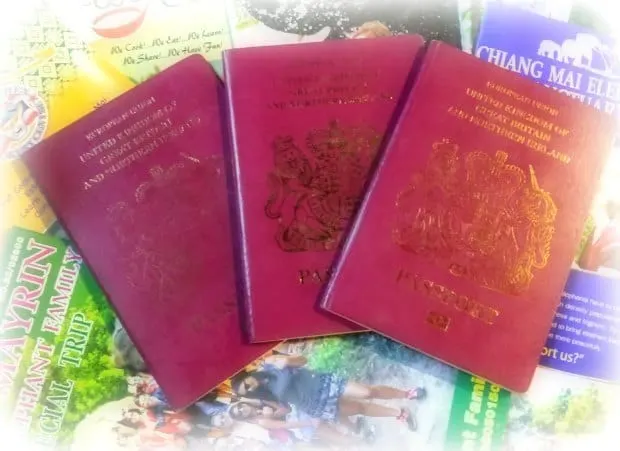 For a child, overseas passport renewal looks even more troublesome than for adults, particularly for kids under 11, but we did it, we have his new UK passport and these are the hoops we had to jump through.
We were able to enter Thailand with less than 6 months remaining on this passport, but getting into Malaysia was a lot harder, we needed special permission. Information on passport renewal in Thailand.
Renewing a UK Passport in Bangkok
Travelling to Thailand With Less Than 6 Months Remaining on a Passport
This was actually fine, Thailand doesn't refuse entry to passport holders with less than 6 months remaining. We had no difficulty flying into Bangkok at all.
We did have problems flying from Vietnam to Malaysia, Malaysia still has this 6 month passport validity rule but the Air Asia representative in Danang was able to ring Kuala Lumpur and get us permission to fly.
As we had onward flights booked they were fine with letting us in.
Proof of Address
This is easy for expats with addresses, bank statements or utility bills, but we're travellers and just passing through.
Our way round this was to ask for a printed bill or receipt from our Bankok hotel with their address and logo clearly shown. This must be in English.
We generally use Shanti Lodge in Bangkok and as the owner is a native English speaker, this was pretty easy to do. Our printed hotel receipt was accepted in the Bangkok office and in the UK.
Getting Passport Photos Counter Signed and Authorised
This was hard! This area is somewhat ambiguous and some may choose not to complete this part of the form. There is a vague ruling about photos not needing to be countersigned if the two images are pretty similar and easy to identify as the same person.
For children under 11 it seems to be compulsory. Our son was 11.
We put a call out for anyone in Bangkok with a UK passport, European, or American who could identify me or my son, thinking that there MUST be someone in town who knew us from our websites at the very least. Nobody came forward.
The only person we knew in Bangkok was an American friend, a US passport holder and certainly not a doctor, lawyer, or any one of those reputable professions that passport offices generally like.
She signed off the photo, filled in the form and gave us a colour photocopy of her passport. It worked, our paperwork was approved.
Photocopies of All Current Passports Must be Colour
After we'd photocopied every page of 2 passports, UK and Australian, in black and white, we received a second email from HM passport office telling us they needed to be in colour. Great.
In Bangkok you'll find small shops with photocopiers on almost every street, it cost us about $10 for both passports, 10 Baht per sheet. Even blank pages must be photocopied and submitted.
Getting An Appointment at the Trendy Building with VFS Global
The only way we could make an appointment was to email directly to BangkokHMPO@vfshelpline.com. We needed to provide 3 different dates/times when we were available between 8am and 4pm Monday to Saturday along with our first and last names.
VFS Global won't answer any questions or enter into correspondence. They sent back an email with an attachment that has the appointment time. Print that letter and take it with you or be able to access it on your phone in the lobby as it is your proof or permission to enter the Trendy Building.
The Appointment at the Trendy Building
The Trendy Building is in Sukhumvit on a side road, near Bangkok's big shopping malls. We got there by taxi and it cost us roughly 100 Baht from Shanti Lodge.
We arrived 15 minutes earlier than our scheduled time. They advise to arrive early but not more than 15 minutes. Upon entering the building go to the VFS desk to the left to get confirmation of appointment.
The lady gave us a slip of paper to take to the lift. The passport office VFS is located on the 28th floor, there was a very organised queue for the lift. On arrival at the passport office the paper is checked and swapped just after security. We didn't even get a chance to wait and were seen immediately.
The officer will take all of your documentation and check that it is in order. Photos, proof of address, photocopies of passport, payment form and the application. Once they are satisfied it is placed into a DHL bag and you are given a receipt which has your email and local phone number on it.
They use this phone number to contact you when the passport is ready so make sure they are accurate and if possible have a local Thai number not a UK number. The whole process took no more than 10 minutes and we were on our way with the reciept and the old passport for identification purposes.
The old passport will be cancelled at some point in future, it was not visibly cancelled or clipped at the VFS office.
You need both the old passport and receipt to pick up the new passport. If you are getting a new child's passport then a parent will also need their passport to pick it up.
How Long Does it Take to Renew a British Passport in Bangkok?
The time given for our renewal was 3-4 weeks from when HMPO in the UK receives the application. As the paperwork is couriered to the UK it will arrive within days. You can't check online in the same way that the UK applications allow but you can see when they take the money which correlates with them receiving the application. 3 days after they processed the charge I had a notification from DHL to state that my package (passport) would be delivered to the Trendy Building within 3 days.
If this is the case then from lodging the application in Bangkok to receiving the new passport would in fact be under 2 weeks. Of course each application would be different and ours was a simple renewal and the new photo wasn't vastly different from the passport.
Sometimes the UK passport office gives much longer waiting times due to backlogs, 8 weeks has been quoted to us in 2022.
So that's our experience with renewing a UK passport overseas. We chose Bangkok rather than Vietnam because it seemed renewal times were slightly shorter and in Vietnam visitors must carry their passport at all times, we weren't sure if the passport office in Hanoi or Saigon would take the old passport away or not.
It was very difficult to find accurate information on the renewal process online, even the UK government official website seemed to give conflicting information with regard to proof of address and passport photograph approval but in the end we managed to tick all their boxes and our new child's passport should be waiting for us in Bangkok right now. For more information on travel in Thailand see our Thailand travel guide page.
If you'd like to hire a car during your stay, use this car rental comparison tool to find the best deal!

We also suggest you take a look at this company to get a quote for all kinds of the more tricky adventure or extended travel insurance.

Try Stayz / VRBO for an alternative way to find rentals on homes/apartments/condos in any country!