This post may contain affiliate links.
We have absolutely loved staying on Haad Salad, Ko Phangan for the last 6 weeks. It's a beautiful beach paradise with calm, clear waters that my children can safely swim in and kayak on. We found good, cheap family accommodation and enjoyed good Thai food and rainbow sunsets .
But there are a few dangers and annoyances, we thought we'd let you know. Forewarned is forearmed, as my mum says.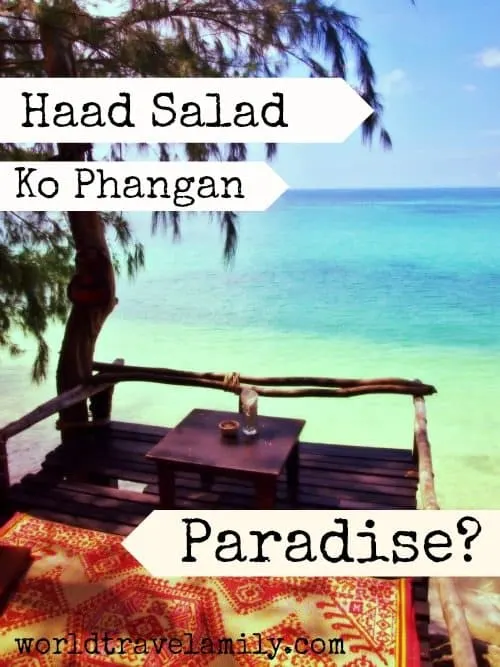 Dangers and Annoyances of Staying on Haad Salad, Ko Phangan.
1. Coral and Sea Urchins. Haad Salad beach is littered with broken coral and the remnants of nasty little tube worms. The workers rake the beach every morning, but it's a hazard in the shallows. They cut your feet to shreds if you don't wear shoes. Three of us have had bad cuts that took ages to heal because coral fragments were lodged in there. Once you get out past the "danger zone" of the shallows, there is a beautiful white sand sandbar, your feet are safe, so long as one of the resident sea urchins hasn't broken free from its rock ( Chef stood on one, ouch!)
2, Dogs. There are dozens of dogs on Haad Salad. Dog poop on the beach makes me feel quite ill. The workers rake the sand every morning and get rid of it, but it's still a bit gross.The dogs are mostly pets, not strays. Some are lovely, but some are very aggressive Watch out for the big black dog, the beautiful 3 legged dog and the two little apricot poodles. One of the poodles bit Chef, it only caught his jeans, luckily. You will see a lot of territorial dog fights.
We fell in love with "old dog" his real name is Baguette. Give him a pat from us if you're passing his way.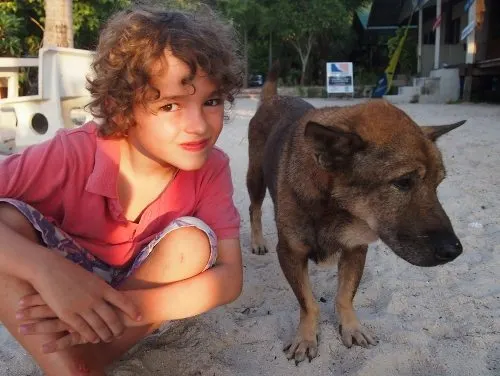 3. Mosquitos. Boy they're bad here! They're far worse than back home in Port Douglas. Mosquitos are mostly only a big problem around sunset. In shady spots, like around your bungalow, they pop up all day.
There is Dengue fever here, but the guys tell us it's rare. Dengue fever is nasty and can even be fatal.The Dengue carrying mosquito can bite during the day and lives in clean, standing water, not muddy puddles.
They say there is no malaria here.
We're finding DEET sprays aren't working too well here at all. Mosquito coils don't seem to deter the mosquitos much either. They DO bite through clothes. A combined approach and staying indoors at peak times is your best defence.
4. The Full Moon Party.
For around 3 days before and 3 days after the monthly Full Moon Parties the island fills up. Everywhere will be busier, not just Haad Rin. Our lovely family accommodation here on Haad Salad starts playing trance music and offering beach barbecues. There is more late night noise and more fireworks going off. They sell fireworks in all the shops here, big ones. We've grown used to loud bangs in the night. The roads become more dangerous around Full Moon Party time, more youngsters on mopeds, more danger.
That being said, the Full Moon Parties are fun, we took the kids!
5. Drugs. We don't take drugs, ever, but plenty of people do. The police here really don't like it and are totally on the ball. There is a big police presence at the Full Moon Party and we saw them stopping lots of vehicles. Watch out, I've read that even the dealers will report you to the police.
5. The Roads and Traffic Accidents.
I've seen so many people hurt in bike accidents in the last month. You can be as careful as you like, we were, we still had an accident. A guy here was rear ended by another scooter yesterday, he was stationary, three people required hospitalisation. Ko Phangan has very steep hills and windy roads. Some of the hire bikes are badly maintained, the brakes on the two we hired were terrible.
If you don't injure yourself you can badly injure your bank account. We scratched a bike, the repair bill was hundreds of dollars. Bike hire places do not offer insurance, they hire the bikes out cheap and wait for you to stuff up, it seems to be how they make their money.
Taxis have accidents too, the road to Haad Rin is particularly bad, it's like a roller-coaster.
6. Health Care There is no hospital on Ko Phangan. There are good emergency treatment facilities, but the big hospitals are on Ko Samui, a ferry ride away. ( We experienced both, my husband had emergency surgery on Ko Samui while we were staying on Ko Phangan) All the more reason the be extra careful on the roads and not go too hard at the Full Moon Parties.
7. The Wet Season We stayed on Haad Salad into the start of the wet season. As it approached the sea rose and the beach disappeared, the rain grew more and more frequent. It has hardly stopped raining for the last week ( end of October).We've really enjoyed playing in the torrential downpours but you may be a bit fed up if you'd come here for a short holiday at this time of year. There is a low tide season and a high tide season, the difference is remarkable.
8. It's Relatively Expensive. More expensive than the cheap parts of Thailand. Ko Samui costs an arm and a leg because it's full of package tourists. Ko Phangan retains it's backpacker feel, so far. There are a couple of very luxurious resorts on Haad Salad beach. Food costs are above average, but, we're on an island, transport costs have to be added on, that's understandable. Two places on Haad Salad charge decent prices, My Way and Haad Salad Villa. Some of the shops in Haad Salad are over priced and try their best to rip you off, the purple shop was good for us. Transport is costly unless you hire a bike.
…………………
That's it, I can't think of anything else. This is truly one of the nicest beach places we've ever stayed. Ko Phangan is a million times nicer than Ko Samui ( we think) and accommodation is a lot cheaper. We didn't make it to Ko Tao, Chef's operation stopped us moving around and we'd heard everything was more expensive over there. The prices on Agoda and Booking.com certainly were higher. I'll post about the accommodation we found on Ko Phangan soon. Sign up to have it delivered straight to your inbox.
If you'd like to hire a car during your stay, use this car rental comparison tool to find the best deal!

We also suggest you take a look at this company to get a quote for all kinds of the more tricky adventure or extended travel insurance.

Try Stayz / VRBO for an alternative way to find rentals on homes/apartments/condos in any country!