This post may contain affiliate links.
Family holidays are one of the greatest pleasures in life, but as with all good things, they can be quite a challenge! Skiing holidays can be full of fun, action and achievement out on the slopes, but it goes without saying that there will be extra considerations involved when planning an adventure sports trip for a family. That said, a family ski holiday is a great choice, nothing beats skiing with your kids, so long as you do it safely and keep it fun.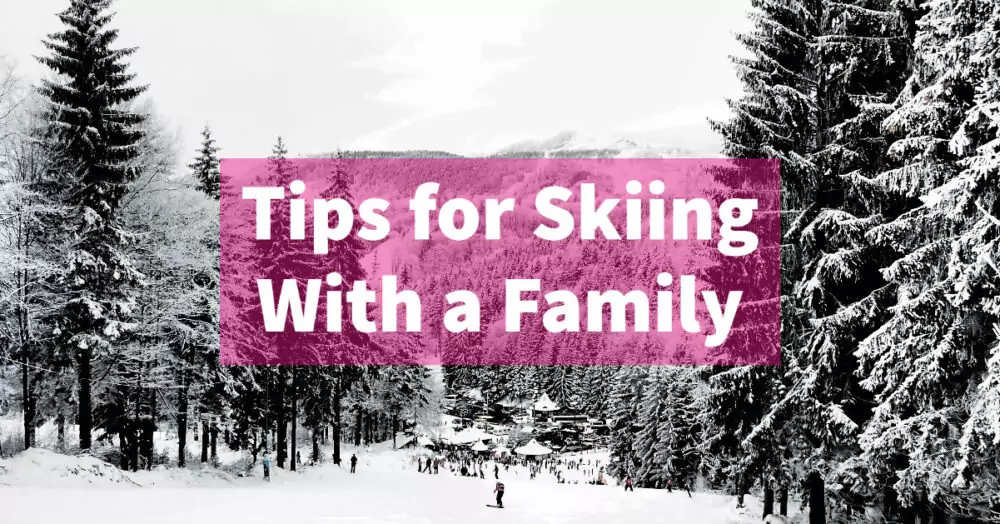 So just how can parents make skiing holidays as stress-free as possible and make the time enjoyable for all the family? Below are some tips on how to keep the kids happy and, if you are lucky, even convert them into skiing enthusiasts!
Skiing With The Family
The logistics of skiing with your family will depend on your child or children's age. Our kids learned on snow, at a ski resort. Other kids will learn on dry ski slopes in their home countries before departure. I learned to ski that way.
Family skiing is great, and I'd strongly recommend skiing with your kids rather than sending them on school ski trips. Skiing is a fun sport, great exercise and a lifetime skill that can be very useful for life. We thought it was important that our kids learned to ski, they learned to ski in Romania, which was a very affordable family ski destination.
Bring the right clothing
Nothing is worse than getting to your catered ski chalets, maybe in France or the US, and finding your few jumpers and jackets just aren't enough to contend with the freezing temperatures.
You do not want to be cold on the slopes, and as we can't control the weather, always pack for the worst possible conditions. Think wet, as well as cold. If you or your kids get wet they will chill fast.
Cosying up by the fire, apres-ski, is one thing, but if you don't already have clothing suitable for the sport itself, you may find you have a few miserable days on your hands.
If you're going to make a habit of skiing, invest in a few warm or thermal under-layers, ski socks, gloves, hats, and waterproof jackets for all of the family, or, to save money, rent some when you get there.
Kids will need sunglasses or goggles of course, and warm hats. Don't forget to keep their ears warm and use good sun protection.
Ski gear for kids is problematic as they grow so fast. Your adult ski gear may last you a lifetime, but buying new ski gear for kids every year can be expensive. Look for second-hand ski gear or check out cheaper sports shops for bargains. Buying ski gear out of season will often help you find sale bargains.
If the weather is great and you ski well, you can ski in jeans and a T shirt. But you never know when the weather could change.
Should You Teach Your Children To Ski, or Put Them in Ski School?
We opted to book private ski lessons for our children. They learned fast and were skiing with us with just 2-3 sessions with instructors. This method was faster, we think, than any ski school.
It's very unusual for me to employ instructors, we homeschool and I've taught the kids most things, but the instructors had special equipment and know-how that got the kids skiing fast. It was worth paying for.
Ski school can take a long time and the kids will spend a lot of time waiting around, getting cold or bored. This is my experience of ski schools over the years, as a child, and as an adult.
Stay positive
Most parents are probably more on edge about the prospect of their children skiing than the children themselves. Given the nature of the sport, this is perfectly normal and natural, but the key is not to let them know that you're panicking.
Keep calm and level headed, at least on the outside, as kids are quick to pick up on the overall mood, and knowing you are worried will only cause them to freak out all the more, discouraging them from taking part.
Choose an appropriate resort
When researching resorts, look for ones that cater for beginners and are child-friendly. Some, like Courchevel in France have easier, less crowded slopes and instructors available that are patient and trained to deal with newbies.
You don't want to turn up to somewhere that is focused on advanced skiing and full of pros. This will intimidate the kids, especially if they can't see other people around their age around them.
Keep the kids occupied
If you have a few non-skiers in the party or just fancy a break, don't forget to check out a resort's apres-ski facilities before you book.
Ice skating, bowling, tobogganing, sleigh rides, and cinema options are all common, and you can usually hire babysitters via your ski chalet or hotel to give you a chance to soak up some of the more sophisticated cocktail venues.
The Austrian resort of Alpbach is a favourite among British families, as well as Puy St Vincent in France, both of which have excellent childcare facilities and a family-friendly atmosphere, on and off the slopes.
If you'd like to hire a car during your stay, use this car rental comparison tool to find the best deal!

We also suggest you take a look at this company to get a quote for all kinds of the more tricky adventure or extended travel insurance.

Try Stayz / VRBO for an alternative way to find rentals on homes/apartments/condos in any country!