This post may contain affiliate links.
Balapitya Beach is a peaceful stretch of shoreline punctuated with feature boulders forming sheltered rock pools on Sri Lanka's west coast. Balapitya Beach is immediately to the north of Ambalangoda Beach and is south of Kalutara, north of Galle. We paid a little more than budget, for a luxurious stay at a secluded and relaxed family villa in a less-touristed part of Sri-Lanka's west coast and enjoyed our stay in this area, just footsteps from Balapitya Beach itself.. Here we found something we've never seen before in Sri Lanka, beaches totally devoid of tourists, no beach bars, no gift shops, just Sri Lanka, unmodified and natural
Balapitya Beach
This post is not sponsored nor is it promotional, we found this villa by chance and fell in love. It's affordable ( cheap) close to the airport by Sri Lankan standards and over the road from a small cove devoid of tourists.
The Balapitya Beach Family Villa and Gardens
This was a beautiful place to stay. For our money we had 2 bedrooms, 2 huge double beds with mosquito nets, a basic kitchen, rain shower, living room with TV, an outdoor area for relaxed dining and an immaculately maintained tropical garden to explore.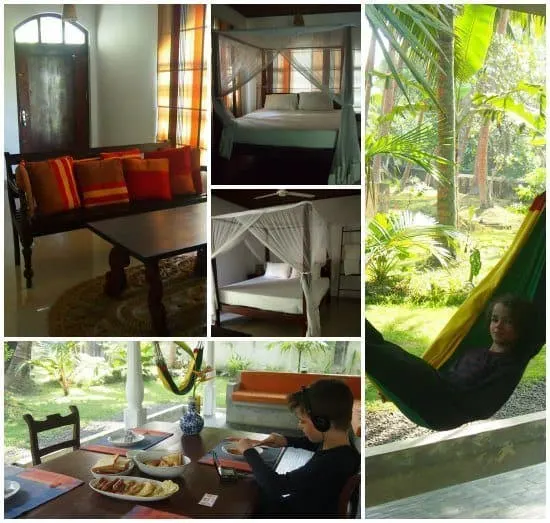 This villa gave us the best internet connection we've ever had in Sri Lanka, thanks to a portable hot-spot.
We particularly loved the wildlife around the villa, a huge monitor lizard, stunning blue kingfishers, egrets and little three striped squirrels were all regular visitors.
The Beach, Between Main Balapitya Beach and Ambalangoda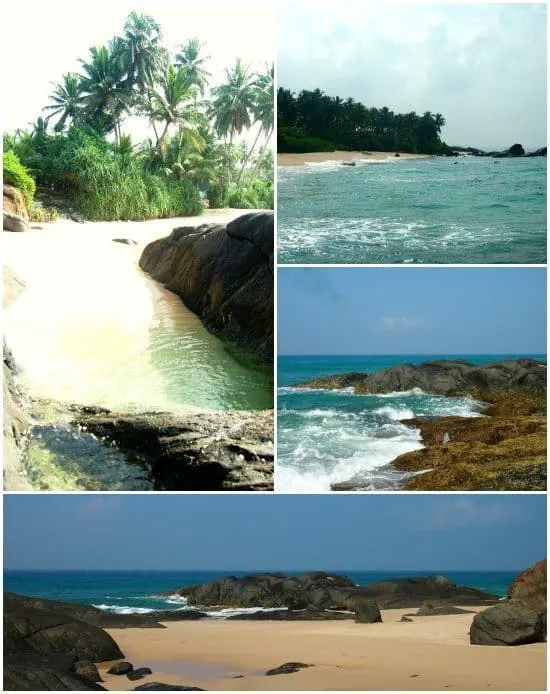 The beach is just steps away from the villa. There is a road to cross, but once on the beach you are away from everything. You won't see another tourist.
Sometimes local boys hang out down there, they were keen to teach us to jump from the rocks when the waves are highest, but otherwise, deserted. A walk south along the beach delivers more unspoilt coastline, tourism is very low-key in this part of Sri Lanka.
There is a small natural pool on the beach, refreshed by the waves and filled with small fish. It is perfect for very small children to play safely. Sri Lanka has some powerful waves, unless your kids are good swimmers and you're a good lifeguard, I'd be very cautious.
Food at the Balapitya Beach Villa
Breakfast for 4 was included in the price of the villa and came served to the patio at a time of your choice. Guests can choose Sri Lankan or Western, or a mix of the two. We selected Sri Lankan ( one of our favourite breakfasts in the world) and mentioned that the kids loved anything involving jam.
What we received was superb, one of the best dal dishes I've ever tasted with fresh coconut sambol and string hoppers. We'd watched the gardeners picking the coconuts the day before and got one to eat/drink, delicious!
There were hard-boiled eggs, bread, butter and jam to please the kids. All this came with a fine china pot of Sri Lankan tea.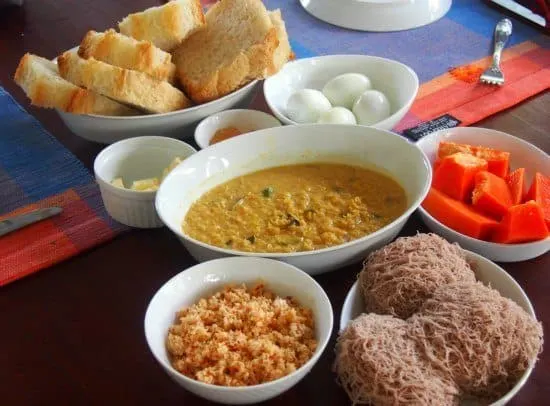 An excellent way to start the day.
The villa owners will also provide evening meals or lunch if asked. It would be lovely to enjoy a quiet family dinner here, watching the wildlife in the garden, but after such a delicious breakfast we were happy to eat light.
The only other food we ordered at the villa was a late breakfast/snack after an early arrival. The cheese and tomato toasties, tea, omelettes and sausages were very good indeed and came in at around $2.50/head
There are no restaurants in easy (kids' ) walking distance, we took a bus or tuk tuk into Ambalangoda or Balapitya to buy hoppers, samosas, roti, beer , bread, fruit, etc. 4 egg hoppers will set you back under a pound in Ambalangoda, tuk tuk fare 1-2 pounds. You could easily take a tuk tuk to a restaurant, the owners will help you.
Getting to the Balapitya Beach Villa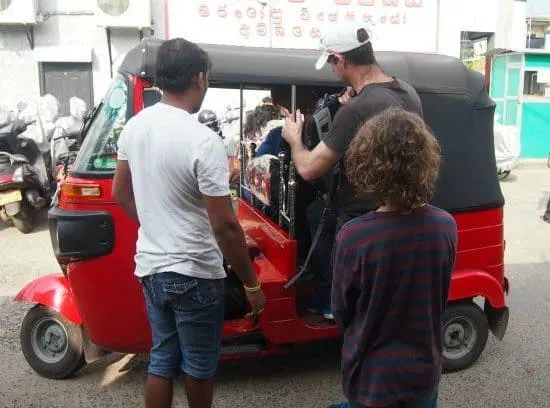 We took the train from Colombo (take a taxi from Bandaranaike Airport to the station) to Ambalangoda station (£1.50 adult, 75p child approx 2 hours). From there we took a tuk tuk the 5 minutes to the villa (£1-2). You could also take the bus along the coastal road or a tourist taxi from the fixed-price airport taxi desk.
Things to Do in the Area
Ambalangoda has long been famous for mask making, it's THE place to visit museums or see craftsmen at work.
There is a large turtle hatchery in the area( link to a cute child's blog) as well as a few smaller ones.
We found the area around the river at Ambalangoda/Balapitya to be absolutely fascinating and unspoilt.
There is snorkeling and diving nearby.
It would be simple to take the local bus to Hikkaduwa, Galle, anywhere nearby.
Sri Lanka is a relatively small country, anywhere on the island makes a great base for your local explorations or to launch into the big 2-3 day excursions to Kandy and beyond. The Villa Balapitya is no exception, tours and day trips are easy to arranged locally.
What This Villa Cost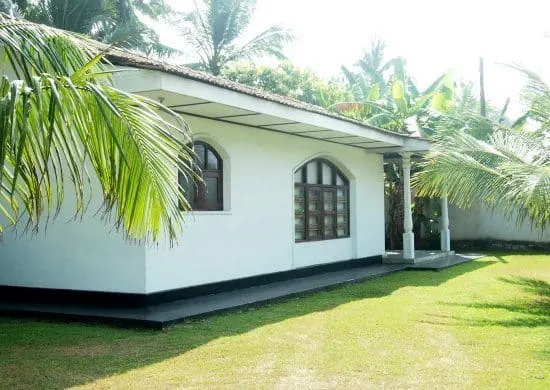 We paid £75/night for 4 including breakfast. Booking via Agoda, you can find the Villa Balapitya on their website. We think we were upgraded, the villa normally costs more than this, we actually booked a 2 bedroom apartment at the same property.
Find Villa Balapitya Beach Prices and Availability Below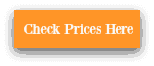 We hope you stay with us to follow our 1 month journey around Sri Lanka, we'll be covering some new destinations and a real mix of family accommodation styles. Our next stop is giving us a full-service private villa with staff, chefs, a beach-side location and swimming pool. Sound like heaven? It is. We'll also go budget at times. at others, stay in some top-mid range half board hotels. This trip, we think, is our most interesting yet.We chose this villa at Balapitya Beach and paid for it ourselves, all views are our own.
If you'd like to hire a car during your stay, use this car rental comparison tool to find the best deal!

We also suggest you take a look at this company to get a quote for all kinds of the more tricky adventure or extended travel insurance.

Try Stayz / VRBO for an alternative way to find rentals on homes/apartments/condos in any country!