This post may contain affiliate links.
Yesterday, a potential hotel sponsor asked me "Can your readers afford us?" That's a perfectly reasonable question, we've written post after post about doing things on the cheap, saving money to travel and finding great deals. I can see where she was coming from. I replied, explained our demographic and our philosophy and I'm thrilled to report, we got the deal with a top end hotel chain, you'll be hearing all about them soon.
Budget Travel Blogs
There are plenty of budget travel blogs out there, specialising in all types of frugal travel, and yes, we've been budget travellers during our years on the road. However, we are not exclusively a budget travel blog.
If a trip requires luxury or is expensive, we'll spend the money. We simply don't spend money on things that aren't important to us. We won't spend $500 per night on a hotel, when a $50 guest house does the job just fine. We see that sort of spending as wasteful and pointless, a frivolity that isn't worth it to us.
If flights are $10,000, we'll spend it, if it's our only choice (as we did for our recent UK and Jordan trip), but if we can get a budget flight fot $100, all the better!
This is how we travel, we spend big when we need to, and are budget conscious where we can. We think our readers are similar.
You Are Probably Not a Budget Traveller
If you are reading this you are probably over 35, female and extensively educated, those are my readers according to Google Analytics. Yes, Google knows who you are.
You're very similar to me, like attracts like because we can relate to each other and know how we feel about things. The only selling point of any travel blog is the person behind it and you've found someone a bit like you.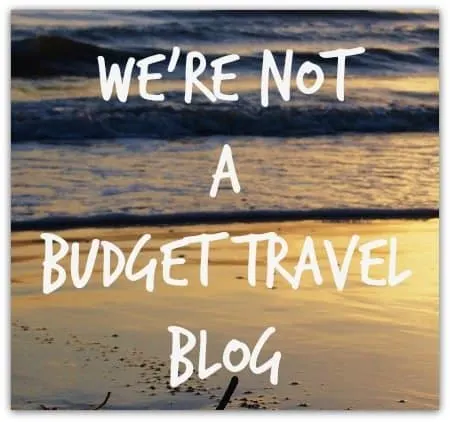 There are not many people on the planet who can, or even want to, travel the way we have. Most people do not sell their possessions and pack in their dependable jobs to take off around the world with a backpack. Some do, but not most of my readers. I'd love it if more people did that, we think our lifestyle is incredible and the freedom we've found through changing our life is worth any sacrifice. I don't even think of it as a sacrifice.
There are very few 18-25 year-old backpackers reading this blog, I can guarantee that ( if you are, say hi in the comments and prove me wrong).
We Are A Travel Blog, Not Just A Budget Travel Blog
I want to see the world and you probably do too, or have seen a lot of it already. I want my children to see the world as part of their education and I want to learn as much as I can along the way. You are probably the same.
Through this blog I want to sell the idea of really exploring the world, not just taking beach vacations. I want people to visit countries they may not have considered, I want them to step outside their comfort zones and have totally new experiences.
I want to sell the idea of travelling with kids, it's awesome and I'd love it if more people did it.
I want to show people like me, mature people, that there are many ways to travel, not just 2 week package tours. Backpacking isn't just for the kids and neither is extended travel.
I want to show that "normal" isn't necessarily right. There are other life choices.
I've said before that we are not travel snobs (It's in our About page and always has been) we backpack, we take cruises, we stay in luxury hotels, tents and village huts. In the past we've taken package holidays and group tours, but always with the aim of seeing the world. We will travel any way that is right at that particular time. We have travelled on a shoestring and hand out budget tips for various destinations (including London on a budget) but currently, we have no set budget restrictions.
If I can persuade families to visit India, Vietnam, Nepal, or any of the less common destinations, I'll be very happy indeed. I don't care if they stay in a tent or a 5 star, they're there and they're experiencing that country and that is awesome.
Yet at the same time I want to show those people who maybe don't have so much cash that there are cheaper ways of doing things, it's the same thing, getting people travelling.
Long Term Travel Is Expensive, Very Expensive if You Have Kids
We spent over $30,000 on our last "vacation". OK, it lasted 12 months and we got a lot of bang for our buck through finding great deals and staying in guest houses and not fancy hotels, but it's still a lot of cash.
Anybody who travels with kids knows how expensive it is and we make a choice, a weekend in a fancy hotel, or a fortnight in a guest house. It's about priorities and no personal choice can be wrong. Often our choices are determined by time, we're lucky ( it's not luck) we have plenty of time.
Stay With Our Travel Blog if You Want To See The World
You've been with us through 4 continents and 13 countries already. Next year we're revisiting Sri Lanka and taking on India and the Himalayas.
Most normal people don't go to those countries, they're not typical holiday destinations (with the possible exception of Sri Lanka and small parts of India). I've had a passion for that part of the world all my life and I hope to share that passion with you.
I hope we will stay in palaces, hovels and everything in between, to show the diversity that is available. A few of you will be looking for luxury, a few for the best value deals and that's great.
The common theme in our travels is the experience of the destination, it's food and culture, what it's like to be in that place, be it a bustling city a perfect beach or a mountain top. We do like travelling cheap, it's a fun challenge that we enjoy, but we also enjoy top end accommodation, who wouldn't?
My husband's background in hospitality has taken us to some of the best hotels in the world.
At the same time we will stay true to ourselves and travel our way. We will do things because we want to, not because we've scored a free press trip. This is our life, we don't get second chances and our time to travel as a family is precious.
We took a fantastic promotional trip to Italy this year, we went because it suited us and I thought the kids, in particular, would get a lot out of it. They did. It wasn't at all "budget" but I got to share an interesting part of the world through these pages. That is how we roll and it will stay that way.
Thanks for following us, I'm very excited to have you along for the ride next year, for our travels budget and luxury.
If you'd like to hire a car during your stay, use this car rental comparison tool to find the best deal!

We also suggest you take a look at this company to get a quote for all kinds of the more tricky adventure or extended travel insurance.

Try Stayz / VRBO for an alternative way to find rentals on homes/apartments/condos in any country!