This post may contain affiliate links.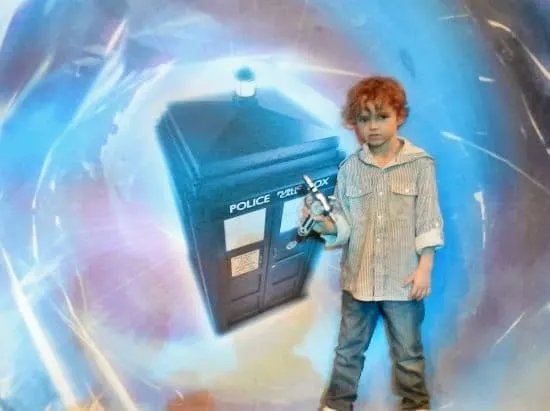 Did I tell you about the time we accidentally took a Doctor Who toy through customs?
It was back in 2011 when we were touring the UK from Australia. It was just the boys and I, Chef was stuck in work.
We're big Doctor Who fans in this family, visiting the Doctor Who Experience in London was a highlight of the trip for all three of us. A few days before we drove up to London we'd visited our Local Tescos in Wales and the boys had picked one item each from the huge selection of toys on offer. Living in Port Douglas we don't have many toys to pick from, usually.
D picked a helicopter, Boo, then 5, picked the Doctor Who toy he's proudly holding in the photo above. Do you see the problem?
It's not actually a gun, it's The Doctor's Nano Recorder
as used in his battle against The Silents. I'll grant you, it does look a bit gun-ish. It records voice snippets and injects a little nano voice recorder under the skin of willing assistants( in the show).
It was his absolute favourite toy of the moment and as such, hard to part with. He had to take it in the car with him to Heathrow, I planned to shove it in a case when we arrived. I forgot.
So, I took said Nano Recorder and shoved it in the bottom of his hand luggage under his bear and blankie and told him he couldn't play with it on the flight. We went through security at Heathrow, no problems. I thought all would be fine, surely nobody would object to a plastic toy, particularly as the mighty Heathrow were cool with it.
We had to change flights at Hong Kong, more security, more scans.
"Open bag." Said the security guy.
"Gun."
Great, he wasn't liking the nano recorder explanation at all and an inconsolable 5-year-old didn't tug at his heart-strings one bit.
But there was hope, he took the nano recorder, gave us a receipt and told us we could have it back in Australia. Cabin crew would escort it safely over for us. Yay!
Hours later we arrived in Cairns. Australian customs knew nothing about the nano recorder so I went home and sent emails.
After a few days Cairns customs told us that they did have the nano recorder and no, we couldn't have it back.
This is where it all got very messy. The battle of the nano recorder went on for weeks.
At first they claimed it was a replica gun.
We pointed out that the same toy was on sale in Myer and The ABC shop just up the road in Cairns. That didn't convince them.
Then they decided it was a laser pointer and therefore illegal.
"Have you tested it?" asked my husband.
They hadn't, eventually they did and realised a red light bulb did not a laser pointer make.
We got it back.
Happy child, happy us. The voice recorder had snippets of his Grandma and Grandad on it, we didn't want to lose it.
So, before you try to take a plastic toy that is even vaguely gun-ish through customs, anywhere, think twice. Do you need the hassle?
What about you, did you ever take something stupid through customs? It's really easy to forget things, my elderly Mum ran into trouble in Australia once for a sealed box of tea bags in her case, she just totally forgot. Australian customs are notorious and the memory lapse excuse won't wash. We are ultra careful and declare ANYTHING that might be a problem. We've taken wooden items back from Bali which they said were fine. If an item is considered a contamination risk they will irradiate it for you at around $30/item. Rather like my post about bike hire on Ko Phangan, the moral is be careful!
The Doctor Who Experience has now moved to its new ( and rightful) home in Cardiff Bay. We'll be going again at Christmas and we can't wait!
If you'd like to hire a car during your stay, use this car rental comparison tool to find the best deal!

We also suggest you take a look at this company to get a quote for all kinds of the more tricky adventure or extended travel insurance.

Try Stayz / VRBO for an alternative way to find rentals on homes/apartments/condos in any country!