This post may contain affiliate links.
I was lucky enough recently to try a pair of xS2 XFyro wireless earbuds. As an ultra runner, swimmer, triathlete and traveller, I've really put these wireless, waterproof earbuds through their paces to review for you here. The XFryro Xs2 earbuds have so many features that are, honestly, amazing. The earbuds are more high tech than any device I've ever tried, they're a fantastic piece of equipment for sport, travel or daily use. I'll run through the features and how they performed for me below. These earbuds cost roughly $99 US, that's a ballpark figure, so they won't break the bank and make a great Christmas gift for the adventure lover in your life. XFryo has two wireless earbuds in their line up plus a full waterproof Bluetooth speaker that you may also like to look at. I'll give you links at the end of the post.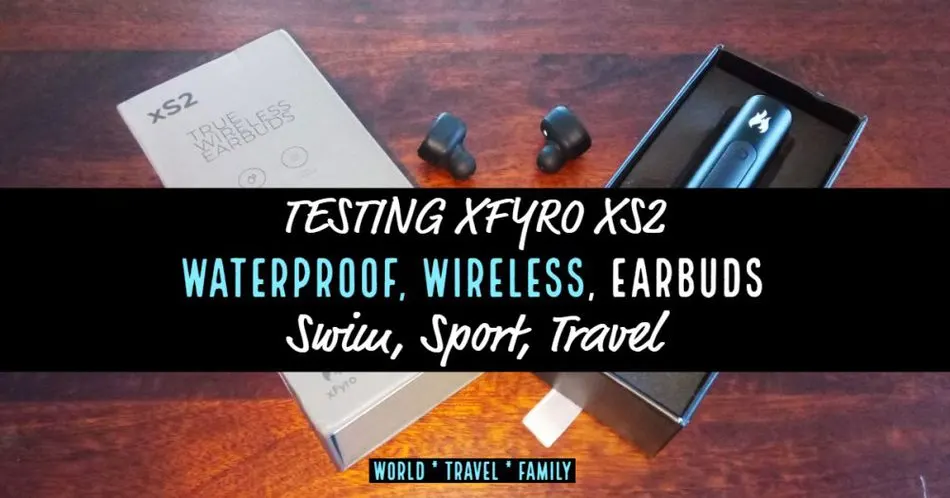 We were asked to test the Xfryo earbuds by the company, we were not paid to review favourably. All opinions here are genuine.
Wireless Earbuds Xfryro xS2 Features
The xS2 wireless earbuds are waterproof, come with wireless charging station and powerpack, Bluetooth 5, up to 5 hours of music playback and quick charge, delivering 90% charge within an hour.
They come in 3 colours, black, blue and red and can be ordered online with free international delivery. The more pairs you order the cheaper they are. Perfect if there are a few of you in the family that run or like their music.
Why You Need Waterproof Earbuds For Running and Sport
XFryo xS2 earbuds are rated to IPX7 which allows for wearing and listening to music while running in the rain, the bath or the shower if needed.
This is perfect as after a sweaty run you can rinse them under the water without worry. I've had numerous splash-proof headsets that failed not because of water but because the sweat corrodes the charger points. That simply doesn't happen with xS2 earbuds if you rinse them off.
Strictly they're not sold as swimming earbuds but I had a go with them in my pool at home.
With a swim cap on, they worked well and stayed in my ears. Without the cap, I think they'd fall off as you swim so I won't be taking them snorkelling on the Great Barrier Reef.
The only main issue in using these for swimming lies in range. With Bluetooth being limited to 30 feet or approximately 10 metres you can't use this in an Olympic size pool if your music device also isn't waterproof.
In my swimming pool, by putting my phone halfway along it worked nicely. For enjoying a resort pool on holiday or vacation, maybe floating on a lilo, they should work fine.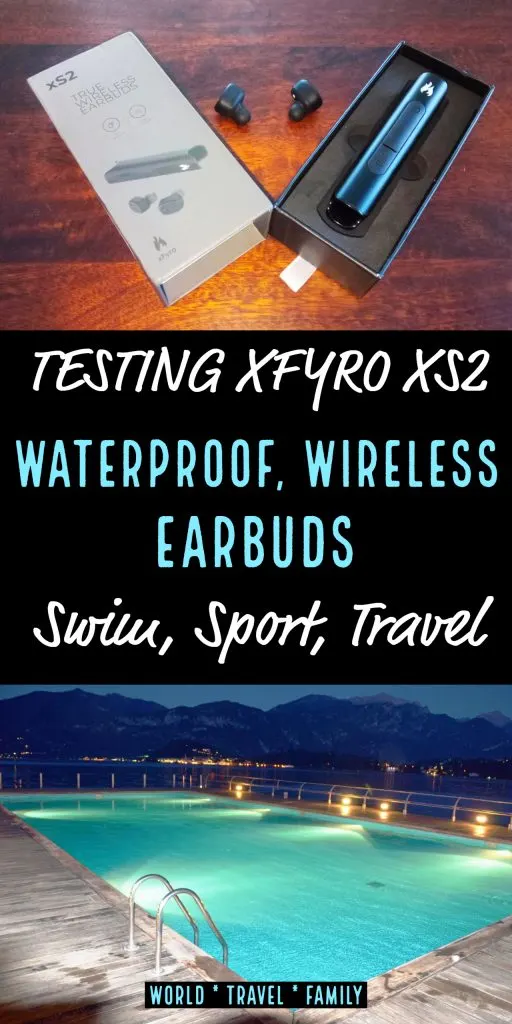 Battery Life of The XFYRO XS2 Earbuds
One of the best features of xS2 is the long battery life. Add to that the very clever charging system.
With up to 8 hours on a full charge and up to 5 hours of listening to music, they outperform most other wireless earbuds on paper.
The case for the XFRYO XS2 Earbuds is also the charger. So if you're not using your earbuds for a while, simply returning them to the case starts the recharge.
This case/charger is actually a portable power bank or battery pack and can give your earbuds 50 hours of charge.
The earbuds lock-in to the charger case using magnets, making them difficult to lose, perfect for travel. Lights on the case and earbuds will tell you if they are fully charged and indicate how much power is left in the power pack.
30 minutes of charging the earbuds, from empty will get you to 75% charged. An hour of charging should give you a full charge.
You can also use the case as a mobile charging station to charge up your mobile phone or other electrical items via USB.
Automatic On/Off Detection Earbuds
Once the initial set up is complete xS2 Earbuds will automatically connect to the last known device once they are taken out of their charging case. Likewise, they turn off when returned to their charging case.
This saves having to turn on and pair each time and reduces the chances of not pairing successfully, which some of my other earbuds and headphones have suffered from.
Smart Controls
You can control most things with your earbuds from music, calls and even asking Google or Siri for help. The earbuds themselves have easy to press, large, touch controls externally.
It is the usual push once twice etc. I liked that for skipping forward through your playlist and increasing volume you use the right-hand side (right ear) and for skipping backwards or decreasing volume, the control is on the left-hand side (left ear).
I've found this very simple to do while running, no need to even pause.
You can use either side for making and receiving calls or rejecting and ending calls. You can also just use one earbud at a time. This allows you to have one ear free if you're just using them for phone calls and don't want to be cut off from everything.
While running I simply carry my phone in a pocket or armband.
Great Sound Quality + Noise Suppression and Isolation
XFYRO xS2 wireless earbuds offer brilliant sound quality for their size. Once you find the right size earpiece they'll lock in cutting out most outside noise.
While you can still hear some outside noise it is cancelled out significantly from my experience, even with no music playing. If you're running you need to be aware of this as you might not hear dangers approaching.
On the other hand, if you're on the phone you won't struggle to hear the other person regardless of the noises around you.
Making phone calls are simple and easy with these earbuds. All the outside noises are cut out leaving you just focusing on the call.
The microphone picks up your voice but reduces background noises well. Of the several calls, I've already made they have performed without issue.
It is a personal choice but for me, it works really well and I much prefer this way as I don't have to have the volume turned right up to drown out other noises.
Cost of These Earbuds
Sure, you can pick up a cheap pair of Bluetooth headphones with attached wires for not much more than $20 but they won't last and the sound quality will be poor.
I've done this for the last few years and it is always frustrating that the cheap headsets fail in no time.
With xS2 Wireless Earbuds you get more than just a pair of Bluetooth headphones. No wires, self-charging, and a portable power bank to list a few things. All this currently at less than half the price of Apple's Airpods which while similar fall short on battery and charging.
If earbuds aren't waterproof or water resistant they are very little use to me while running ultra marathon or marathon distances or even on a short run.
You can check out the new xS2 Wireless Earbuds here and also look at other products on offer from xFyro, the manufacturers of xS2.
If you'd like to hire a car during your stay, use this car rental comparison tool to find the best deal!

We also suggest you take a look at this company to get a quote for all kinds of the more tricky adventure or extended travel insurance.

Try Stayz / VRBO for an alternative way to find rentals on homes/apartments/condos in any country!