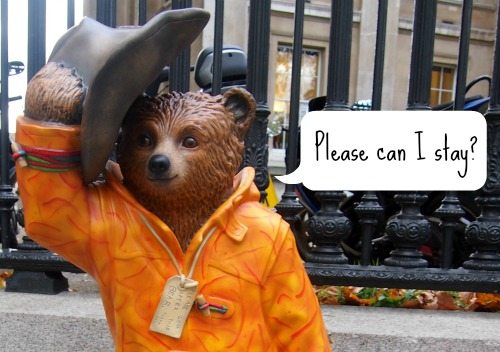 To quote David Tennant "I don't want to go."
I don't have Bernard Cribbins to save but I'm about to perform a little regeneration of my own. I'm preparing to transition from static London Mummy to Nomadic Globetrotter Mummy once more, just 3 months to go now and we'll be back on the road.
Why Do We Really Travel?
I've been wondering recently if my desire to travel has always been about being unhappy with where I was. I had a job and a relationship that I hated for 20 years, I travelled a lot in that period. I didn't like living in Australia, I had to get out, yet now, in London, I'm happy. This is my place, where I belong and I could stay here a long, long time before the travel bug bites again.
I've been on the travel blogger circuit a while, a lot of other bloggers suffer from depression. Are we all running away, trying to find that something more that will make us happy?
I've always wanted to see the world and to learn about the peoples, places, cultures and histories that make up the human race, that is absolutely true. When I wasn't travelling I always had my nose in some worthy travel literature or was watching documentaries from around the planet, so the fascination has always been there. Yet now, in London, I'm happy to stop. It's a strange coincidence and I don't have an answer.
Why We Can't Stay in London
We are living so cheap the cracks are starting to show. Things are wearing out and we can't afford to replace them on our self imposed £100 a week budget. If something big breaks, like a computer or a camera, we'll have a major problem.
Getting by on the minimum cash possible is only fun for so long, Christmas is coming and who doesn't want to treat their kids at Christmas?
The kids were both sick last week, the extra we had to spend on medicines and cleaning equipment ate into our budget, couple that with winter wardrobe upgrades and this week I've got to get by on £50. It's rare that I have the full £100 at the start of the week, there always seems to be an overspend we're carrying.
Chef's hours are insane, some days we don't see him at all, he leaves around 5am, sometimes as early as 3am and is home after the boys and I have gone to sleep. He's working a minimum of 6 days a week, often 7. He can't keep this up forever and he's becoming a stranger again.
Why I Love London So Much
So many reasons!
The people
The weather
The facilities
The history
The museums
The food
The shops
The clothes
The houses
The multiculturalism
The transport
The travel links
The education
The BBC
The library
I think I just love everything about it.
Do I have to go back and explain all those points? I don't think so, but if you don't "get" any of them please ask in the comments, I'll explain.
The kids are happy here, loving their lives, but they are looking forward to Sri Lanka, they loved it there and D is excited about India.
I want to stay but I can't. So we'll treasure our time here, move on to Sri Lanka, another place I love and in 6 months or so we may be back. We'll have to start again, find another flat to make our base. I've loved living in this little flat with my view of the trees and the park. I watch the squirrels eating the chestnuts and sometimes I'm woken in the silence of night by a screaming fox or a hooting owl.
We're so grateful for this time, so thank you Chef, for having the skills, the ability, the strength and the determination to work like a dog to fund us. You're 1 in a million.