This post may contain affiliate links.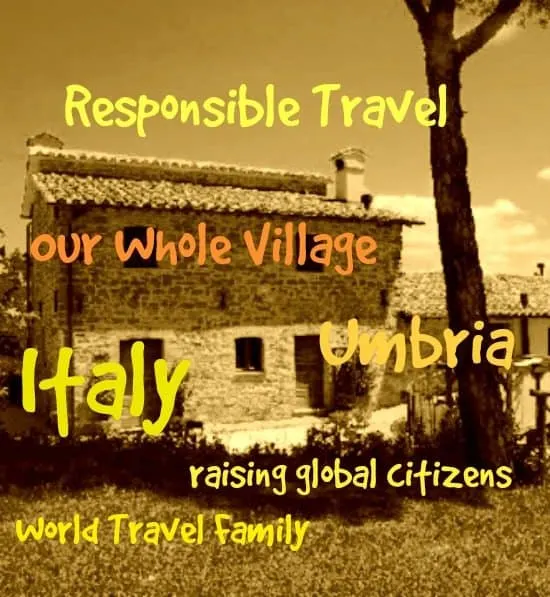 Unique family vacation ideas are dear to our hearts at World Travel Family. We love the unusual, the educational and the fun ideas the best. We're really excited to tell you about a new concept in family vacations that ticks all those boxes, we think it's unique, we've certainly never come across anything like it before.
We're Taking a Family Vacation to Italy
Nothing unusual there, thousands of families take their kids to Italy every summer, but this is different.
We're delighted to be taking a special trip as guests of Our Whole Village, a community of like minded travellers and a responsible travel company with a difference.
Our Whole Village is about raising mindful and global citizens. You've probably seen me use those words before, this is part of why we travel, to bring education through global exploration, knowledge and connection with people and cultures.
Making Your Unique Family Vacation Achievable
Not everyone is comfortable with setting out into the world with a backpack as we do, not everyone has the time for it.
Most don't have our level of freedom and that's where Our Whole Village come in, they want to help families to connect with the world and nurture values such as compassion, respect, curiosity, integrity and sense of community in their kids.
Our Whole Village want to make these goals easier to achieve so that families can truly enjoy their vacation time together. They want to remove the organisational headaches and the stress, it happens, family travel has it's dark side. Try this post on real life family travel from when we were in Thailand last year, yep, we have bad days too.
They want to help you and your kids explore the world, from your armchair and in real life while focusing on responsible travel and integration with communities and the natural environment.
Where Are We Going, What Are We Doing?
We're going to Italy, to Umbria, it's just a few days away now. We're looking forward to learning Italian, taking cooking and pottery lessons, tending the organic gardens, collecting fresh eggs and sampling amazing regional food. We'll be visiting caves, temples, churches, wineries, amphitheaters, markets, a jazz festival and a chocolate factory. It's all included in the trip, all pre-arranged. Our Whole Village have even organised dairy free meals for poor D, he's developed a stinker of an allergy lately. This one week trip has far more packed into it than we would be able to organise as independent travellers in a similar period. Chef and I have taken group tours before ( we met on one) and highly recommend them as a way of packing a lot into a short vacation .Click here for our post on what small group adventure holidays are really like. This will be a first for us, taking a group tour with the children, but something I've wanted to try for a long time, I'll be reporting back regularly and telling you all about it.
Maybe sign up to follow us on Instagram to catch the activities, scenery and food of Italy as it happens.
If you'd like to hire a car during your stay, use this car rental comparison tool to find the best deal!

We also suggest you take a look at this company to get a quote for all kinds of the more tricky adventure or extended travel insurance.

Try Stayz / VRBO for an alternative way to find rentals on homes/apartments/condos in any country!