There are hundreds if not thousands of families living differently, right now, all over the world. Families who don't have regular jobs, steady incomes and kids in school. A lot of us travel already, some long to travel and are working towards that goal. Some travelling families are bloggers or vloggers, they're quite famous in their own ways, others just do it quietly. Millions of families home educate, there's nothing really very weird about that these days at all. But having the guts to step away from conventional society and say "No, it's not for us." is a big step and one that can lead to  rejection from family and friends who, perfectly happy, stick with the expected ways. They see an alternate choice as rejection of their own, they can take offence and we have to forgive them that. Not always, I know of some travelling families who receive massive support from their original friends and family, but others don't. Yet despite the enormity of the change, plenty of families do it and that's what I wanted to talk about today, the numbers and the diversity within those numbers of families living the dream.
Before I go on I should mention that we are a very lucky, privileged crowd. No luck at all is involved in choosing and creating our lifestyles, we make that happen for ourselves through extreme hard work and determination, but we're incredibly lucky to be born in the countries with the advantages. The countries with the strong currencies, good health care and better educational and employment chances give us all a big leg up and we should all stop from time to time and realise that not everyone can do this. People say it all the time " Anyone can do this.' All they need to do is buy a book, read the course, follow the mantra, well everyone can't do this. We're born lucky. What we then choose to do with that advantage is up to us.
Yesterday a family popped up in my news feed. Mr and Mrs Whatever from Brighton wanted to go and live off-grid in Costa Rica with their two kids. That's great, a fabulous thing to do and dozens of other families have done it before them. What was different about them? They wanted us to pay for it for them. They'd started a go-fund-me of some sort , not just to raise the air-fare, but to raise a huge amount of money to get them nicely set up and living their dream. Are they insane? Could they not see that they'd be setting our movement back, not just the travelling families but the homeschoolers, by giving us all a bad name and feeding a hungry media misinformation and ammunition to knock us all down? It made me cross.
I don't want to be associated with people like that, but inevitably I will be because those who live life the expected way already think we're all kinda crazy. So I thought I'd introduce you all to the travelling families I'm more than happy to be associated with. We're not crazy, we're sane and we're diverse, there are hippies, teachers, business people, entrepreneurs, writers, photographers, nurses, software engineers, chefs and scientists, all sorts of people are taking the opportunity to live differently. Most are self-employed, but some aren't, some just work remotely for big companies. These days it's not unusual at all to go to work from your laptop. This best selling book has great information and inspiration on working remotely for yourself or for an employer.
When I started blogging back in 2012 I had no idea that so many families were already travelling and blogging about it. I'd never seen or even heard of a travel blog and thought our idea, to take the kids around the world to further their educations, was unique. How wrong could I be! There are plenty of us and the movement is growing every year. Some of these families I've discovered through their websites, some through social media, some through online groups. A few I've even met personally. A lot of these families get together and have huge meet-ups, it's not our scene but if you have a strong social need and are considering a lifestyle change, just know that it does happen. There is a global community of travelling families and you can be a part.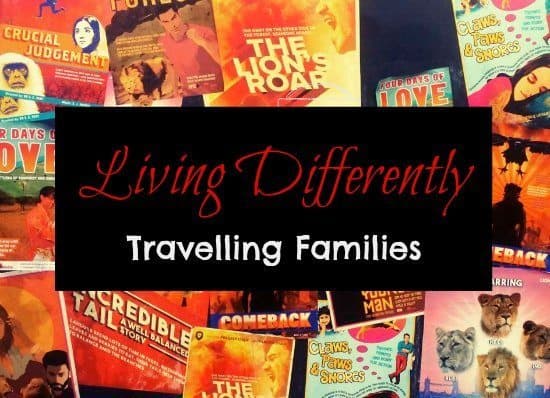 As one of the themes of this post was diversity, I hoped to represent all kinds of travelling families in this post, but you know what's missing? Black travelling families. I don't know of any. I know a few Asian families, but so far they're on the road short-term. Isn't it strange that black families are absent? If you know of any please do let me know.
Travelling Families and Families Living Differently
Here are a few other travelling families, some may be new to you. This isn't a comprehensive list and I've tried to only pick families who are the real deal, who have changed something completely and possibly permanently. You'll see that there is huge diversity in how we live, we are by no means all the same.
Us, The Longs, World Travel Family
I've got to start with us, just in case somebody has come to this page by chance. Hello, my name is Alyson and I've been travelling for 3 years with my family, supporting ourselves with blogging and online work and some temping from my husband. We were homeschoolers first and we're passionate about that, the travel came after the educational revelation. We're not just home educating because we're a travelling family and our philosophy of finding the education through travel, I think, shows strongly on our website. You can read more about us here.
A lot of families talk about worldschooling, you can read what that is here, but they interpret the term in various unique ways, some still send their kids to school, some homeschool traditionally, some, like us, are hugely eclectic, some unschool, you'll even find the radical unschoolers among our members. We are all different, there is no one "right" way to do things.
The Ridgeley's Have Been Living Differently a Long Time.
This isn't a new phenomenon, I know personally of families who took off with their kids around the world as much as 10-15 years ago, one I know particularly well are our neighbours, the Ridgeleys, I first met Duncan when he emailed me describing himself as, "You, 10 years ago". His kids are grown now but he still lives differently, in Romania and Egypt as a hotelier and as a global online entrepreneur. They weren't bloggers but he wrote a book Somewhere Different about his first adventures in a camper van with his 3 kids. He's not a writer, he's a photographer, but it's a good read. The Ridgeley's also survived the Sri Lanka tsunami, that harrowing story is in the book too. Their youngest was just 9 at the time. I've met one of his grown-up children, she lives in the UK, she's a fantastic young woman and still wants to travel more. Penny, Mrs Ridgeley, is one of the nicest people you could ever meet, we spend a lot of time together in Romania while Duncan is off travelling, he spent half of last year travelling and working in India. He owns the website Working Traveller, something he created to help people find employment as they travel and help people who needed help find the people with the right skills.
Erin and Josh Bender run a slick travel blog and business. They work really hard at what they do and Erin's marketing background shows.  Josh is an incredible and recently self-taught photographer. Their 2 children are younger than ours and they do still sometimes go to daycare, camps, schools etc as they travel. They have been travelling with their kids for around 4 years.
The Nomadic Family have hung up their backpacks these days but boy were they fun to follow for the 5 years they were on the road. Gabi and Kobi were very much like us, in that they needed to make blogging work for them financially to keep travelling. Unlike us they were more conventional homeschoolers, the 3 Klaf kids did set studies every day and eventually slotted back into regular school.
You've got to love single mum and son Lainie and Miro for being the creators of Project Worldschool. They had the vision to get that ball rolling and it's a wonderful thing. Travelling or alternately educating teens get together all over the world, regularly, forming temporary learning communities and forging social bonds. I love their idea and can't wait for my own boys to be old enough to go along. They are unschoolers. If you're new you may not know what unschooling is, it's something different again in the educational world, you need to read up on it ( go read Lainie's site) , or there are classic books on the subject.
I found this family on You Tube recently by chance. They eat raw and sometimes put down roots, I believe they spent a long time in Costa Rica as the above misguided family intended to do and I believe they are now travelling. I've watched a few of their videos and they seem a happy bunch. I included them because I was doing a Skype consult with a young family a few days ago who commented that " Everyone we meet seems to be vegan or fruitarian or something." well these guys are raw-foodies and that's OK. I was vegan for a while, I failed miserably at it, but if you can make it work then more power to you. I simply wanted to illustrate diversity, if you're any sort of travelling family at all, you will find others like you.
Heidi and Alan changed their lives dramatically by leaving America and their big American lifestyle for a new reality, Spain and an apartment on the gorgeous Mediterranean. It's my favourite sea in the world and Spanish food is superb so I can totally relate to that. They need less income now and raise what they need online. Their kids still go to school but they tried education-on-the-road for a 12 month family gap year, sometimes joined by a 3rd generation, the awesome Grandma Bev ( everyone loves Gma Bev!) A more subtle change than many of us, but still a change and one that brought them a new and more enjoyable way of living with more options, more freedom and more living.
The Aldersons of Can We Live Here
A global journey from a home in London to one in Bali. I've never seen their blog, but I have read the book and enjoyed it. If you're considering setting up home somewhere like Bali, this one is for you. Interestingly they returned to London after their time in Asia and found that London just doesn't work for their family despite all the obvious advantages. We adore London, yet feel the same. They left once more.
Can we live here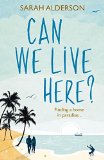 Everyone knows the Millers, possibly the most famous of the family travellers and extremely well known bloggers and writers. Their 4 children are almost adult now and are a family travel, alternate education, success story.
A globe trotting family with pre-schoolers, they're up-budget and have an established location-independent income . Bethaney aims to visit 100 countries before she's 40, she's on target!
I hope Mary won't be offended if I call her an old-timer of the travelling family circuit, she's been doing this a long time but I think she's considerably younger than me. Her family recently spent a very long time in Hawaii and I think have just settled in the US. Mary is a self-confessed " card-carrying tree-hugger" an unschooler , and a nurse not keen on vaccinations.
I'm starting to get to know this family well, we've collaborated on projects. These guys moved to Costa Rica in 2014 ( Costa Rica is popular!) and while there, decided to continue the adventure. They are digital nomads, accountancy and graphic design are involved and their kids do go to school. I'm expecting a big announcement from them soon, I believe they're up to something and are going to unveil a new project.
I'm slightly in awe of Christine Gilbert, she makes a fortune from her websites and courses and I still don't really know how she does it. At the moment she's teaching me photography, she offers courses in photography, writing, art, blogging, you name it. They were National Geographic Travellers of the Year a few years ago and I think that always gives the winners a big jump start, but what she's done is incredible. She works so hard and everything is always done well. I've just read her book, Mother Tongue, it's an excellent account of the couple's early travels on her quest to learn languages and her family's upset that set her off on an alternate lifestyle path. It's rightly a best-seller.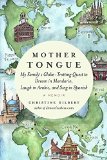 Stereotypical homeschoolers do so for religious reasons, that's actually a myth, I know far more home educating families without strong religious beliefs than with, but the Inions are a deeply religious family, in a lovely way.
There are soon to be 12 Inions, Stacey-Jean is expecting another, some of her family are adopted and several have extra-special needs. I honestly don't know how she does it, she and her husband are amazing. The Inions were another National Geographic Travellers of the Year winning family. If anyone would like to nominate us we would greatly appreciate it!
My Friend, Teacher turned Unschooler, Now Travellers, Going Where the Wind Blows
Sam was a high school teacher, now she's an unschooling mum of 4. There is ASD in her family and a lot of serious allergies yet they've just set off to slow travel the world. I include her in this list for parents of kids with autism and allergies and also because her permanent life change, from teacher to unschooler, came years ago. She was one of my mentors in homeschooling and in blogging. We wish them well on their new slow-travel lifestyle.
The Van Der Ventners of Family Trek and Unworking
Experiments in lifestyle Design and work -life balance from Clark Van De Ventner. I haven't ever read the blog, but I have read the book and it's extremely interesting, Clark had a massive fail and ended up living in a garage, from there he created his dream lifestyle of sun and snow. Unworking.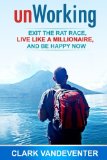 There are many, many more families that I could include here but I've just about run out of steam for today. Who are your favourites, want to tell us about them and what makes them special in the comments? Maybe I'll add a few more.
Cheers, thanks for being here, hope we can help you to start your adventure.
Want to read more?
You'll find the first post in the "Living Differently" series here with links to all others in the series
The post about raising the money, saving and keeping the money coming in on the road is here.
The post about alternative education and getting your kids out of school is here.