This post may contain affiliate links.
If, like me, you've dreamed of visiting Tibet and the iconic Potala Palace has long been near the top of your list of must see places, you'll enjoy this post. I've checked out much of Asia, some of China, and now, finally, Tibet . It was a dream come true.
We saw wedding shots being taken on our 8 day journey in Tibet, most around the lakes mentioned below.
You can read about these wedding backdrops, as shared with us by local experts, here. This post is a glimpse into local culture too, who'd have even thought of Tibet as a wedding destination? I hope you enjoy our post on top 5 places to take wedding photos in Tibet.
I have many, many posts coming soon on our time in Tibet. Please start with our Tibet travel blog overview here.
Places to Take Wedding Photos in Tibet
Tibet's stunning scenery, natural beauty and magnificent cultural sites such as monasteries and palaces, offer some of the most memorable and stunning wedding photo shoot locations in the world.
Increasingly, couples are putting Tibet's majestic mountains, sacred lakes, and incredibly beautiful religious structures in the background of their wedding photos.
Best Time to Visit Tibet for Weddings and Photography
If you are eyeing Tibet travel for wedding photos, the best time to go depends on your main wedding photo location. For lakes like Yamdrok Lake, the best time of the year would be spring, early summer and autumn.
For Lhasa, you can basically visit every time in the year but standard tourism season from late spring to early autumn (avoiding the rainy July) is advisable. This season will also be relatively warm enabling you to take photos without catching cold.
Wedding photo shoots can be demanding so to avoid high altitude sickness, try not to exert yourself too much and slow down if you are climbing up or even standing up. Altitude sickness is usually felt like a bad hangover so it may really affect your smile in the wedding photos.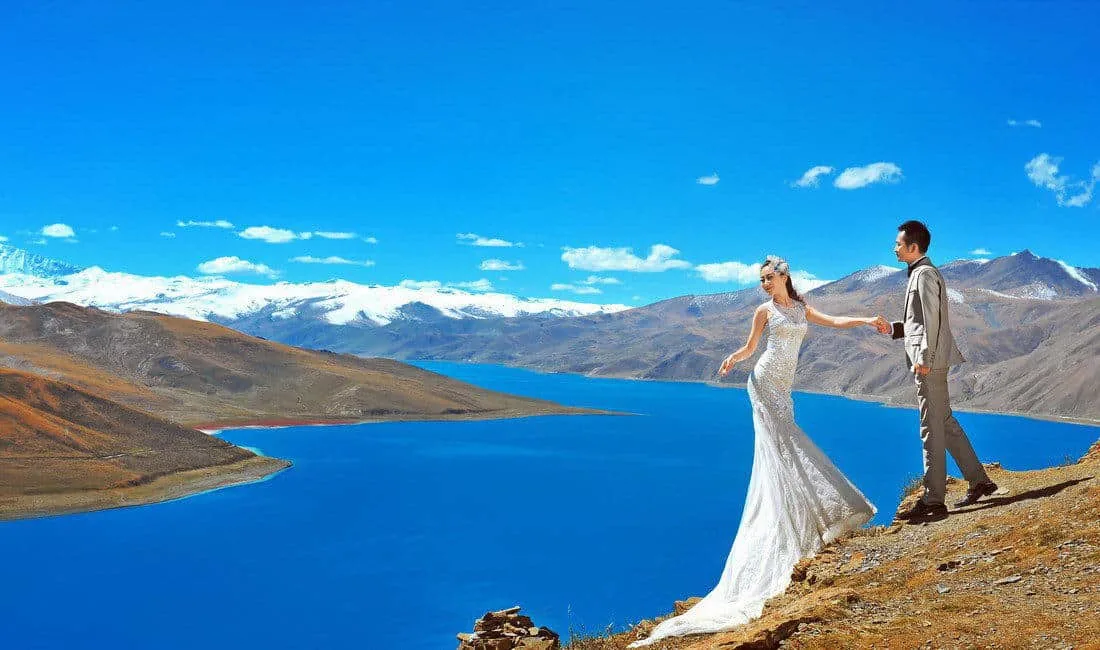 There are many locations in Tibet for a photo-shoot. The most popular cultural locations are in and around Lhasa and for nature shots, the most popular background is a Tibetan lake. Here we will give you details of top 5 places to take wedding photos in Tibet.
Lhasa Barkhor Street
Located in the old town area of the ancient capital of Tibet, Lhasa City, Barkhor Street is the heart of traditional Tibet, a tourism symbol, and a must-see tourist attraction.
This round street circles the wonderful Jokhang Temple, the spiritual center of Tibet and the holiest destination for all Tibetan Buddhist pilgrims.
The street is a magical place showing the original outlook of Lhasa and nicknamed as "the city of sunshine".
The street is full of shops and stalls selling traditional and religious items and boasts a very spiritual atmosphere.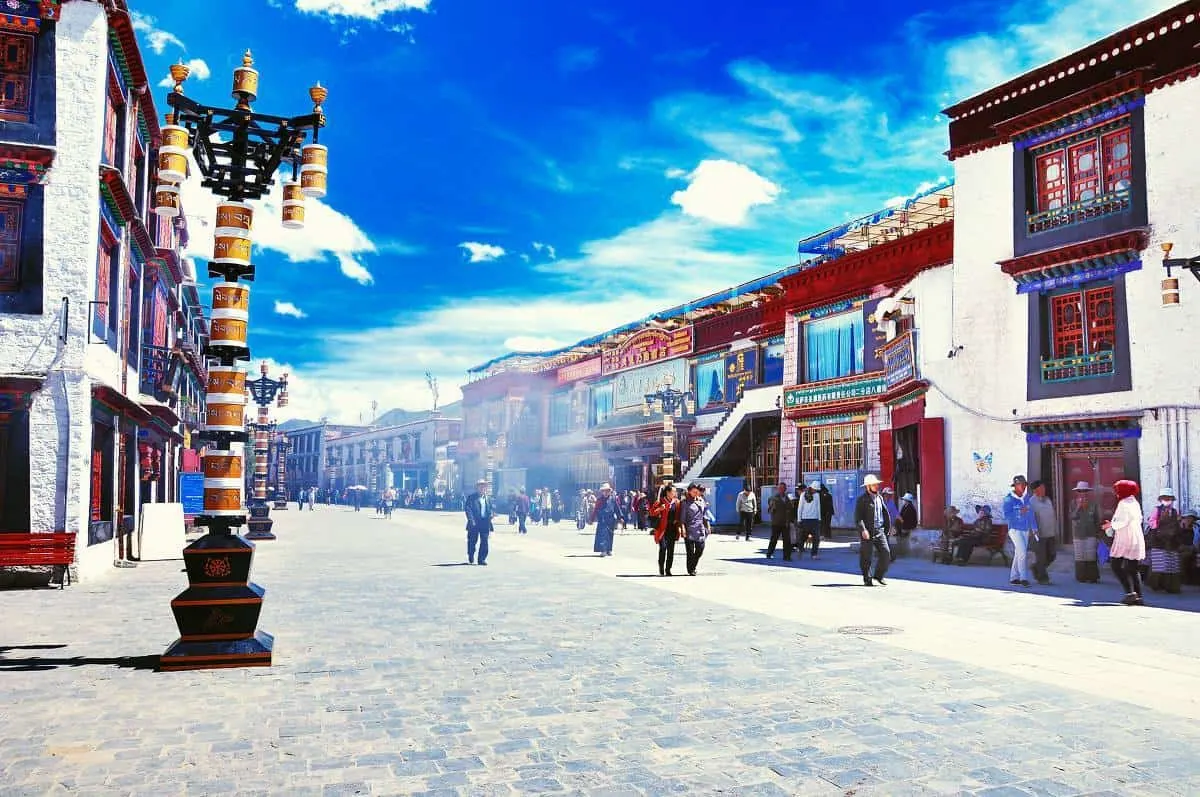 Lhasa is the heart and entry point for Tibet so the accessibility of Barkhor Street is very easy.
This is also the real, traditional Tibet so if you are planning to put Tibet in the background of your wedding photos, this is the ideal city scenery you can find.
The street is a very good place to take photos and there are some nice spots to take wedding photos like the entrance of the Jokhang Temple. It will also be nice to put some authentic shops and even pilgrims in the background (the street is full of pilgrims circling around the Jokhang Temple making their kora). You should walk in a clockwise direction along the street.
Yamdrok Lake
One of the most popular wedding photo backgrounds in Tibet is a lake. There are many lakes in Tibet whose crystal-clear water reflecting the sky, clouds and surrounding mountains offers a surreal place to take memorable photos.
One of the most popular Tibetan lakes for photography is Yamdrok Lake, a 72 km long fresh water lake surrounded by snow-capped mountains and many small streams. Yamdrok Lake is also one of the three largest sacred lakes in Tibet. Like mountains, lakes are considered sacred by Tibetan people. They are believed to be the dwelling places for protective deities. This is also believed to give these sacred places a spiritual power.
Yamdrok Lake is popular not only because of its incredible beauty and mystic soul which will add a spiritual dimension to your wedding. It is also easily accessible since the lake is located right next to Friendship Highway connecting Tibet to Nepal. It is also just 170 kilometers away from Lhasa. There are also some islands and monasteries in and around the lake to provide nice backdrops for your photos.
Brides should choose elegant white wedding dress to blend well into the scenery but traditional Tibetan dresses and accessories are also highly recommended for the photoshoot. In this area, you can also have Tibetan Mastiffs in your photos as well as other animals like yaks.
Namtso Lake
Namtso Lake (meaning "Heavenly Lake" in Tibetan language) is the largest lake in the Tibet. Unlike Yamdrok Lake, this lake is saltwater (it is the highest salt water lake in the world) and its turquoise waters offer yet another majestic background for wedding photos in Tibet.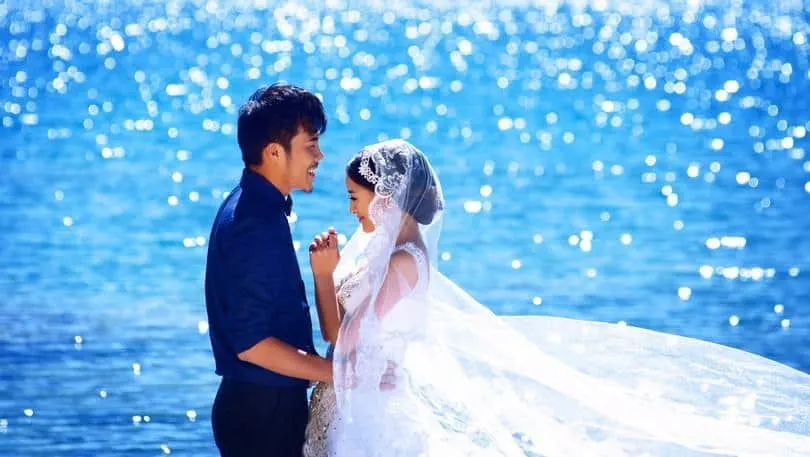 Namtso Lake can be visited with a day trip from Lhasa but the road is usually closed from December to March and the best time to visit is June to mid-Oct.
There is no hotel accommodation around the lake but camping is possible. Still, Namtso Lake is just 140 kilometers away from Lhasa so if you are planning to take photo shoots in nature, this is an ideal location.
Manasrovar Lake
Among all the lakes in Tibet, Manasrovar Lake is the holiest.
It is located at the southern foot of majestic Mount Kailash, the most sacred mountain on the planet.
This almost perfect pyramid shaped mountain provides a fantastic background for the lake if you have a photo shoot on the southern shores.
The area is in Ngari (in the west of Tibet) and is called "The Roof of the Roof of the World" as it is relatively high and remote compared to central Tibet.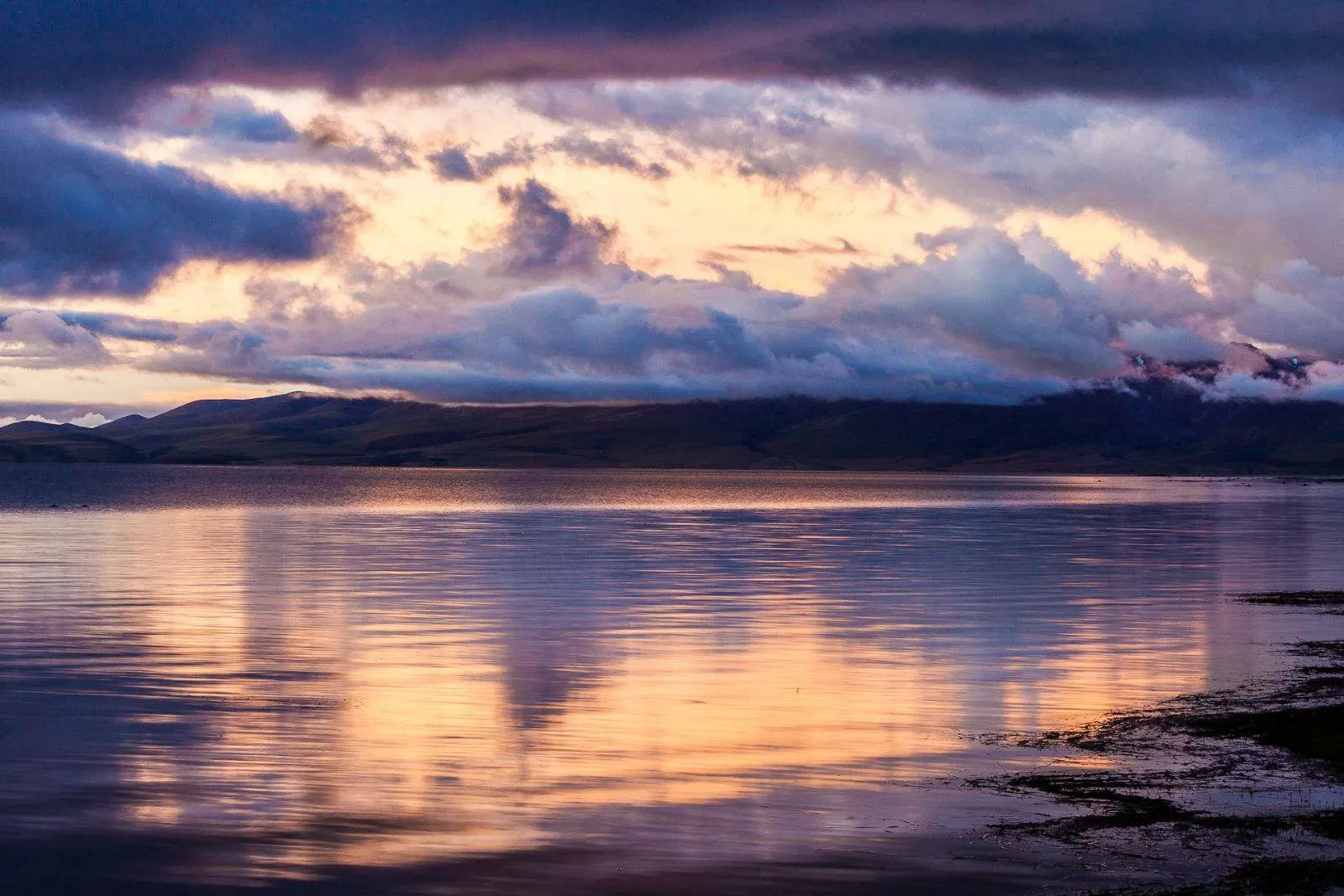 The sacred mountain and lake with many monasteries around will add some spiritual element to your wedding. In the end, this lake is the earthly reflection of legendary Lake Anavatapta, a mythical lake lying at the center of the world according to Buddhist cosmology. The name Anavatapta means "heat-free"; the waters of the lake were thought to be able to soothe the fires that torment beings.
Unlike Namtso Lake and Yamdrok Lake, Manasrovar Lake is quite far away from Lhasa (938 kilometers) and is in an extremely remote part of Tibet. If you want to put beautiful nature and magnificent mountain in your wedding photos, this is a perfect place to be.
Bome, Nyingchi
Bome of Nyingchi in Southeast Tibet has a typical subtropical monsoon climate and since the elevation is around 2,700m, it has large forests unlike many parts of the country. The area is known as "world of peach blossoms", with its beautiful primeval forest, snow-capped mountain ranges, great rivers and holy lakes and splendid glaciers.
Bome in Tibetan means elderly. It is 636 kilometers away from Lhasa and located on Sichuan-Tibet Highway No.318.
Influenced warm ocean currents, the region has a tropical humid and sub-humid climate. In March, peach blossom offers fantastic wedding photo opportunities. Autumn, you can have a very colourful autumn forest background for yet another fantastic wedding photo opportunity. The forested valleys surrounded by snow-covered mountains offer a Switzerland like environment and a great background for your wedding photos.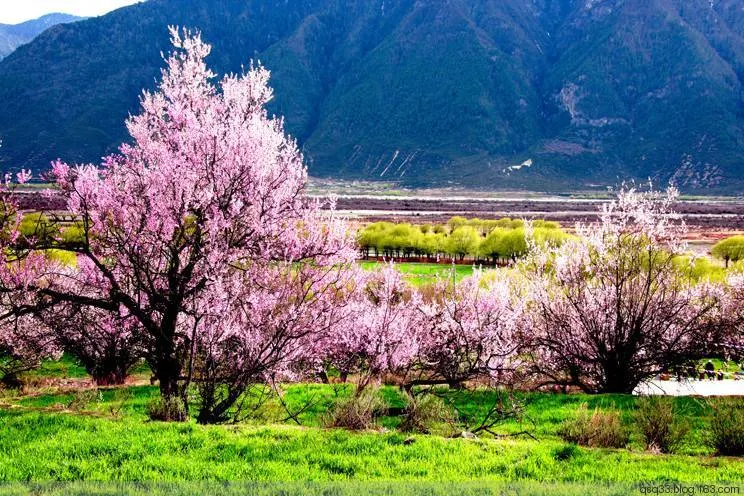 Many couples are choosing Tibet for their wedding photos. If you love the wilderness, altitude, high mountains, lakes, snow and spiritual atmosphere, Tibet offers the best background for your once-in-lifetime wedding photos. It is also a very good place to rest your mind and refresh for the big day. Besides all of its beauties, it is very cool to have your wedding photos at the top of the world, which literally represents the place of your wedding in your heart.
If you'd like to hire a car during your stay, use this car rental comparison tool to find the best deal!

We also suggest you take a look at this company to get a quote for all kinds of the more tricky adventure or extended travel insurance.

Try Stayz / VRBO for an alternative way to find rentals on homes/apartments/condos in any country!