This post may contain affiliate links.
Finding budget family accommodation is always the hardest part of family travel at the backpacker end of the market. This post is about that and how to find cheap family accommodation for travel around the world.
I'm having a bad day. We have 3 countries coming up in the next two months, we'll be moving around a lot and I have the job of finding budget family accommodation in a dozen or so towns. That is the hardest part of family travel.
The hunt for the good deals is frustrating, time-consuming, and a pain in the rear. Finding accommodation at the budget end of the spectrum for anything other than one or two adults is an absolute nightmare. It is difficult to do and costs are significantly higher.
The budget travel industry is set up for backpackers and they normally come in ones or twos. It's understandable, I get why it's like that, but what's really frustrating me right now is the greed in the accommodation industry.
Landlords' eyes seem to light up with dollar signs when a family in need of a room is in their sights. Really, how much extra does a 7-year-old cost the landlord, the cost of a shower, maybe? The 7 year old doesn't have an income, why penalise parents just because they can?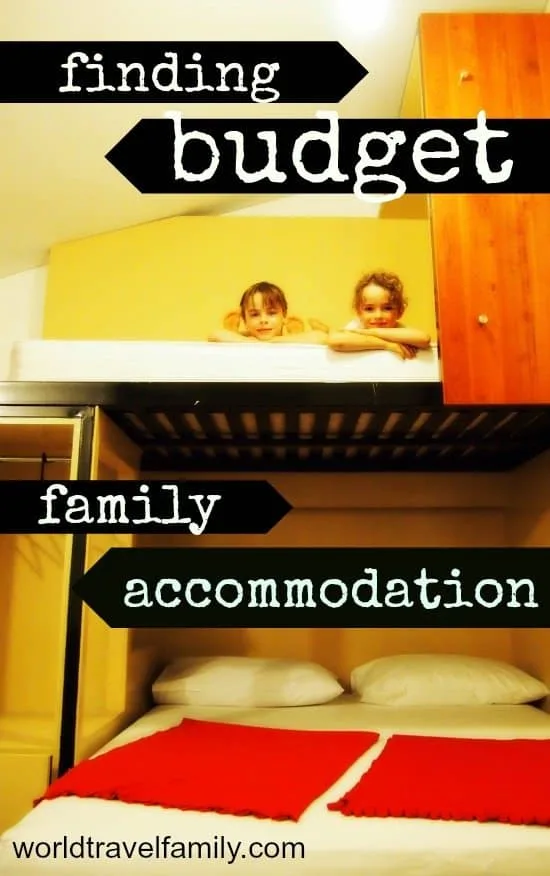 There are loads of options these days, from AirBnb to Couch Surfing. I think that actually complicates things, we seem to be spending even more time searching websites looking for a decent deal.
A lot of these options are complete duds when it comes to families.
I'm sharing with you what we do and what we know, how we find budget family accommodation as we travel. This section applies to Asia and budget family travel for your average two-parent family with small kids. We consider ourselves experts on this part of the world now.
The rules vary between countries, the Asia method won't work in the USA, for instance. See the USA section at the bottom of the page. In the UK things were different again, there is a link to the best deals we could find here.
Finding Budget Family Accommodation. Our Experience.
1. Turn up on the doorstep and ask for a room, don't book in advance.
It doesn't suit everyone and we can't do it at the moment because of my husband's surgery, but it saves you money. You also avoid disappointment this way. Accommodation booked online may not be what you expected (remember my big freak out in Malaysia?). Negotiate, ask to see a range of rooms, and take a room that suits you. We often take a 2 person room for all 4 of us and share beds, it is very difficult to book like this online.
You need to do a bit of research and find out where the backpackers are staying, the main budget accommodation streets are packed with hotels and guest houses. You just get yourself to the right part of town and start knocking on doors. Most of these places won't even have websites.
TIP: Send an adult, solo, to look for rooms if you are happy to take a 2 person room for your whole family. Find out the price before they realise you have kids, they usually don't backtrack and inflate prices that way because you agree a price for the room, not the number of guests. This ploy has worked for us a few times.
2. AirBnb
Everyone wants to tell us how great AirBnB is. In our experience, it hasn't been worth looking. We used to host for them back in Australia and we know that the rooms we rented out were a great deal compared to every local hotel and hostel.
We've found that AirBnb doesn't work like that in Asia. Every time we've looked we've found higher prices than the cheap hotels and guest houses, we're at the point where we're about to stop looking, it's been a waste of time.
In Central America we finally found that AirBnb would work for us, we scored a lovely little villa for a month in Antigua for $30/night. AirBnb is looking fairly promising for Spain, too.
3. Couch Surfing
We thought we'd use Couch Surfing once we set off. With that in mind we took in a couple of Couch Surfers back in Port Douglas. We enjoyed meeting them and they enjoyed staying with us, but the stories we heard of their earlier Couch Surfing experiences would make your hair curl.
I know some hosts will take families as Couch Surfing guests, but the site doesn't allow you to search for family accommodation easily and I'm not ready to take the risk of staying in a stranger's home with my kids. Most people in the world are good, but some aren't.
4. Hostels
We have stayed in hostels in Kuala Lumpur, London and Sydney. Hostels have advantages and they were fine, but in the cheaper parts of Asia hostels almost always work out more expensive for a family than cheap hotels, bed and breakfasts and guest houses. Even if you take the budget option of staying in a dorm, costs mount up because you pay per bed.
A family of four needs 4 adult priced beds in a hostel, it costs a fair bit. If you can find a 4 bed dorm for your family you're effectively getting a private room, we did this once in Sri Lanka and we're about to try it in Guatemala. Some hostels don't allow kids to stay. We'll leave these to the single travellers.
The hostel booking sites do not allow searches specifically for private or family rooms.
That said, we had a great stay (although a little pricey) in a private 3 bed room and in a couples dorm in Kuala Lumpur. A couples dorm has double bunk beds, they're pretty cool.
5. Online Booking Sites
Some online booking sites are better for finding family accommodation than others. We find Booking.com and Agoda are the most useful for us. The cheaper guest houses are not listed on these booking sites, they can't afford to be because their margins are too slim. If you need to book in advance, and sometimes we all do, these sites are great.
Update: This post was written over 10 years ago, today we always book online and it's rare to find unlisted accommodation.
Booking.com
We like booking.com because you enter the number of children and their ages as part of the search criteria. If you pull down the menu tab for guests, you will see the option "other", you can enter just about any combination of rooms, adults and children, with their ages.
The search results will only contain family accommodation suitable for your sized family, no bed sharing involved. The list is usually small and usually more costly, but you have a selection of guaranteed family options without having to search too hard.
We have used this list to get cheaper, smaller rooms. The search results allow you to look at all room types for each hotel, we have managed to book 3 person rooms for 4 people by finding places where children under 12 stay free ( as with Agoda, below)
Agoda
When you search with Agoda, you enter your dates and destination only. If you see a hotel within your price range in the list of available hotels, you can click on it and inspect all room types. You will see a list of room types with prices and maximum occupancy. Ignore the maximum occupancy, it doesn't always apply to kids. Click for more details of the room you choose and a box will appear giving you information on child restrictions. These vary enormously, sometimes children under 2 are free, sometimes children under 12, so long as they are sharing the existing beds.
Check if older children must use an extra bed. Sometimes extra beds aren't available, so they can't stay. If extra beds are available, check the cost, it will be listed.
You will also come accross a few hotels that don't allow children or babies to stay at all.
Note on Cheap Family Accommodation in the USA
We've just completed a 1 month USA road trip and we found accommodation easily for under $50/night, sometimes under $40/night. The only exceptions being NYC and Washington DC.
The rules are totally different in the States, booking online was always cheaper, rooms almost always had 2 big beds so families didn't pay any extra. See our planning a USA road trip section for more information.
So that's what I'm doing at the moment, trawling the internet and finding family accommodation. It's hard work when you're on a tight budget and takes up a lot of time. Finding budget family accommodation is, without a doubt, the hardest part of family travel and it drives me nuts!
Update: As time went on finding places to stay became easier and easier as the internet evolved. We always book online today. The days of door knocking as we backpackers did 20+ years ago, are long gone.
If you'd like to hire a car during your stay, use this car rental comparison tool to find the best deal!

We also suggest you take a look at this company to get a quote for all kinds of the more tricky adventure or extended travel insurance.

Try Stayz / VRBO for an alternative way to find rentals on homes/apartments/condos in any country!