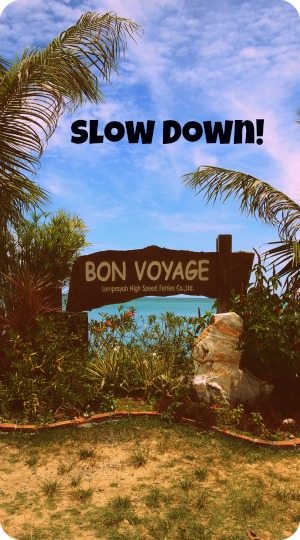 We've been travelling fast for the last couple of weeks and it's been a bit rubbish, slow travel is best for kids and for us.
We raced through Vientiane before taking the train to Bangkok and on to the Gulf Islands of Thailand.
Fast travel doesn't work for us at all.
This is Why Slow Travel is Best for Kids and for Us.
We're happiest when we don't have to pack our bags or carry them too often. They're heavy, awkward and annoying. Travelling lighter isn't possible with kids, we're down to the bare minimum already.
We're much more relaxed if we have more time. None of us likes rushing around ticking off the must-see sights, we just like to sit and watch the world go by for a while because that is how we like to get a feel for a place. The children need down time, they love to play, watch TV and use their games, that's real life and real kids.
Slow travel is better for our budget. It cost us around $100 to get to Ko Samui. That's cheap for the distance, I know. But that sort of travel, so often, is bad for our budget.
I need time to work and get all my stuff done before I'm free to be with the kids. I need to do some reading or maths, or something, with them. I'm not doing my 7 year old any favours by not reading to him. I need time to play with them and be in the moment with them, not be distracted by what is un-done.
Arrival days are my least favourite and I'd like to make them as infrequent as possible. Trawling the streets for accommodation is hard work. We pre-booked accommodation this time to spare ourselves that drama. We had our fingers burnt by pre booking in Malaysia and I had my biggest freak-out ever. It's something we try to avoid.
Fast travel is exhausting, it's left me sleep deprived. If I'm tired, I'm grumpy, I know myself that well. I get up around 4am to work through 'till morning while everyone else sleeps. I can't do that if I'm tired. Slow travel is best for kids if Mum isn't a snarling demon!
Research takes time, working out where we'll go, which part of the island, how we'll get there, how much it should cost. We haven't had time to do that properly. On a big island like Ko Samui we should have done our homework and picked a quiet beach area that would suit us. We went straight to Chaweng, the biggest tourist area. The beach was really pretty but we didn't like the town at all. Our bad, we maybe missed out on what Ko Samui has to offer.
We Have no Time Limits so Why Travel so Fast?
We had to get out of Laos before our 6 week visa ran out, 4 nights was our maximum for Vientiane. It was a shame, I think we could have made Vientiane work for us, it still had that lovely laid back Laos charm that we loved in Vang Vieng.
Bangkok was a flying visit, we needed to shop for clothes for our newly enormous children. We love Bangkok but it's a budget killer for us. We found a room for under 700 Baht on Rambuttri Rd, that's an OK price and we could have stayed longer. Late night noise levels started me snarling and drove us on after just 3 nights.
Ko Samui didn't do it for us at all. We had OK accommodation for 800 Baht and great food shops nearby to keep our costs pretty low. Unfortunately, self catering means we don't get out and about enough, I hate being stuck in a hotel room and we need outdoor space for the kids to play. Our guest house was down a lovely, but mosquito filled. path off the main Chaweng Rd, so that was no good. We only lasted three nights there.
Now we're somewhere that looks promising, we have our own little bamboo bungalow with a deck to sit on, the kids can play in the gardens, the sea is a stone's throw away. We're still paying 800 Baht per night ( under $30 AU) . The local shops are expensive and very limited so we can't really self cater at all. We're pretty much stuck on this beautiful, isolated beach and at the mercy of the local restaurants. Ko Phangan is a big island and incredibly hilly, the map tells us that walking paths are unsuitable for children and tuk tuks ain't cheap.
It's swings and roundabouts, nowhere is perfect, Vang Vieng and Kanchanaburi came pretty close to perfection for us. We're always on the look out for somewhere that gives us everything, culture, food, low costs and some comfort. These islands are for the kids and The Chef, I'm not a beach person at all, but I can handle this.
We have a 2 month Thai visa to use up, we need to stay put for a while and get on with just living our lives in a different place, I think that is what slow travel is.