We like to try new foods as we travel around the world, but chocolate coated bacon? Seriously? We haven't found anything that bizarre since Marmite flavoured fudge. We found this new and exciting culinary invention at the Bird in Hand Farmers' Market deep in Amish country, Pennsylvania. It's just up the road from the unusually named town of Intercourse. We stopped at the market to get lunch in the form of various tasters and munchies. We're cheap, we do that!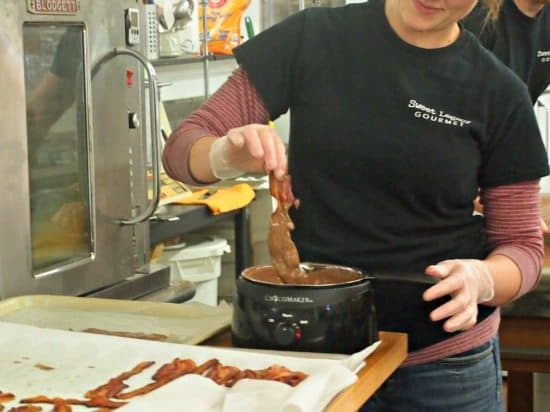 Chocolate covered bacon looked so intriguing that Chef ( my husband) spent a whole $2 to try a rasher. The lady was dipping the bacon right in front of us, so we knew it was a quality product, not some mass-produced rubbish. American bacon isn't the same as the back bacon we have in the UK, it's skinnier, thinner and crisper, I don't think British bacon would work with this at all.
Any post on this site may contain affiliate links. We earn commission on these should you make a purchase. All recommendations are genuine and we are not paid to include products, hotels, and so on.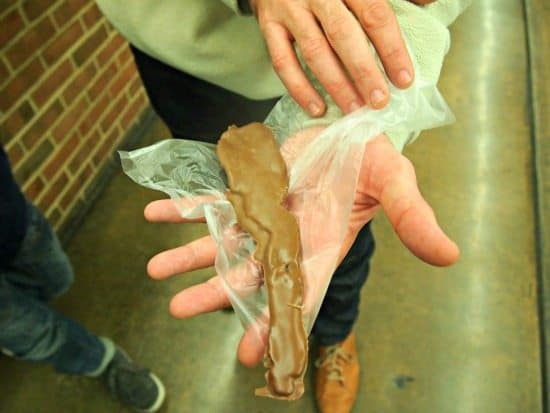 Chef's verdict? Good, very good. A big thumbs up for chocolate coated bacon.
I'm a non meat-eater usually, but even I had to taste this, yes, good, I concur.
We chatted to the bacon dipping crew about the chocolate meat phenomenon, apparently it's not something unique to Lancaster County, it's a trend ripping through the USA. That's good, we should be able to find more on our USA road trip. Was it a highlight of our tour of the USA, well maybe, discovering new foods is one of the joys of travel and our USA road trip was certainly a voyage of discovery in that respect. So what do you think? Would you?
Alyson is the creator of World Travel Family travel blog and is a full-time traveller, blogger and travel writer. A lifetime of wanderlust and now over 7 years on the road, 50+ countries allowed the creation of this website, for you. She has a BSc and worked in pathology before entering the travel arena and creating this website. World Travel Family Travel Blog has been helping you travel more, better and further since 2012, when Alyson and James first had this life changing idea. On this site you can find endless travel information, tips and guides plus how to travel, how to fund travel and how to start your own travel blog.