This post may contain affiliate links.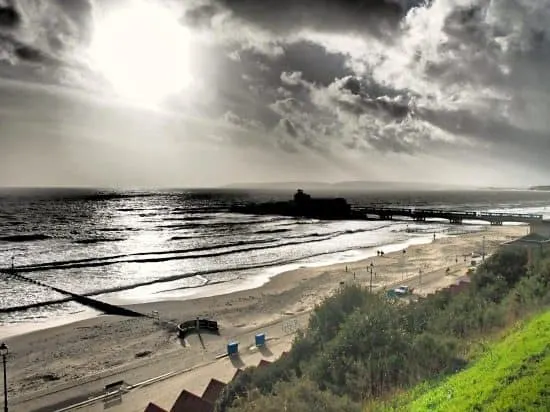 Welcome to our Cheap Family Accommodation UK post. We try to tell you where we stayed and what we paid on every leg of out trip to give you an idea of what bargains are out there. We cheated in the UK. We stayed with friends and family for most of our 5 week stay, but we did stay in a few hotels. Family accommodation in the UK is going to cost you, but we stayed in a few places at under $100 AU, 50 UK pounds and were really happy with what we got for our money.
Note: in our time in the UK we spent as much as we spent in the last 5 months in Asia. That should give you some idea of costs. We did, however, have to buy a few Christmas presents, a new laptop, some warm clothes and a new camera.
Cheap Family Accommodation in the UK
Ibis Budget Hotel Cardiff Bay.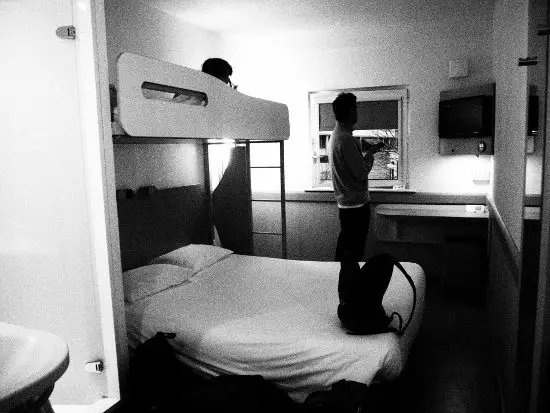 What it cost: 45 pounds/night plus 4 pounds/night for car park. Beds: 3. Big double bed below, single bunk bed above.
What we got for our money: A neat and tidy room, good wi-fi, TV shower and WC.
Location: Within walking distance of Cardiff Town Centre and Cardiff Bay. Really good location, we thought. There is plenty to do in Cardiff and South East Wales, you could even make Cardiff your base for exploring the West of England, but the Severn Bridge toll may sting a bit. Have a look at our Wales section for ideas.
Any negatives: The rooms are small but extremely well designed, we had no problem with the size. Our verdict: We liked staying here a lot, we'd never stayed anywhere like this before, it was a fun experience.
Cliffside Hotel Bournemouth and Suncliff Hotel Bournemouth
Why Stay in Bournemouth? We know Bournemouth well and we know how much there is to do in the area. It's lovely to just be beside the sea but there are plenty of attractions within driving distance. I lived in Bournemouth for 3 months while I worked in South London, I drove up every day, it's do-able.
Our trip to the Harry Potter Studios, North of London on the M25 took about 2.5 hours. Our trip to see the Cerne Abbas giant took about 1 hour.
Bournemouth makes a good base and we were getting such great value in these cliff top hotels that we decided to stay put for almost 2 weeks before boarding our cruise at nearby Southampton.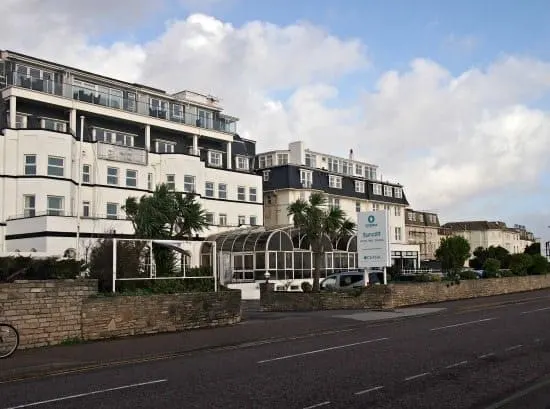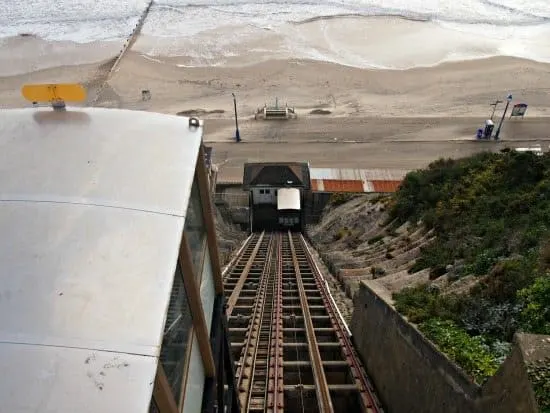 What it cost: SunCliff. 40 pounds /night for a 3 night deal found on Trip Advisor booking site. When we rang them, the daily rate was 52 pounds/night. On booking.com the rate was 57 pounds/night Cliffeside. 45 pounds/night on booking.com
Beds: 4. A family room, one double 2 singles in both hotels.
What we got for our money: A large family room with en suite, good wi-fi, kettle and TV. Huge buffet breakfast included. Both hotels offer access to leisure facilities, including an indoor heated swimming pool at Suncliff. Cliffeside has a really nice outdoor pool, it would be lovely in summer. Both hotels have bars and in-house dining. Free parking.
Location: The hotels sit on top of the cliff overlooking Bournemouth's beautiful swimming beach. They are almost opposite the East Cliff lift, pictured below, and Bournemouth's famous zig-zag path down to the sands. Bournemouth town centre, pier and parks are an easy walk away. As mentioned above, we used Bournemouth as our base for trips as far as North London.
Any Negatives Not really! We were extremely pleased with these hotels. I suppose some people may find the bathroom a bit small at the Suncliff, but really, everything was great and the staff were really friendly.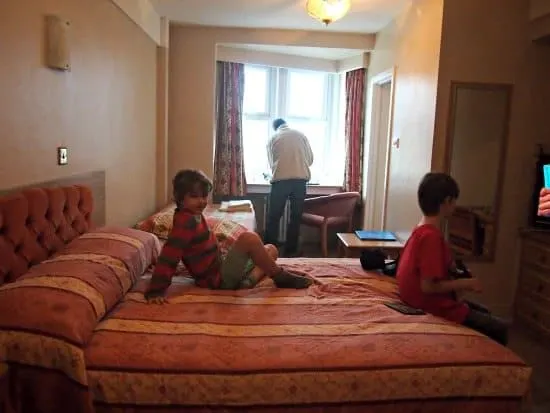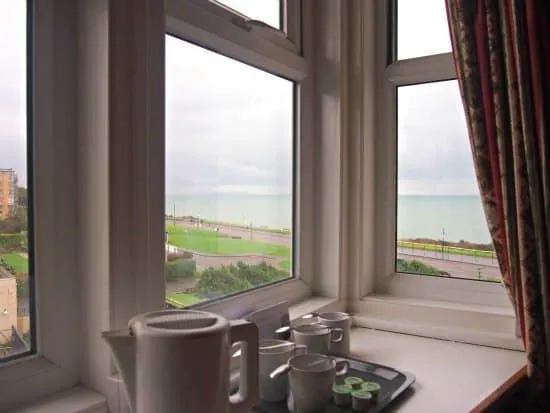 Our verdict: We thought we got amazing value here and the hotels were lovely. There are three hotels side by side owned by the same company, they'll fit you into whichever has rooms and all guests can use the Suncliffe's pool. ( The other hotel is the Cumberland). We think you'd struggle to find better value accommodation anywhere in the UK, but remember, we went in January, you won't get these prices in season.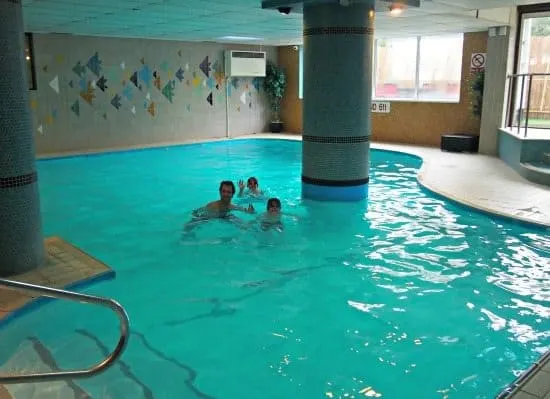 This post is part of our Cheap Family Accommodation series. We tell you where we stayed and what we thought of it. If any money has changed hands in the form of discounts, I will tell you. I will not give fake reviews ever.

We want to let you compare what budget family travel in various countries will cost you and show you roughly what you'll get for your money.

We have already published

Budget Hotel London

Cheap Family Accommodation in Laos.

Cheap Family Accommodation in Sri Lanka.

and Cheap Family Accommodation in Malacca.

Cheap Family Accommodation Johor Bahru for Legoland Malaysia. More posts are still to come.
Back to our mail London Family Travel Blog page.
Back to our main UK Travel Blog page.
If you'd like to hire a car during your stay, use this car rental comparison tool to find the best deal!

We also suggest you take a look at this company to get a quote for all kinds of the more tricky adventure or extended travel insurance.

Try Stayz / VRBO for an alternative way to find rentals on homes/apartments/condos in any country!