This post may contain affiliate links.
Cheap family accommodation is one of my favourite internet search terms, I use it a lot. Family travel in Laos isn't the easiest, there are a lot of long bus rides and narrow mountain roads, but it brings huge rewards. We were in Laos for 6 weeks during the wet season (July-Sept), our second visit. We all fell in love with the country and its people. We hope to go back next year and explore Laos more. This post discusses some of the budget family accommodation we used and found in Laos.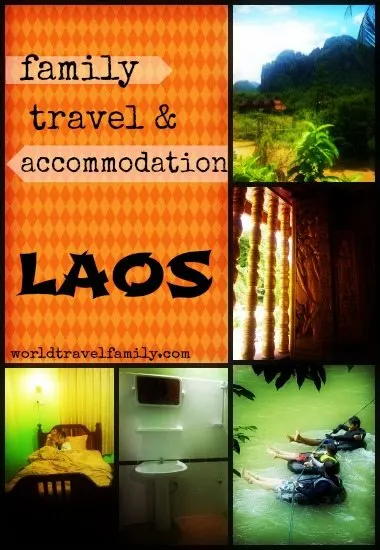 We think that finding cheap family accommodation is the hardest part of travel. In Laos, we never pre-booked, we always just turned up and looked on foot. This was easy enough to do, there was loads of availability. Vang Vieng, in particular was very quiet, the guest houses were mostly empty. Our budget for Laos was around $50 per day and we tried to stick to that on this trip. These days we refuse to set a budget for travel, but back then we were very much a budget travel blog.
Cheap Family Accommodation Laos – We Used
I've meant to do this for a while, post about where we've stayed and what it cost us to show you what you can get for your money. So here goes, these are the places we actually used. We often found some other hotel for the first night and then had a hunt around for a better place the next day, when we weren't so tired and weighed down with backpacks. The hotels and guest houses mentioned here were our long-term choices.
We don't always go for the cheapest accommodation we can find, everywhere has to be approved by me. Mum knows best. It just has to be cheap enough, clean enough and safe enough. We always look for free wi-fi. We always had air-con in Laos to cut down the Dengue fever risk and we tend to look for places with outside space to hang out and for the children to play. I don't like being cooped up in hotel rooms.
We usually search on foot, finding cheap family accommodation on the internet is hard and always costs you more. I'm not claiming we've found the cheapest or the best places, but they were fine by us.
Note: I always point out a few negatives in these posts. Obviously, if they'd been a big deal we wouldn't have stayed, we'd have left. I just find a few for the benefit of others who may be sensitive to noise or whatever. They're not my negatives.
Family Accommodation in Vang Vieng

Cost per night: 90,000 Kip/night ( roughly $12.00)
Number of beds: 1 large double, 1 single
This was our best value accommodation in Laos, and our favourite. It was lovely to cross the rickety bridge to "our" island. We had comfortable, new, clean beds, en-suite basic shower room, free wi-fi, air-con and fan, outdoor space complete with riverside hammocks, TV, a great location and a lovely view. We stayed here for weeks. All family accommodation in Vang Vieng seemed to cost about the same, we visited just about every hotel and guest house, this was our pick.
Riverside Backpacker's Guest House, Vang Vieng
Our favourite restaurant was called Santana, it was directly opposite Riverside Backpacker's Guest House, on the other side of the river. They did great breakfasts!
Family Accommodation in Luang Prabang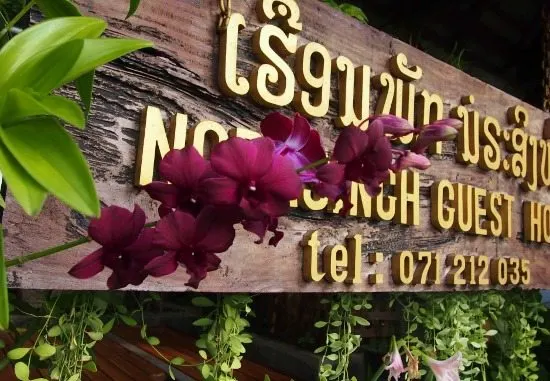 Cost per night: 100,000 Kip/night ( roughly $13.00)
Number of beds: 2 singles
Family accommodation in Luang Prabang cost more than in Vang Vieng, we ended up in a twin room to save money. Luang Prabang is a much more expensive town because of the influx of fly in tourists, there is an airport in Luang Prabang now. Food costs are higher too. This place, Norasingh, was almost opposite the monastery and opened onto the night market. The location was great, the room was really lovely and there was outdoor space for the children to play. We had air-con, TV and wi-fi included.
This is not the Sita Norasingh, that's a different place.
Our top dining recommendation for Luang Prabang is the Nisha Indian Restaurant on Kitsalat Rd. Don't touch the night market buffets unless you want food poisoning! James ( the Chef, he should know better!) was very, very sick in Luang Prabang.
Family Accommodation in Vientiane
Cost per night: 200, 000 Kip ( roughly $26.00) including breakfast for 4.
Number of beds: 3 singles
We searched the backpacker area down near the banks of the Mekong. There are a lot of large but shabby, cheap hotels. This one was quite pleasant and new. Breakfast was included, eggs, baguette, coffee and fruit for 4, so it was a good enough deal. For comparison breakfast in Vang Vieng cost us around 90,000 Kip every day for 4 ( but boy was it good!).
The location of this one was great, we could walk down to the Mekong at sunset for the markets and outdoor aerobics and, in the other direction, walk to the great Wats and museums and the central bus station. We even walked to the COPE centre and Victory monument.
Family Travel in Laos Links
If you are looking for help with family travel in Laos the posts below are already published. If you sign up to follow us there are more to come!
Vang Vieng
10 reasons to take kids to Vang Vieng
vang-vieng-laos-tubing-kayaking-caving-and-chilling/
Vientiane
COPE visitor centre, Vientiane
Luang Prabang
Struggling with Food in Luang Prabang
Ock Pop Tok Luang Prabang Laos
Transport in Laos
The bus from Vang Vieng to Luang Prabang and back.
Getting to Vang Vieng from Thailand
This post is part of our cheap family accommodation series. We tell you where we stayed and what we thought of it. If any money has changed hands in the form of discounts, I will tell you! So far, it hasn't. I'll leave that to the bigger bloggers.
We want to let you compare what travel in various countries will cost you and show you roughly what you'll get for your money.
We have already published Cheap Family Accommodation in Malacca, Malaysia.
and Cheap Family Accommodation Kuala Lumpur.
More posts are still to come
None of the hotels above gave us discounts in any way for recommending them .
If you'd like to hire a car during your stay, use this car rental comparison tool to find the best deal!

We also suggest you take a look at this company to get a quote for all kinds of the more tricky adventure or extended travel insurance.

Try Stayz / VRBO for an alternative way to find rentals on homes/apartments/condos in any country!